Orange Cheesecake with Blood Orange Sauce. This exquisite dessert is a harmonious blend of creamy Greek yogurt cheesecake infused with zesty orange and ginger flavors, crowned with candied oranges, and served alongside a luscious blood orange sauce. Get ready to embark on a journey of sweet, tangy, and velvety perfection in every bite.
I absolutely adore oranges; their vibrant color and zesty sweetness never fail to brighten my day. So, when the opportunity arose to whip up a scrumptious cheesecake, I knew exactly what direction to take. This cheesecake recipe is a no-bake wonder, designed for those moments when you crave a delectable dessert without the fuss of the oven.
The heart of this dessert is a luscious blend of creamy Greek yogurt, where the tanginess harmonizes perfectly with the citrusy notes of orange and the warm, comforting embrace of ginger. It's a match made in dessert heaven, and every spoonful delivers a burst of flavor that dances on your taste buds.
But what truly elevates this cheesecake is the delightful garnish. Imagine delicate slices of candied oranges, each one a delightful nugget of sweet indulgence, perched atop the smooth, velvety cheesecake. And if that's not enough to tantalize your senses, there's a decadent companion on the plate—a vibrant blood orange sauce that's both tangy and sweet, ready to complement every bite.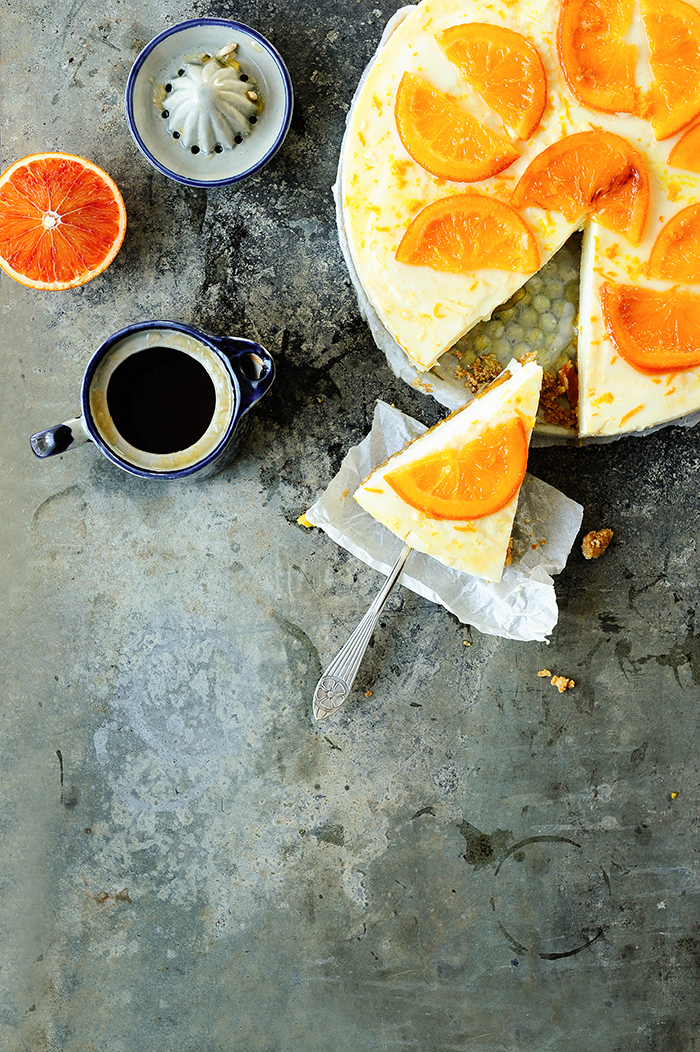 Believe me when I say, this cheesecake is more than just a dessert; it's an experience. So, whether you're hosting a gathering or simply treating yourself to a moment of culinary bliss, give this no-bake cheesecake a try. Your taste buds will thank you, and you'll find yourself savoring every spoonful of this citrus-infused delight. Enjoy!
Yield: serves 8-10
Orange cheesecake with blood orange sauce
Ingredients
Crust
5.5 oz/150 g crispy ginger biscuits
3 oz/80 g butter, melted
zest from a ½ organic orange
3 tablespoons orange jam
Yogurt Mixture
16 oz/450 g Greek yogurt
3.5 oz/100 g mascarpone
13.5 oz/00 g sugar
¾ cup/200 ml heavy cream
juice from 1 orange
8 envelopes gelatin
Candied Orange Slices
1 organic orange
pinch of salt
½ cup/100 g sugar
½ cup water
1 vanilla pod
1 teaspoon grated ginger
Blood Orange Sauce
2 blood oranges
¼ cup/50 g sugar
1/2 teaspoon grated ginger
1 vanilla pod
2 tablespoons butter
Instructions
Line a 8 inch/20 cm spring form pan with parchment paper. Crumble the cookies into a blender, pour the melted butter and mix. Add the orange zest and stir. Press into the bottom of the pan and spread with orange jam. Place in the fridge.
Place the gelatine in a saucepan, pour ¼ cup/50 ml water and set aside to soften. Then warm it up, do not allow to boil and stir to completely dissolve the gelatin. In a separate bowl, mix the yogurt with mascarpone, sugar and orange juice. Add the gelatine, stir and set aside. Beat the cream to stiff and gently mix with the yogurt mixture. Pour the yogurt mixture into the prepared pan and chill for 2 hours.
In the meantime, prepare the topping. Cut the orange into thin slices. Place in a saucepan and cook a few minutes in salted water, drain. Place the slices again in the saucepan, pour ½ cup water, add sugar, ginger and vanilla pod. Boil until it slightly thickens. Turn off the heat and allow to cool. Then decorate the top of the cheesecake with candied orange slices and pour the syrup over the top.
Make the blood orange sauce. Squeeze the juice into a saucepan, add sugar, butter, ginger and vanilla pod. Bring to a boil and cook for 5 minutes, allow to cool. Enjoy!
Notes
Calories Per Serving: 409 kcal
Nutritional information is only an estimate. The accuracy of the nutritional information for any recipe on this site is not guaranteed.