One-pot creamy garlic mushroom orzo. This easy dish is immensely comforting and ready in a heartbeat. Imagine the creamiest orzo, packed with sautéed mushrooms and flavorful garlic. Plus, swirled with mascarpone and parmesan for that velvety finishing touch. Comfort food at its best!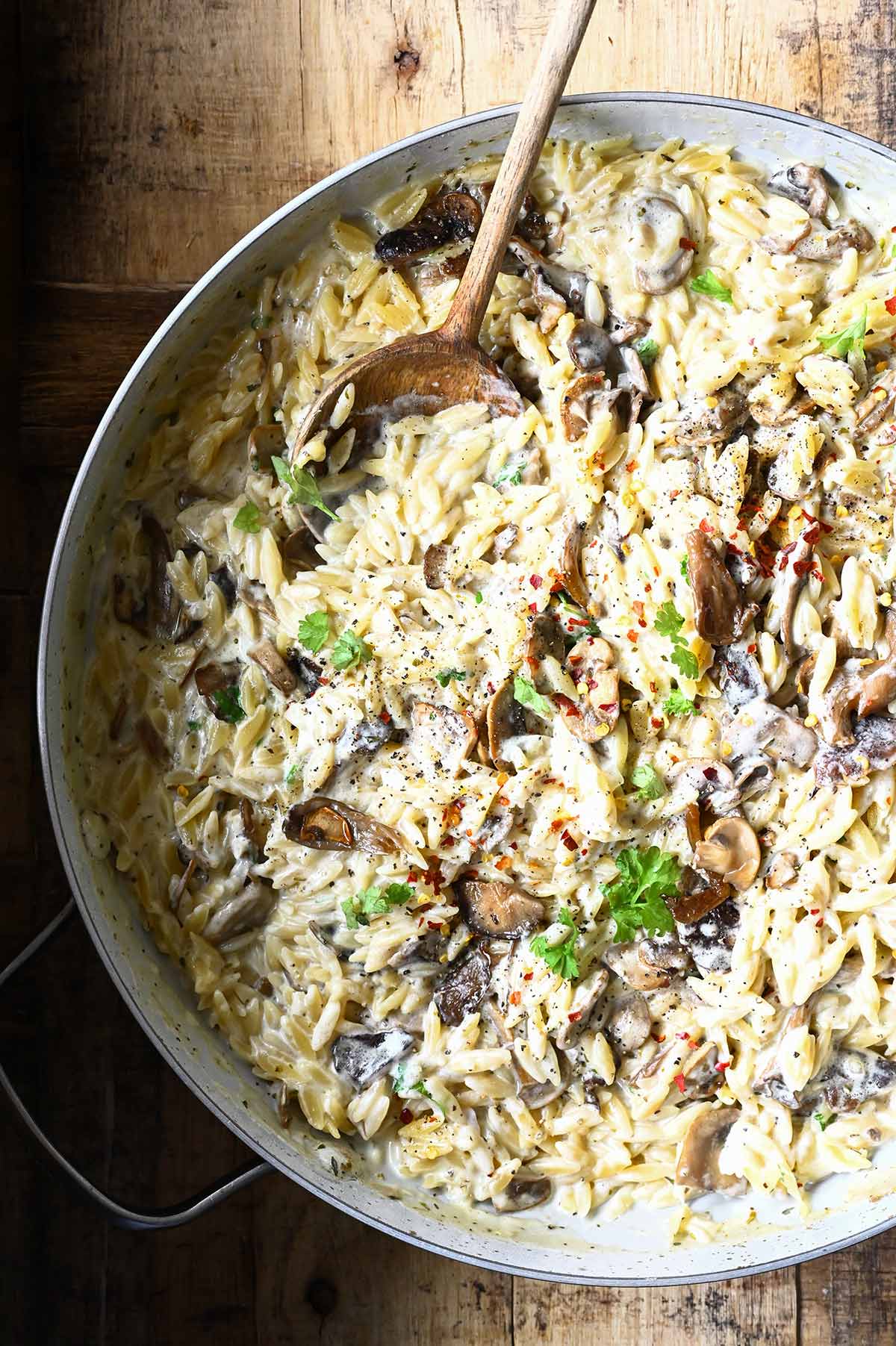 A comforting and easy pasta dish or a side dish that comes together so quickly. It's quite similar to risotto but it's way quicker and easier to make since we're not adding the broth bit by bit. It's perfect for a busy weeknight because it only requires one pot for cooking. It is a family favorite for weeknight dinners!
This one-pot orzo dish is as creamy as can be for a couple of reasons. First, by stirring the orzo frequently while it cooks, we break it down forcing the orzo to release its starches into the broth, which helps to create a smooth, creamy sauce. Second, the orzo is combined with a mixture of mascarpone and parmesan which adds richness.
The mushrooms, along with garlic and a splash of soy sauce, add such a deep flavor to this meal. You can use any kind of mushrooms, like white button, portobello or shiitakes, or mix them all together.
Let me guide you through the recipe with this step-by-step VIDEO.
This is a busy weeknight's dinner dream… everything comes together in just one pot and is crazy delicious. Try it with an addition of spinach, top with crispy fried shallots, bacon or with some crunchy breadcrumbs. You're the chef!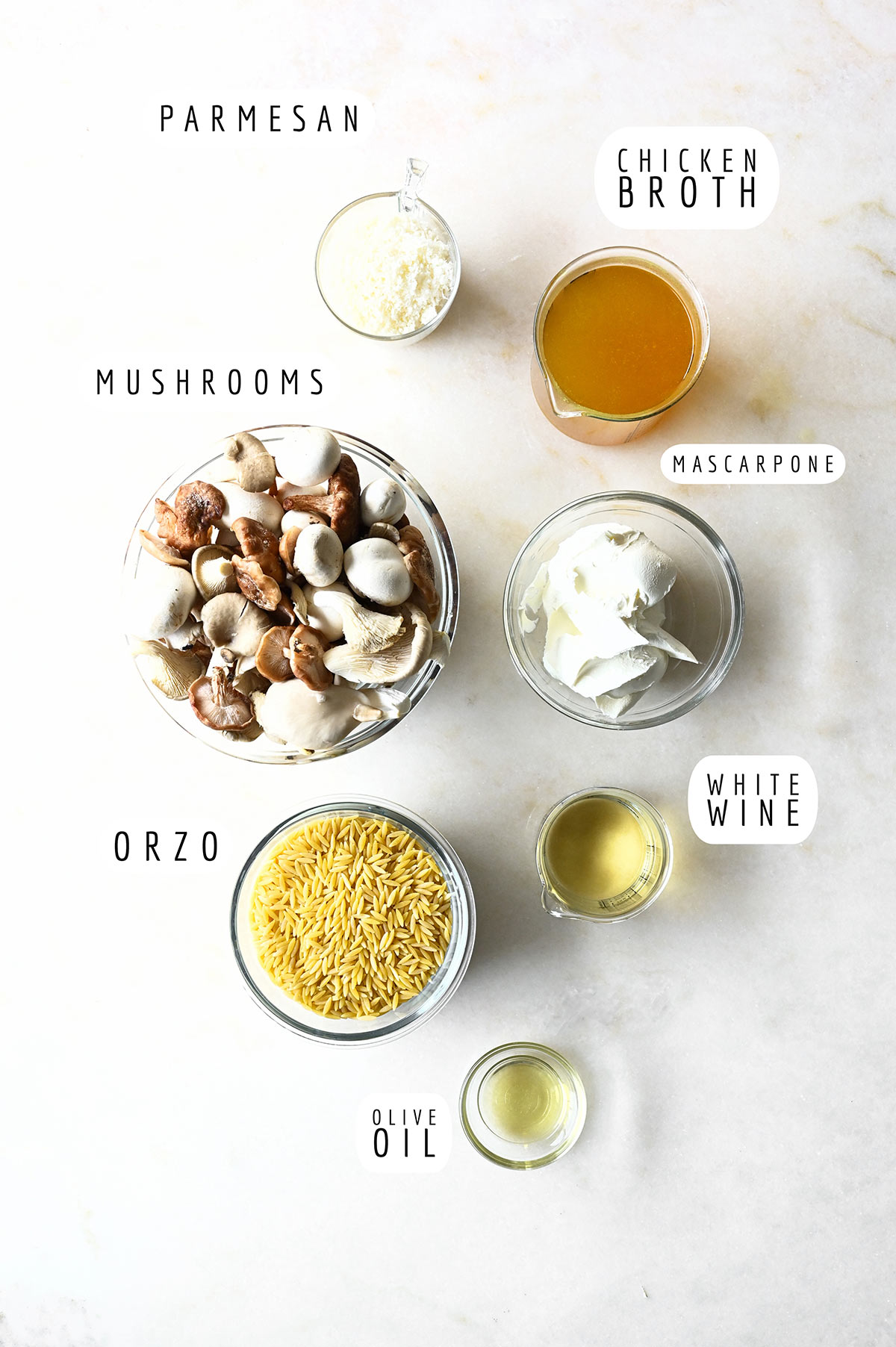 INGREDIENTS YOU'LL NEED FOR THIS CREAMY MUSHROOM ORZO
Mushrooms: I used a mix of white button, oyster mushrooms and shiitakes, but you can use any kind of your favorite mushrooms like portobello, cremini or king trumpet.
Olive Oil: For frying.
Orzo: It gives the dish a silky texture, which you can't get with any other pasta.
White wine: It lends flavor and a bit of acidity to the dish. Use Chardonnay, Pinot Blanc or Pinot Gris.
Chicken Broth: Vegetable broth would also work great here. I you have some time to make homemade chicken broth, do it!
Mascarpone: A soft, scoopable cheese that's mild and milky. It makes for a great sauce, lighter than a typical cream sauce but still silky and rich.
Parmesan: Adds a deep savory note to the sauce. Best when freshly grated.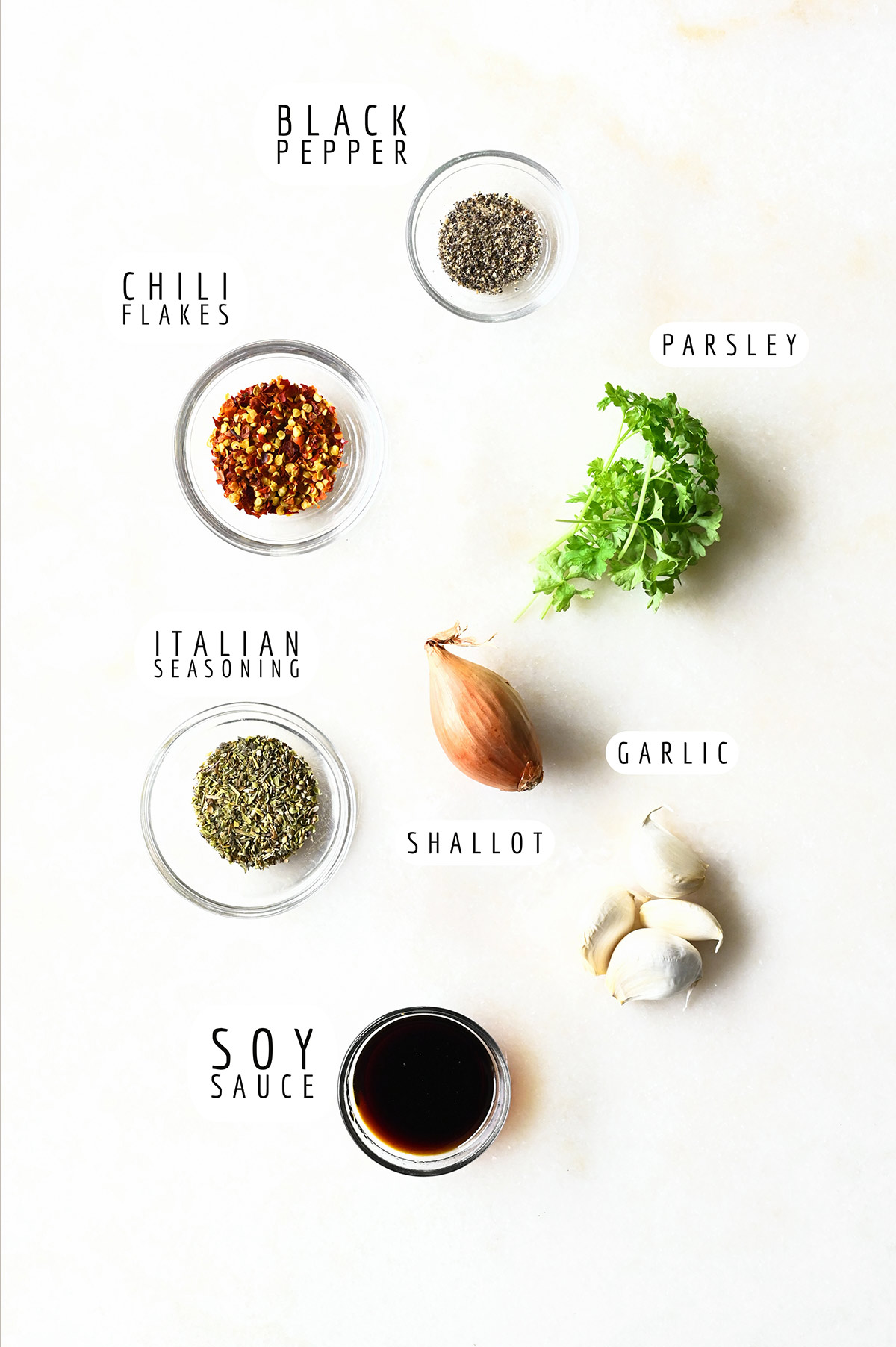 AND THE FLAVOR MAKERS
Shallot and Garlic: Shallot used as a base flavoring element. However, in this recipe, the flavor of garlic is pronounced, and it's delicious.
Seasoning: Black pepper and Italian seasoning are all you really need. You can use store bought Italian seasoning or easily make your own. You can find my favorite blend in the recipe notes below.
Soy Sauce: I like to use it instead of salt. A touch of soy sauce gives dishes richness that brings out its inherent flavors.
Herbs: Fresh parsley.
Chili Flakes: Our finishing touch.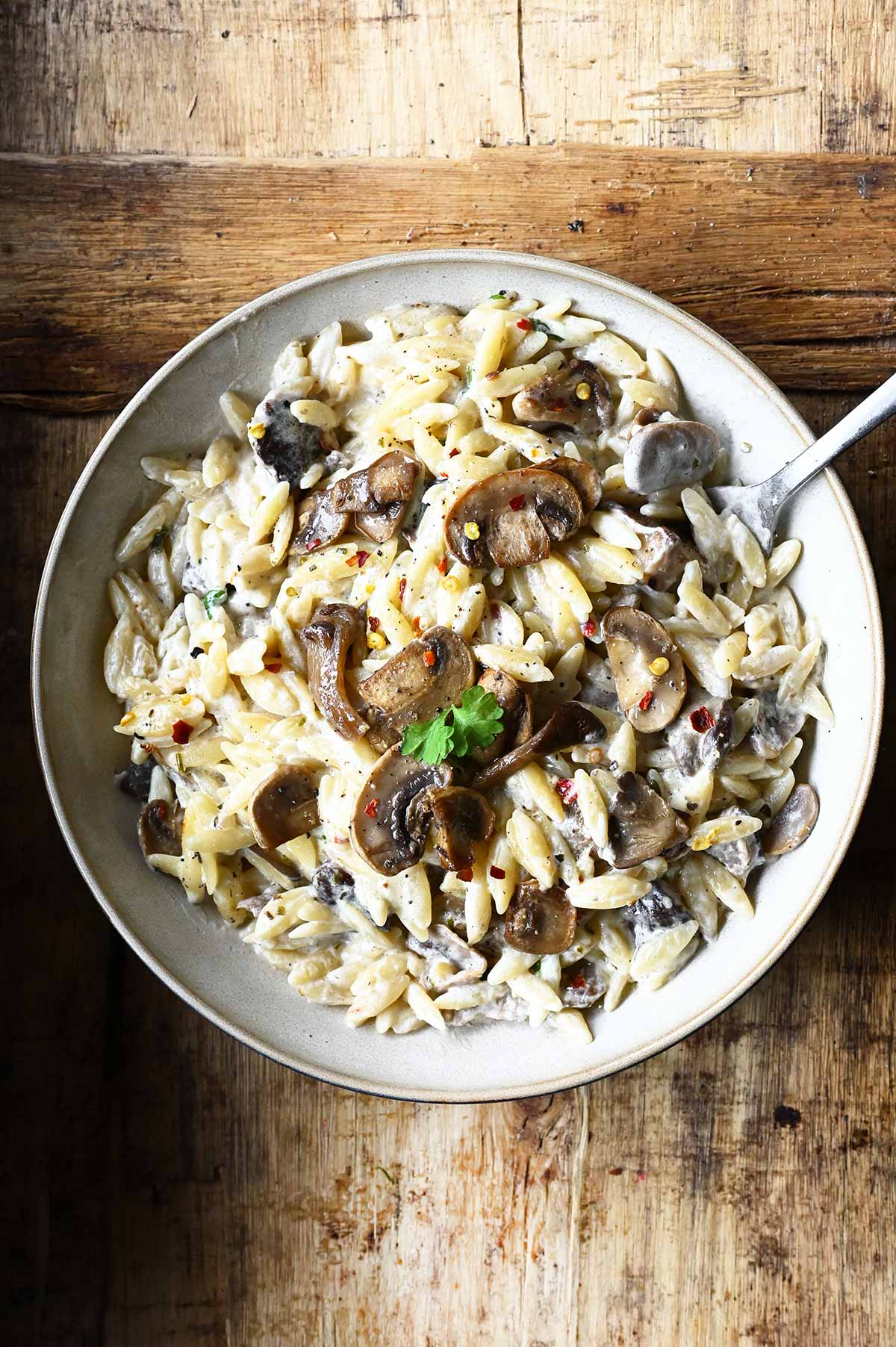 RECIPE NOTES
Can't find orzo? Use small shaped pasta like orecchiette.
If you don't like to cook with wine, simply leave it out.
Italian seasoning mixture: 2 tbsp dried basil + dried oregano, 1 tbsp dried rosemary + dried thyme + dried sage. Store leftovers in a closed jar.
Add some veggies like kale or spinach.
Top it with crispy fried shallots, bacon or with some crunchy breadcrumbs.
Serve with a big leafy salad.
Want to serve this mushroom orzo as a side side dish? It's great with white fish, steak, lamb chops or roasted chicken.
Storage: Leftovers can be stored in an airtight container and refrigerated for up to 3 days.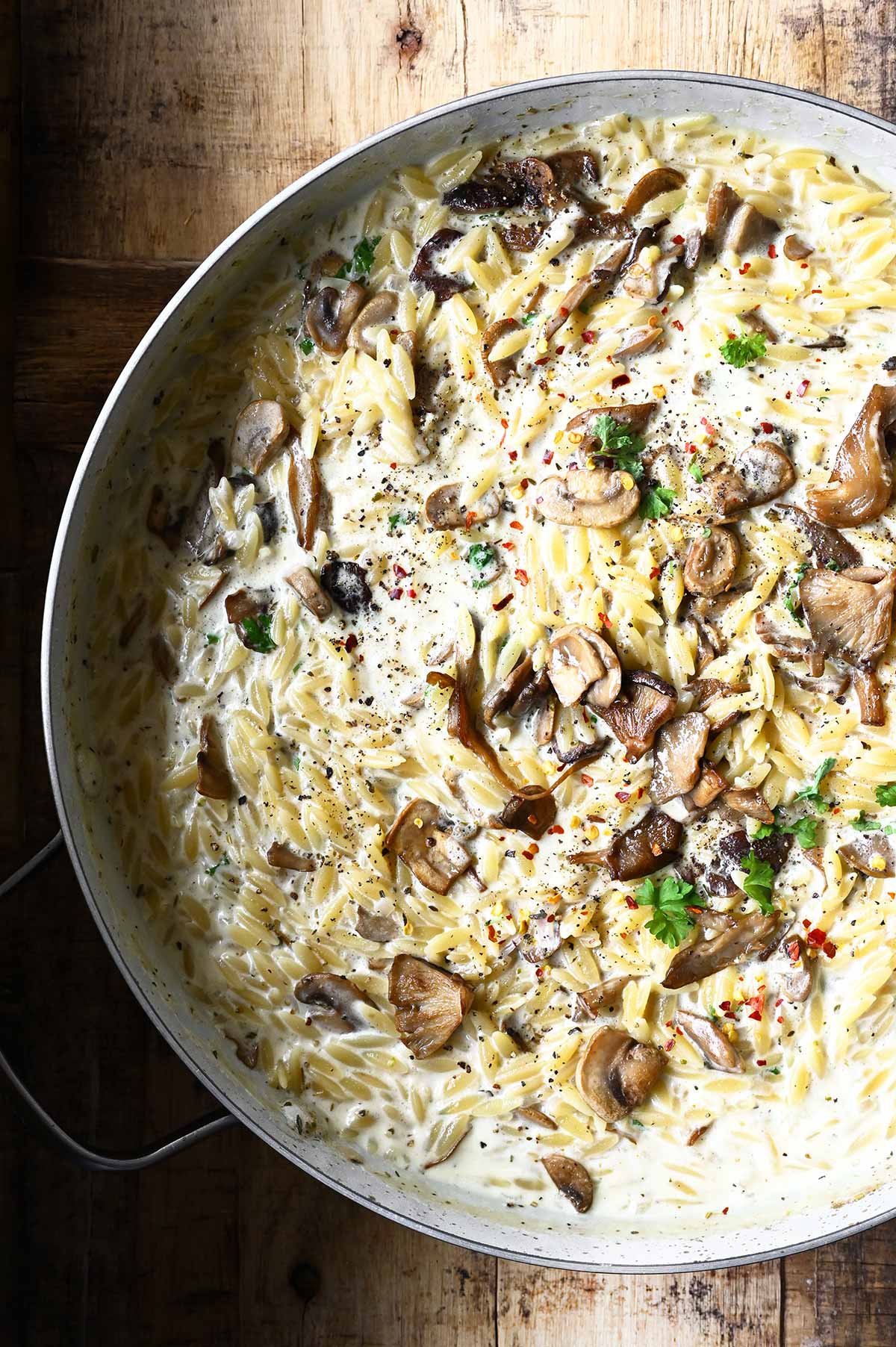 TRY THESE NEXT
COOKING VIDEO
Yield: serves 4
One-Pot Creamy Garlic Mushroom Orzo
Ingredients
1.1 pounds/500 g mushrooms, a mix of white button, shiitake and oyster mushrooms
1 tbsp olive oil
1 tbsp soy sauce
1 shallot, finely chopped
4 garlic cloves, minced
1 tsp black pepper
1 tbsp Italian seasoning
1 pound/450 g dry orzo
½ cup/120 ml dry white wine
4 cups/1 L chicken broth
9 oz/250 mascarpone
1.5 ounces/40 g grated Parmesan
2 tbsp chopped parsley
chili flakes, for serving
Instructions
Get your prep done before you start cooking. Tear the shiitakes and oyster mushrooms into smaller pieces. Thinly slice the white button mushrooms. Finely chop the shallot, mince the garlic and chop the parsley.
Heat a large nonstick skillet or pot over high, then add mushrooms. Cook until they release moisture, about 5 minutes. Stir frequently. Add olive oil and soy sauce, cook until the mushrooms start to brown. Remove from skillet.
Reduce heat to medium, add garlic and shallot. Cook for 2 minutes until fragrant and soft. Add black pepper and Italian seasoning. Stir in orzo and toast for 1 minute. Pour in white wine and cook until evaporated.
Add chicken broth, bring to a boil and let simmer over medium low. Cook uncovered, stir occasionally to keep the orzo from sticking to the bottom of the skillet, about 10 minutes.
Next, stir in mascarpone and Parmesan. Add mushrooms and parsley, stir and simmer for about 1 minute or until the orzo is al dente and the liquid has formed a creamy sauce. Taste and adjust salt.
Finish off with black pepper and chili flakes. Serve immediately. Enjoy!
Notes
Calories Per Serving: 583 kcal
Nutritional information is only an estimate. The accuracy of the nutritional information for any recipe on this site is not guaranteed.