Marry Me Shrimp Pasta. Inspired by the beloved Marry Me Chicken recipe, this 30-minute dish blends juicy shrimp and pasta in a creamy sun-dried tomato sauce, delivering bold and satisfying flavors. Whether it's a cozy date night or a family gathering, this recipe is a crowd-pleaser you won't want to miss!
Meal planning for another unforgettable date night option? Try these next: Creamy Tuscan Chicken Orzo, One-Pan Creamy Tomato Salmon with Chorizo, or Sun-Dried Tomato Rigatoni.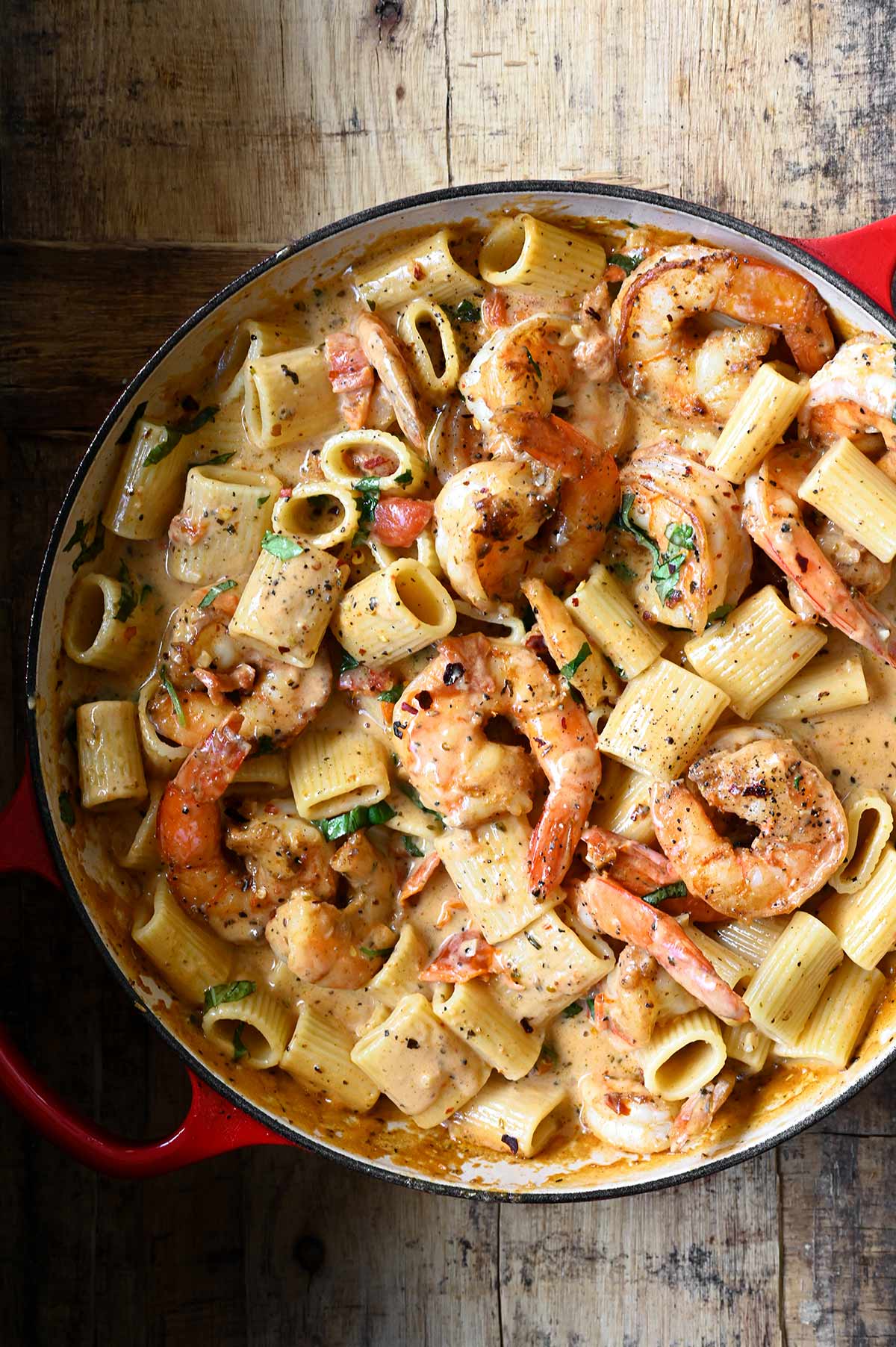 This Marry Me Shrimp Pasta recipe is so good, you'll want to eat the sauce by the spoonful! The rich, creamy, cheesy sun-dried tomato and garlic sauce is a flavor explosion that will elevate your weeknight dinner game. It's easy to prepare on busy evenings and impressive enough to serve to guests.
Just like my other pasta recipes, this one is also quick and easy to make… and I hope you'll fall in love with this unique seafood twist on the Marry Me Chicken recipe. It's truly exceptional, and I know you'll love the rich, creamy sun-dried tomato cream sauce paired with juicy shrimp.
Let me guide you through the recipe with this step-by-step VIDEO or follow along on YouTube!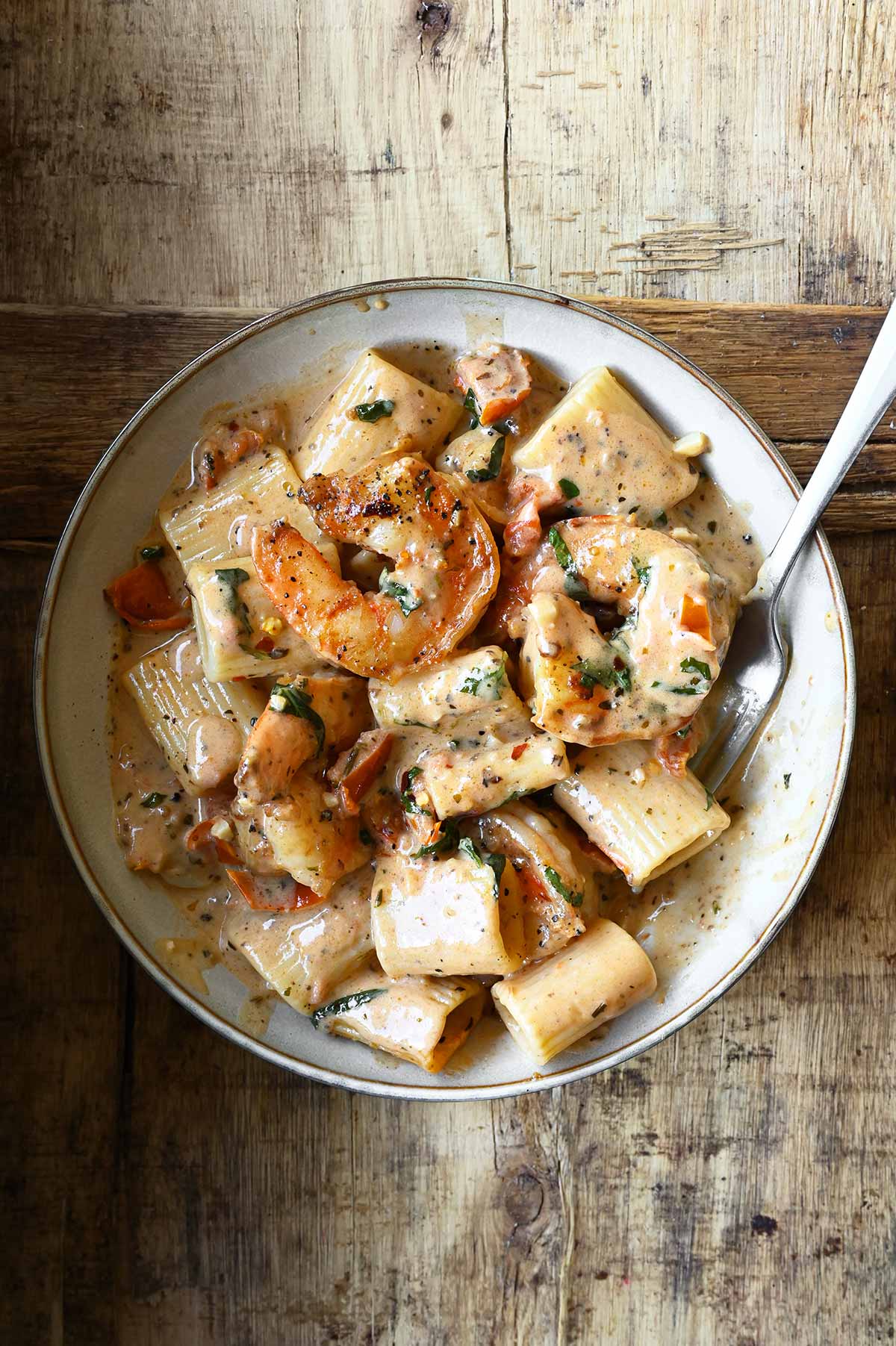 Why You'll Love This Recipe
Let's dive into what makes this dish a real standout!
Sun-Dried Tomatoes: Sun-dried tomatoes infuse the creamy Parmesan sauce with a sweet, tangy kick, balancing richness with a vibrant tomato twist. If you've never tried sun-dried tomatoes, prepare to be amazed! You can easily find them at your local grocery store, typically located near the olives. Trust me, they're a game-changer!
Minimal Cleanup: I'm all about keeping things simple, and this shrimp pasta does just that. With only two pans in play, not only do you get a comforting meal, but cleanup is a breeze.
Shrimp: The juicy shrimp, with their natural sweetness and seafood essence, pairs perfectly with the rich sun-dried tomato cream sauce. This combination creates a burst of flavors that tantalizes the taste buds. I always keep a bag of frozen shrimp in my freezer. It means you can thaw them whenever you're ready to cook.
Pantry Magic: With basic seasonings, pasta, cream, a bit of butter, garlic cloves, and Parmesan from your pantry and fridge, you've got all it takes to create a simple yet irresistible dish that will become a regular in your rotation.
Super Versatile: Want to save yourself from a trip to the store? No sun-dried tomatoes or Parmesan? No problem! Raid your pantry and freezer, cherry tomatoes, roasted peppers, or any hard cheese will do. Your kitchen, your rules!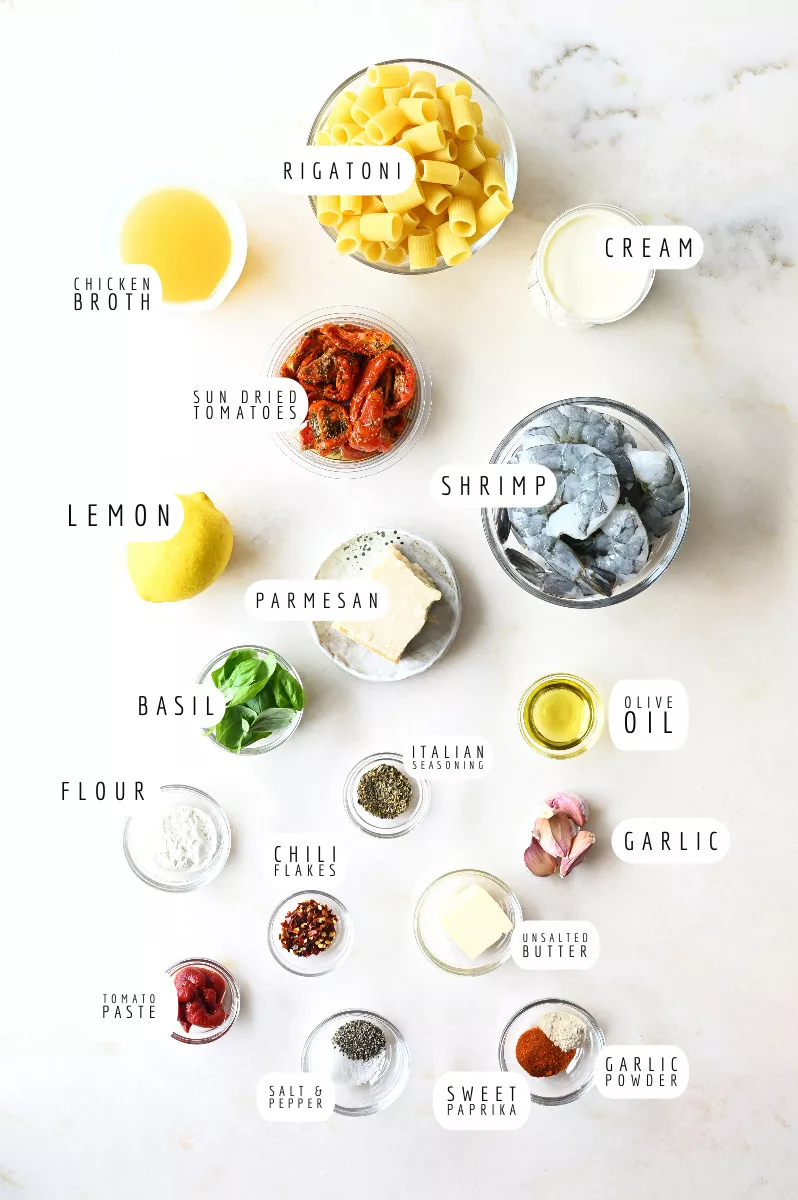 Ingredients, Tips and Substitutions
Shrimp: Opt for medium-large shrimp, but any size you prefer will work.
Pasta: Choose your favorite variety, both short and long pastas are suitable. Rigatoni, fusili, or penne are excellent choices for sauce adherence.
Olive Oil and Butter: For searing the shrimp and sautéing the garlic.
Seasoning: A blend of salt, black pepper, garlic powder, and sweet paprika seasons the shrimp, while Italian seasoning (or dried thyme or oregano) enriches the sauce.
Sun-Dried Tomatoes: The star ingredient.
Garlic: Essential for flavor enhancement.
Flour: Used for sauce thickening, can be substituted with cornstarch.
Chicken Broth: To deglaze the skillet, vegetable or fish broth can be alternatives. You can also swap it for dry white wine.
Heavy Cream: Creates a luxuriously creamy and flavorful sauce, avoid using half-and-half or light cream for optimal thickness.
Parmesan: Freshly grated for a creamy texture and rich, savory taste. Substitutions: Pecorino, Asiago, Grana Padano, hard aged cheese.
Tomato Paste: Deepens the flavor profile and imparts a subtle, sweet-tangy note to the sauce.
Basil Leaves: Infuse aromatic freshness, parsley is a suitable substitute.
Lemon Juice: Provides a zesty, balancing contrast to the dish's richness, enhancing its overall flavor.
Chili Flakes: Adds a spicy kick for those who crave a bit of heat.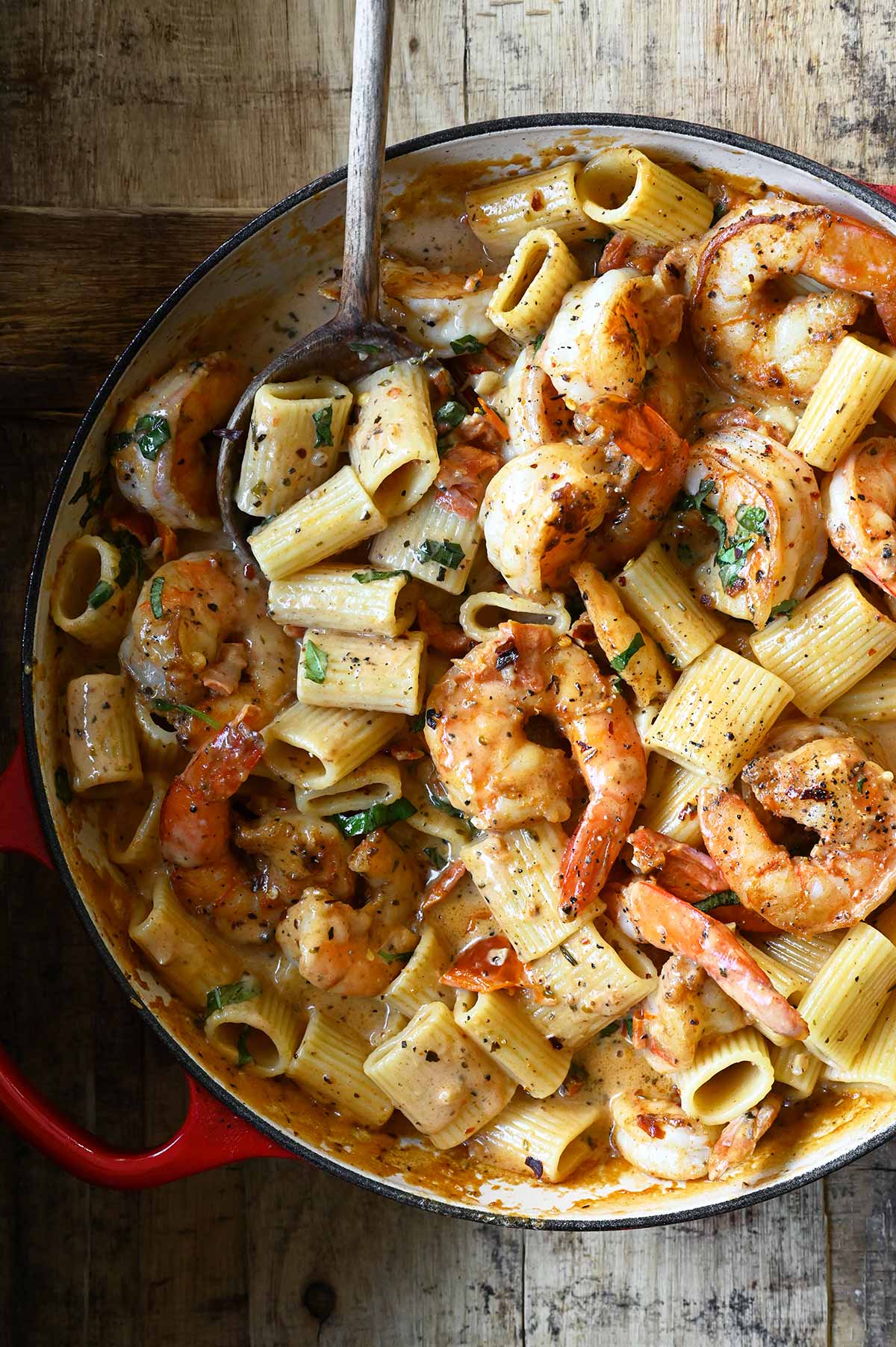 Recipe Notes
Pair with Complementary Sides: Elevate your dining experience by serving this dish with roasted vegetables or a crisp, leafy side salad.
Add a Greens Boost: For an extra dose of greens, toss in a handful of baby spinach right into the sauce before adding the pasta and shrimp to the skillet. It's an easy way to incorporate more nutrients and color.
Drain Sun-Dried Tomatoes Properly: Be sure to drain the oil from the sun-dried tomatoes to avoid ending up with an overly oily and clumpy sauce. If you have sun-dried tomatoes that aren't packed in oil, hydrate them first by placing the tomatoes in a heatproof bowl. Add about 1 cup of hot water to the tomatoes, cover, and allow them to sit for a couple of minutes until the skins soften and can be easily cut. Drain the water from the tomatoes before adding them to the sauce.
Storage: Any leftovers can be safely stored in an airtight container in the refrigerator for up to 2 days.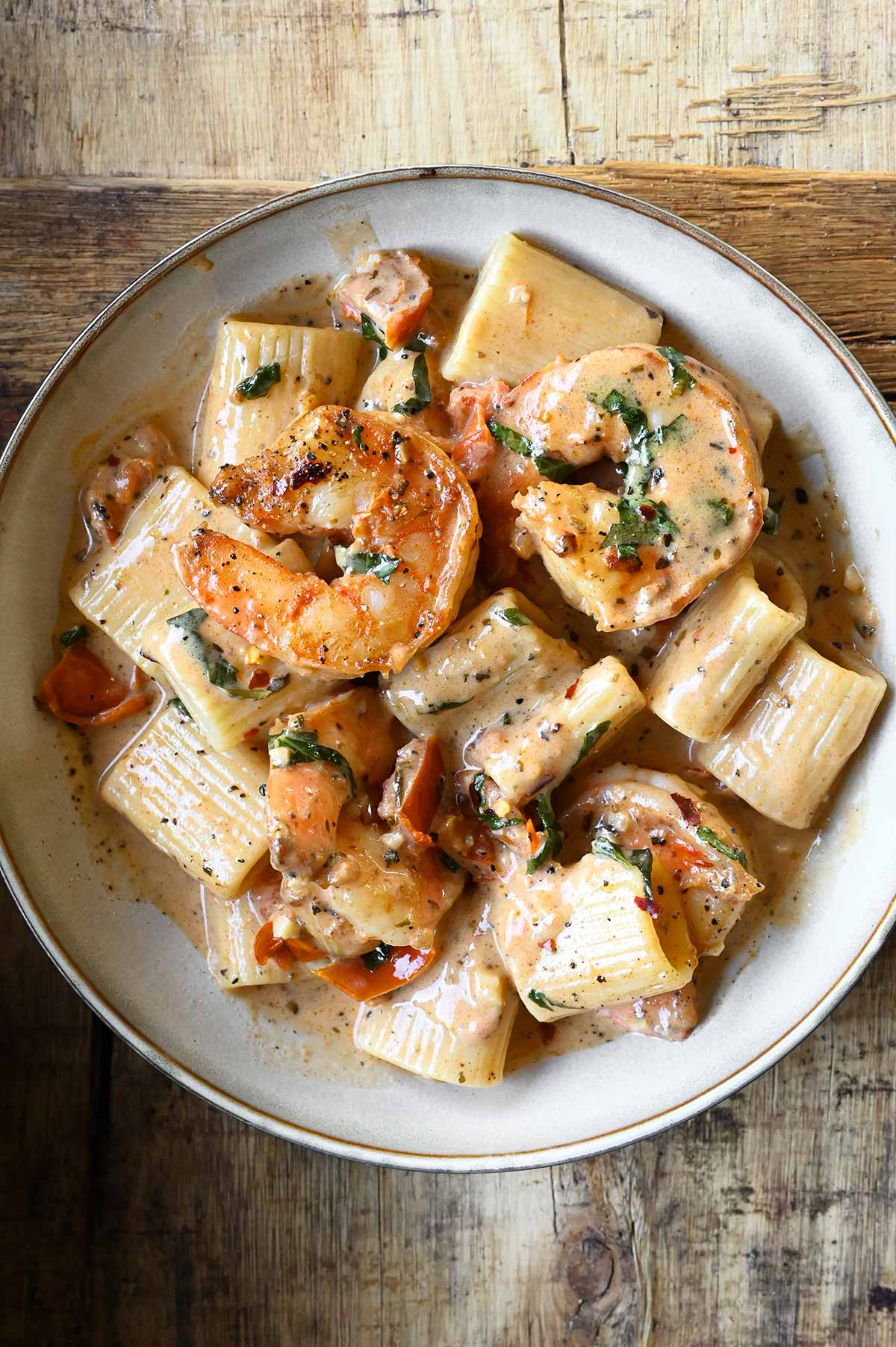 Cooking Video
Yield: serves 4
Marry Me Shrimp Pasta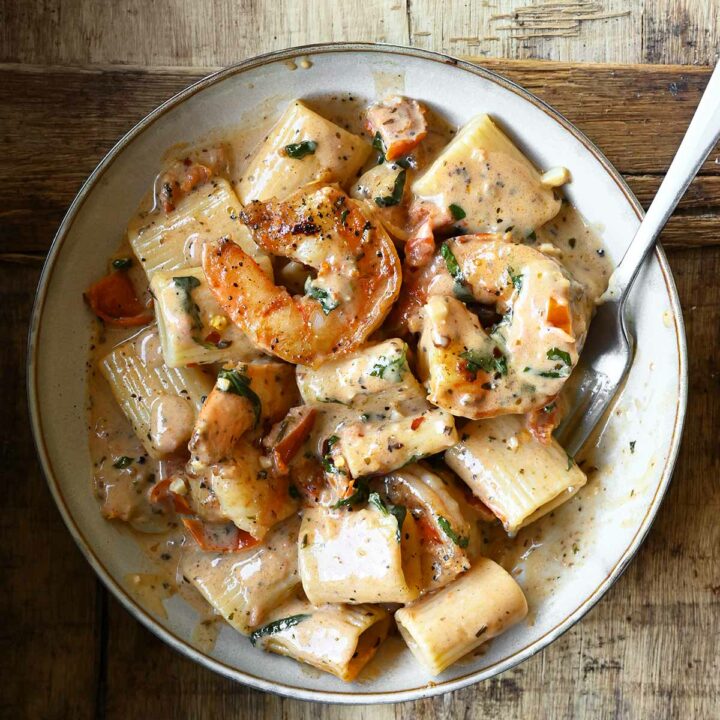 Ingredients
11 ounces/300 g dry rigatoni
1 tbsp olive oil
1 tbsp unsalted butter
1 pound/450 g shrimp, peeled and deveined
1 tsp each: salt, black pepper, divided
1 tsp each: garlic powder, sweet paprika
4 garlic cloves, minced
3.5 oz/100 g chopped sun-dried tomatoes, drained
1 tsp Italian seasoning
1 tbsp flour
¾ cup/200 ml low sodium chicken broth
1 cup/240 ml heavy cream
1 tbsp double concentrated tomato paste
1 tbsp lemon juice
¼ cup chopped basil leaves
½ cup/70 g grated Parmesan
chili flakes, for serving
Instructions
Get your prep done before you start to cook. Peel en devein the shrimp. In a bowl, combine shrimp with paprika, garlic powder, ½ teaspoon salt and ½ teaspoon pepper. Set aside.
Mince the garlic, grate the Parmesan, chop the sun-dried tomatoes and chop the basil leaves.
Boil the rigatoni al dente in salted water, according to the package directions. Drain, when ready.
In the meantime, heat oil and butter over medium high in a large skillet. Place shrimp in a single layer, and sear for 1 minute per side. Remove from skillet into a clean bowl.
Add garlic, sauté for 1 minute over medium low. Then add the sun-dried tomatoes, Italian seasoning, and the remaining salt and pepper. Cook for 1 minute more. Add flour, stir until incorporated. Deglaze with chicken broth, simmer for 2 minutes while scraping up the brown bits on the bottom of your skillet with a wooden spoon.
Pour in cream and stir in tomato paste, bring to a boil. Allow the sauce to simmer for 3 minutes or until the pasta finishes cooking. Next, add lemon juice and basil. Finally stir in Parmesan.
Toss with pasta and shrimp. Finish off with chili flakes. Enjoy!
Notes
Calories Per Serving: 663 kcal
Nutritional information is only an estimate. The accuracy of the nutritional information for any recipe on this site is not guaranteed.

//= __('Print recipe (no photos)', 'servingdumplings' );?> //= __('Print recipe (with photos)', 'servingdumplings' );?>