Honey garlic salmon and potato bake. Buttery, crispy smashed potatoes roasted alongside hot honey glazed salmon and broccoli. Easy to make and super tasty. It's buttery and savory with a hint of sweetness that will please the whole family any night of the week. Say hello to your new favorite healthy dinner, it can't be easier than this!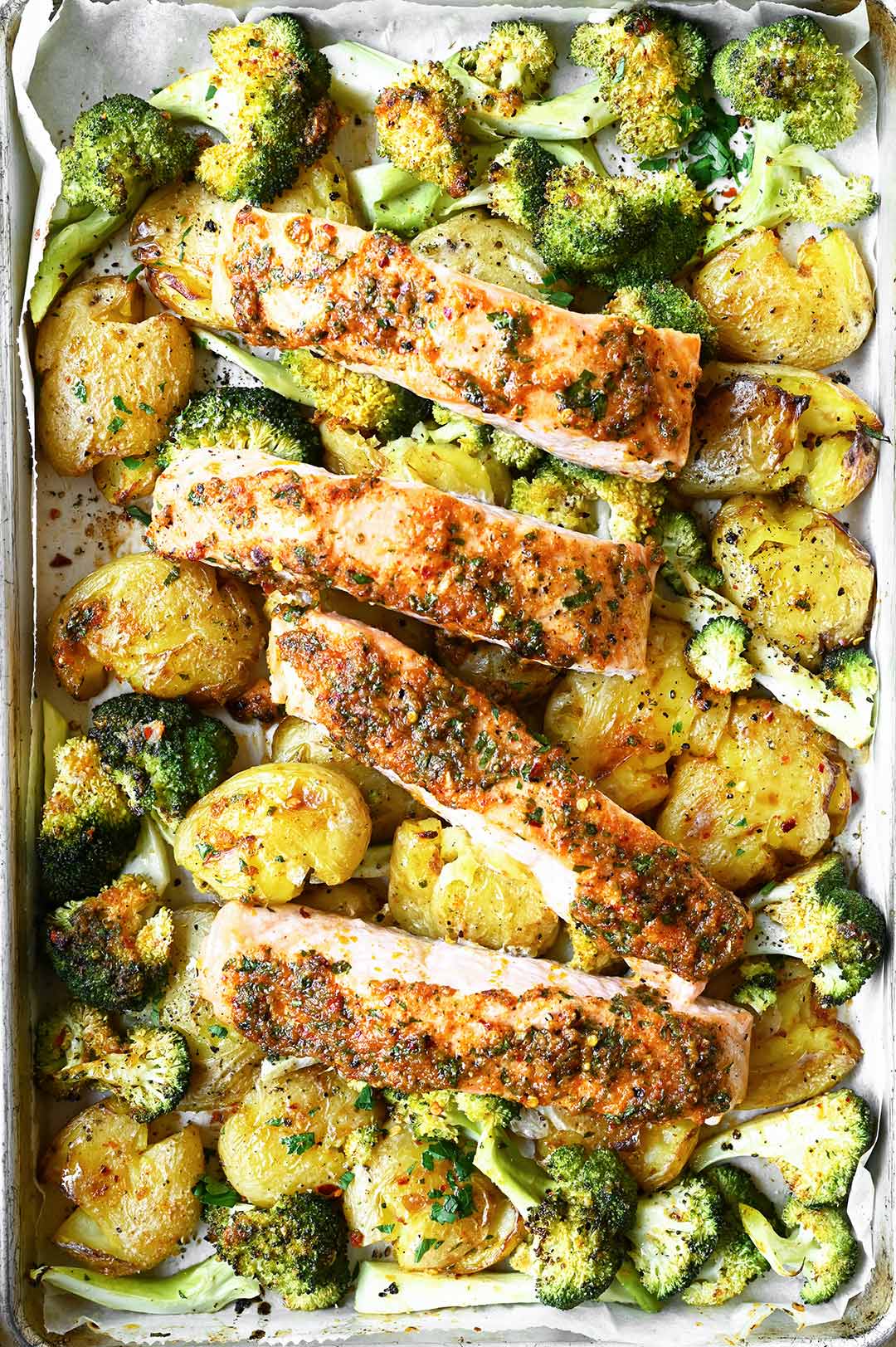 Salmon glazed with spicy honey garlic butter combined with baby potatoes and broccoli. Roasted on a baking tray for an easy, feel-good solution for even the busiest nights. So simple with minimal mess to clean up!
This salmon recipe is so delicious! And this is what you get. Baked salmon, brushed with spicy honey garlic butter and baked to flaky perfection? Yes! Crispy golden brown roasted potatoes? Check! Roasted broccoli with a little crunchy char: Absolutely!
The Secret to Perfectly Cooked Salmon
Tender, flaky salmon is the star of this recipe. When shopping, choose quality cuts salmon fillets with a similar size and thickness. This ensures they will bake evenly in the oven. If some pieces are smaller or thinner, they'll cook faster, which will result in a mix of overcooked or undercooked salmon fillets. And for what it's worth, I love preparing salmon in the oven because it cooks more evenly and more predictably than on the stovetop.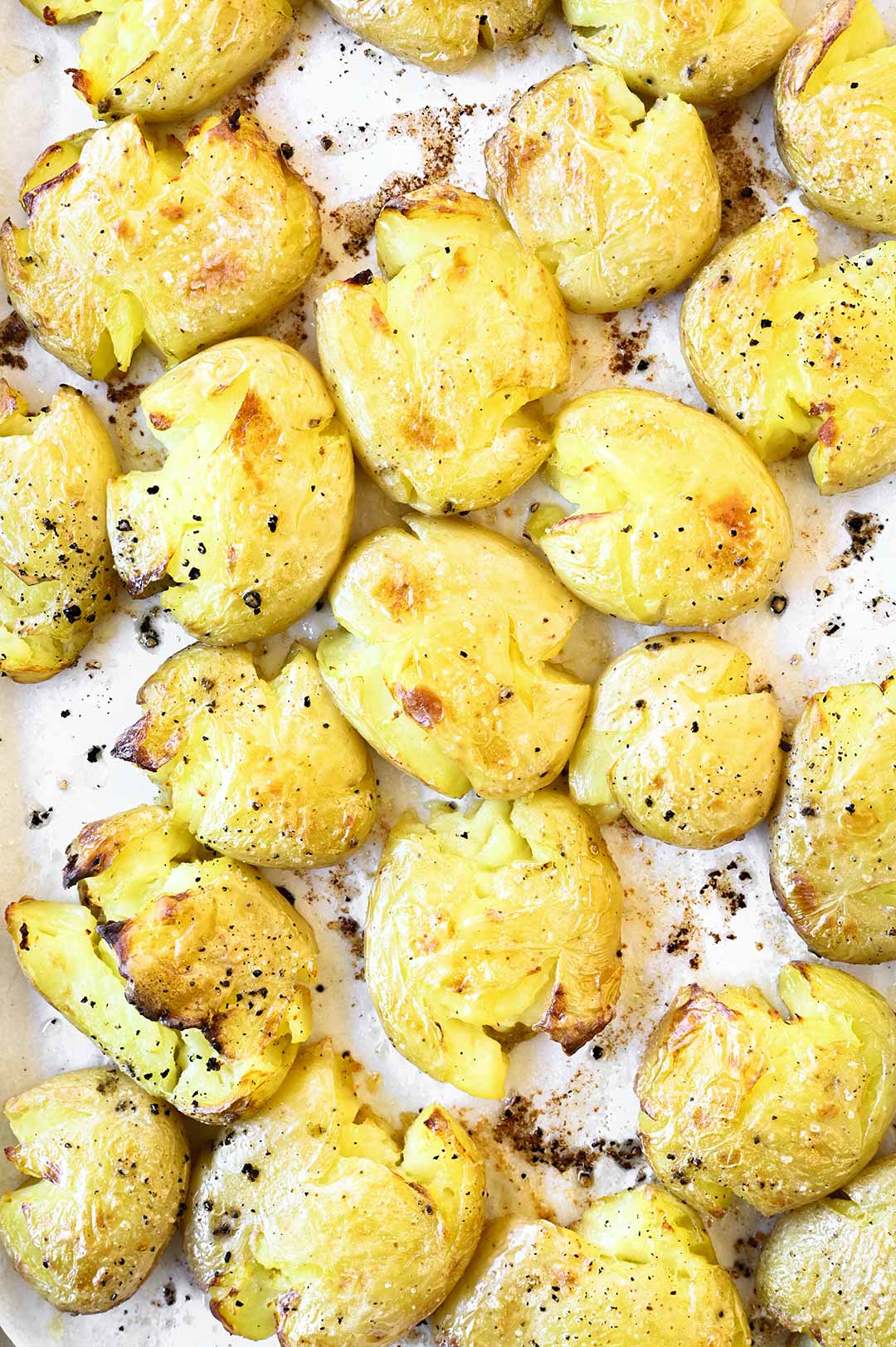 You'll Love How Easy This Comes Together
First, we cook the potatoes just until tender. Place them on a baking tray and crush them gently. Then drizzle with oil and butter and roast for 15 minutes until crispy and golden brown edges appear.
While the potatoes are roasting, we cut the broccoli and prepare the honey garlic butter. Honey, garlic and butter mixed together is one thing, but smearing it on a good side of salmon is something else! It's kind of savory, but a little sweet and slightly spicy, which is my favorite flavor profile.
Once the potatoes have been roasting for a bit, we add the broccoli and salmon to that very same tray. Brush with the prepared honey garlic butter and bake everything together until the salmon is juicy and tender, and falls apart on its own.
Let me guide you through the recipe with this step-by-step VIDEO or follow along on YouTube!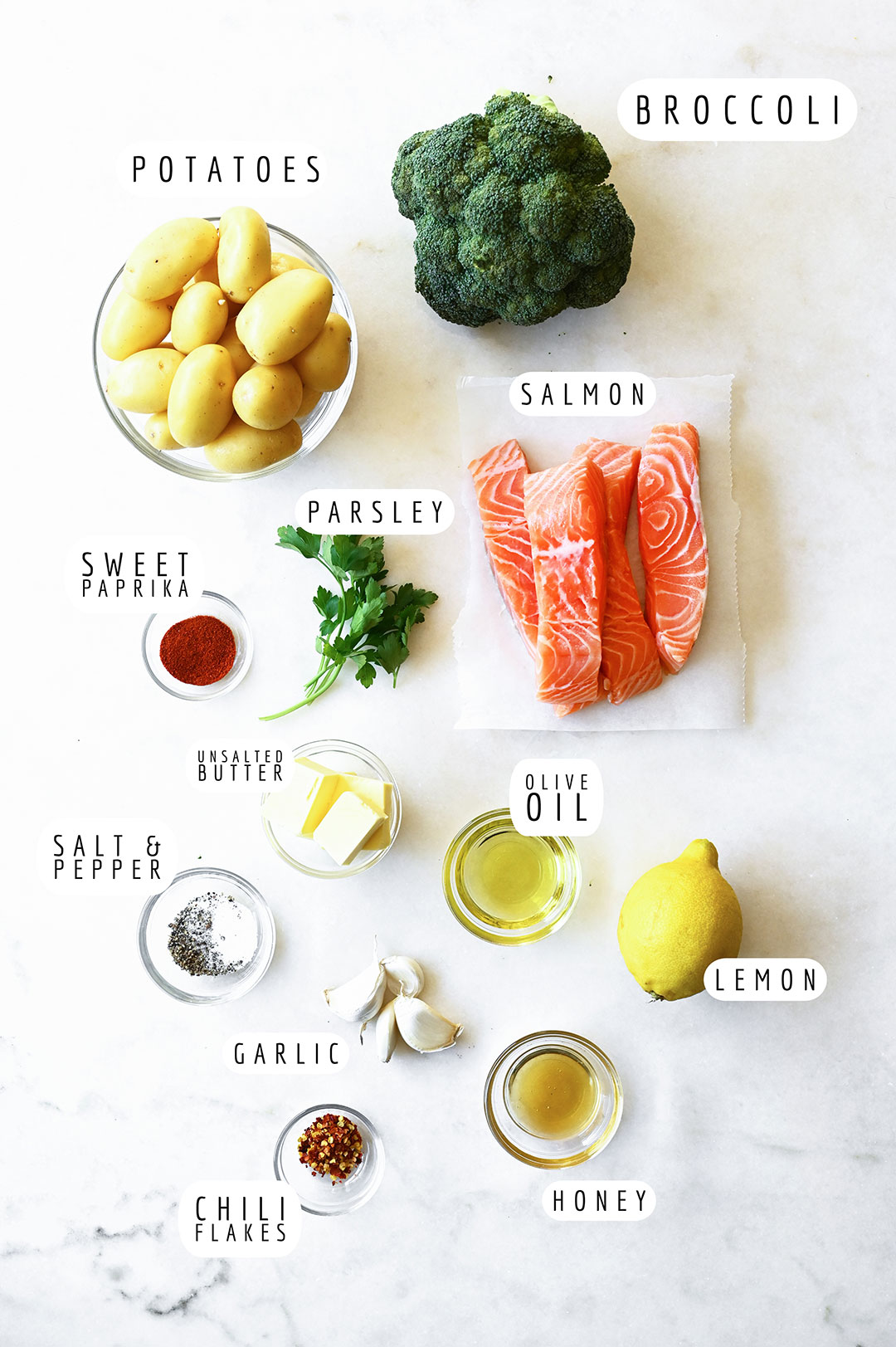 What You'll Need to Make This Honey Garlic Salmon and Potato Bake
Potatoes: For best result, use baby potatoes or small potatoes.
Salmon: Use salmon fillets with the same size and thickness so they can cook evenly.
Broccoli: Thinly sliced for a crisp-tender result. You can also use broccoli rabe.
Olive oil for drizzling.
Butter: Use unsalted.
Honey: Any honey will work great here, you can also use maple syrup.
Garlic: Freshly grated garlic is the way to go.
Lemon juice: Cuts through the sweetness of the honey. The acidity adds another depth of flavor in the sauce.
Parsley: Swap out for rosemary or thyme to make these flavors your own.
Seasoning: salt, black pepper and sweet paprika.
Chili flakes: This is not a spicy recipe, the chili flakes add a nice kick. Add less or more to your own liking.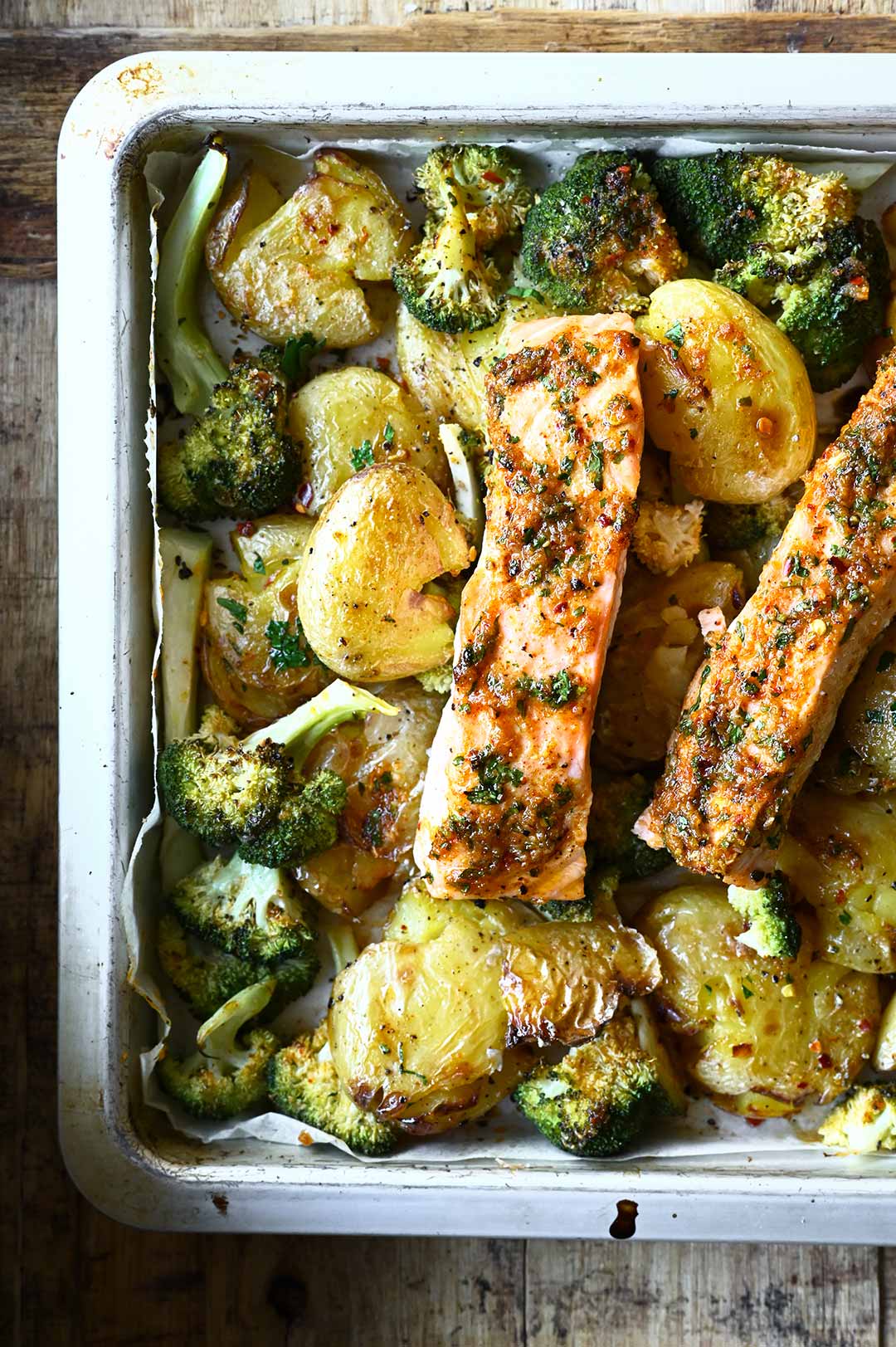 Helpful Tips
Not a fan of broccoli? Use peas, leeks, green asparagus or green beans.
You can swap salmon for your favorite white fish fillets.
Serve with a fresh arugula salad on the side.
Make ahead: You can cook the potatoes 1 day beforehand.
Storage: Leftovers can be refrigerated in an airtight container for up to 2 days.
Try These Next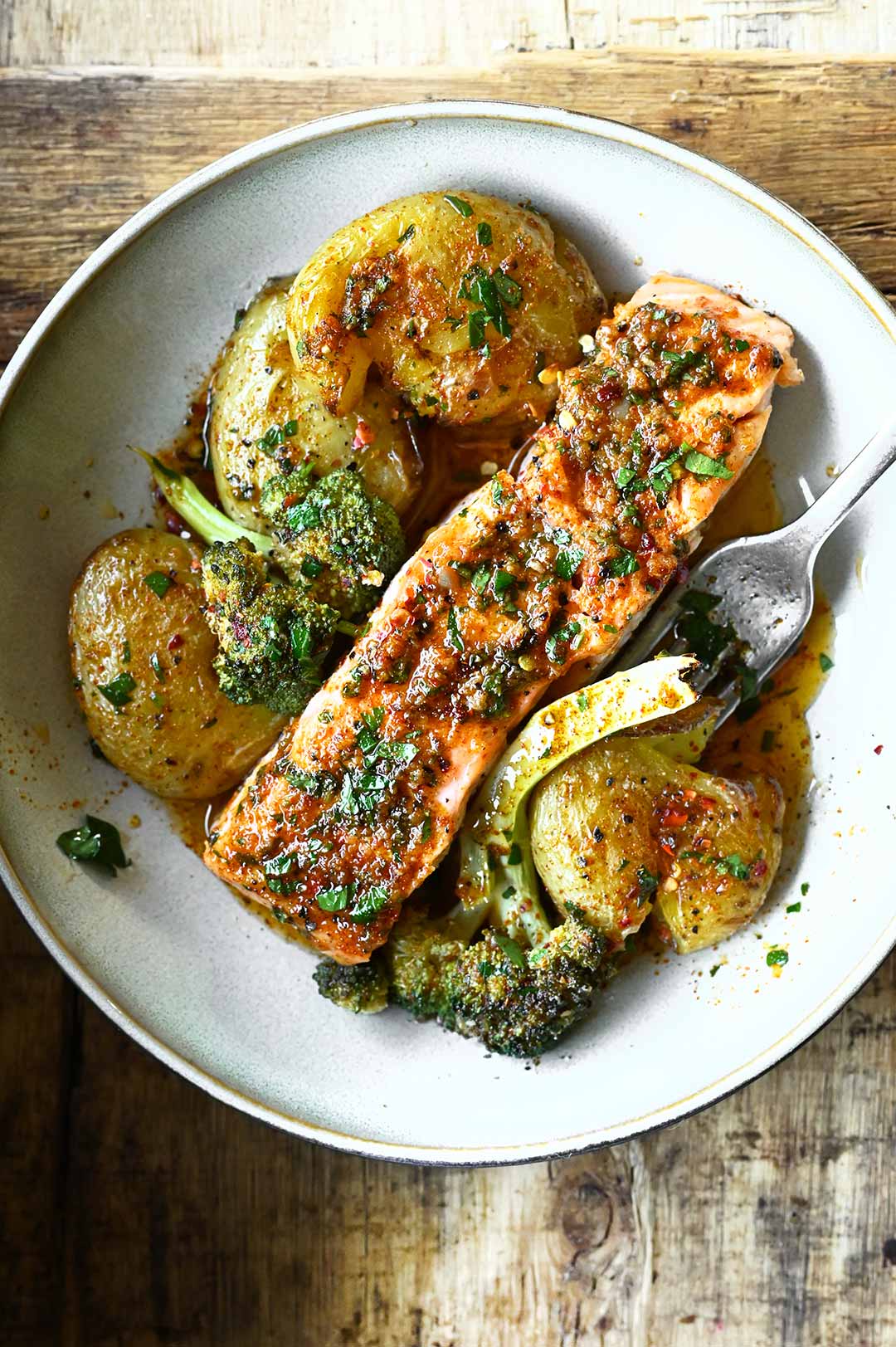 Cooking Video
Yield: serves 4
Honey Garlic Salmon and Potato Bake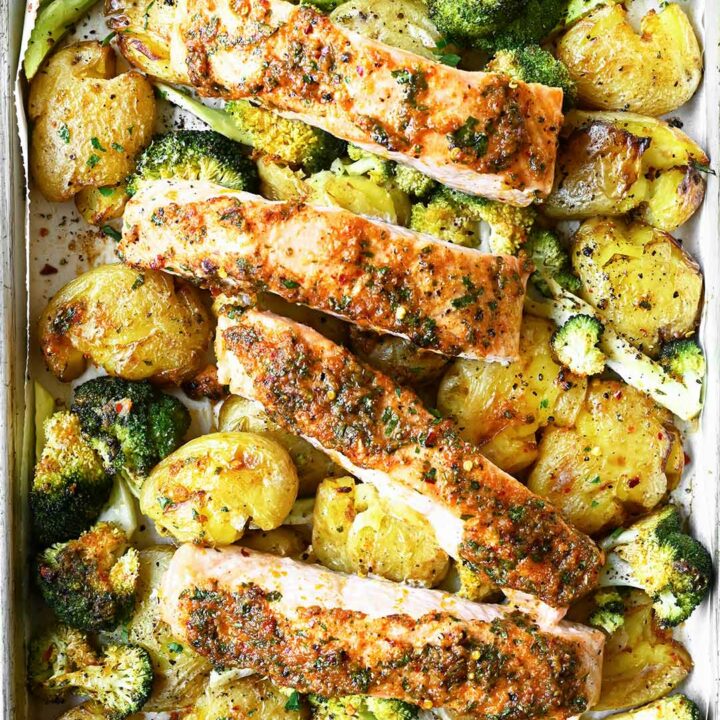 Ingredients
1.4 pounds/600 g baby potatoes
salt
black pepper
1 tbsp olive oil
2 tbsp unsalted butter, melted
1 broccoli
4 salmon fillets
Honey Garlic Butter
¼ cup/50 g unsalted butter, melted
2 tbsp honey
4 garlic cloves, grated
½ tsp each: chili flakes, sweet paprika
2 tbsp chopped parsley
2 tbsp lemon juice, more for sprinkling
Instructions
Cook the potatoes in salted water for 15 minutes until tender. Drain well.
Preheat the oven to 400°F/200°C.
Place the cooked potatoes in a baking tray and crush gently with a glass or a fork, make sure to keep them in one piece. Drizzle with oil and melted butter. Season with salt and pepper. Transfer to the oven and roast for 15 minutes until golden brown.
In the meantime, cut the broccoli into thin slices, then into smaller bite-sized pieces. Combine the ingredients for the honey garlic butter.
Nestle broccoli between roasted potatoes and place the salmon fillets on top. Season with salt and pepper. Spread the prepared honey garlic mixture with a brush over the salmon fillets, about 1 tablespoon per piece. Brush the excess mixture over broccoli. Sprinkle with lemon juice and transfer to the oven.
Bake for 15 minutes or until the fish is just cooked. Serve!
Notes
Calories Per Serving: 641 kcal
Nutritional information is only an estimate. The accuracy of the nutritional information for any recipe on this site is not guaranteed.

//= __('Print recipe (no photos)', 'servingdumplings' );?> //= __('Print recipe (with photos)', 'servingdumplings' );?>