Easy balsamic mushroom risotto with garlic butter sauce. This risotto recipe is irresistibly light, velvety and ready in 40 minutes. It will be tempting not to eat that second bowl. Swirled with Parmesan and mascarpone for extra creaminess, then topped with garlicky mushrooms sautéed with balsamic vinegar.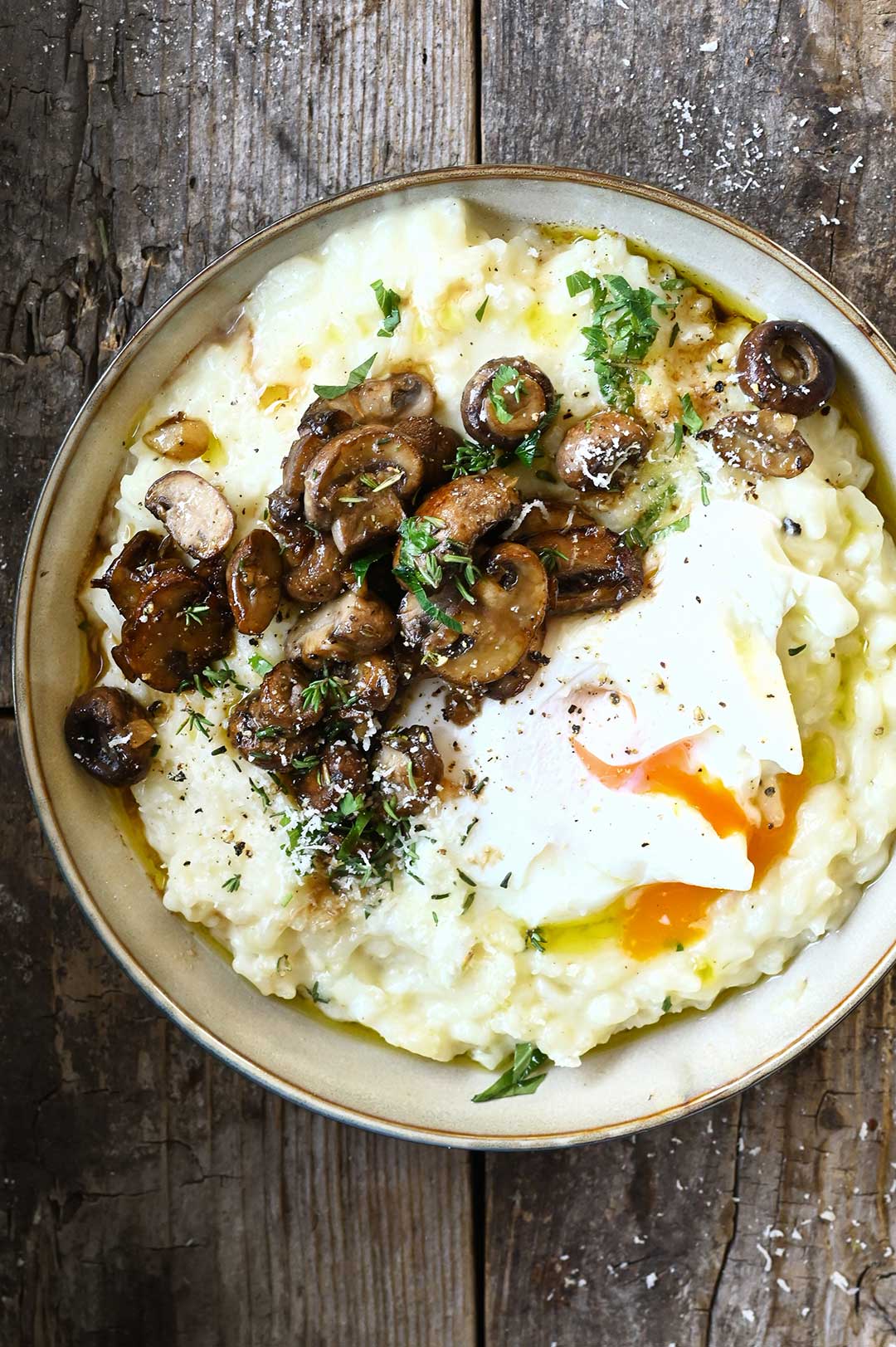 Why You'll Enjoy This Balsamic Mushroom Risotto Recipe
This risotto recipe is super easy to make, all you need to do is stir it frequently to achieve that smooth, creamy texture that makes risotto so delicious. Adding a bit of mascarpone cheese at the end makes it even silkier.
The mushrooms, when combined with a splash of balsamic vinegar and garlic, bring a deep and rich flavor to the dish. It's so flavorful that it doesn't require much else besides maybe a poached egg as a garnish.
The outcome is a comforting and flavorful dish that captures the essence of autumn. You'll love it!
Let me guide you through the recipe with this step-by-step VIDEO.
And the mushrooms? They are like culinary magic. This recipe uses cremini mushrooms, but you can try shiitakes, brown button mushrooms, or even wild ones like morels or chanterelles, depending on what's in season. Enhance their earthy taste by cooking them with butter, a bit of balsamic vinegar and garlic. Trust me, it's pure magic, and you'll enjoy every bite!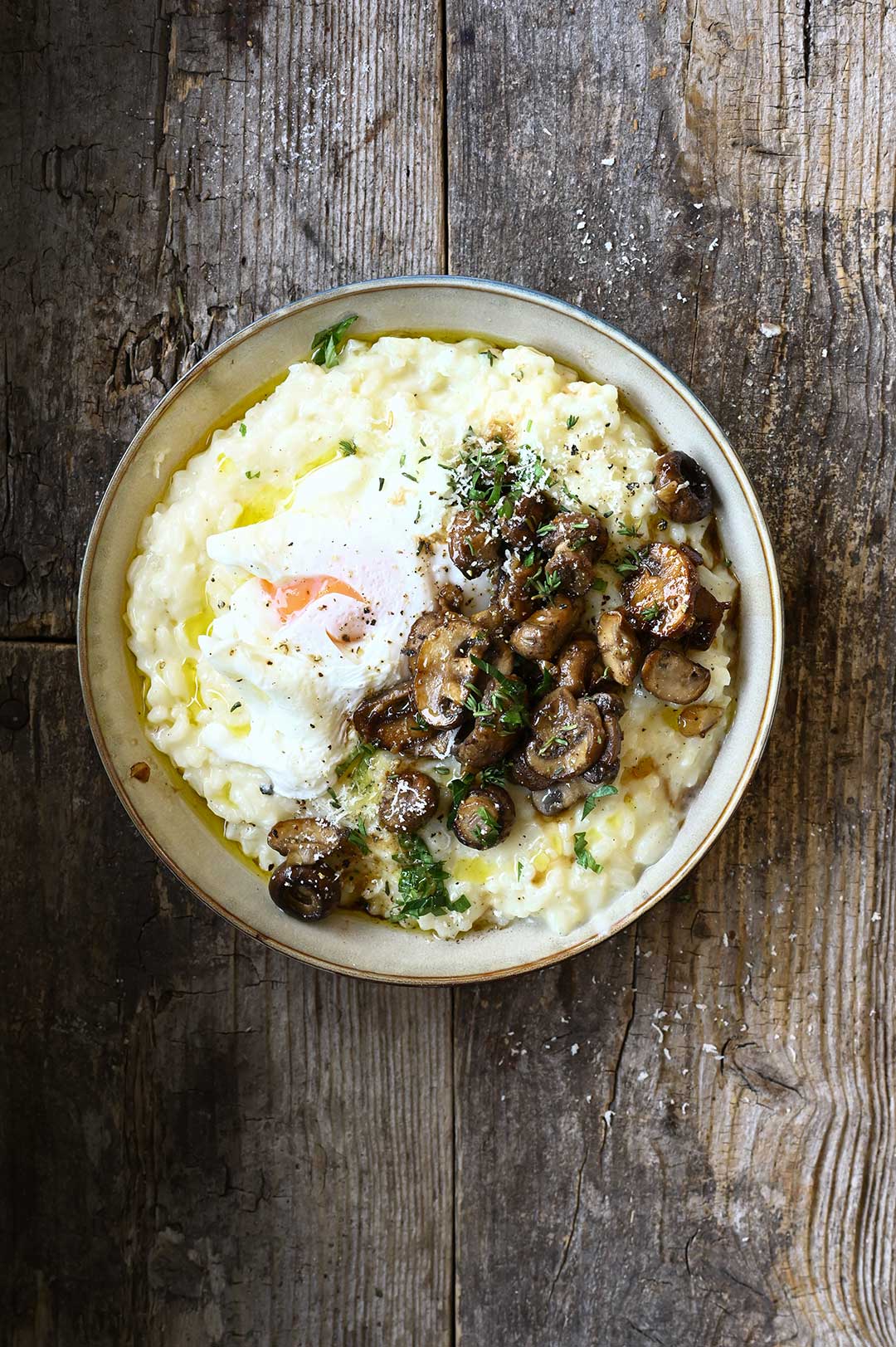 Helpful Tips
Pair this risotto with a refreshing Romaine lettuce salad topped with a caesar dressing.
This recipe can serve either 4 people as a main course or 6 people as a starter.
For best results, consider using these mushrooms: cremini, brown button mushrooms, chanterelles, portobello, oyster mushrooms or shiitakes.
Use high-quality rice. Arborio is common, Carnaroli is excellent for texture and consistency. Sushi rice is an alternative, though it might not provide the same rich flavor as Arborio.
Preparation is key. Have everything ready before starting the risotto. Also, warming your broth beforehand helps create a quicker and creamier risotto at home.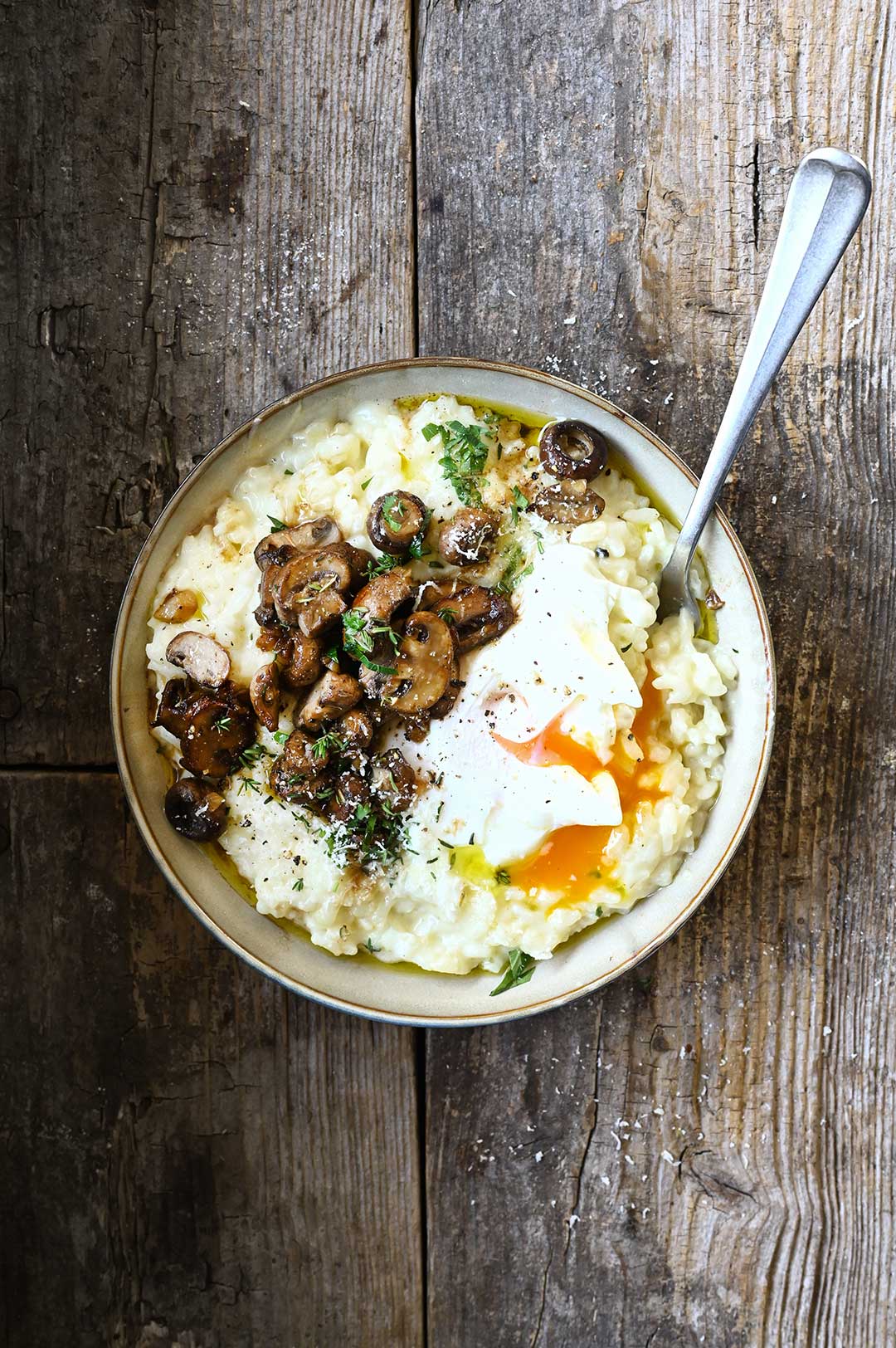 3 more cheesy recipes:

Cooking Video: How To Make Easy Mushroom Risotto
Yield: serves 4
Easy Mushroom Risotto
This easy 40-minute risotto is irresistibly light and velvety. Enhanced with parmesan and mascarpone for creaminess, then topped with garlicky balsamic sautéed mushrooms.
Ingredients
400 g/2 cups Arborio rice
5 tbsp olive oil
1 shallot, finely chopped
1 garlic clove, minced
1,5 L – 2 L /6-8 cups vegetable broth, warm
4 tbsp unsalted butter
100 g/3.5 oz grated Parmesan
100 g/3.5 oz mascarpone
1/3 cup/80 ml dry white wine
2 tbsp lemon juice
salt + black pepper
Balsamic Mushrooms
500 g/1 pound mushrooms
2 tbsp olive oil
2 tbsp unsalted butter
4 garlic cloves, minced
4 sprigs of thyme
3 tbsp balsamic vinegar
Additional
4 eggs
1 tbsp vinegar
chopped parsley, for serving
Parmesan, for serving
Instructions
For the risotto.

Heat olive oil in a large Dutch oven or a heavy-bottomed pot over low heat. Add onion and garlic. Cook, stirring often, until softened for about 3 minutes. Add rice and toast, stirring often for about 2 minutes. Pour in white wine and simmer, while stirring, until it's almost completely evaporated.
Add about 1 cup warm broth and cook, while stirring often, until liquid is absorbed. Repeat process, adding more broth as each addition is absorbed, until the rice is tender but still firm to the bite and the mixture is creamy.
I needed about 20-25 minutes with 1,5 l/6 cups broth. Add more broth if needed, cook until the desired consistency is achieved.
The risotto should be loose and creamy, thick enough that you can see the bottom of your pot when stirring, but still saucy.
Season with salt and pepper. Remove from the heat and add lemon juice, butter, mascarpone and Parmesan. Stir until combined. Taste and add salt and pepper, if needed. Cover and set aside.
For the mushrooms.
During the time when the rice is cooking, heat olive oil in a skillet over medium heat. Add half of the mushrooms and cook, stirring often, until they start to soften. Add the remaining mushrooms and cook until golden brown.
Add garlic, cook for about 3 minutes. Then stir in balsamic vinegar, thyme and butter. Season with salt and pepper. Set aside.
For the poached eggs.
Bring a small saucepan with water to a bare simmer over low heat. Add vinegar.
Crack 1 egg into a small bowl or a cup. Stir the water to create a gentle whirlpool, then slide the egg into the simmering water. Cook until whites are cooked but yolks are still runny, about 3 minutes.
Using a slotted spoon, carefully transfer the egg to a plate layered with kitchen paper. Repeat with the remaining eggs.
Divide the risotto among bowls, top with eggs and mushrooms. Sprinkle with parsley, extra Parmesan and black pepper. Enjoy!
Nutrition Information:
Yield:
4
Serving Size:
1
Amount Per Serving:
Calories:

643
Total Fat:

67g
Saturated Fat:

27g
Trans Fat:

0g
Unsaturated Fat:

34g
Cholesterol:

288mg
Sodium:

8807mg
Carbohydrates:

71g
Fiber:

3g
Sugar:

22g
Protein:

26g
Nutritional information is only an estimate. The accuracy of the nutritional information for any recipe on this site is not guaranteed.