A creamy risotto with balsamic mushrooms and a garlic butter sauce.
This easy risotto is ready in about 40 minutes. So light and velvety that it will be tempting not to eat that second bowl.
Swirled with parmesan and mascarpone for that extra hint of creaminess. Finished with mushrooms sautéed with balsamic vinegar and garlic.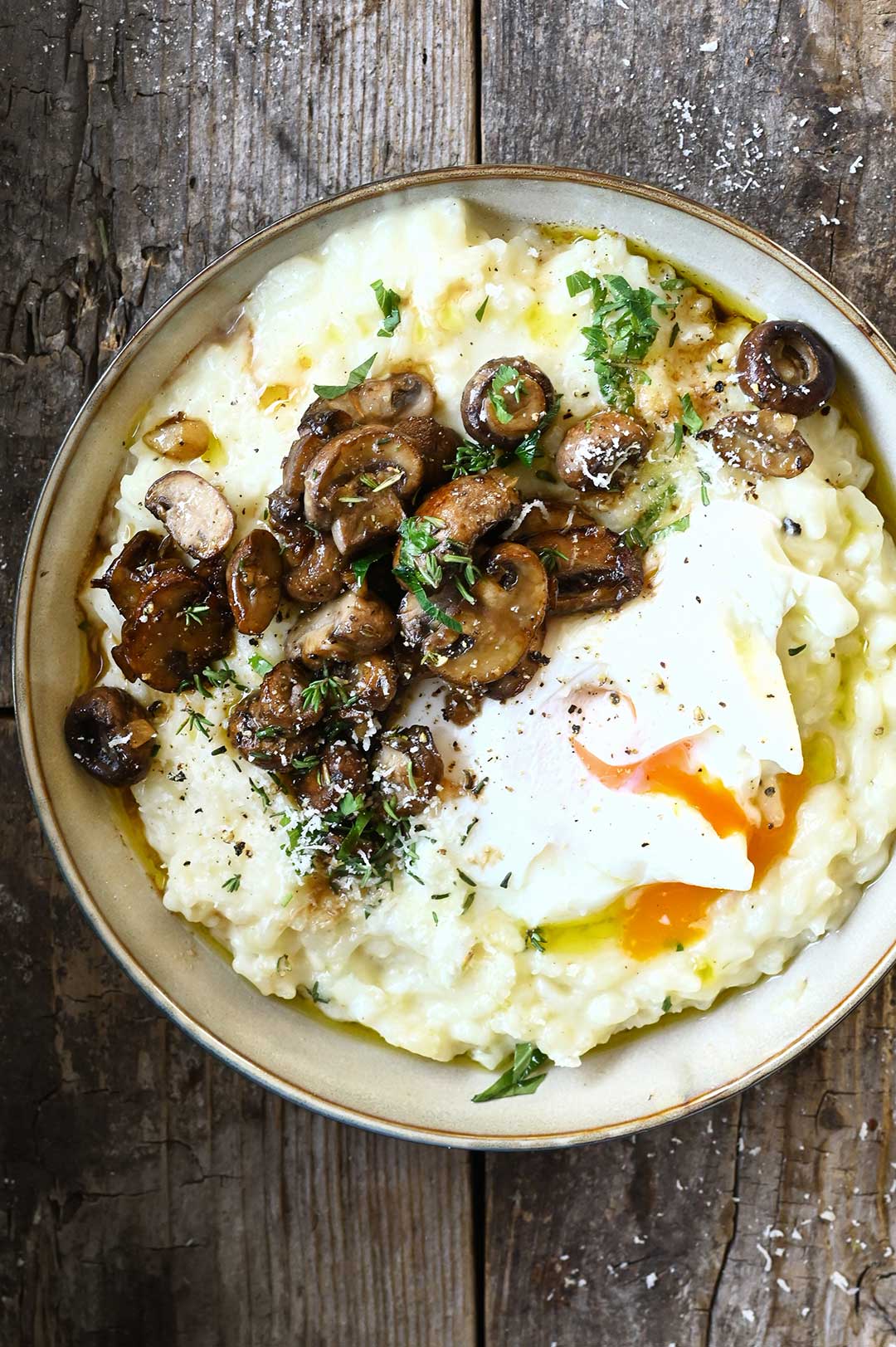 Risotto is very easy to cook, just make sure to stir frequently, this way you break down the rice and create the smooth, creamy sauce of a good risotto. And by adding a little mascarpone in the last step, the risotto will be even more silkier.
The mushrooms, along with a splash of balsamic and garlic, add such a deep flavor to this meal. It's so rich and flavorful, it doesn't really need much more of a garnish besides maybe a poached egg.
The result is a savory and hearty dish, encompassing those comforting flavors of fall. You can use any kind of mushrooms, a mix of wild mushrooms, dried chanterelles or porcini. Simple, but perfect, and really tasty when spooned over this cheesy risotto.
Let me guide you through the recipe with this step-by-step VIDEO.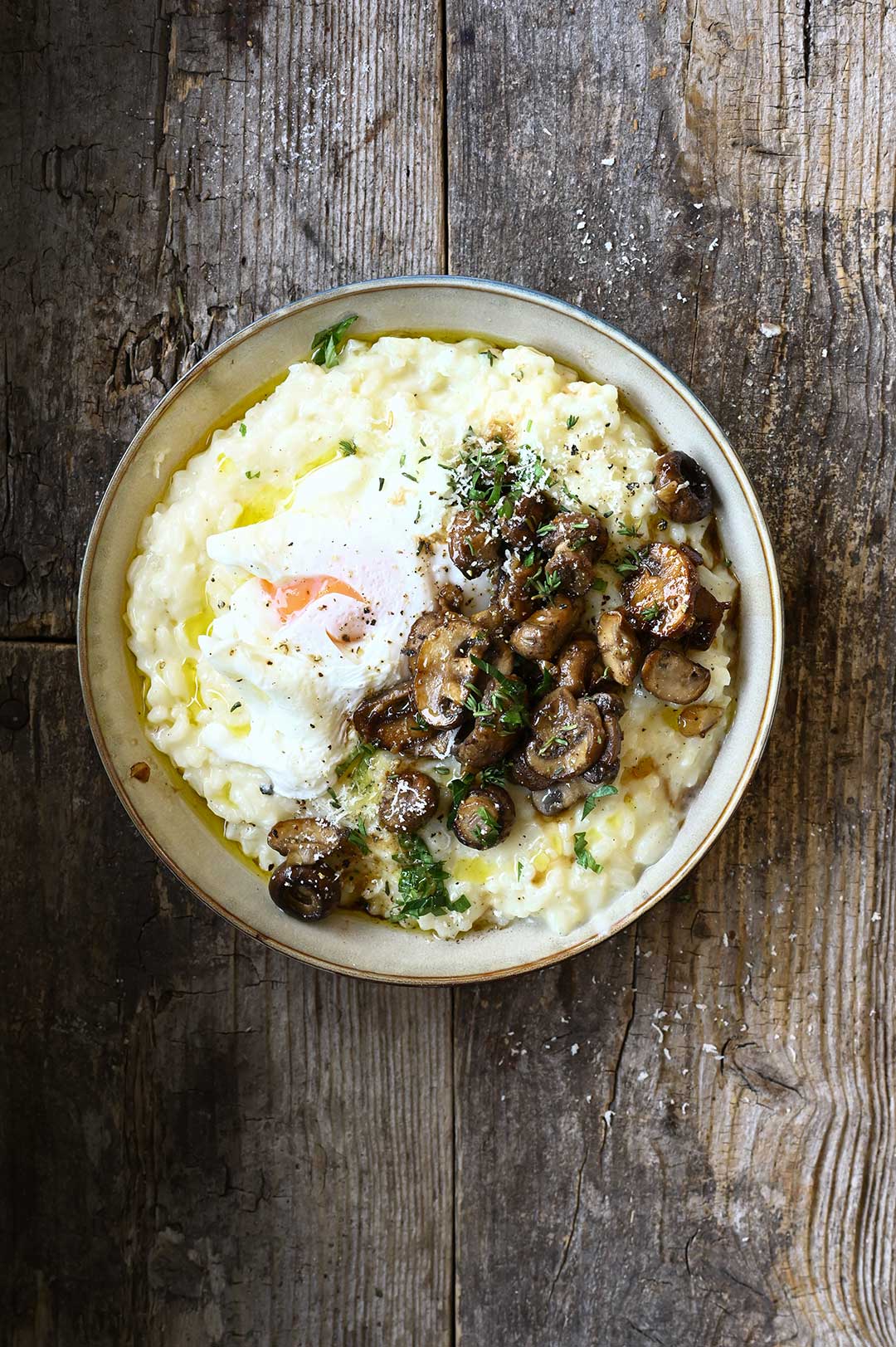 3 more cheesy recipes: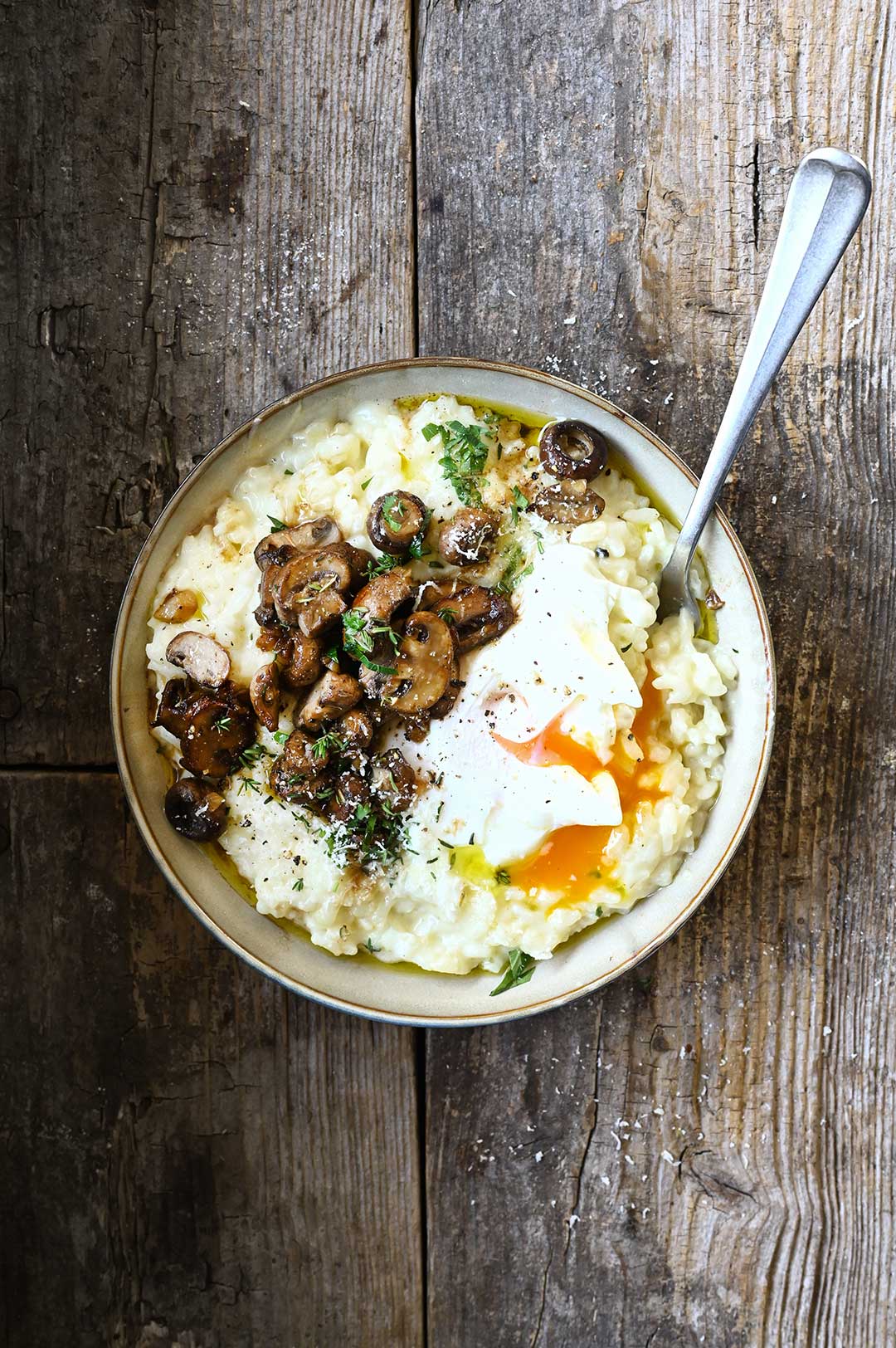 Cooking Video
Yield: serves 4
Creamy Risotto with Balsamic Mushrooms
Prep Time 10 minutes

Cook Time 35 minutes

Total Time 45 minutes
Ingredients
400 g/2 cups arborio rice
5 tbsp olive oil
1 shallot, finely chopped
1 garlic clove, minced
1,5 L – 2 L (6-8 cups) vegetable broth, warm
40 g/4 tbsp unsalted butter
100 g/3.7 oz grated parmezan
100 g/3.7 oz mascarpone
1/3 cup/80 ml white wine
2 tbsp lemon juice
salt + black pepper
balsamic mushrooms
500 g/1 pound mushrooms
2 tbsp olive oil
30 g/2 tbsp unsalted butter
4 garlic cloves, minced
4 sprigs of thyme
3 tbsp balsamic vinegar
additional
4 eggs
1 tbsp vinegar
chopped parsley, for serving
parmesan, for serving
Instructions
Start with the risotto. Heat olive oil in a large Dutch oven or a heavy pot over low heat. Add onion and garlic. Cook, stirring often, until softened, about 3 minutes. Add rice and cook, stirring often, about 2 minutes. Pour white wine and cook, stirring, until it's almost completely evaporated.
Add about 1 cup warm broth and cook, stirring, until liquid is absorbed. Repeat process, adding more broth as each addition is absorbed, until rice is tender but still firm to the bite and the mixture is creamy.
I needed about 20-25 minutes with 1,5 L (6 cups) broth. Add more broth if needed, cook until the desired consistency is achieved.
The risotto should be loose and creamy, thick enough that you can see the bottom of your pot when stirring, but still saucy.
Season with salt and pepper. Remove from the heat and add lemon juice, butter, mascarpone and parmesan. Stir until incorporated. Taste and add salt and pepper, if needed. Cover and set aside.
Meanwhile when the rice is cooking, heat olive oil in a skillet over medium heat. Add half of the mushrooms and cook, stirring often, until they start to soften. Add the remaining mushrooms and cook until golden brown.
Add garlic, cook for about 3 minutes. Then stir in balsamic vinegar, thyme and butter. Season with salt and pepper. Set aside.
Finally, make the poached eggs. Bring a small saucepan with water to a bare simmer over low heat. Add vinegar.
Crack 1 egg into a small bowl or a cup. Stir the water to create a gentle whirlpool, then slide the egg into the simmering water. Cook until whites are cooked but yolks are still runny, about 3 minutes.
Using a slotted spoon, carefully transfer the egg to a plate layered with kitchen paper. Repeat with the remaining eggs.
Divide the risotto among bowls, top with eggs and mushrooms. Sprinkle with parsley, parmesan and black pepper. Enjoy!
Notes
Calories Per Serving: 643 kcal
Nutritional information is only an estimate. The accuracy of the nutritional information for any recipe on this site is not guaranteed.

DOWNLOAD PRINTABLE RECIPE PDF

//= __('Print recipe (no photos)', 'servingdumplings' );?> //= __('Print recipe (with photos)', 'servingdumplings' );?>