Chicken meatballs all'arrabbiata with Parmesan polenta. It's the best combo! Fancy looking, super delicious and easy to throw together. Imagine pan-seared tender chicken meatballs, spicy arrabbiata sauce and a creamy pile of hot polenta. Great for simple family dinners any night of the week.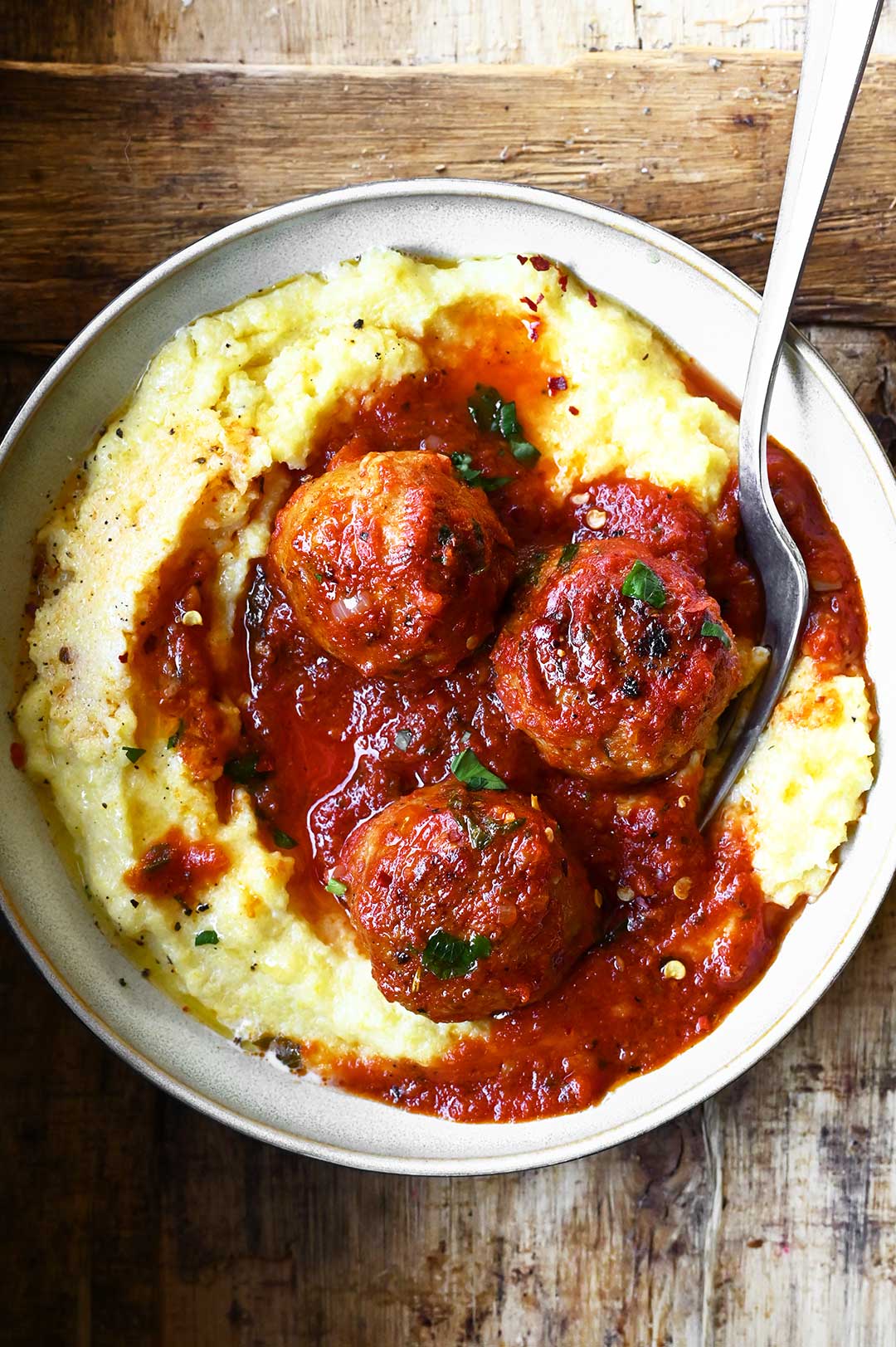 Why this Meatballs All'Arrabbiata Recipe Works
This recipe combines the beloved arrabbiata sauce with pan-seared chicken meatballs. It has all of the traditional essentials, plus, it's ready in about 30 minutes… so let me win you over with its depth of flavor and ease of cooking.
The fiery arrabbiata sauce adds the perfect amount of spice to the hearty chicken meatballs. It actually is a dinner flavor bomb, like, in a really good way! Made with tomato paste, puréed tomatoes, red chili flakes and a handful of grated Parmesan.
The Parmesan helps to tone down the spices, while parsley adds a fresh touch. This one is for all you spicy food lovers, you can add as much heat as you can handle. This dish should be almost fiery!
However, it doesn't matter how hot you dare to go, this is an easy to make, quick and satisfying meal using simple ingredients.
Let me guide you through the recipe with this step-by-step VIDEO.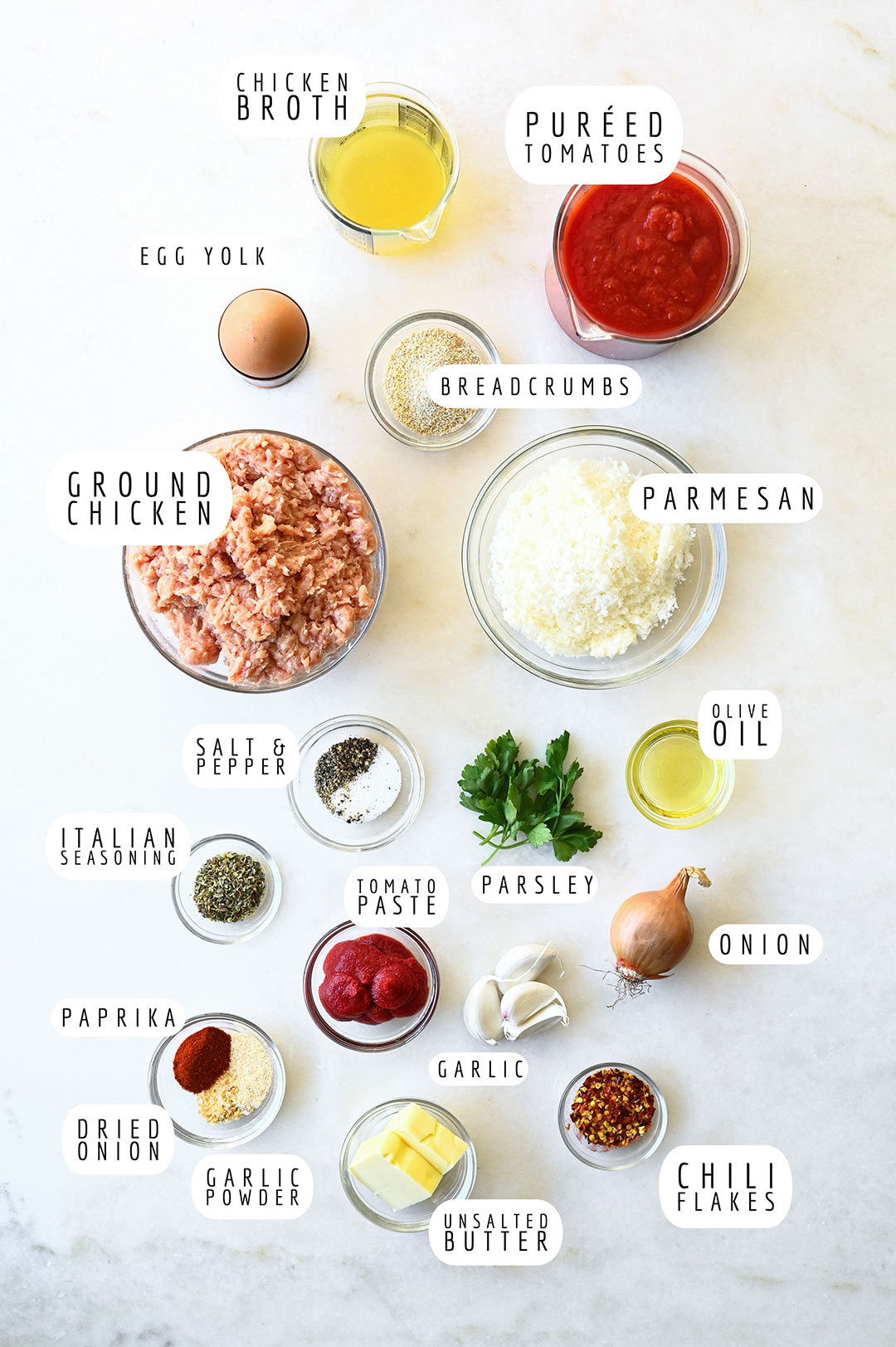 Ingredients Needed For Chicken Meatballs All'Arrabbiata
Ground Chicken:

When combined with breadcrumbs, spices, egg yolk and a handful of Parmesan, ground chicken makes for super tender, bouncy meatballs.

Garlic and onion: Our flavor base.
Tomato paste: To get a super-tomatoey flavor, we sauté the paste to caramelize the sugars until it's blushed several shades deeper.
Puréed tomatoes: For a thicker, smoother sauce. You can also use crushed tomatoes.
Seasoning: Salt, black pepper, garlic powder, dried onion, Italian seasoning and sweet paprika. Yes, we do need them all to add as much flavor as possible and push this dish to the next level.
Chili flakes: Use as much as you prefer and make the sauce as spicy as you can handle. You can use crushed chili flakes, fresh chili, sambal oelek or your favorite chili paste.
Parmesan: To tone down the spices and add a creamy touch. Best when freshly grated.
Herbes: Parsley for a fresh touch, you can swap it for basil.
Polenta
We serve the meatballs over a delicious creamy polenta swirled with Parmesan. The cheese adds character and a creamy touch. The ingredients are simple, but the taste is huge. We prepare the polenta while the meatballs are simmering. Super easy!
What is Polenta?
Polenta is a traditional Italian dish made from ground cornmeal. It's prepared by simmering the cornmeal in water, broth or milk until it thickens into a creamy consistency. Often seasoned with salt, butter, cheese or herbs, it's served soft or allowed to set, sliced, and prepared in various ways, making it a versatile dish.
Is polenta the same as grits? Polenta and grits are similar but made from different types of corn. Polenta is made from coarsely ground yellow cornmeal, while grits are typically made from finely ground white cornmeal, resulting in slight differences in texture and flavor.
Not a fan of polenta? Try these chicken meatballs all'arrabbiata with mashed potatoes, pasta, crusty bread or buttery orzo.
Helpful Tips
You can use ground turkey or pork instead of chicken.
Add greens to the sauce like spinach, baby kale or arugula.
Add veggies like roasted bell peppers, sun-dried tomatoes, broccoli rabe or green peas.
The amount of heat in this recipe gives a warm but not overpowering heat, if you prefer to have your socks knocked off, you can always add a little more.
Serve with a side salad drizzled with balsamic dressing.
Use white wine instead of the broth, it will add more depth of flavor.
Storage
Fridge: Store leftovers refrigerated in an airtight container for up to 3 days.
Freezer: Meatballs all'Arrabbiata can be stored in the freezer for up to 3 months.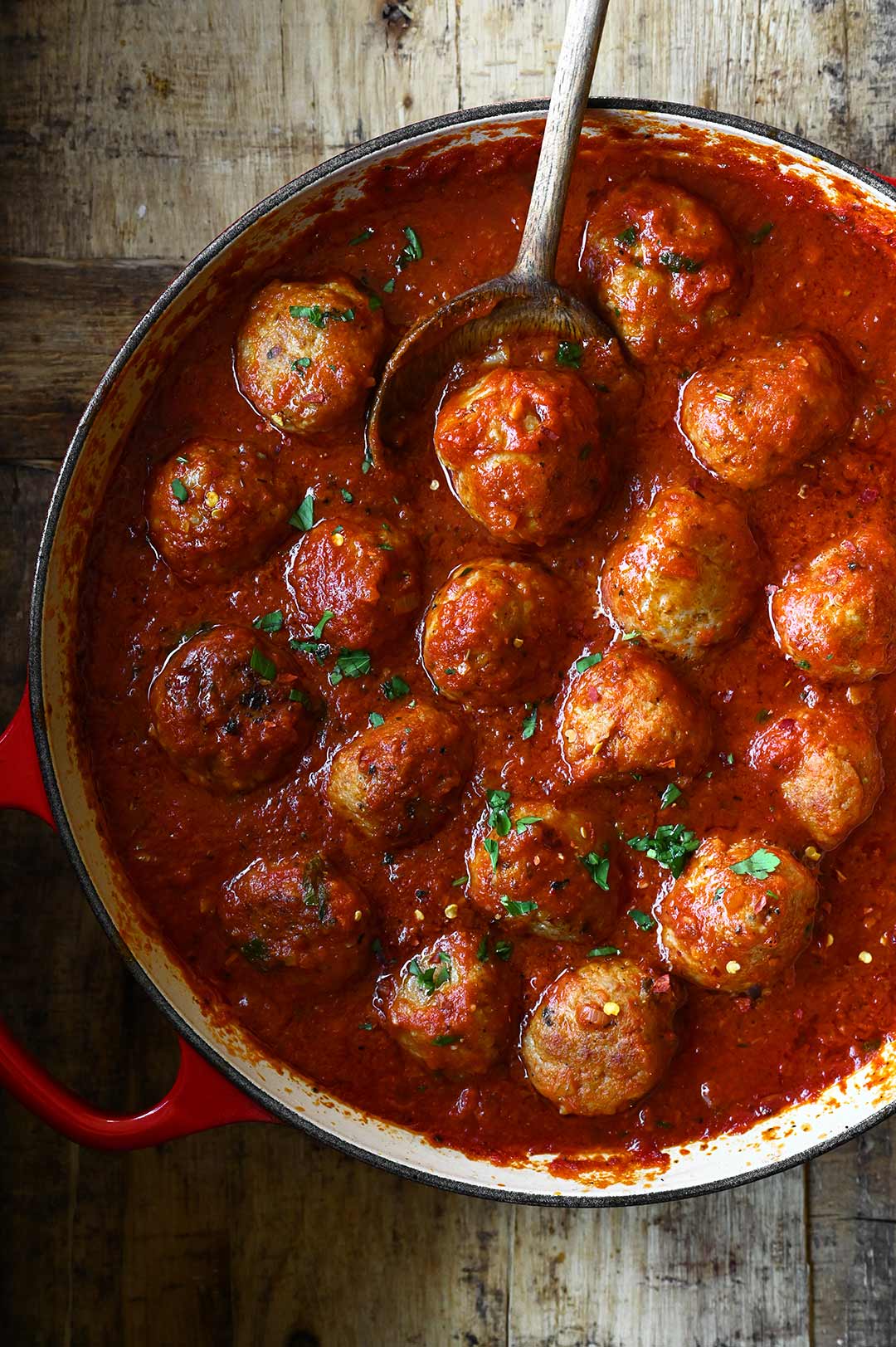 Try These Next
Cooking Video: How to Make Chicken Meatballs All'Arrabbiata with Polenta
Yield: serves 4
Chicken Meatballs all'Arrabbiata with Polenta
Pan-seared tender chicken meatballs with spicy arrabbiata sauce and creamy polenta. This dish is fancy, delicious and effortless to prepare. Perfect for easy family dinners any night of the week.
Ingredients
Parmesan Chicken Meatballs
1.1 pounds/500 g ground chicken
1 tsp each: salt, black pepper, sweet paprika, garlic powder, dried onion
1 egg yolk
2 tbsp breadcrumbs
2 tbsp grated Parmesan
Arrabbiata Sauce
1 tbsp olive oil
2 tbsp unsalted butter
4 garlic cloves, minced
1 small yellow onion, finely chopped
1 tsp each: salt, black pepper, Italian seasoning
1-2 tsp chili flakes or chili paste, more or less to taste
3 tbsp double concentrated tomato paste
¼ cup/50 ml chicken broth
2 cups /500 mlpuréed tomatoes
2 tbsp chopped parsley
1 ounce/30 g grated Parmesan
Parmesan Polenta
4 ounces/110 g instant polenta
1 cup/240 ml milk
1 cup/240 ml chicken broth
1 tsp each: salt, black pepper
1 tbsp unsalted butter
4 tbsp grated Parmesan
Instructions
Get your prep done before you start cooking. Finely chop the onion, mince the garlic and chop the parsley.
Add ground chicken and the ingredients for the meatballs to a bowl. Mix with your hands, just until combined. Roll into 2-tablespoon sized balls. Will make about 18 meatballs.
Heat oil and butter over medium in a nonstick skillet. Add meatballs and brown on all sides, about 6 minutes, turning them frequently. Remove from skillet.
To the same skillet, add onion and garlic, cook until soft. Stir in salt, pepper, Italian seasoning and tomato paste. Cook for 1 minute. Deglaze with chicken broth. Simmer for 2 minutes while scraping up the brown bits on the bottom of your skillet with a wooden spoon.
Add chili flakes, puréed tomatoes and parsley. Stir in Parmesan and bring to a simmer. Return meatballs and their released juices to the skillet, stir to coat the meat with sauce. Simmer until the meatballs are cooked through, about 10 minutes.
Meanwhile, make the polenta. In a saucepan, bring chicken broth and milk to a simmer. Slowly whisk in the polenta, salt and pepper. Stir continuously, about 2-3 minutes, over low heat. Turn off the heat. Stir in the grated Parmesan. Add butter and stir to combine. If the polenta thickens too much, thin with some additional milk or water. Add more salt and pepper, if needed.
Serve immediately! Enjoy!
Nutrition Information:
Yield:
4
Serving Size:
1
Amount Per Serving:
Calories:

537
Total Fat:

67g
Saturated Fat:

19g
Trans Fat:

0g
Unsaturated Fat:

36g
Cholesterol:

239mg
Sodium:

3546mg
Carbohydrates:

621g
Fiber:

187g
Sugar:

413g
Protein:

178g
Nutritional information is only an estimate. The accuracy of the nutritional information for any recipe on this site is not guaranteed.