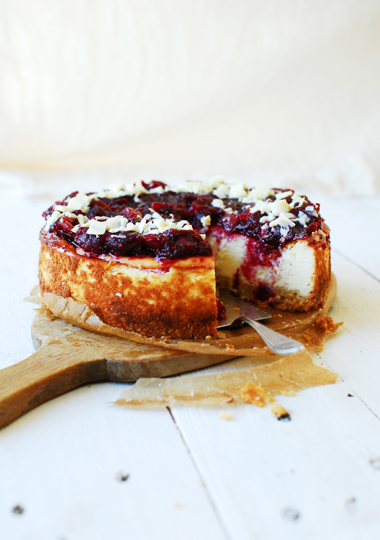 Today we are talking about this great cheesecake with a crispy crust, covered with mass amounts of a dense cranberry sauce. The cheesecake is creamy and delicate with a little sour freshness from the cranberries, it's just delicious. I love this cake, you'll have to make it:)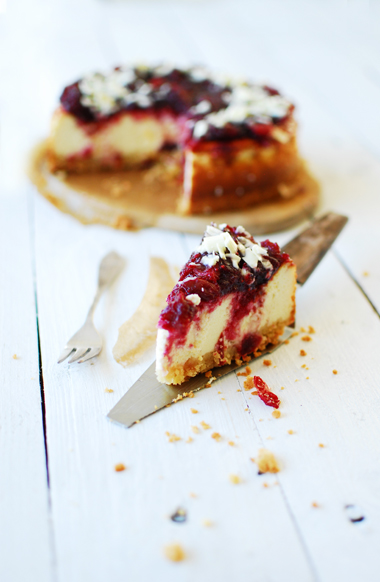 Ingredients
crust
100 g sponge fingers (tiramisu)
100 g butter
100 g flaked almonds
cheese filling
250 g ricotta
250 g cottage cheese
200 ml sour cream
3 farmers eggs
100 g sugar
1 tablespoon potato starch
2 tablespoons vanilla sugar
1 vanilla pod
1 lime
cranberry sauce
250 g cranberries
80 g sugar
100 ml red port
also
100 g grated white chocolate
Instructions
Melt the butter. Put the cookies and almonds into a food processor, add butter and blend. Line the bottom of a 25 cm springform pan with baking paper, press the crust into the bottom of the springform and place in the fridge while you make the filling.
Preheat the oven to 150°C. Beat the eggs with sugar. Combine with ricotta, cottage cheese and sour cream. Add potato starch and vanilla sugar. Cut the lime in half and squeeze out the juice. Cut the vanilla pod in half and scrape out the seeds with a knife. Gently stir and pour on the cookie crust. Place in the oven for 80 minutes and bake until golden brown. Let the cake stand for two hours to cool completely.
Put the cranberries, sugar and port into a saucepan, bring to a boil. Reduce the heat and simmer for 15 minutes. Let it stand to cool completely. Carefully remove the cheesecake from the springform pan, top with the cranberry sauce and decorate with white chocolate. Enjoy!