Asparagus with creamy mozzarella and crispy puff pastry. Topped with eggs and jazzed up with Everything Bagel seasoning. Simple and delicious, pair with a salad for a great dinner or serve it as a tasty brunch. 
It's asparagus loaded with an ultra-flaky puff pastry and a carpet of mozzarella. It's easy to make and it comes together with just a handful of ingredients. This dish ticks all the boxes. Thanks to store-bought puff pastry, this galette is also ideal for a low-fuss meal. It's decadent and yet perfectly functional. It's comfort food in its essence, both easy and soul-soothing.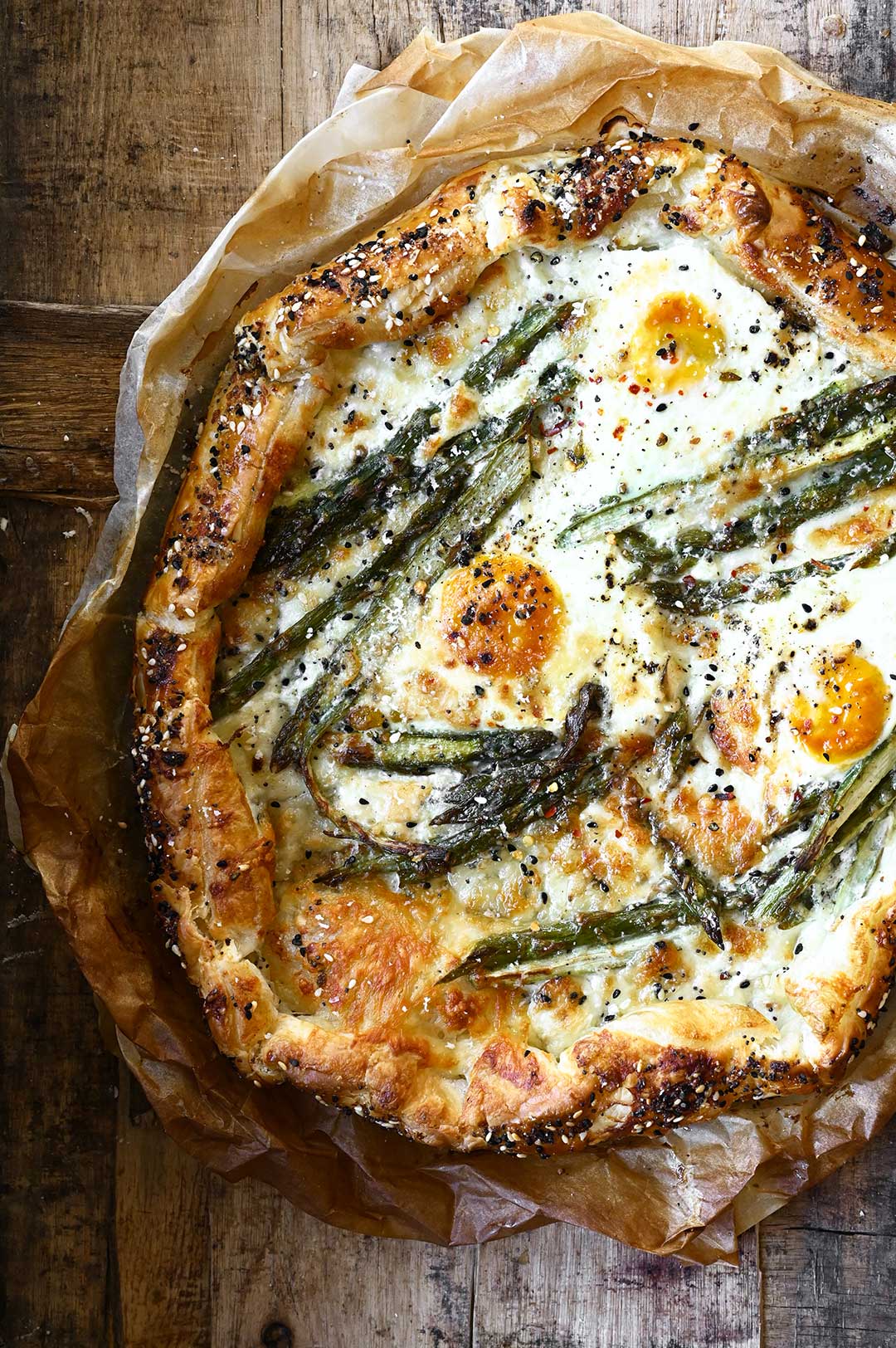 We start off by cooking the asparagus with butter and garlic until tender-crisp. Then prepare the puff pastry, grab mozzarella, slice it into thin strips, and arrange the strips on the bottom of the pastry. The mozzarella will melt into a delicious golden pool with its characteristic stringy texture. Now we arrange the asparagus, make three small wells and crack an egg into each. Sprinkle some salt and a grinding of pepper. And last but not least, a sprinkle of Everything But the Bagel seasoning and Parmesan for a saltier, sharper edge. Let me walk you through making this cheese asparagus galette, step by step in this video.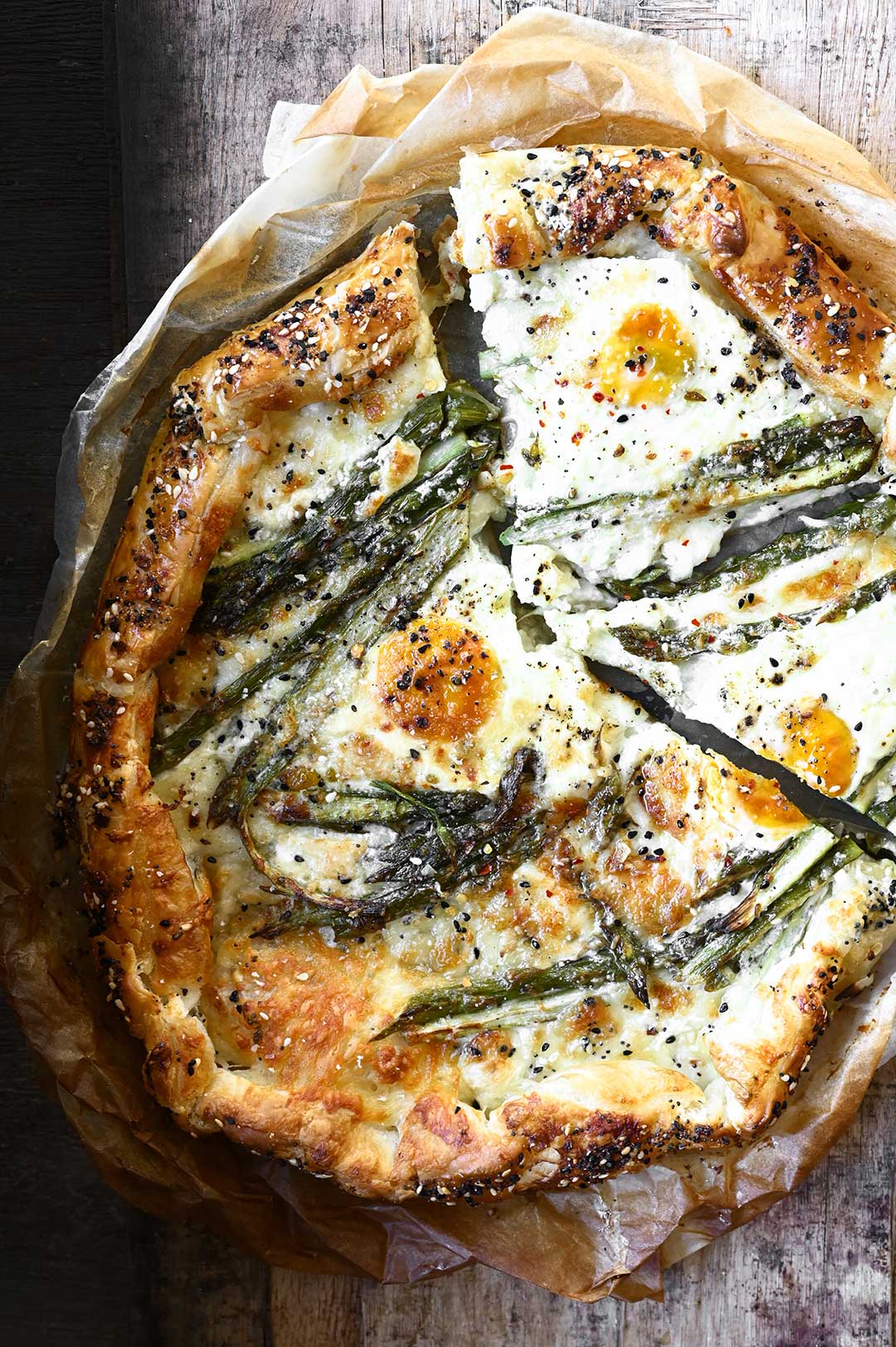 RECIPE NOTES
– if you like your eggs really runny, you can cook the puff pastry with cheese and asparagus ahead, then plop the eggs onto the tart 8-10 minutes before it's ready, depending on how you like your yolks
– if you like, add some cooked broccoli instead of asparagus to create a whole different dish
– if you can't find Everything But the Bagel seasoning, you can make it at home (1 tbsp each white sesame seeds, black sesame, poppy seeds, dried onion flakes + 1 1/2 tsp dried minced garlic + 1 tsp salt), store the rest in a jar
More delicious ideas!
Baked za'atar egg buns with spinach and feta
Pesto Mushrooms and Egg Toast
Cheesy Mushroom Tart with Eggs
Craving more? Sign up for my NEWSLETTER to receive the latest recipes delivered straight to your inbox. And stay in touch on Facebook, Pinterest and Instagram for all of the latest updates.
You need
1 sheet puff pastry
200 g (7 oz) green asparagus
1 garlic clove, minced
2 tbsp unsalted butter
350 g (12.3 oz) buffalo mozzarella, sliced or torn into thin strips (or grated mozzarella)
2 tbsp grated Parmesan
3 eggs
1/2 tsp red pepper flakes
1 tbsp Everything But the Bagel seasoning, see recipe notes
salt + black pepper
1 egg beaten with 1 tsp milk
How to
Lay the sliced mozzarella balls on paper towels to drain.
Preheat the oven to 200°C (400°F).
Snap off any woody exterior from the bottom of the asparagus. Cut the asparagus in half lengthways then cut into two pieces.
Heat butter in a skillet over medium-low heat. Add asparagus, cook for about 6 minutes, stirring from time to time. Add garlic, salt and pepper. Cook for 2 minutes more. Remove from heat.
Prepare the puff pastry on a baking sheet lined with parchment paper. Prick the bottom with a fork, spread the cheese in the center of the dough leaving a 4 cm border. Add the asparagus. Gently, loosely lay the pastry down over the filling, repeat all around. Make three small wells where you drop the eggs. Brush the dough with the beaten egg and sprinkle with Everything Bagel seasoning. Season with salt and black pepper. Sprinkle with parmesan and red pepper flakes.
Bake for 30-35 minutes or until golden. If you like your eggs runny, add them 8-10 minutes before the tart is ready, or until the egg whites are set. Serve!
Let me walk you through making this cheese asparagus galette, step by step in this video.
And …IF YOU LOVE THESE RECIPES … please consider supporting my work for just the cost of a cup of coffee.

If you try this recipe, let me know! Leave a comment and don't forget to tag me in your picture on Instagram with @anna_s_table or mention with #servingdumplings. I'd love to see what you're making. Happy cooking!