Who's craving some shrimps with cashews? They're hearty, easy to make and incredibly delicious. Can you see the sticky goodness shining right through?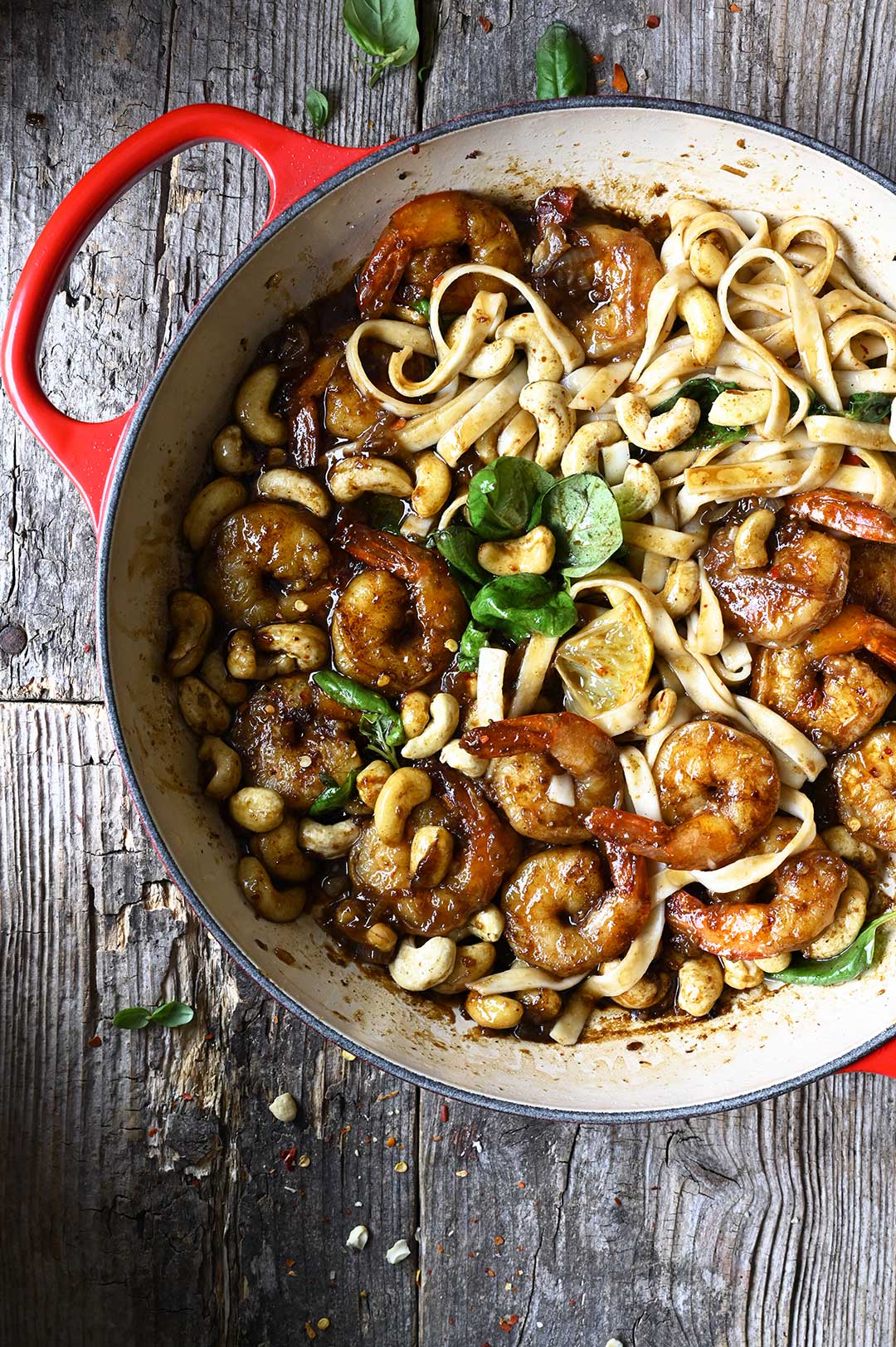 Having shrimp for dinner always feels just a little bit fancy, but it couldn't be faster or easier.
This is an easy weeknight dinner that feels extra special. It's Asian inspired with a hint of Italian. Not traditional, but so tasty.
Cashew nuts and pan-seared shrimps get tossed in a honey garlic soy sauce with lots of fresh basil for extra flavor. I like it spooned over udon noodles, but it's also great with rice noodles. Actually, you can use any type of noodles with a strong hold, spaghetti would work great for example.
The sauce is made up of garlic, chili, lemon, soy sauce, oyster sauce and sweet honey. Super easy and delicious!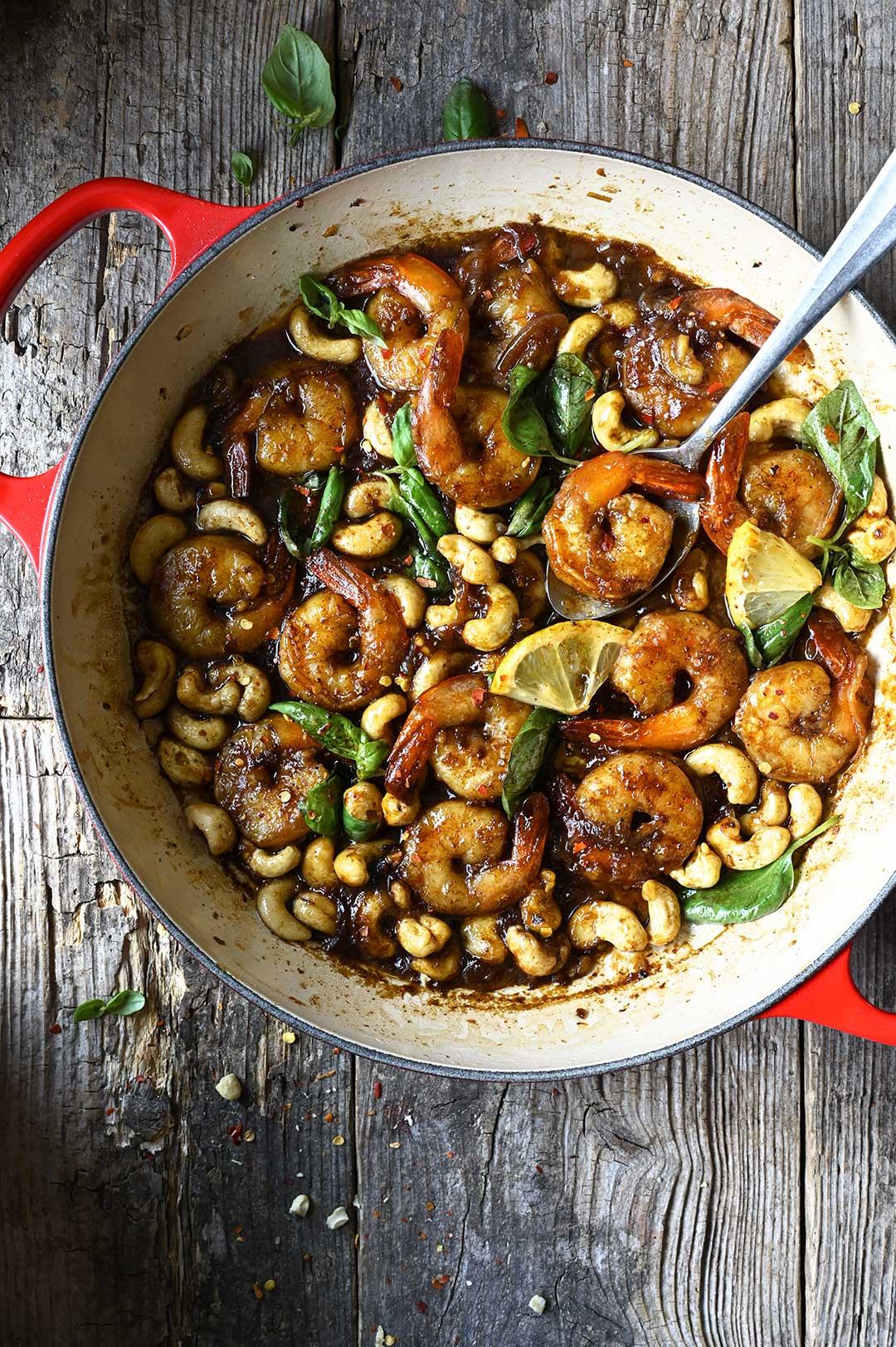 You need
250 g udon noodles
300 g raw shrimp, peeled and deveined
50 g cashews
1 shallot, finely chopped
4 cloves garlic, finely chopped
2 tbsp rice oil or vegetable oil
1/2 tsp chili powder
1 tsp freshly grated ginger or 1/2 tsp ginger powder
2 tbsp corn starch
3-4 tbsp soy sauce
1 tbsp oyster sauce
1 tbsp honey
150 ml water
1 tbsp lemon juice
black pepper
20 g fresh basil leaves (from about 6 sprigs)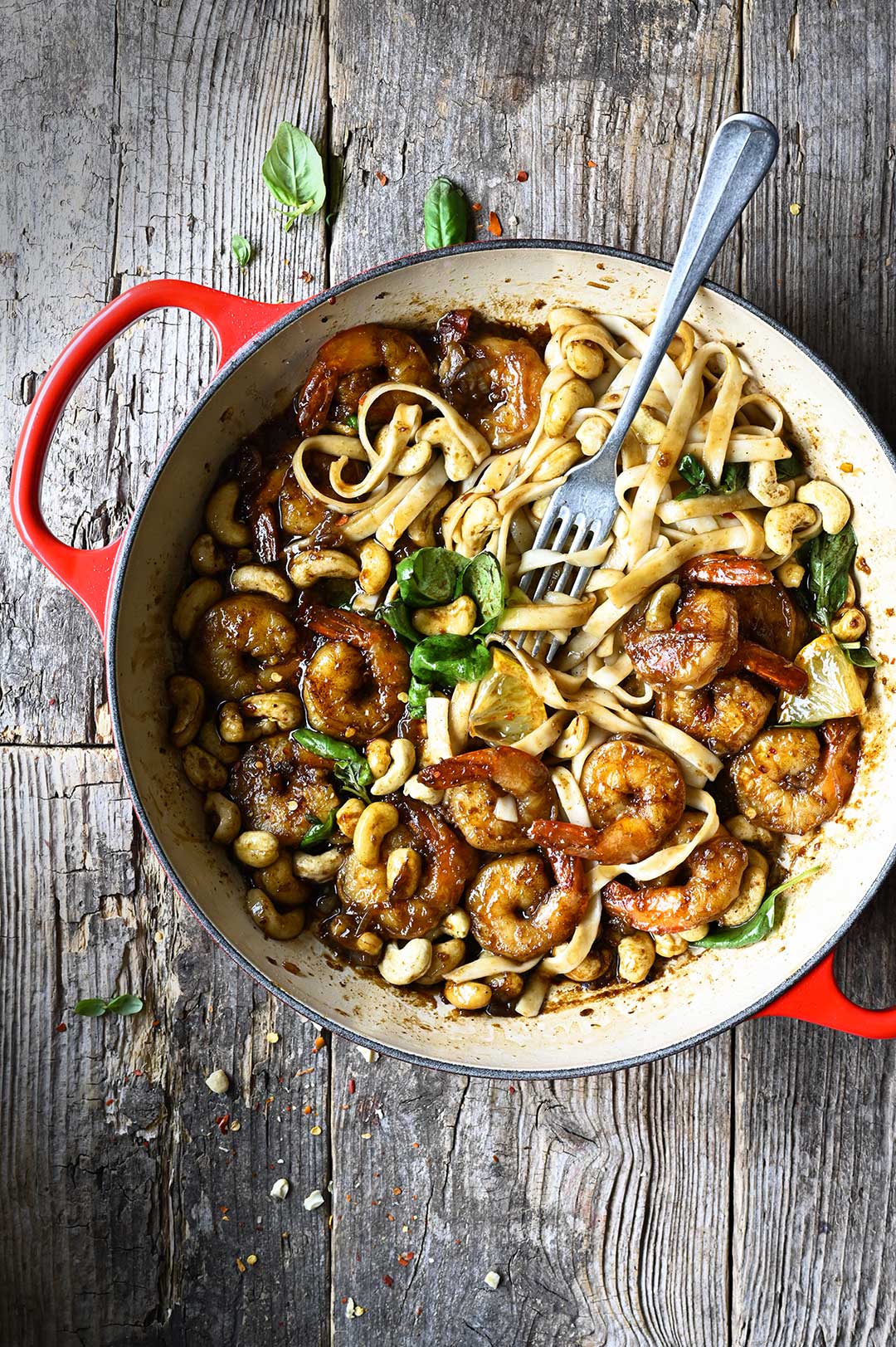 How to
Cook rice noodles according to package directions.
Pat the shrimps dry.
Heat the oil in a large skillet over medium-high heat. When the oil shimmers, add the shrimps and fry until pink, stirring often, about 2-3 minutes per side. Add the garlic, shallot, ginger, chili and cashews. Continue to cook until the garlic starts to caramelize and turn light golden brown, 1-2 minutes.
Stir in the corn starch. Then add the soy sauce, oyster sauce, honey and water, stir to combine. Bring the mixture to a simmer, cook 5 minutes, scraping up browned bits with a wooden spoon and stirring occasionally, until warmed throughout and sticky. Remove from the heat and stir in the lemon juice and basil leaves. Taste and season with black pepper and soy sauce if needed. Add extra water if you want the sauce thinner.
Serve immediately with noodles. Enjoy!