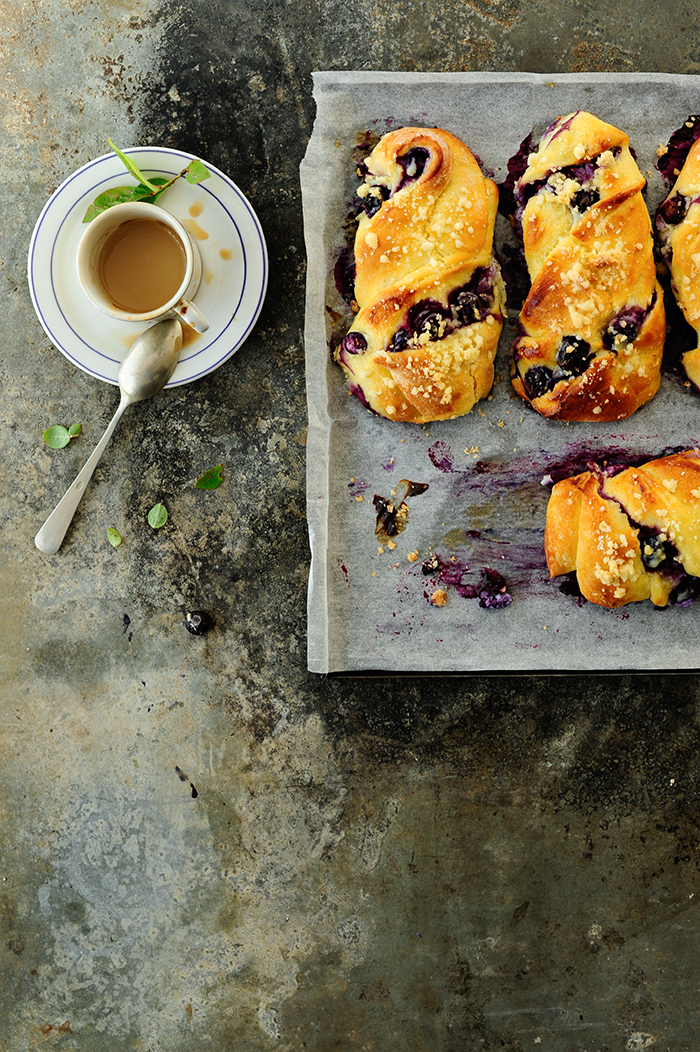 Fluffy and tasty ricotta twists with blueberries and crumble on top. They are delicious for breakfast and retain their freshness, you just have to try them out!
Tip: The dough can be made the day before and stored in the fridge.
Ingredients
buns
360 g flour
2 heaped teaspoons active dry yeast
60 g sugar
140 ml  warm milk
100 g butter at room temperature
3 farmers eggs
pinch of salt
filling
250 g ricotta
300 g blueberries
4 tablespoons icing sugar
2 tablespoons vanilla sugar
1 egg yolk
crumble
1 tablespoon flour
1 tablespoon sugar
1 tablespoon cold butter
also
2 tablespoons melted butter to grease
Instructions
Stir yeast with warm milk and a spoon of sugar, let stand for 5 minutes.
Combine the flour with the remaining sugar, add milk with yeast, eggs and salt. Mix everything together and start to knead. Then bit by bit add the soft butter and knead until the dough is smooth and elastic. Transfer to a clean bowl, cover and leave for 60 minutes at room temperature.
Then place the dough on a floured surface, knead lightly and wrap in cling film. Chill for an hour or overnight.
Combine the ricotta with icing sugar, vanilla sugar and egg yolk.
Remove the dough from the fridge, place on a floured surface and roll the dough into a rectangle. Spread the filling and sprinkle with blueberries. Fold the dough along the long side to the middle and cover with the second part. Cut into 16 pieces. Twist each piece lengthwise to create a spiral. Place on a baking tray lined with baking paper and let rise at room temperature for about 30 minutes.
Prepare the crumble, place all the ingredients in a bowl and mix using your fingers.
Brush twists top with melted butter and sprinkle with crumble. Bake for 25-30 minutes at 180°C. Enjoy!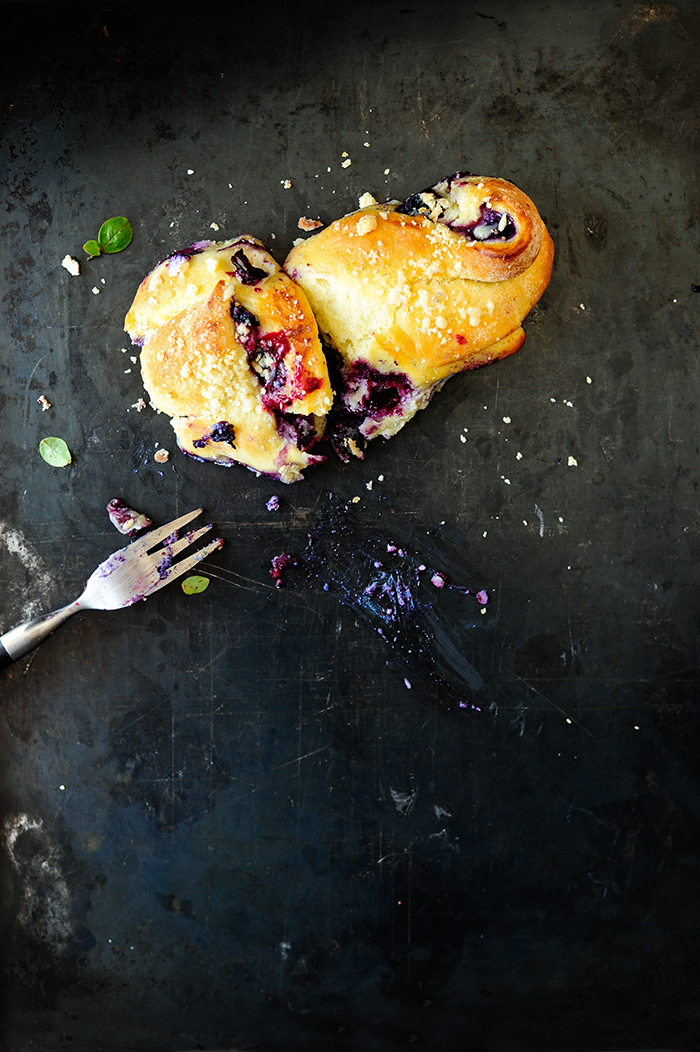 //= __('Print recipe (no photos)', 'servingdumplings' );?> //= __('Print recipe (with photos)', 'servingdumplings' );?>