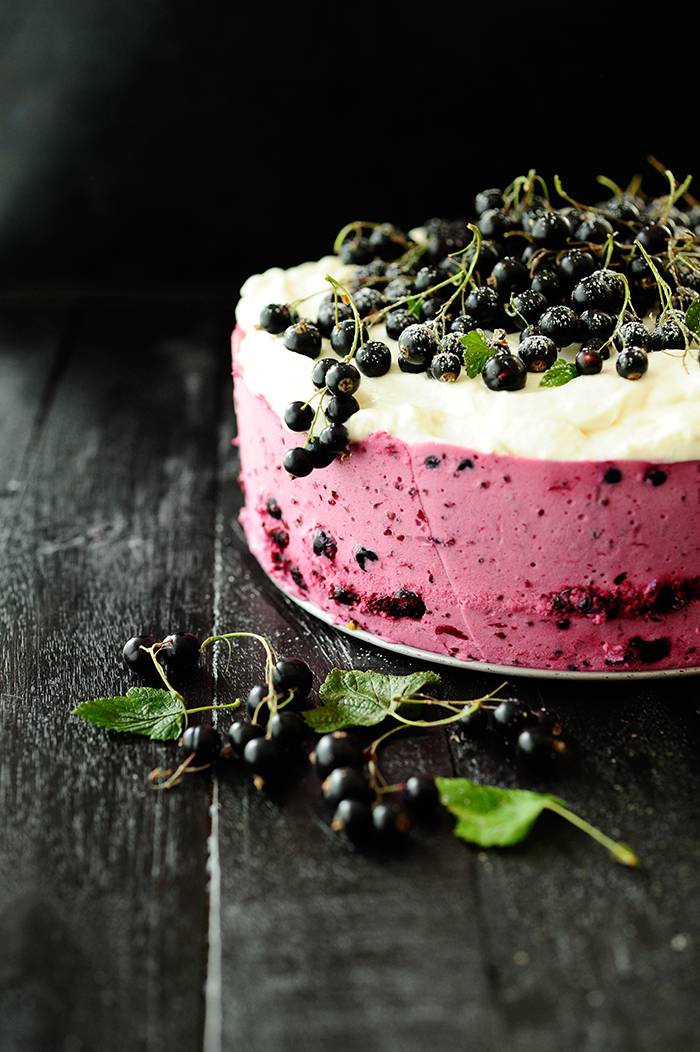 Sponge cake layered with blackcurrant mousse, Greek yogurt and whipped cream, that combo makes this the best blackcurrant cake ever! It's impossible to resist this sweet treat, everything that's delicious is hidden in this cake.
Ingredients
cake
200 g all-purpose flour
200 g sugar
5 eggs
1 teaspoon baking powder
pinch of salt
blackcurrant mousse
350 g black currants
450 g greek yoghurt
80 g sugar
100 g icing sugar
400 ml heavy cream
9 gelatine sheets, softened in cool water
decoration
250 ml heavy cream
90 g icing sugar
blackcurrants
icing sugar for dusting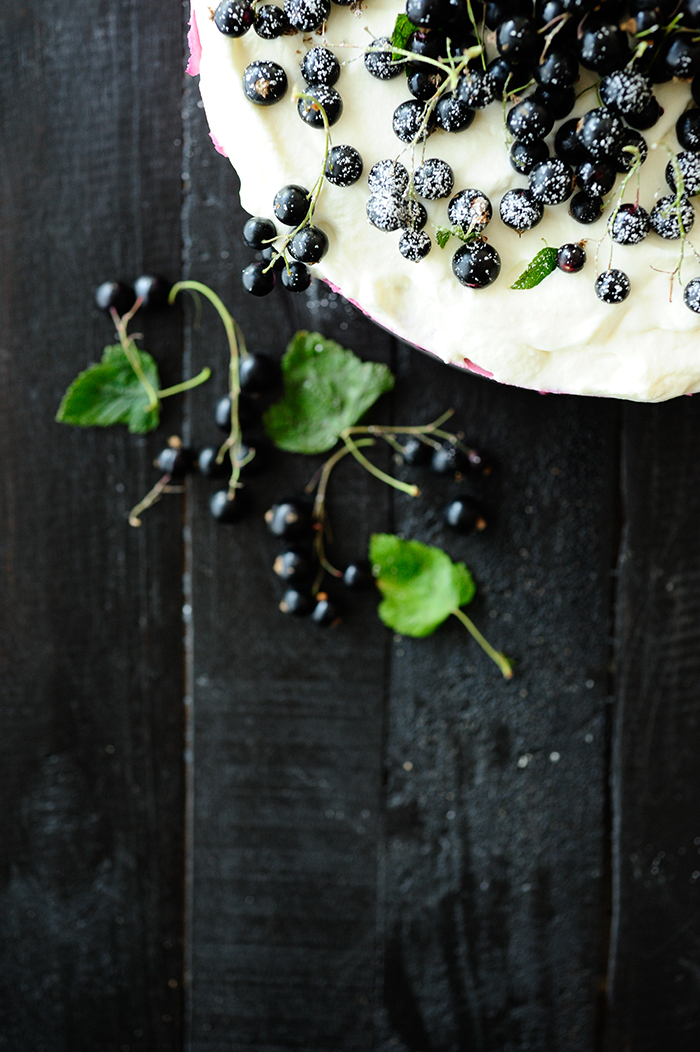 Instructions
Preheat the oven to 180°C.
Crack the eggs into a bowl, add the sugar and mix until the mixture becomes four times bigger, white and fluffy. This takes about 10 to 15 minutes. Then sift the flour and baking powder and add salt. Stir with a wooden spoon. Pour the mixture into a buttered and floured 24 cm tart tin and bake for 40 minutes. Cool on a wire rack.
Add the currants to a saucepan, pour the sugar and heat until the sugar is dissolved. Squeeze all water out of gelatin sheets, add to the boiling blackcurrants and stir until gelatin has dissolved, set aside.
In a large bowl, mix the greek yogurt with icing sugar. In a separate bowl, whip the cream until it has doubled in volume and forms a stiff peak.
Combine the yoghurt with currants and then add the whipped cream, gently moving with a wooden spoon. Put the currant mixture for 10 minutes in the fridge.
Cut the cake into two layers. Put the first part into a 26 cm tart pan and pour half of the currant mixture. Cover with the second part of the cake and pour the rest of the cream. Allow to cool for two hours in the fridge.
Before serving, whip the cream with the icing sugar. Remove the cake from the fridge. Using a spatula, gently spread the whipped cream on top of the cake. Decorate with blackcurrants and dust with icing sugar. Enjoy!