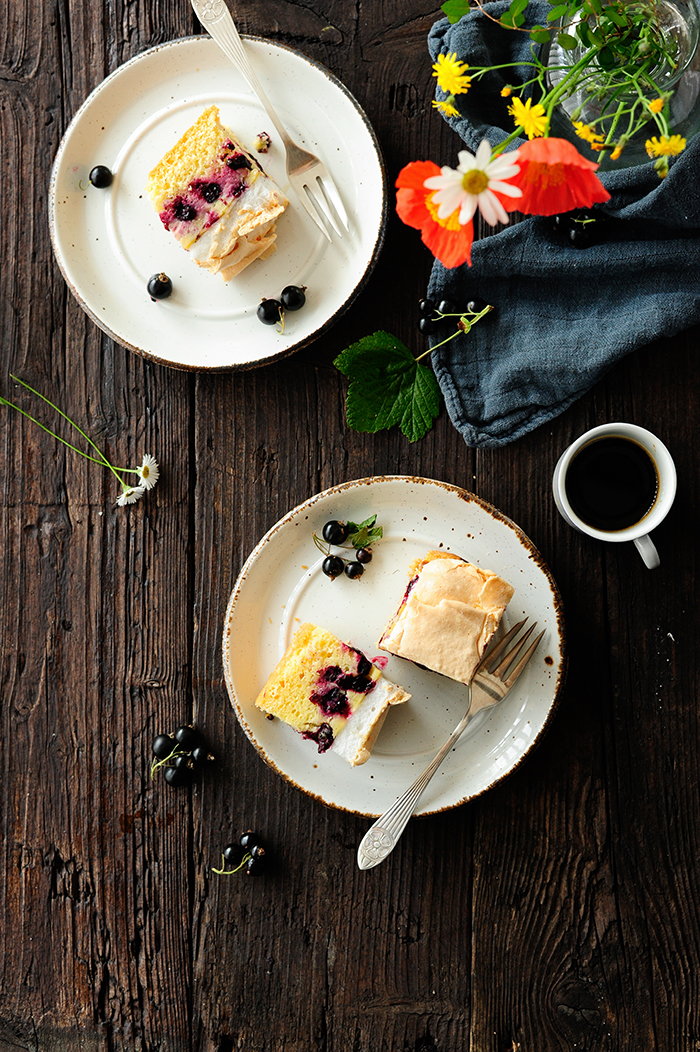 Delicate blackcurrant cake, layered with vanilla pudding and crunchy meringue. I love this kind of cakes, especially with blackcurrant, which has a wonderful intense flavor and color. This one is delicious, sweet with a light sour aftertaste.
Ingredients
batter
400 g blackcurrants
320 g flour
200 g butter at room temperature
200 g sugar
4 farmers eggs
15 g baking powder
pinch of salt
pudding
400 ml milk
1 vanilla pod
4 egg yolks
50 g sugar
15 g potato starch
15 g flour
meringue
4 egg whites
100 g sugar
pinch of salt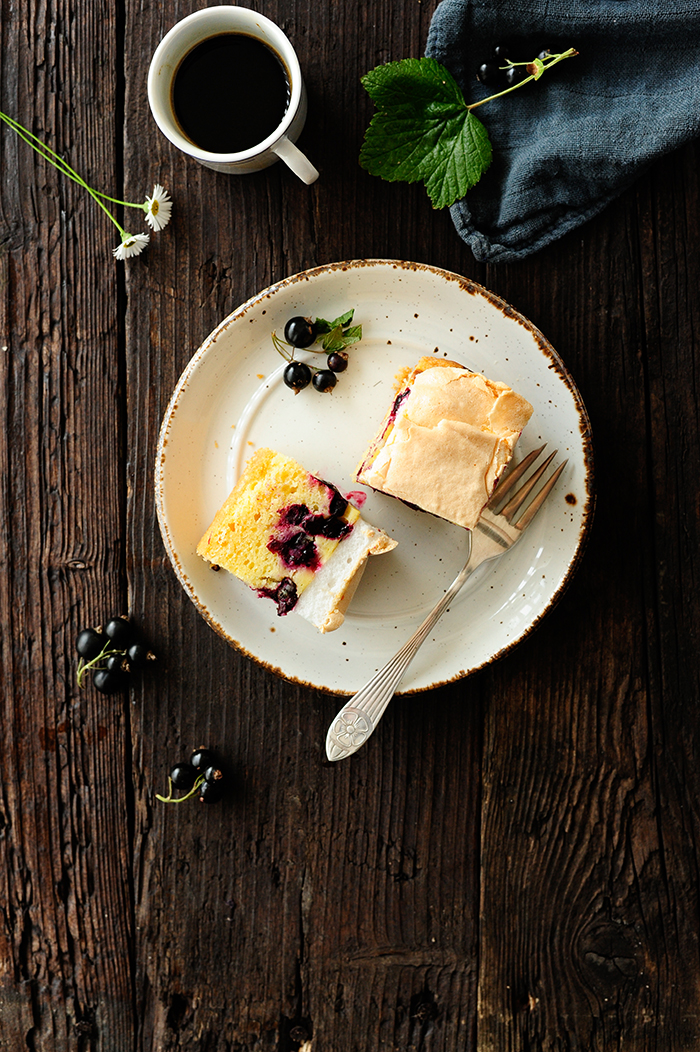 Instructions
First make the pudding. Pour the milk in a pot. Cut the vanilla pod in half and remove the seeds, add to the milk. Turn off the burner when the milk is warm, but do not boil. Beat the yolks with sugar, add the flour and potato starch. Stir, add a spoonful of hot milk and stir again. Then, pour the egg mixture in the pot with milk and cook the pudding over low heat. Stirring constantly! Let bubble for 1 minut.
Make the batter, beat the butter with sugar and salt until smooth. Add eggs, one at a time, stirring well after each addition. Then sift the flour with baking powder and mix until a smooth, sticky batter.
Grease a 23 x 30 cm tin with butter and line with baking paper. Pour the batter, place the blackcurrants and gently top with the pudding. Bake for 35 minutes at 180°C.
Meanwhile, beat the egg whites for the meringue to stiff peaks while adding sugar a little at a time, add salt at the end.
Cover the cake with meringue and place again in the oven for 15 minutes at 170°C. Then reduce the oven temperature to 60°C and let the meringue dry for 20 minutes.
Allow to cool before serving. Enjoy!