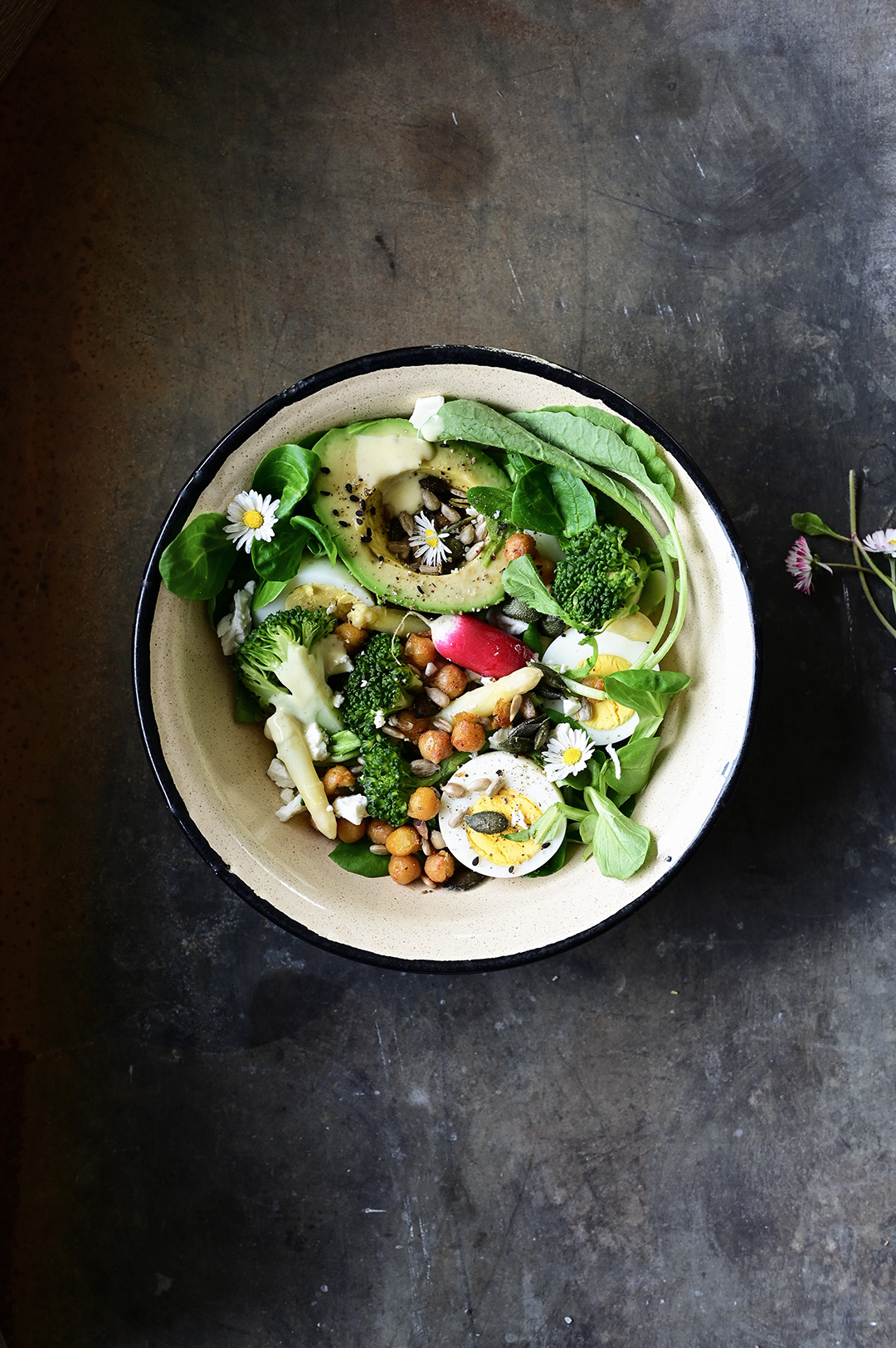 This green spring salad gets a kick from crunchy vegetables, spiced crispy chickpeas, salty feta and a creamy lemon honey dressing. I always try to serve a salad that is hearty, tasty, super pretty, packed with lots of veggies and most importantly flavor.
This recipe is all about the produce, take care not to overcook your asparagus and broccoli so they stay crunchy and keep their beautiful vibrant colors. And look for farm-fresh eggs, which tend to have the most vividly golden yolks.
This exciting spring salad works as a side dish or light meal at any given barbecue or dinner. I served it as a main dish with oven roasted salmon, this combo is highly recommended!
Hope you try this one for yourself or for a feast sometime soon.
Ingredients
salad
1 small broccoli, cut into florets
100 g white asparagus, peeled and cut into thirds
50 g lamb's lettuce
50 g feta
6 radishes
1 avocado, cut in half
spiced crispy chickpeas
100 g canned chickpeas, drained and rinsed
1 teaspoon potato starch
1/2 teaspoon smoked paprika
1/2 ground cumin
olive oil
black pepper + sea salt
lemon honey dressing
5 tablespoons olive oil
2 tablespoons homemade mayo
2 tablespoons kefir
2 teaspoons lemon juice
2 teaspoons mustard
1 tablespoon honey
1 garlic clove, minced and finely chopped
black pepper + sea salt
to finish
toasted pepita seeds
toasted sunflower seeds
flakey sea salt + black pepper
2 hard-boiled eggs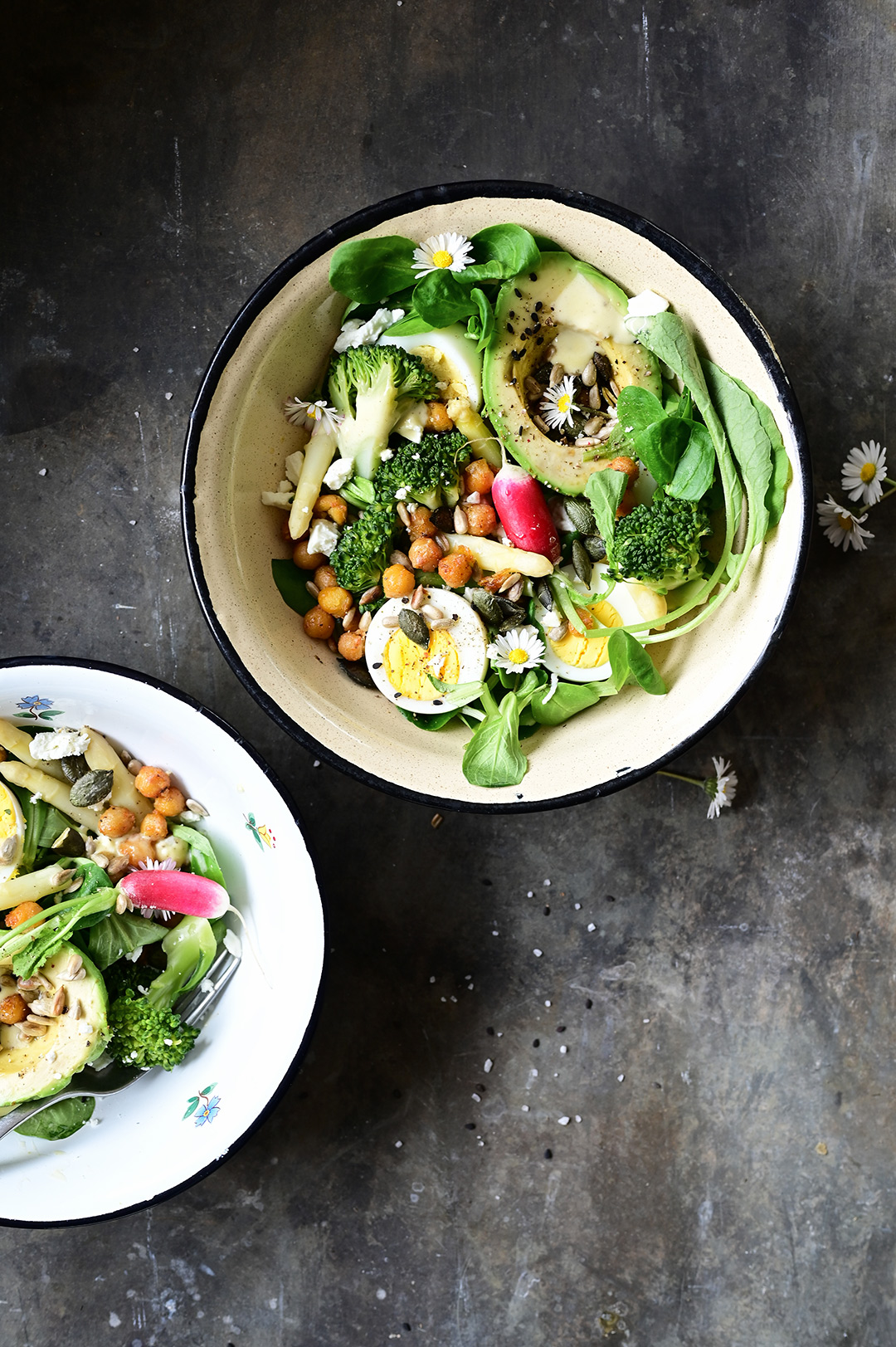 Instructions
Put the broccoli florets into a pot with salted boiling water and let simmer for about 3 minutes. Use a slotted spoon to scoop them out of the water and drain, reserving the water. Cool completely.
Add the asparagus into the boiling water and let cook for 3 minutes. Drain and rinse them with cool water to stop the cooking process.

To make the spiced crispy chickpeas, place the potato starch, smoked paprika and ground cumin in a medium bowl and mix to combine. Add the chickpeas, season with salt and pepper, toss to coat. Heat 1 tablespoon oil in a large non-stick frying pan over medium heat. Cook the chickpeas, for 4–5 minutes or until crisp and golden. Let drain on kitchen paper.

Combine all the ingredients for the dressing in a bowl.

Place the broccoli florets and asparagus in a bowl, add lettuce, avocado and radishes. Top with eggs, crispy chickpeas, feta crumbs, pepita and sunflower seeds. Add the lemony dressing, flakey sea salt and a good grind of black pepper. Serve right away.

//= __('Print recipe (no photos)', 'servingdumplings' );?> //= __('Print recipe (with photos)', 'servingdumplings' );?>