A delicious apple yogurt cake with pistachios. The yogurt's acidity tenderizes the gluten, and the results are excellent. You'll get a tender, moist buttery cake with cinnamon and a rich fruity bite. The best thing about this cake, besides its moist lusciousness, is that it all mixes up in one bowl. It's a simple recipe, that will give you maximum pleasure with the lowest input of work, ingredients, and convenience. This dessert will take you about 15 minutes to make.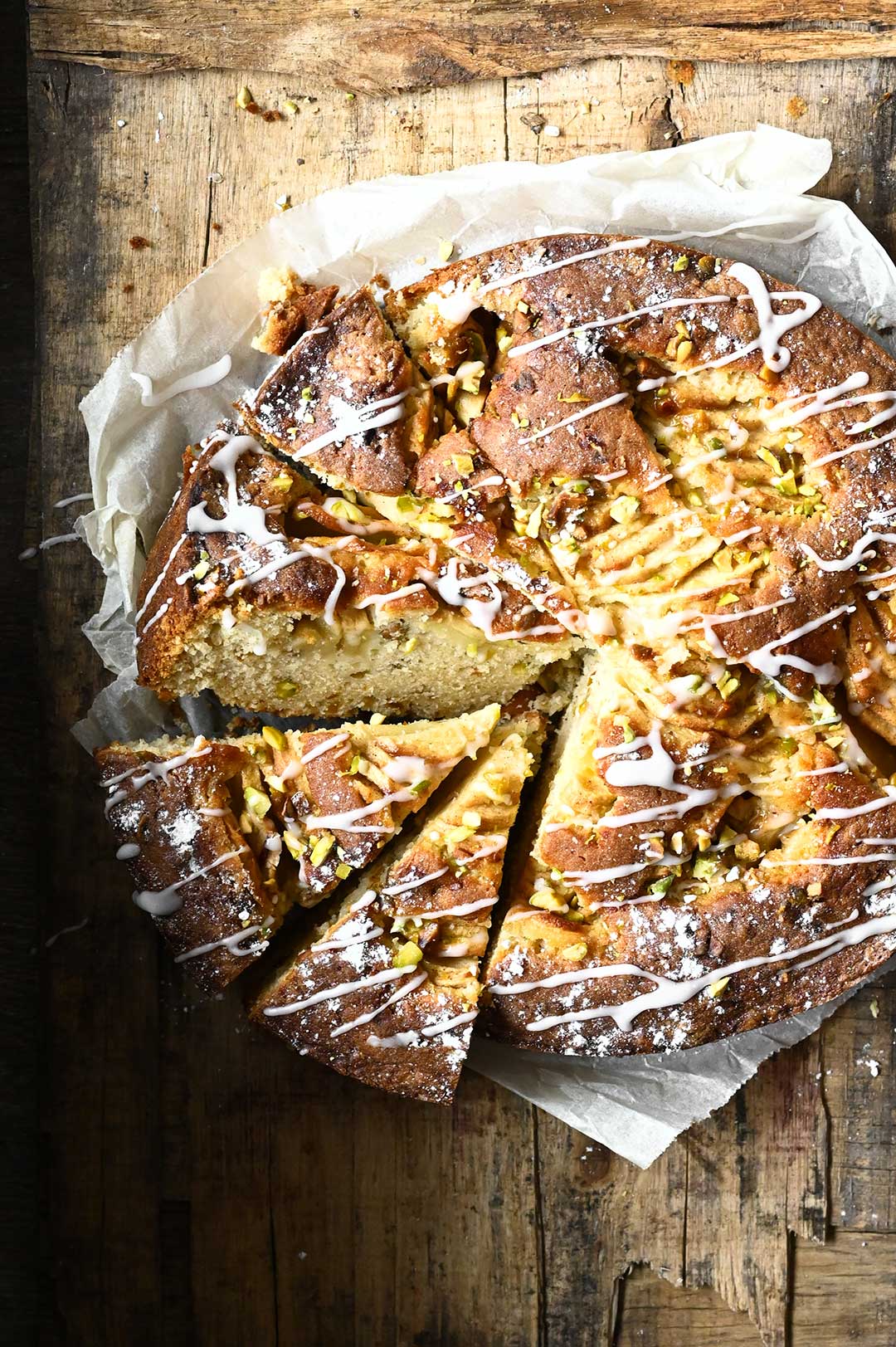 As much as you enjoy the cake, let's be honest, you're also here for the fresh apples. The top of the cake is studded with juicy apples that are brushed with cinnamon honey. After baking, we drizzle the sunken apples with lemon glaze. And two days later, it's just as delicious as when you took the cake out of the oven. Think of it as the snacking cake to take you through mornings or afternoons.
I highly recommend using full fat Greek yogurt here for the best flavor and texture. Also, make sure to let it cool for about an hour so that it has plenty of time to set up. No pistachios? Use walnuts or pecans.
Let me guide you through the recipe with this step-by-step VIDEO. 
You might also like:
Brown Sugar Plum Cobbler
Coconut marble cake
Boozy ginger pear almond pie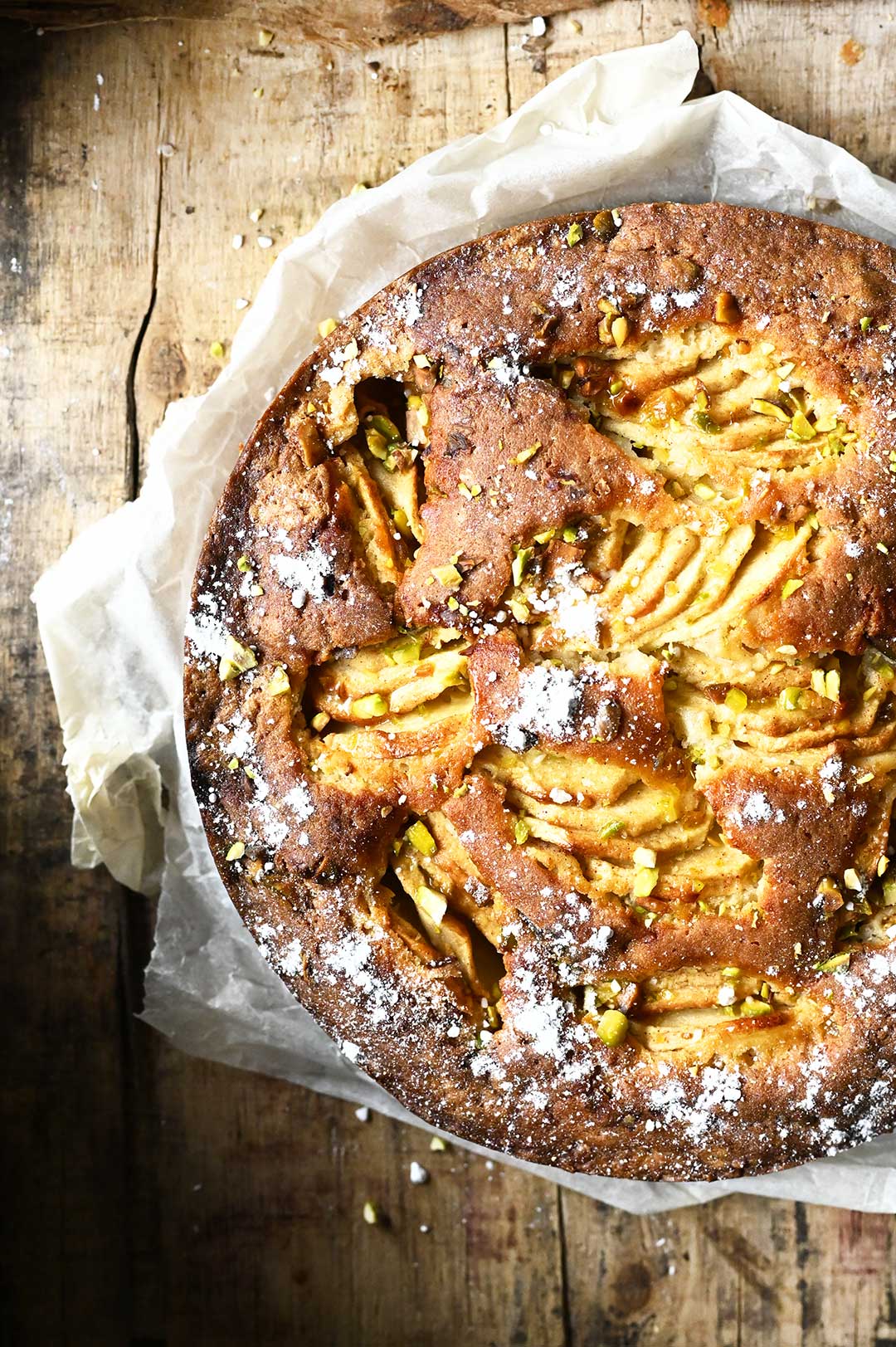 You need
all ingredients must be room temperature
3 apples, I used Jonagold
140 g (4 oz) unsalted butter
300 g  (1 1/2 cup) sugar
2 eggs
1 tsp vanilla extract
2 tbsp lemon juice
280 g (1 1/4 cup) full fat Greek yogurt
300 g (2 1/4 cup) all-purpose flour
2 tsp baking powder
1/2 tsp baking soda
1/4 tsp salt
1/2 tsp cinnamon
70 g (2.5 oz) chopped unsalted pistachios
+
1 tbsp unsalted butter, melted
1 tbsp honey
1/2 tsp cinnamon
glaze
1/3 cup icing sugar
1 tbsp lemon juice
How to
Let me guide you through the recipe with this step-by-step VIDEO. 
Preheat the oven to 165°C (325°F). Prepare a 24 cm (9-inch) round cake pan, grease in with butter and layer with parchment paper.
Combine flour, baking powder and baking soda. Set aside.
Peel and cut the apples into thin slices.
Combine the melted butter with honey and cinnamon in a small bowl.
In a medium bowl, cream the butter with sugar until light and fluffy, using a hand mixer. Add eggs, one at a time, and beat until each is incorporated. Add salt, vanilla, cinnamon and lemon juice. Mix until combined.
Sift 1/2 of the flour mixture, followed by 1/2 of the Greek yogurt. Beat until just combined. Add the rest of the flour, followed by the remaining Greek yogurt. Beat just until the batter is smooth. Gently, fold in the chopped pistachios with a rubber spatula.
Transfer the batter to the prepared pan and smooth it out. Place the apples on top. Brush the apples with the honey butter mixture. Transfer to the oven and bake for 60-70 minutes or until a tester comes out dry. Let cool in the pan on a rack. Drizzle with lemon glaze. Enjoy!