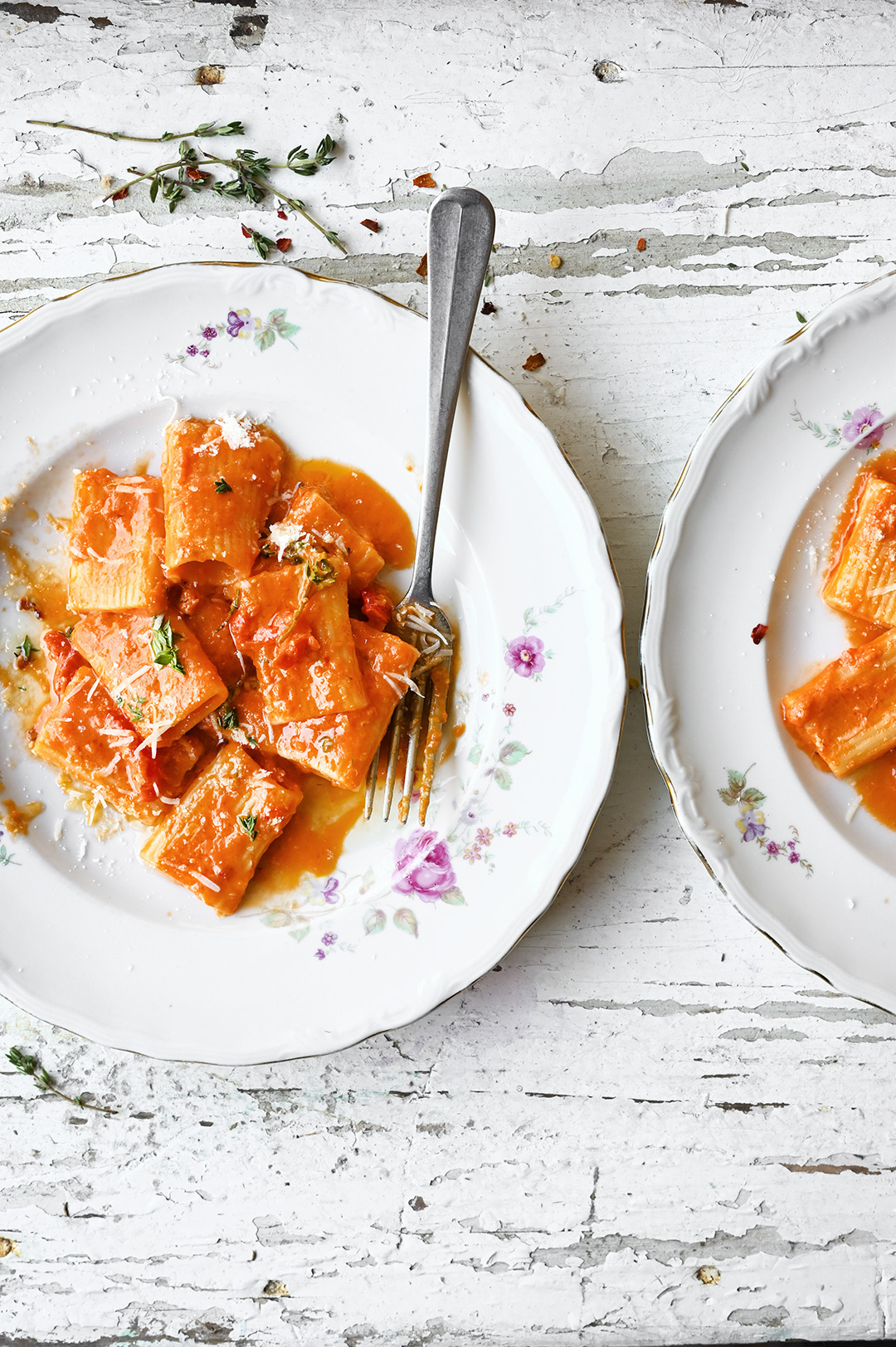 Pittige rigatoni alla vodka, is een van de beste zelfgemaakte pasta's die je ooit zal eten. Ik vind het onvoorstelbaar dat je met enkel uien, knoflook en tomaten zoveel smaak kan creëren en dat in een mum van tijd. Allemaal gemixt tot een romige, extreem lekkere vodka-saus. 
Maar wat maakt deze saus zo onweerstaanbaar? Ten eerste, de zongedroogde tomaten,  ze maken de saus rijker van smaak dan om het even welke andere standaard tomatensaus.
En dan de vodka, boem! Het is zo'n game changer. Het helpt om de zoetheid van de tomaten in balans te brengen, geeft een boost en versterkt het aroma. Het is een van mijn favoriete sausjes, smeuïg en romig.
Tip: Maak een heerlijke variatie door er geroosterde paprika's aan toe te voegen.
Ga naar mijn WEB STORY om te zien hoe makkelijk je dit gerecht kan maken!
Zo maak je het
2 el olijfolie
2 sjalotten, fijngehakt
4 teentjes knoflook, gehakt
1 blik gepelde San Marzano tomaten
4 el tomatenconcentraat
1/2 tl gedroogde chili, of meer naar smaak
100 ml vodka
100 g zongedroogde tomaten
100 ml volle room
zeezout + zwarte peper
1 el gehakte tijmblaadjes
30 g vers geraspte parmezaan, plus meer om af te werken
250 g rigatoni
Zo maak je het
Breng een grote pot met gezouten water aan de kook. Voeg de pasta toe en kook beetgaar volgens de aanwijzingen op de verpakking. Giet af en behoud een deel van het kookwater.
Ondertussen, verhit de olie in een pan op middelhoog vuur. Fruit de sjalotten en knoflook. Voeg vodka toe en breng aan de kook. Roer de ingeblikte tomaten en ongeveer 1/4 kopje van het pasta-kookwater erdoor, laat gedurende 15 minuten sudderen. Breng op smaak met zout en peper. Doe dan de zongedroogde tomaten, room, gedroogde chili en tijm erbij, kook nog 3 minuten verder. Mix de saus met een staafmixer.
Voeg de pasta en de parmezaanse kaas bij de saus en meng. Breng op smaak met zout en peper. Indien nodig kunt u een scheutje van het kookwater van de pasta toevoegen om de saus te verdunnen.
Verdeel de pasta over de kommen. Werk af met de overgebleven parmezaanse kaas en gedroogde chili. Smakelijk.
Ga naar mijn WEB STORY om te zien hoe makkelijk je dit gerecht kan maken!
Als je dit recept uitprobeert, laat dan hieronder een reactie achter of tag mij in je foto's op Instagram met @anna_s_table of met #servingdumplings. Ik kijk ernaar uit!
Hieronder een variatie met geroosterde paprika's.