Pasta met rode pesto, champignons en zongedroogde tomaten. Afgewerkt met knapperig broodkruim en salie. De patasaus is een mishmash tussen een pittige arrabbiata en een zachte tomatensaus. Deze versie steelt absoluut de show. De hartige rode pesto met champignons is hemels. Het crunchy broodkruim is als de kers op de taart, en salie rondt het geheel af. Het is een heerlijk doordeweekse pasta, maar zeker speciaal genoeg om te serveren tijdens een dinner party met vrienden of familie.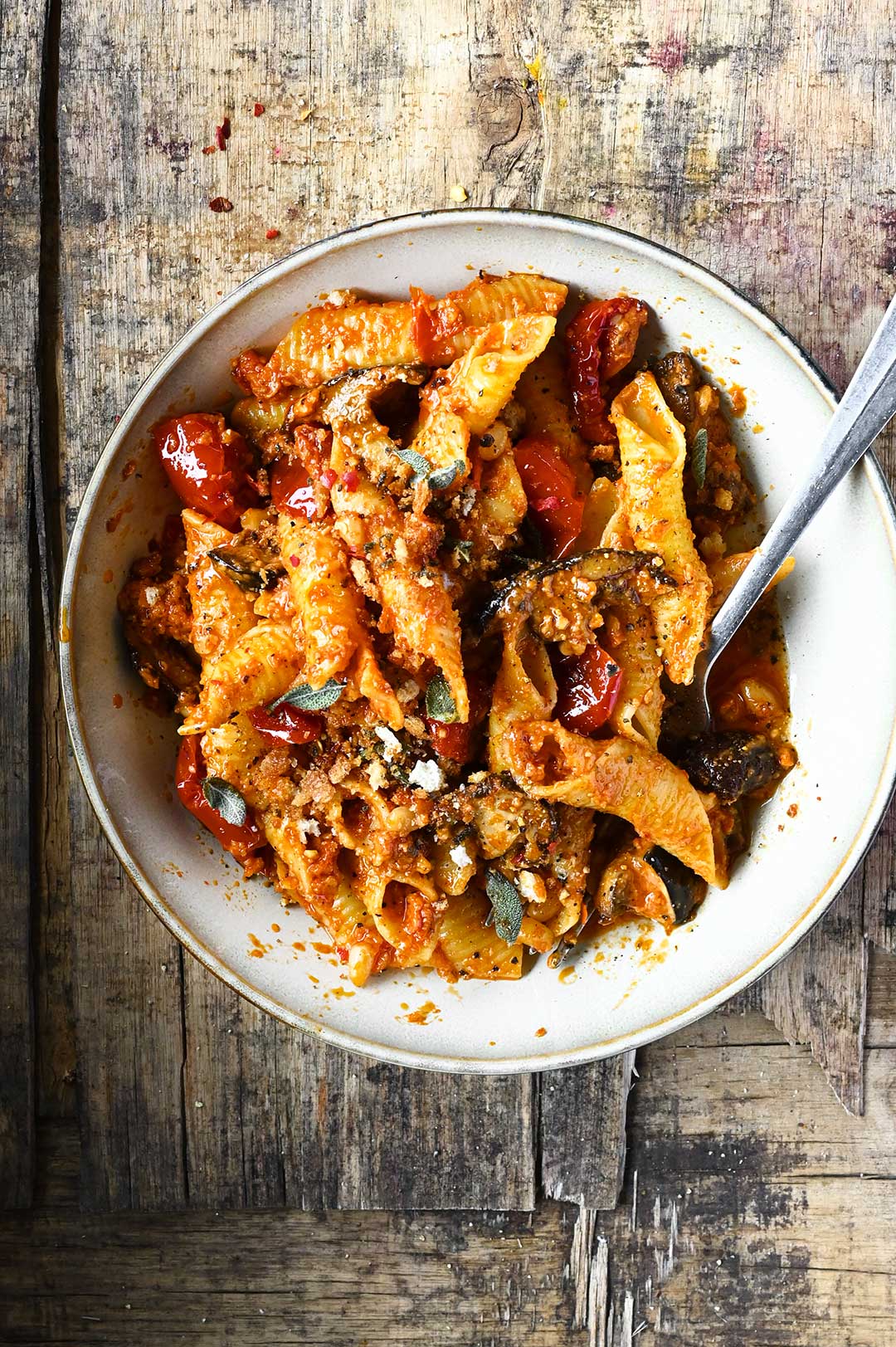 Zowel de champignons als de zongedroogde tomaten verheffen dit gerecht tot een killer-pasta-recept zonder veel inspanning in de keuken.
Eerst bakken we de pijnboompitten samen met knoflook, hiervoor gebruiken we de olie van de zongedroogde tomaten. Daarna voegen we wat tomatenconcentraat en parmezaan toe en mixen we alles tot een saus. Daarna bakken we de champignons en mengen we alles met pasta. We serveren het geheel met salie-broodkruim en klaar.
En die rode pesto? Het is magisch. Het geeft je pasta een heerlijke kick.
Bekijk mijn VIDEO om te zien hoe makkelijk je deze pasta kan maken.
TIPS
Voor dit recept heb ik wilde paddenstoelen gebruikt, maar gewone (of bruine) champignons passen hier prima. 
You may also love:
Polenta met miso champignons en zongedroogde tomaten
Pasta met aubergine, zongedroogde tomaten en ricotta
Pasta met geroosterde paprika en zongedroogde tomatensaus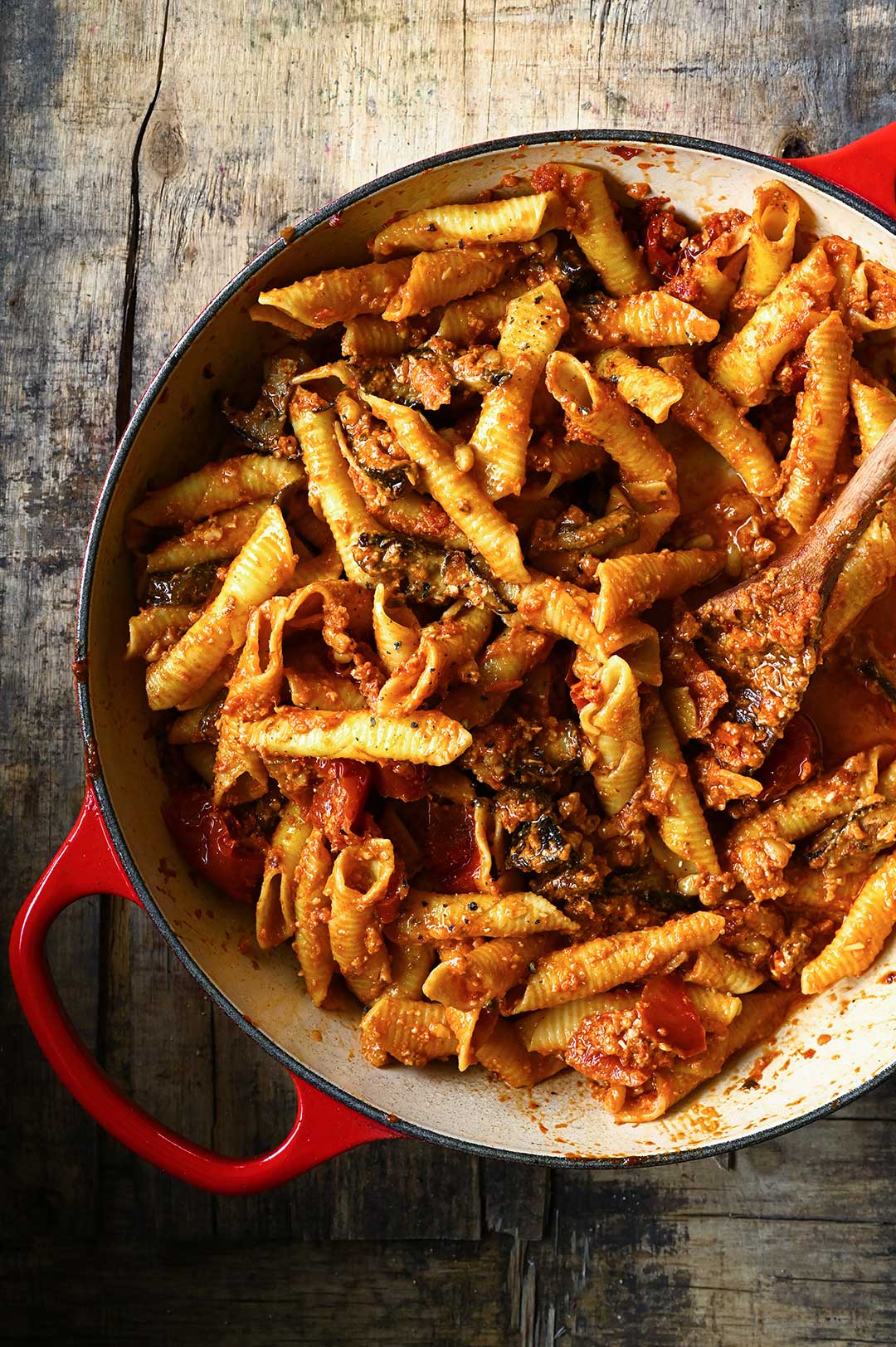 Dit heb je nodig
250 g pasta
250 g champignons, in plakjes gesneden
100 g zongedroogde tomaten, zonder olie, in kleinere stukken gesneden
1 el roomboter
1 el citroensap
1 el olijfolie
zout + zwarte peper
pesto
100 ml olie van de zongedroogde tomaten
4 tenen knoflook, fijngehakt
50 g pijnboompitten
3 el tomatenconentraat
1 tl gedroogde rode chilipeper
1 el balsamico azijn
4 zongedroogde tomaten, fijngesneden
60 g geraspte Parmezaan
zout + zwarte peper
salie-broodkruim
1 kleine ciabatta van een dag oud (of een stuk stokbrood), gepulst in de hakmolen
2 el olijfolie
2 el gehakte verse salieblaadjes
1/2 tl gedroogde rode chilipeper, of meer naar smaak
zout + zwarte peper
Zo maak je het
Bekijk mijn VIDEO om te zien hoe makkelijk je deze pasta kan maken.
We beginnen met het maken van de pesto. Giet de olie die je overhebt van de zongedroogde tomaten in een steelpannetje, voeg pijnboompitten en knoflook toe. Fruit op een laag vuurtje, 3-4 minuten. Voeg tomatenconcentraat en zongedroogde tomaten toe. Stoof nog 1 minuut en zet het vuur uit. Roer balsamico azijn, chilipeper, zout en peper eronder. Voeg parmezaan toe en mix met je handmixer tot een sausje. Zet opzij.
Kook ondertussen de pasta beetgaar in gezouten water. Giet af en behoud 1/2 kopje van het kookwater.
Verhit een grote koekenpan op matig vuur en voeg olijfolie toe. Eenmaal warm, voeg het broodkruim toe, bak al roerend gedurende 4 minuten tot het geroosterd en goudbruin is. Doe de salie erbij en bak nog 1-2 minuten mee. Breng op smaak met zout, peper en gedroogde chili. Haal uit de pan en leg op een bord.
Verhit dezelfde koekenpan op hoog vuur, voeg olijfolie en champignons toe. Bak goudbruin, roer vervolgens de boter en de zongedroogde tomaten erdoor. Kruid met zout en peper, besprenkel met citroensap. Meng met pasta, rode pesto en een flinke scheut kookwater. Proef en breng op smaak met zout en peper. Serveer onmiddellijk met salie-broodkruim.