Een makkelijk recept met pasta, geroosterde pompoen, knapperige salie en pompoenpitten.
Door de pompoen te roosteren alvorens deze aan de saus toe te voegen, krijgt dit gerecht een heerlijk zoete gekarameliseerde smaak.
In dit recept gebruiken we beiden, het vruchtvlees en de schil van een pompoen. Na het roosteren, mixen we de pompoen met zure room, om vervolgens met pasta te mengen. There you have it, comfort in a bowl.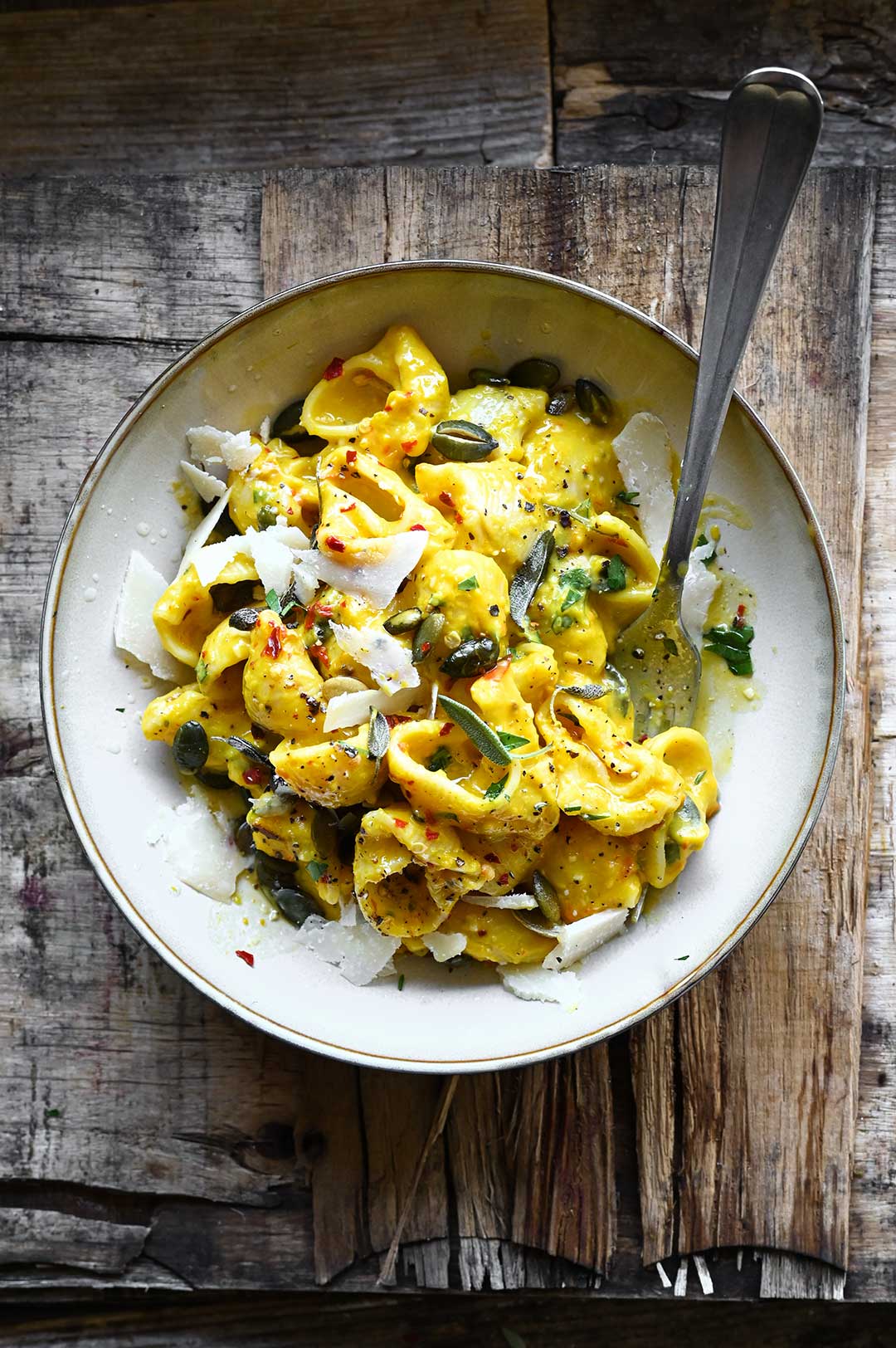 De zure room past er bijzonder goed bij de zoete pompoen. Maar we doen er ook geroosterde knoflook en geraspte parmezaan bij. En net voor het opdienen wordt elk kommetje met geroosterde pompoenpitten, gedroogde chili en salie bestrooid. Zo wordt het geheel een beetje knapperig en wat spicy met veel aardse smaken.
Voor dit recept kan je restjes geroosterde pompoen gebruiken, zo bereid je het gerecht slechts in 15 minuten. Een aanradertje.
Ga naar mijn WEB STORY om te zien hoe makkelijk je dit gerecht kan maken!
Meer lekkere pastagerechten:
Pasta met aubergine, zongedroogde tomaten en ricotta
Pasta met geroosterde paprika en zongedroogde tomatensaus
15 minuten pasta met broccoli en basilicum
Wil je op de hoogte blijven van mijn nieuwe recepten? Abonneer je dan op mijn NIEUWSBRIEF.
Dit heb je nodig
280 g pasta
de helft van een kleine pompoen, +/- 500 g, met schil, zonder pitten
1 knoflookbol
3 el olijfolie
zout + zwarte peper
1 tl gedroogde rode chilipeper, meer voor de afwerking
200 g zure room
125 ml kippen- of groentebouillon
40 g geraspte parmezaan, meer voor de afwerking
1 el citroensap
1 el gehakte peterselie
4 el pompoenpitten
15 verse salieblaadjes
Zo maak je het
Verwarm de oven voor op 200°C.
Snij de pompoen (met schil) in kleine blokjes. Snij de knoflookbol doormidden. Verspreid de pompoen op een bakplaat. Besprenkel met olijfolie en chilipeper, kruid met zout en peper. Leg de knoflook erbij. Rooster gedurende 20-25 minuten. Je kan de pompoen bedekken met aluminiumfolie om te voorkomen dat hij verbrandt.
Haal de bakplaat uit de oven, leg de pompoenpitten en salieblaadjes erbij. Plaats de bakplaat terug in de oven en bak nog 8-10 minuten verder.
Kook ondertussen de pasta beetgaar in gezouten water. Giet af en behoud 1/4 kopje van het kookwater.
Als de pompoen klaar is, doe hem (zonder pompoenpitten en salieblaadjes) in een keukenrobot. Voeg zure room, bouillon, citroensap en parmezaan toe. Knijp ongeveer 6 knoflookteentjes uit (de rest bewaar je in de koelkast om te gebruiken in een ander gerecht). Breng op smaak met zout en peper. Pureer tot een gladde massa.
Meng de saus met pasta, voeg gehakte peterselie toe en een flinke scheut kookwater indien de saus te dik is. Serveer met geroosterde pompoenpitten, knapperige salieblaadjes, gedroogde chilipeper en geraspte parmezaan. Smakelijk!
Ga naar mijn WEB STORY om te zien hoe makkelijk je dit gerecht kan maken!
Als je dit recept uitprobeert, laat dan hieronder een reactie achter of deel je foto's op Instagram en vergeet niet om mij te taggen @anna_s_table. Ik kijk ernaar uit!
AND… IF YOU LOVE THESE RECIPES … please consider supporting my work for just the cost of a cup of coffee.