Heerlijke beurre noisette met stukjes gehakte walnoten en gebakken salie. Geserveerd met orecchiette, een van de lekkerste pastavormen vanwege de kleine inkepingen die de extra saus kunnen opvangen. 
Pasta en een botersausje, zó simpel, maar onweerstaanbaar lekker. We mengen de warme orecchiette met de gebruinde boter en de geroosterde walnoten en creëren zo een maaltijd in slechts enkele minuten. We pimpen het op met salie, knoflook en gedroogde chilipeper voor een gerecht dat je door de week kan serveren, maar ook op een feestje voor vrienden.
Beurre noisette is eigenlijk heel makkelijk om te maken. We bakken de boter op een laag vuurtje tot de melkbestanddelen in de boter karamelliseren en zo een bezinksel op de bodem van de pan nalaten. Die daarna de pasta met kleine, bruine sproetjes omhullen. We voegen hier ook wat olijfolie en een scheutje kookwater van de pasta toe, op deze manier gebruiken we minder boter.
Ga naar mijn WEB STORY om te zien hoe makkelijk je dit gerecht kan maken!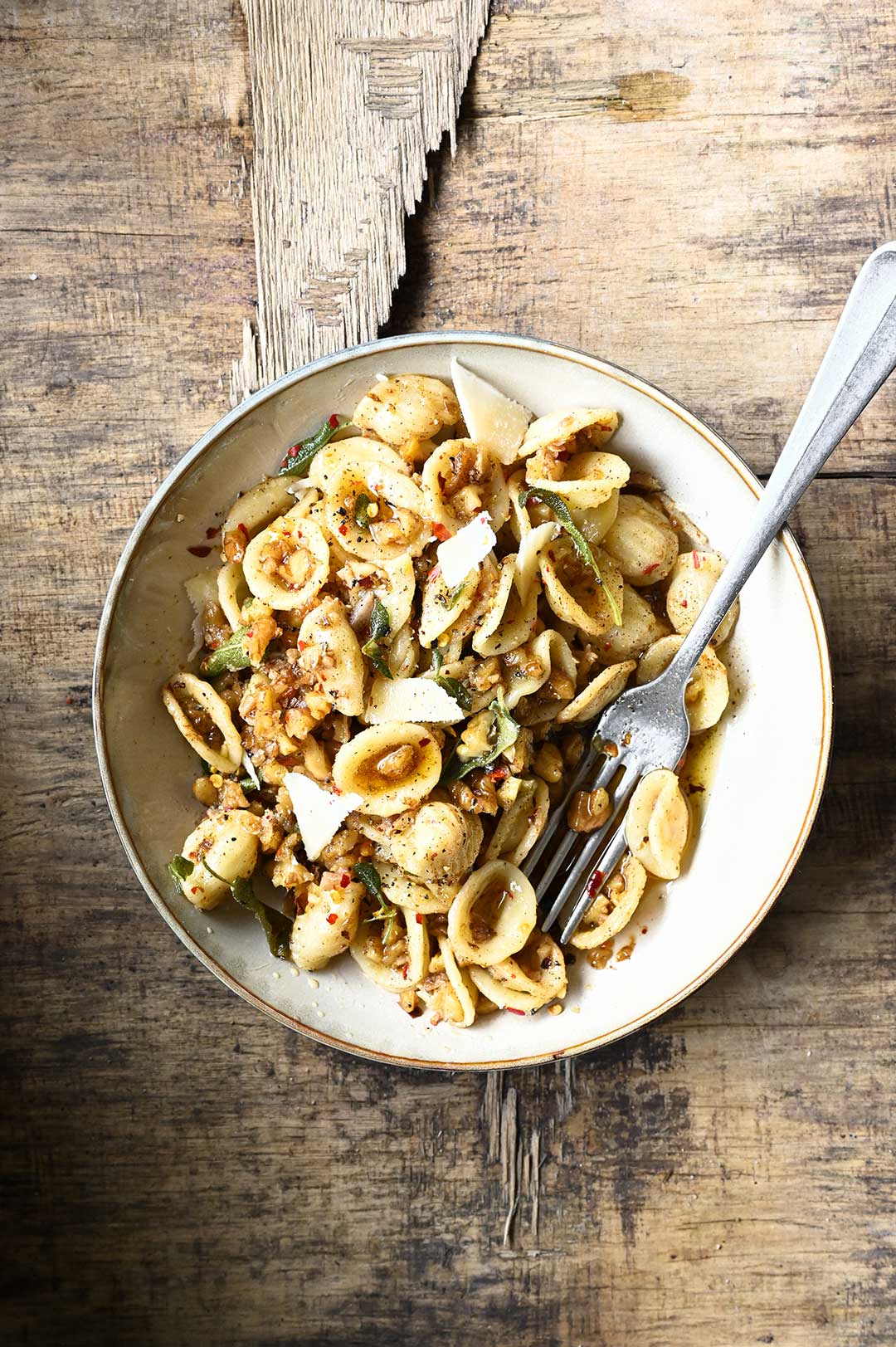 Beurre noisette zorgt ervoor dat een doordeweekse maaltijd, een luxueuze smaak en fancy look krijgt. En als dat nog niet genoeg is om je te overtuigen, je hebt er amper een paar ingrediënten voor nodig en alles is klaar in ongeveer 15 minuten. Voeg er wat bruine champignons aan toe en je zal er niet genoeg van krijgen!

Meer lekkere pastagerechten:
Carbonara met mascarpone
Tagliatelle met rundergehakt en kale pesto
Spaghetti met beurre noisette en knapperige zoete aardappel
Wil je op de hoogte blijven van mijn nieuwe recepten? Abonneer je dan op mijn NIEUWSBRIEF.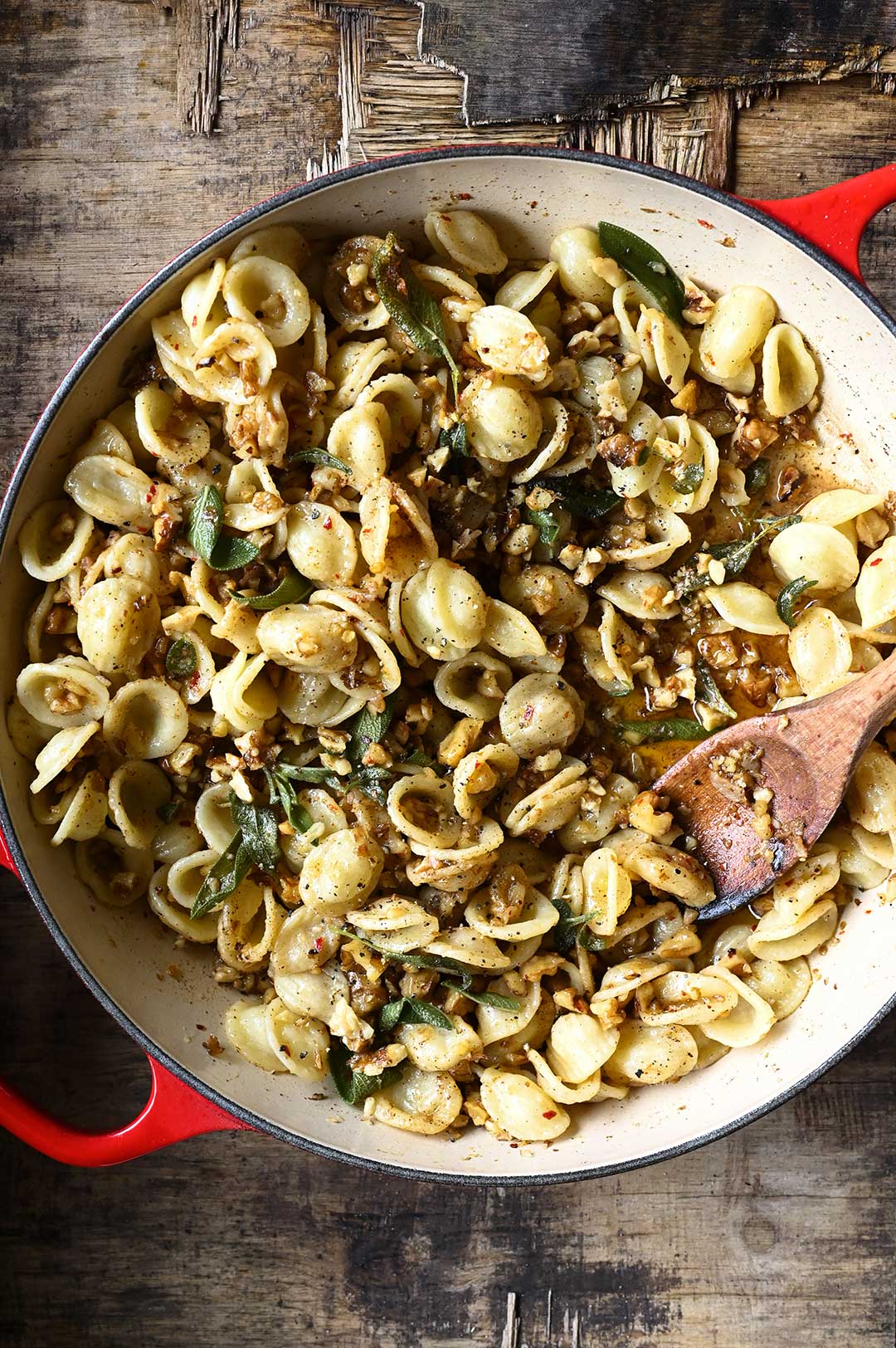 Dit heb je nodig
300 g orecchiette
100 g gehakte walnoten
80 g roomboter
3 el olijfolie
4 tenen knoflook, fijngehakt
20 verse saliebladeren
1 tl gedroogde chilipeper
1 tl gerookte paprikapoeder
1 el citroensap
zeezout + zwarte peper
geraspte parmezaan voor de afwerking
Zo maak je het
Kook de orecchiette beetgaar in gezouten water. Giet af en behoud 1/4 kopje van het kookwater.
Terwijl de pasta kookt, hak de walnoten en de knoflook fijn.
Verhit een grote koekenpan op een hoog vuur. Voeg de boter toe, zet het vuur lager en bak 2-3 minuten of tot de boter begint te schuimen en te bruinen. Voeg olijfolie, gehakte walnoten en knoflook toe, bak gedurende 2 minuten. Voeg vervolgens de chilipeper, gerookte paprikapoeder, zout, peper en citroensap toe. Roer de salieblaadjes eronder en bak nog een minuut verder. Voeg de orecchiette toe met een scheutje van het kookwater en roer alles onder elkaar. Serveer met geraspte parmezaan en wat extra gedroogde chilipeper. Smakelijk!
Ga naar mijn WEB STORY om te zien hoe makkelijk je dit gerecht kan maken!
Als je dit recept uitprobeert, laat dan hieronder een reactie achter of deel je foto's op Instagram en vergeet niet om mij te taggen @anna_s_table. Ik kijk ernaar uit!
AND… IF YOU LOVE THESE RECIPES … please consider supporting my work for just the cost of a cup of coffee.