Deze salade? Ik kon haast niet wachten om de restjes als ontbijt op te eten. Fris, licht met knapperige maïskorrels en boordevol zomerse smaken. Een geweldige salade, ideaal voor warme zomerdagen.
Gebakken maïs en krokante Romeinse salade, met een pittige knoflook-pindadressing, wat citroensap en bestrooid met geroosterde pinda's.
Het is een snelle, makkelijke zomerse salade die niet zal misstaan op eender welke barbecue of picknick.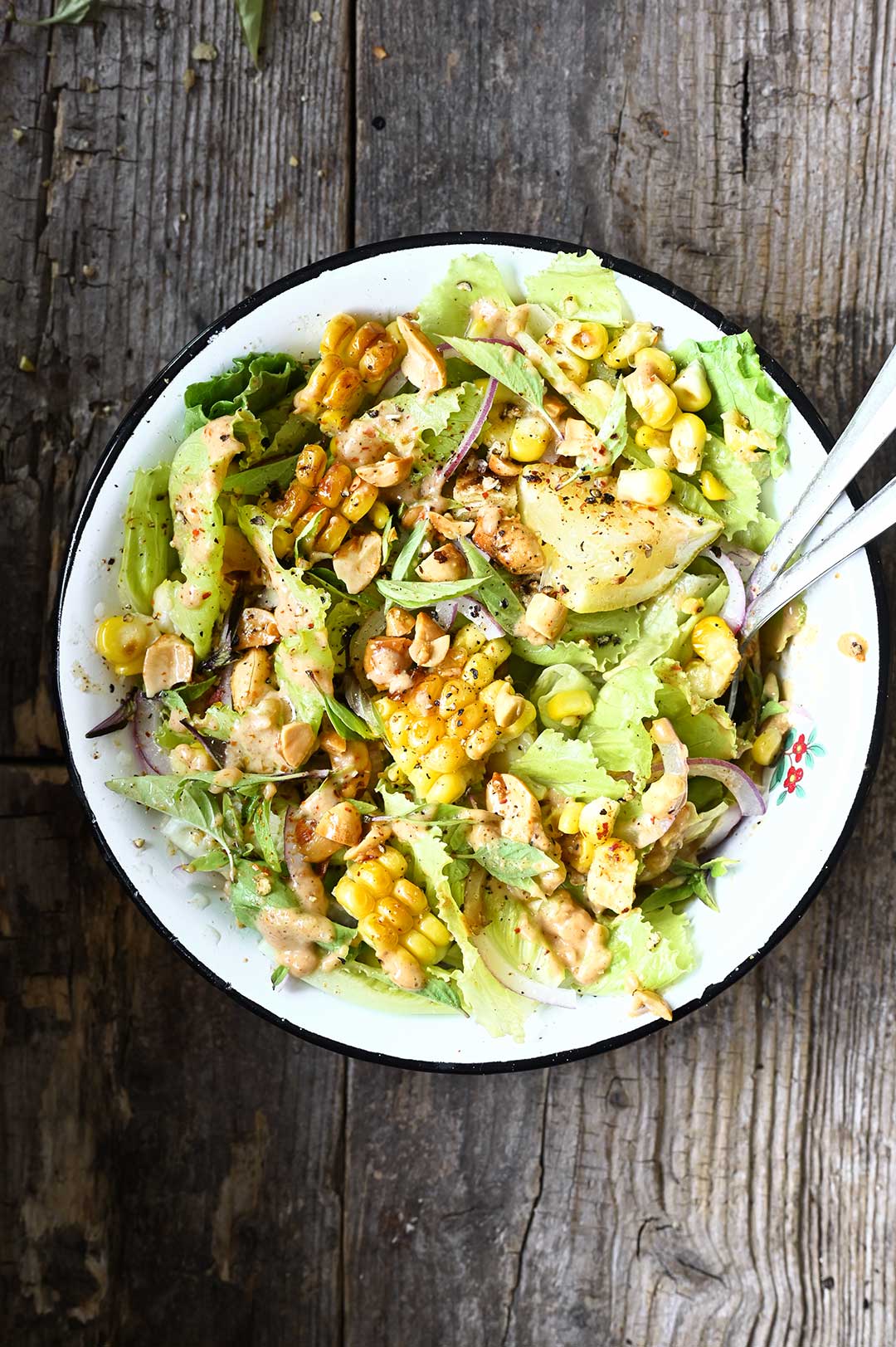 Zo maak je het. We snijden de korrels van de maïskolven af, om ze vervolgens te bakken in een beetje olijfolie, met wat citroensap en knoflook. We pimpen de salade met basilicum, rode ui en geroosterde pinda's. Eenvoudig en lekker.
Je kan natuurlijk meer groenten toevoegen zoals verse komkommer of de salade minder of meer pittig maken. Of koriander in plaats van basilicum. Serveren als hoofdgerecht met geroosterde aardappelen of als bijgerecht bij gegrild vlees of vis. Het beste gedeelte? De restjes zijn perfect als lunch de volgende dag.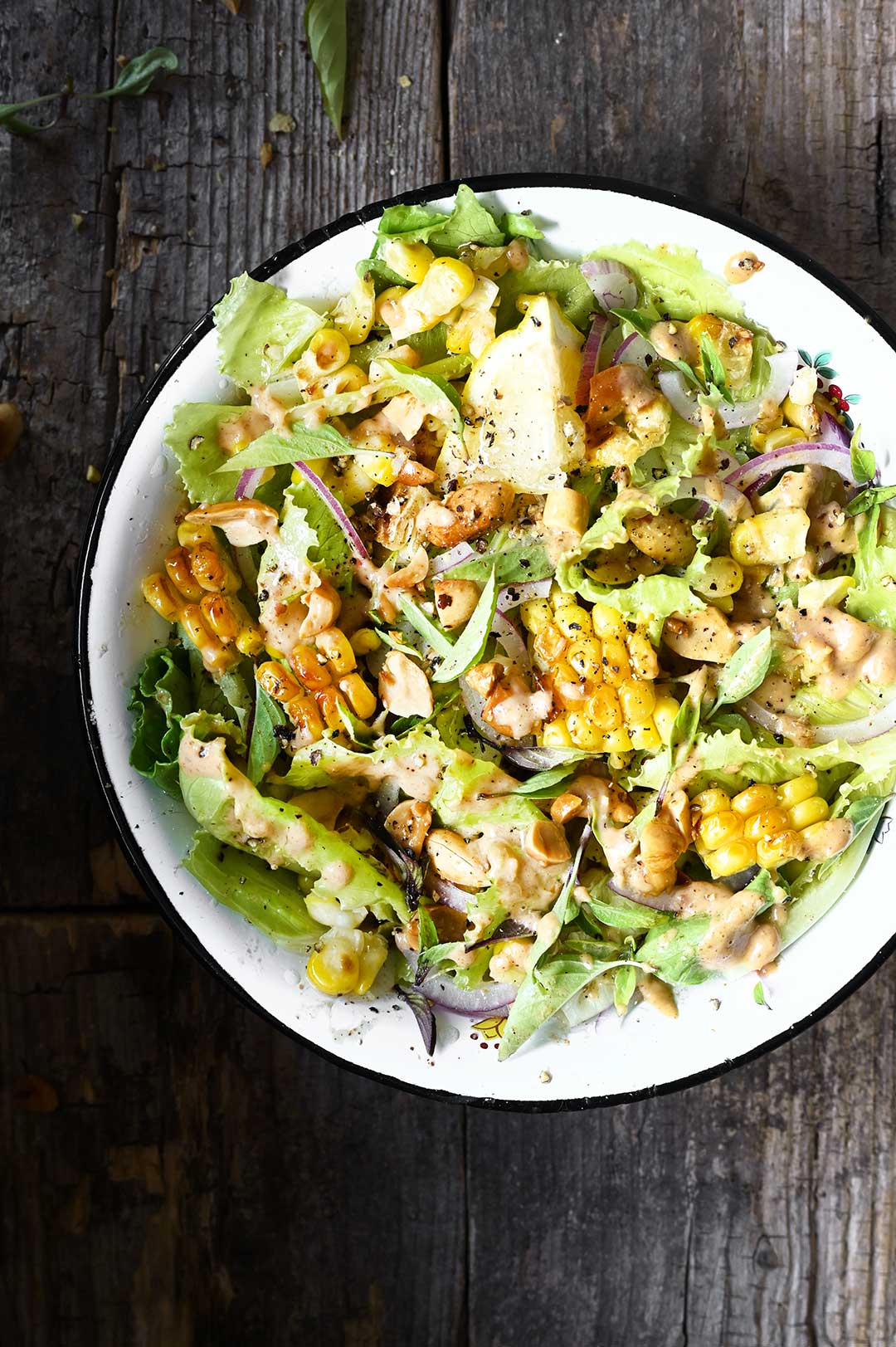 Ga naar mijn WEB STORY om te zien hoe makkelijk je dit gerecht kan maken!
Hungry for more?
Salade van courgettenoedels met tahini
Kipsalade met nectarines en pindasaus
Geroosterde zalm met pittige zwarte bonen salsa
Wil je op de hoogte blijven van mijn nieuwe recepten? Abonneer je dan op mijn NIEUWSBRIEF.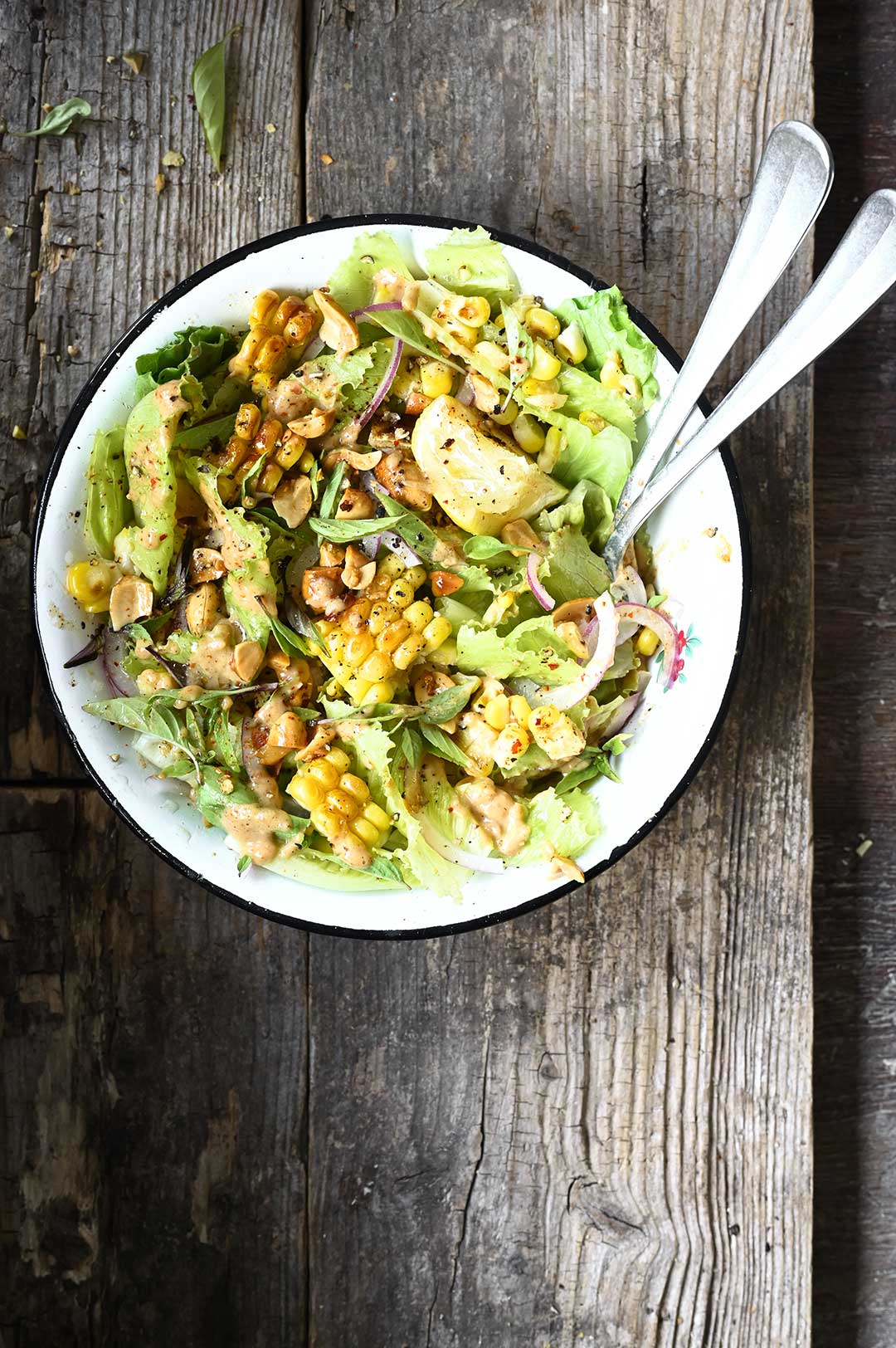 Dit heb je nodig
2 maïskolven
1 romaine sla, grof gesneden in grote stukken
20 g basilicumblaadjes of 1 el gehakte koriander
4 el pinda's
1 rode ui, dun gesneden
3 el olijfolie
citroensap
1/2 tl gedroogde chili, meer naar smaak
1 knoflook, fijngehakt
zout + zwarte peper
pittige pindadressing
40 g pindakaas
100 ml water
2 el citroensap
1 el rijstazijn
2 el sojasaus
1 el sesamolie
1/2 tl geraspte gember
1 teentje knoflook, geplet
1 tl sambal, meer naar smaak
zout + zwarte peper
Zo maak je het
Maak eerst de pindadressing. Doe alle ingrediënten in de blender en mix tot een dikke dressing, ongeveer 30 seconden. Voeg indien nodig meer water toe. Breng op smaak met zout en peper.
Snijd de korrels van de maïskolven af. Verhit 2 el olijfolie in een koekenpan op een hoog vuurtje. Voeg de maïskorrels toe en  bak goudbruin, terwijl je af en toe roert, ongeveer gedurende 5 minuten. Voeg knoflook en 1 el citroensap toe, breng op smaak met zout en peper. Bak nog 30 seconden. Doe dan de korrels in een grote kom.
Verhit in dezelfde koekenpan 1 eetlepel olijfolie. Voeg de pinda's en chili toe. Rooster, ongeveer 3 minuten. Let goed op dat de pinda's niet verbranden. Lepel de pinda's uit de pan op keukenpapier. Bestrooi met zout.
Voeg romeinse salade, pinda's, rode ui en basilicum (of koriander) aan de maïs toe en meng met de pindadressing. Breng op smaak met zout en peper. Knijp er wat citroensap over. Smakelijk!
Ga naar mijn WEB STORY om te zien hoe makkelijk je dit gerecht kan maken!
Als je dit recept uitprobeert, laat dan hieronder een reactie achter of deel je foto's op Instagram en vergeet niet om mij te taggen @anna_s_table. Ik kijk ernaar uit!