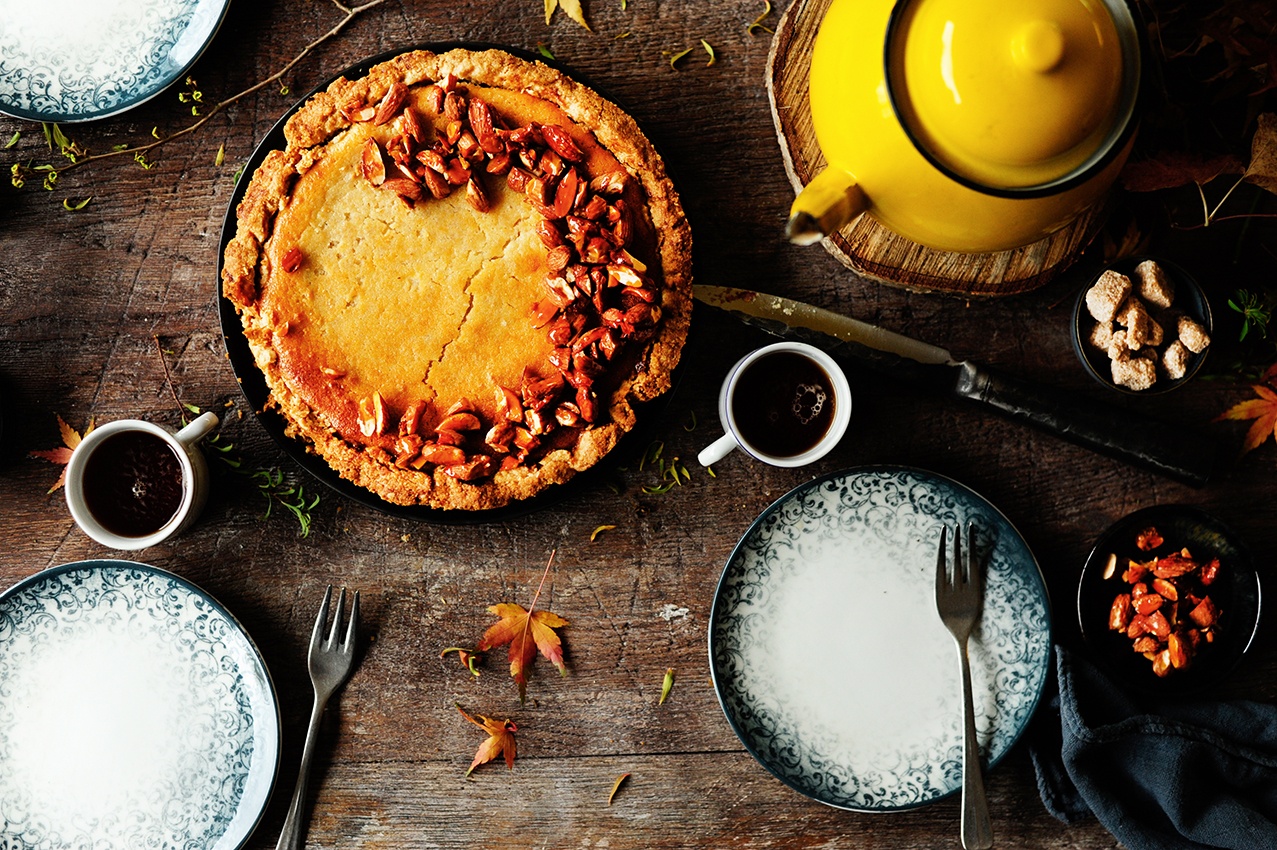 If you've  followed my blog for some time now, you know I have a thing for cheesecakes.  But this time I baked a vegan cheesecake, for the first time! He has a silky filling, baked on an oat-almond crust and sprinkled with caramelized almonds. 
So, where did the idea came from? I was asked by NEFF home appliances to prepare a vegan dessert for a few lovely ladies during one of their events and I have spent the last week perfecting this. I'm so happy with the result I could dance.  I served it with a cranberry sauce, but it would also taste amazing with salted caramel!
This recipe is not only delicious, vegan and gluten-free, but is also close to the "real thing" and easy to make!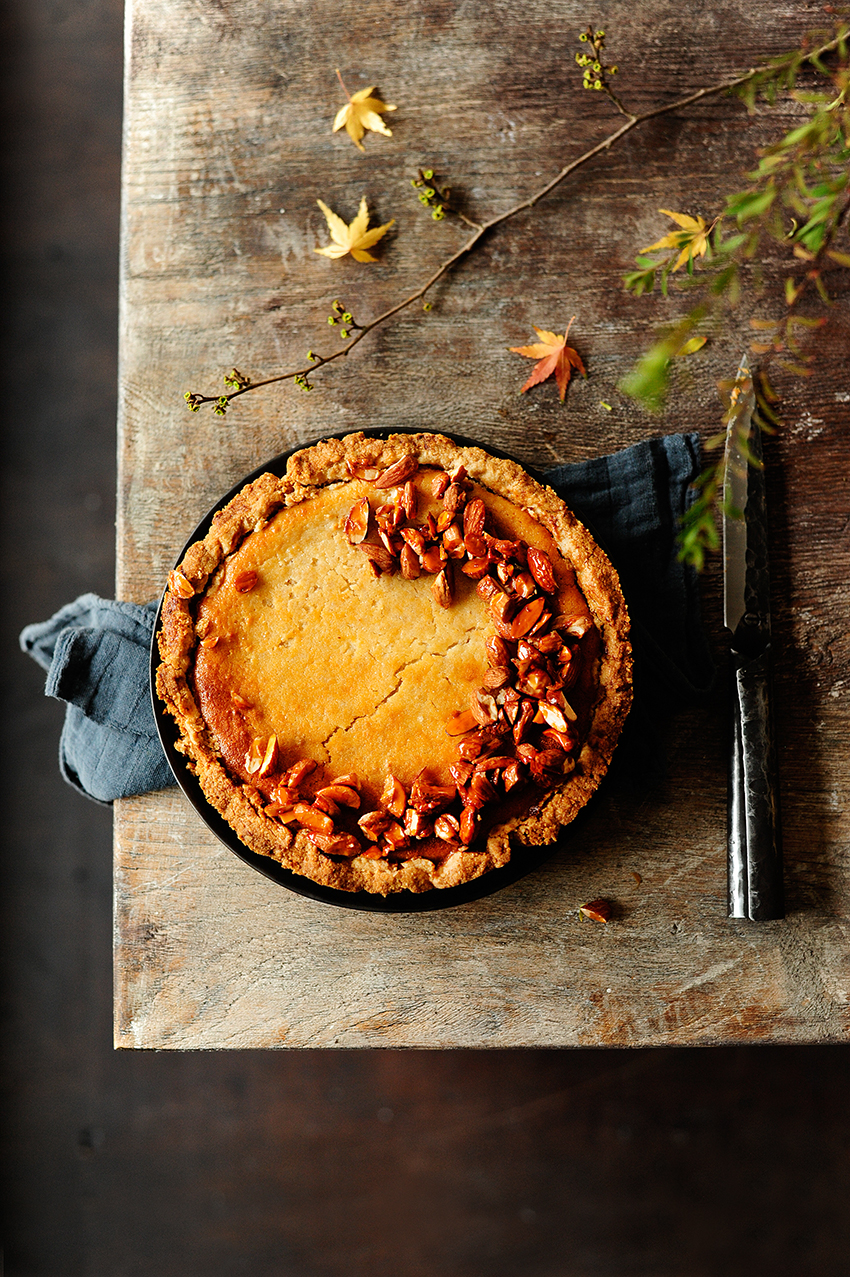 Ingredients
crust
70 g rolled oats
90 g ground almonds
pinch of salt
2 tablespoons sugar
70 g coconut oil, dissolved
filling
220 g soya yoghurt
100 g cashews, soaked for 30 minutes
100 g sugar
juice and zest from 1/2 lemon
6 g potato starch
1 teaspoon vanilla extract
caramelized almonds
100 g almonds, chopped
pinch of salt
2 tablespoons agave syrup
cranberry sauce
250 g cranberries
80 g sugar
100 ml red port
1 teaspoon cinnamon
1 tablespoon lemon juice
zest from of 1/2 lemon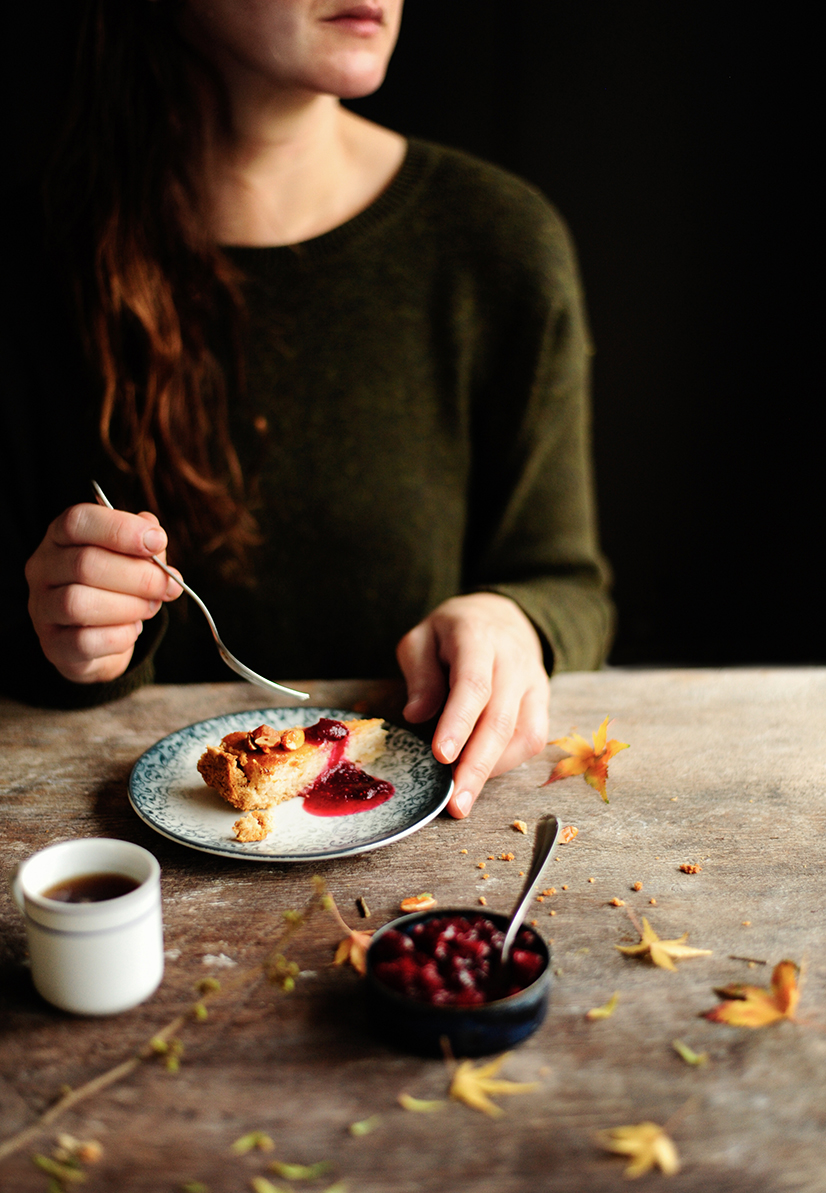 Instructions
Add the ingredients for the crust to a foodprocessor and mix.  Transfer to a 18 cm round cake pan and spread evenly, let it come up the sides a little. Place it in the fridge.
Add the soaked cashews to the foodprocessor and mix, add soy yoghurt and sugar, mix until combined. Add potato starch, vanilla extract, lemon juice and zest, stir until combined. Pour the mixture for vegan cheesecake into the cake pan, bake for 45 minutes at a temperature of 170°C until golden brown. Allow to cool.
Combine the almonds with agave syrup and salt, transfer to a baking tray covered with baking paper and bake for 5-10 minutes at 180°C.
In a saucepan,  add cranberries with sugar, port, cinnamon, lemon juice and zest. Bring to a boil, reduce heat and simmer for 15 minutes. Let cool completely.
Carefully lift the cheesecake out of the pan and sprinkle with caramelized almonds. Serve with cranberry sauce. Enjoy!