Spaghetti and meatballs in tomato sauce combined with tender sautéed eggplant and buttery black olives for a next-level satisfying dinner. It's comfort food at its very best!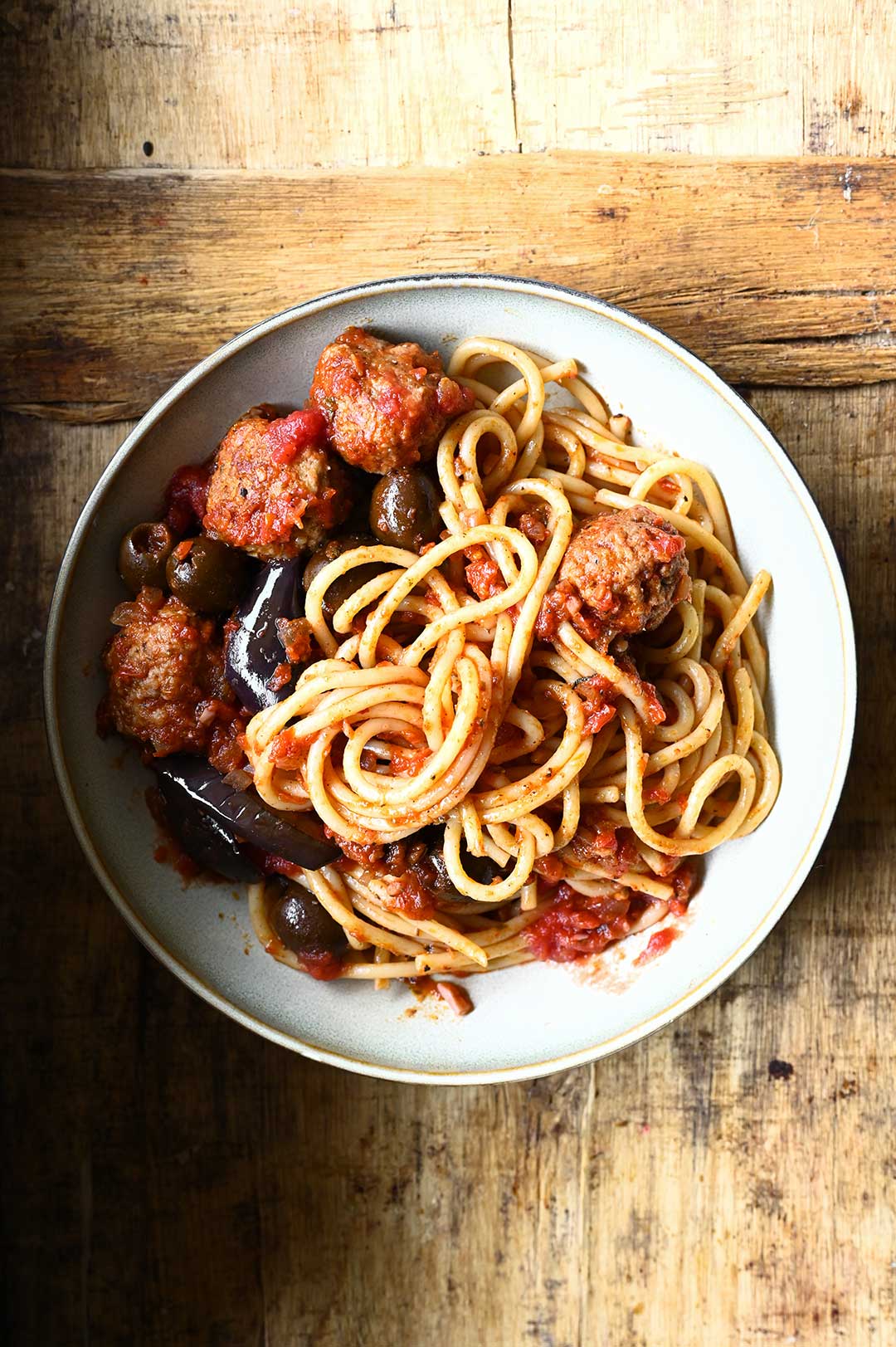 Eggplant combined with pan-seared meatballs and tomato sauce makes for a most luxurious sauce with minimal effort. We take it to another flavor level, by adding a generous splash of red wine and some black olives. When this combo simmers together, it turns into a delicious hearty rich sauce, covering each juicy meatball in some serious saucy goodness. Serve over your favorite spaghetti, and dinner will be oh-so-satisfying.
Let me guide you through the recipe with this step-by-step VIDEO.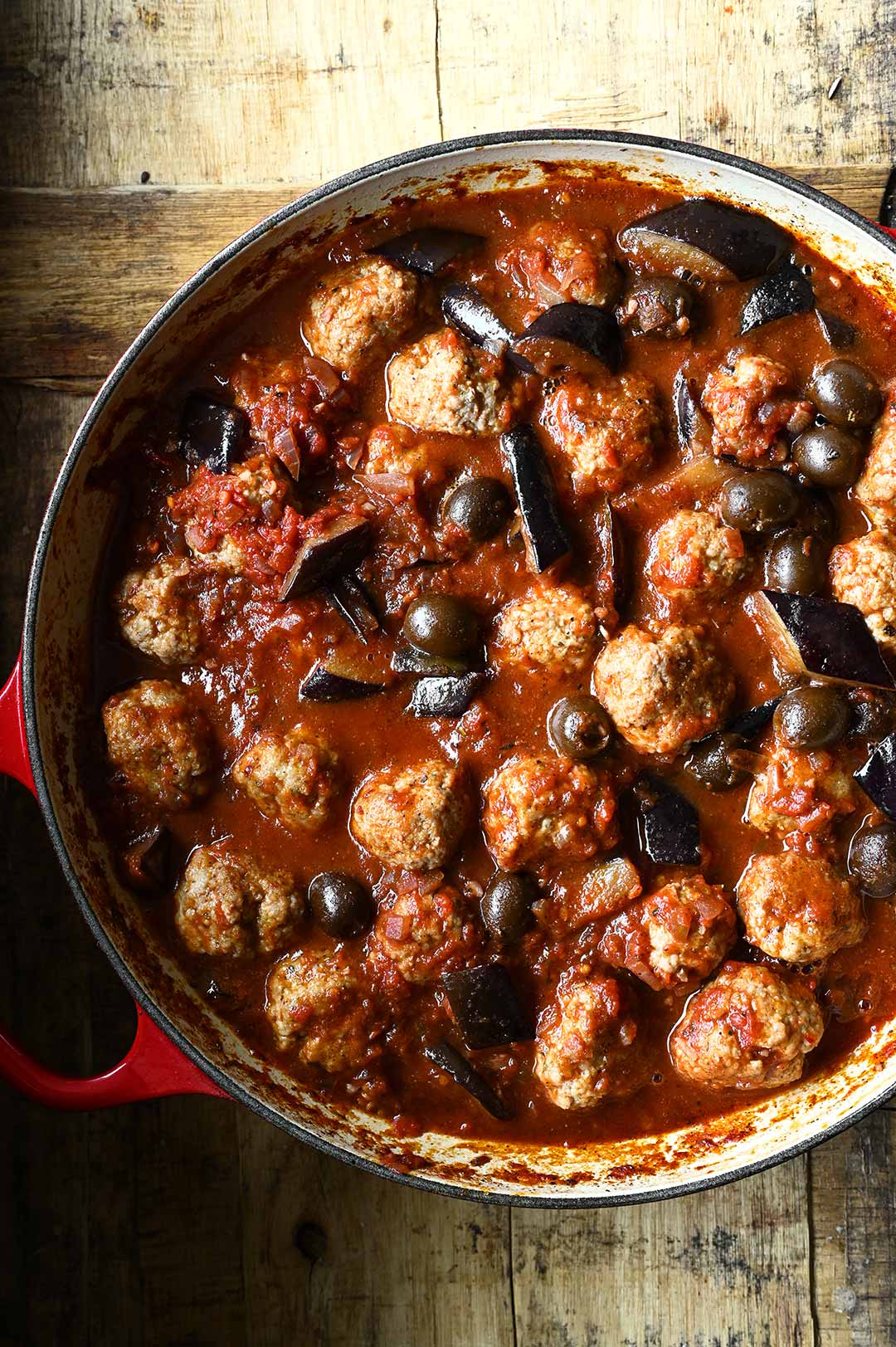 LET'S TALK ABOUT MEATBALLS
This spaghetti and meatball recipe is not only weeknight-friendly, but it's also picky eater-approved. The meatballs are tender and packed with flavor, thanks to a combination of pork and veal, as well as the addition of dried garlic, Italian seasoning and grated parmesan. I like to brown them in the skillet to build a starting layer and a super flavorful base for the tomato sauce. To cut down time, you can roll the meatballs one day ahead.
The other key to make tender, toothsome meatballs is to mix them with your hands, but be sure you don't OVER mix. The shorter you mix and form the balls, the more succulent they will be. If you overwork the meatballs, they'll get tough.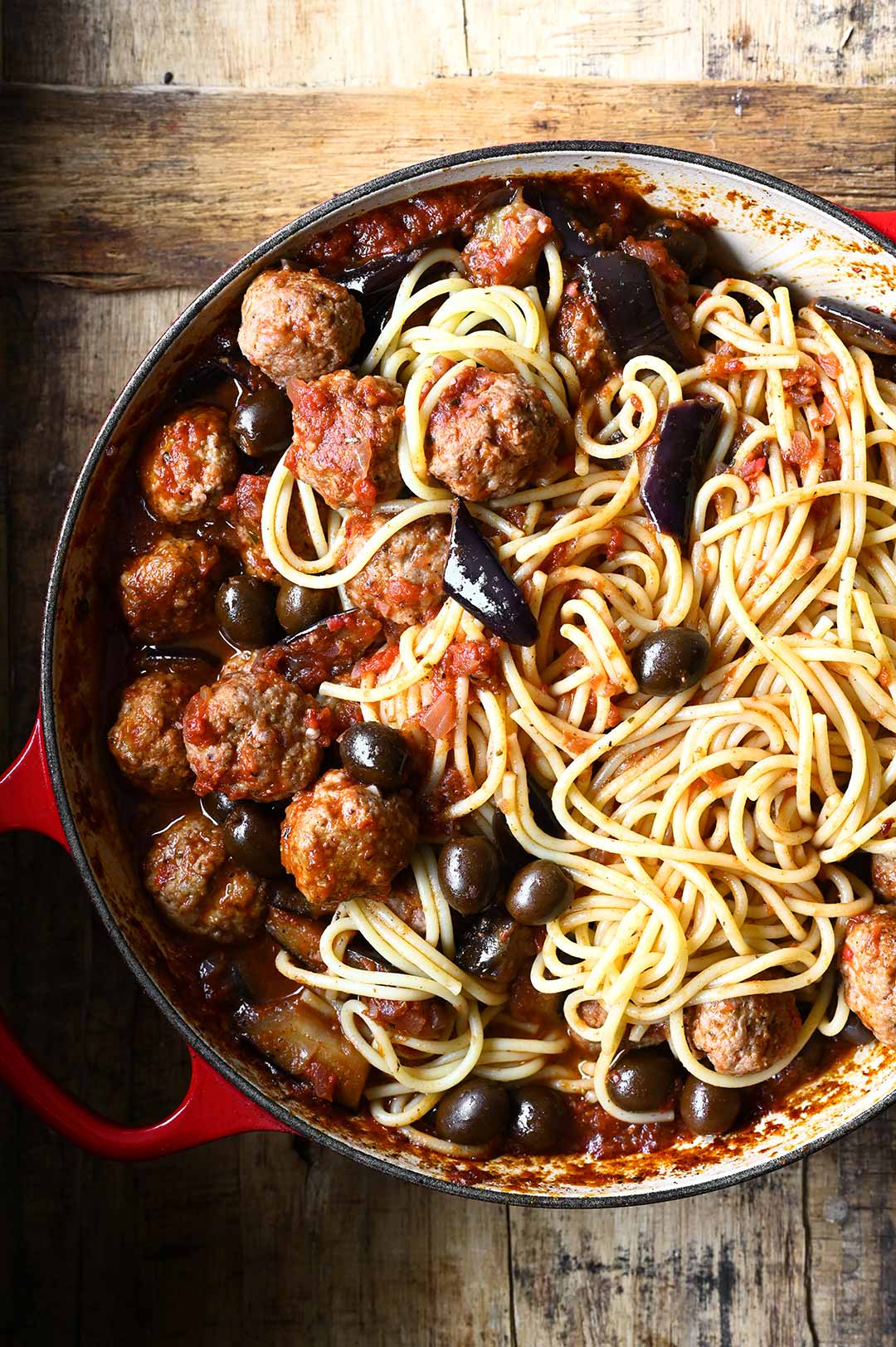 RECIPE NOTES
be sure to buy a mix of ground pork and veal for the most tender and juicy meatballs. If you can also try a combination of pork and beef
not a fan of black olives? just leave them out
use chicken broth instead of red wine
serve the meatballs over your favorite noodles, orzo, couscous, creamy polenta or with some crusty bread
add an arugula salad drizzled with olive oil and balsamic vinegar
TRY THESE NEXT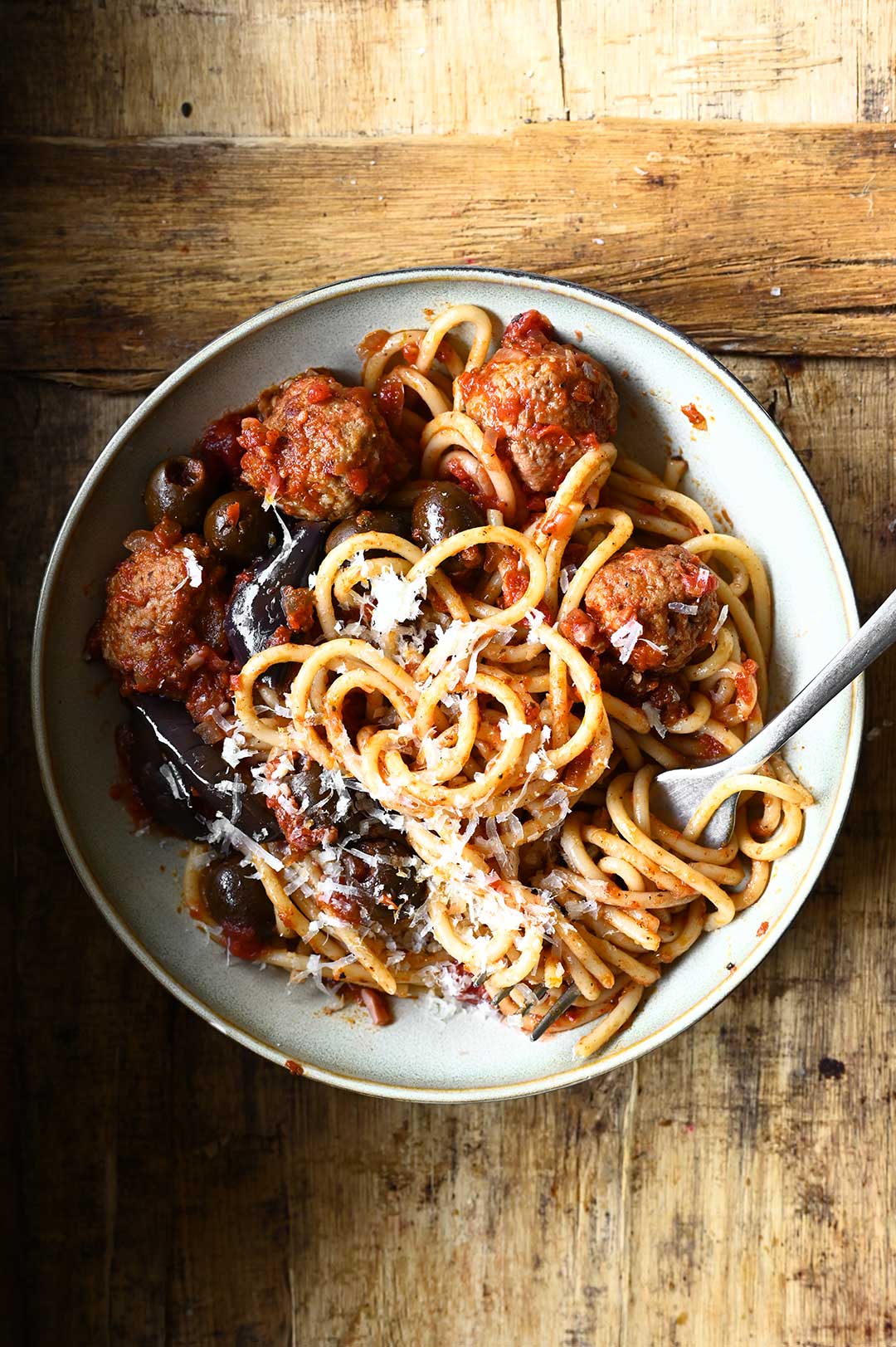 COOKING VIDEO
Yield: serves 4
Spaghetti and Meatballs in Tomato Eggplant Sauce
Prep Time 15 minutes

Cook Time 30 minutes

Total Time 45 minutes
Ingredients
Meatballs
1 pound/450 g ground meat, a mix of pork and veal
¼ tsp each: salt, black pepper, Italian seasoning, dried garlic
1 egg yolk
2 tbsp bread crumbs
3 tbsp grated Parmesan
Tomato Eggplant Sauce
1 tbsp olive oil
1 tbsp unsalted butter
1 eggplant, cut into bite-sized pieces
1 medium yellow onion, finely chopped
4 garlic cloves, miced
½ tsp each: salt, black pepper, sugar, sweet paprika
1 tsp Italian seasoning
¼ tsp red pepper flakes
½ cup/120 ml sweet red wine
1 can (28 oz/800 g) crushed tomatoes
3.5 ounces/100 g black olives
Instructions
Add all the ingredients for the meatballs to a large bowl. Mix until just combined, using your hands. Roll the meat into balls.
Get all the prep done before you start cooking: mince the garlic, finely chop the onion, cut the eggplant into bite-sized pieces.
Set a large pot with generously salted water over high and bring to a boil.
Heat oil and butter in a large skillet. Add meatballs, cook until lightly browned on all sides, but not cooked through. Remove from skillet.
Add eggplant, cook for 5 minutes or until it starts to soften. Add more olive oil, if needed. Add garlic and onion, cook until soft and fragrant, about 3 minutes.
In the meantime, add spaghetti to the pot with boiling water. Cook until al dente, drain.
Add salt, pepper, paprika, Italian seasoning, sugar and red pepper flakes to the skillet. Deglaze with red wine, cook for 3 minutes. Add crushed tomatoes and bring to a boil. Stir in meatballs and black olives. Simmer for 10 minutes or until the meatballs are cooked through.
Toss in spaghetti, serve!
Notes
Calories Per Serving: 613 kcal
Nutritional information is only an estimate. The accuracy of the nutritional information for any recipe on this site is not guaranteed.


DOWNLOAD PRINTABLE RECIPE PDF