Prepare to be amazed by our roast chicken legs with grapes. Marinated in a symphony of white wine, lemon, and garlic, this dish offers a perfect blend of sweet and savory. The secret to its golden perfection? A night in the fridge and a sprinkle of brown sugar. Simple, elegant, and irresistibly tasty, this recipe is a delightful crowd-pleaser.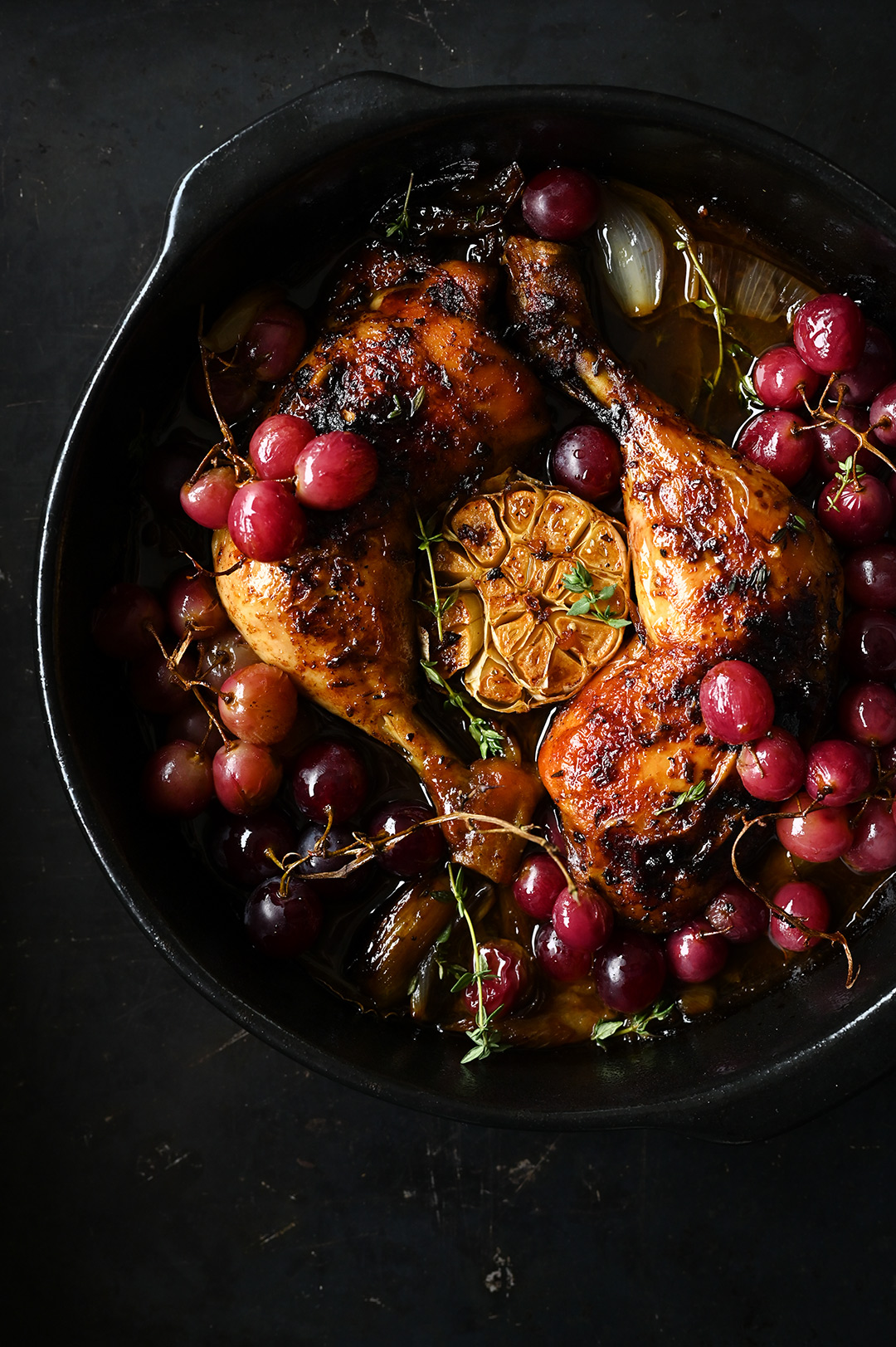 Are you on the hunt for a delectable roast chicken recipe that's perfect for both a cozy midweek dinner and an elegant weekend dinner party? Look no further! This roast chicken legs with grapes recipe is the ultimate culinary masterpiece that strikes the perfect balance between sweet and savory.
Marinated in a tantalizing blend of white wine, lemon juice, olive oil, and garlic, these succulent chicken legs are roasted to a glorious golden-brown perfection. The addition of grapes to the mix takes this dish to a whole new level of deliciousness. It's a delightful contrast of flavors that will have your taste buds dancing with joy, thanks to the harmonious marriage of garlic, thyme, and white wine.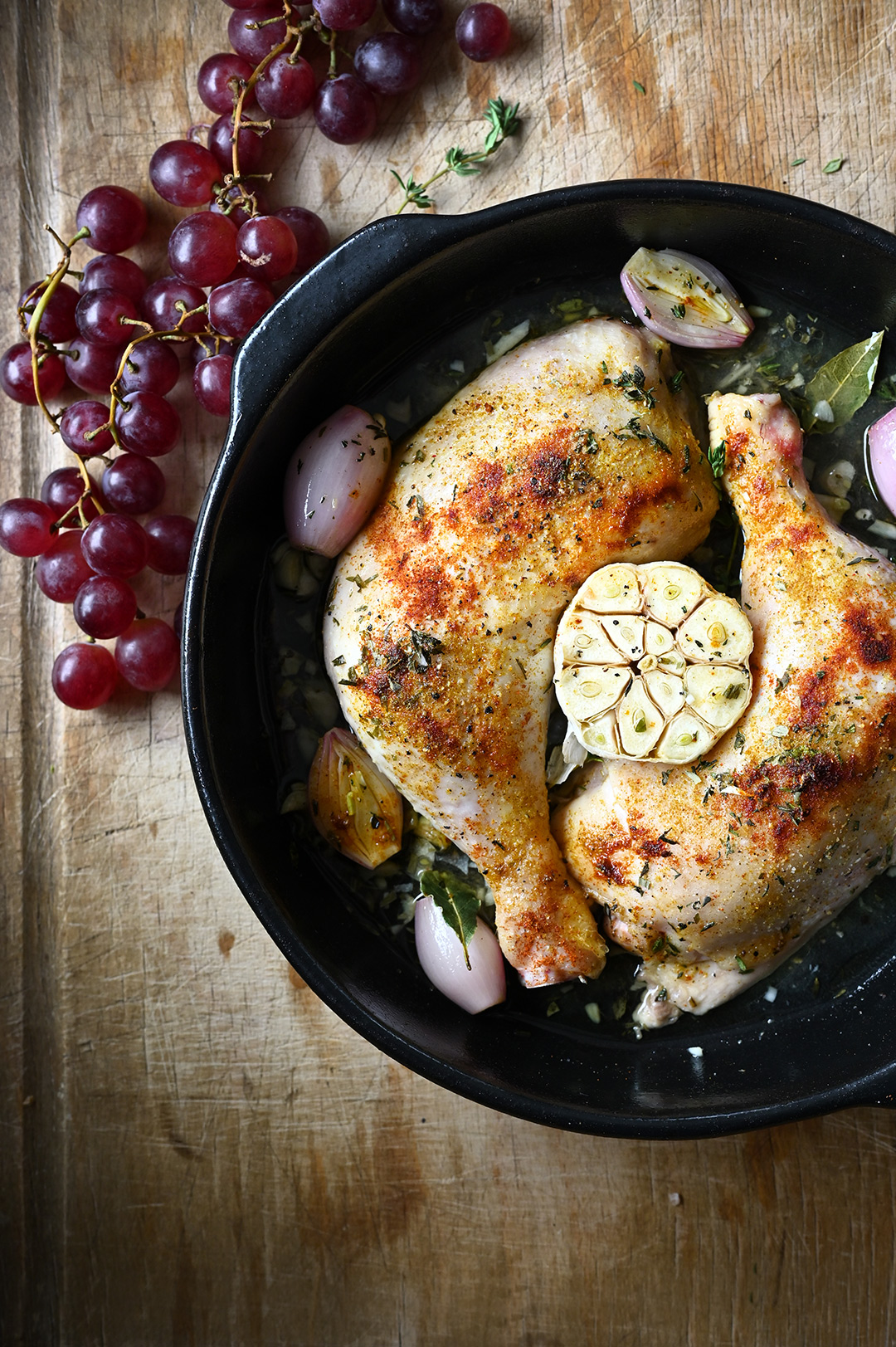 Why You'll Love this Roasted Chicken with Grapes Recipe
The beauty of this recipe lies not only in its exquisite taste but also in its practicality. You can prepare it in advance, making it a convenient choice when you're entertaining a crowd. While I opted for chicken legs in this recipe for their consistent cooking time and perfect individual serving size, you can certainly use a whole chicken cut into pieces if you prefer.
To achieve that coveted crispy skin and a golden finish, we recommend marinating the chicken a day ahead and letting it rest in the fridge overnight. A sprinkle of brown sugar and smoked paprika adds a delightful touch that elevates the dish to next level delicious.
To complete this elegant yet unfailingly tasty meal, I suggest serving the roast chicken with pearl couscous. However, it pairs beautifully with other accompaniments like crispy garlic potatoes or crusty bread. Whether you're planning a cozy family dinner or a sophisticated dinner party, this roast chicken recipe is your ticket to culinary success. So, let's dive into the details of this mouthwatering dish and discover how to create a meal that's bound to impress.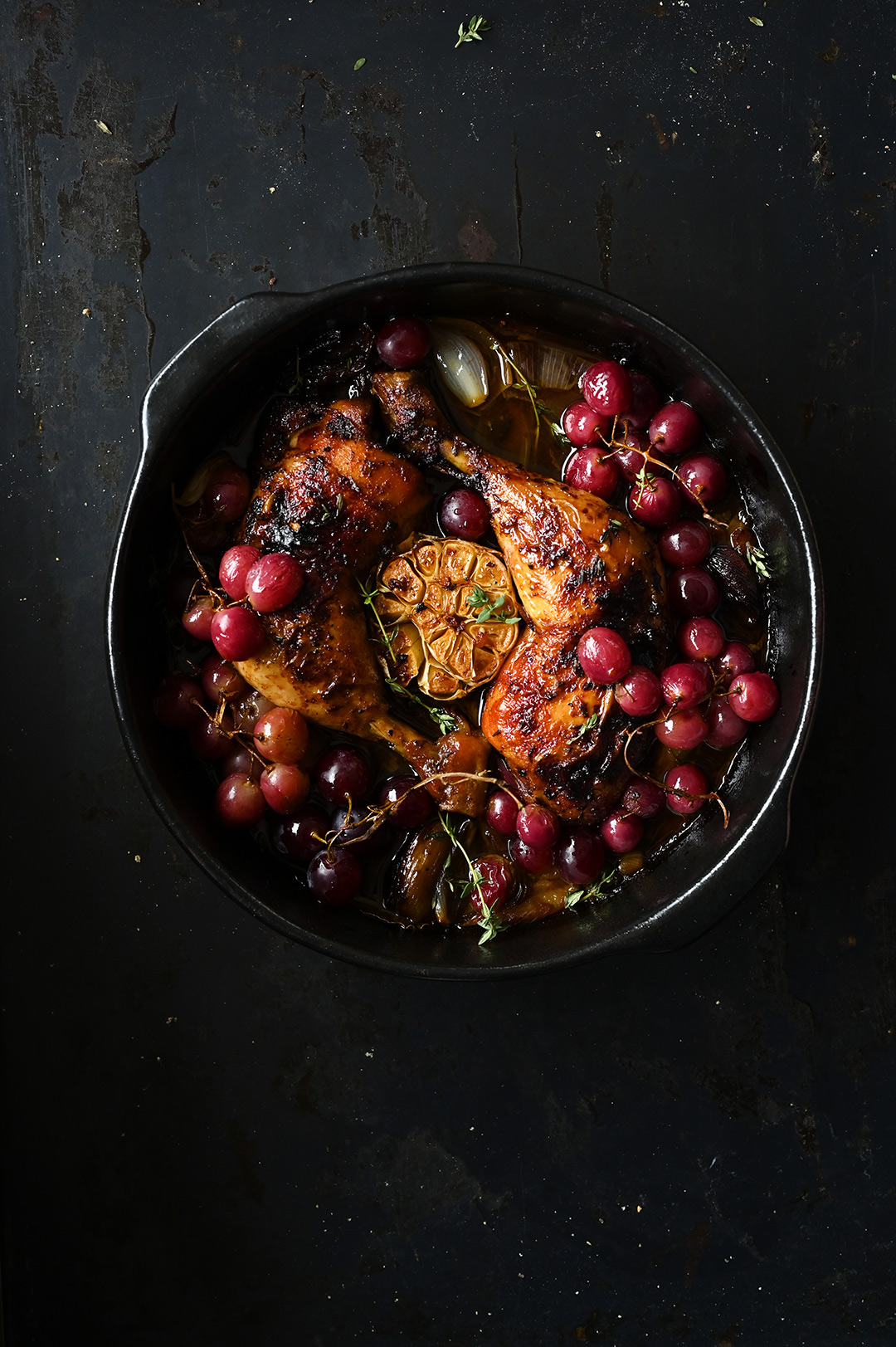 Try These Next
Yield: serves 4
Roast chicken legs with garlic and grapes
Indulge in the exquisite flavors of our roast chicken legs with grapes, marinated in white wine and garlic for a perfect balance of sweet and savory. With a touch of elegance and unbeatable taste, it's the ideal dish for any occasion.
Cook Time
1 hour
30 minutes
Total Time
2 hours
40 minutes
Ingredients
4 chicken legs
1 head of garlic, halved crosswise
5 shallots, peeled and left whole
1/2 cup/120 ml dry white wine
5 tablespoons olive oil
salt and black pepper, to taste
1 teaspoon smoked paprika
1/2 teaspoon cayenne pepper
1 teaspoon crushed fennel seeds
1 teaspoon dried tarragon
juice from 1/2 lemon
1 tablespoon light brown sugar
2 bay leaves
5 sprigs of thyme
2 tablespoons melted unsalted butter
1 pound/450 g black grapes
Instructions
In a shallow baking pan, combine chicken legs, garlic, shallots, salt and pepper, lemon juice, olive oil and white wine. Cover and let marinate, refrigerated, for at least 1 hour but preferably overnight.
When ready to cook. Preheat the oven to 375°F/190°C.
Remove the chicken from the fridge. Rub with the cayenne pepper, smoked paprika, crushed fennel seeds, tarragon, lemon juice and light brown sugar. Divide the thyme sprigs and bay leaves between the chicken, but don't add the grapes yet. Turn the chicken upside down, turn garlic heads cut side down so they are in contact with the baking dish.
Roast for 20 minutes. Next, turn the legs with the skin up, drizzle all over with melted butter and roast for 40 minutes. Drizzle the chicken from time to time with the pan juices, add some water if needed. The chicken is ready when the meat is nicely browned and almost falling off the bone.
Now, add the grapes and turn the garlic cut-side up. Roast for 15 minutes more at 350°F/180°C.
Let the chicken rest in the baking pan for 10 minutes. Enjoy!
Nutrition Information:
Yield:
4
Serving Size:
1
Amount Per Serving:
Calories:

866
Total Fat:

47g
Saturated Fat:

12g
Trans Fat:

0g
Unsaturated Fat:

30g
Cholesterol:

343mg
Sodium:

448mg
Carbohydrates:

41g
Fiber:

7g
Sugar:

15g
Protein:

65g
Nutritional information is only an estimate. The accuracy of the nutritional information for any recipe on this site is not guaranteed.