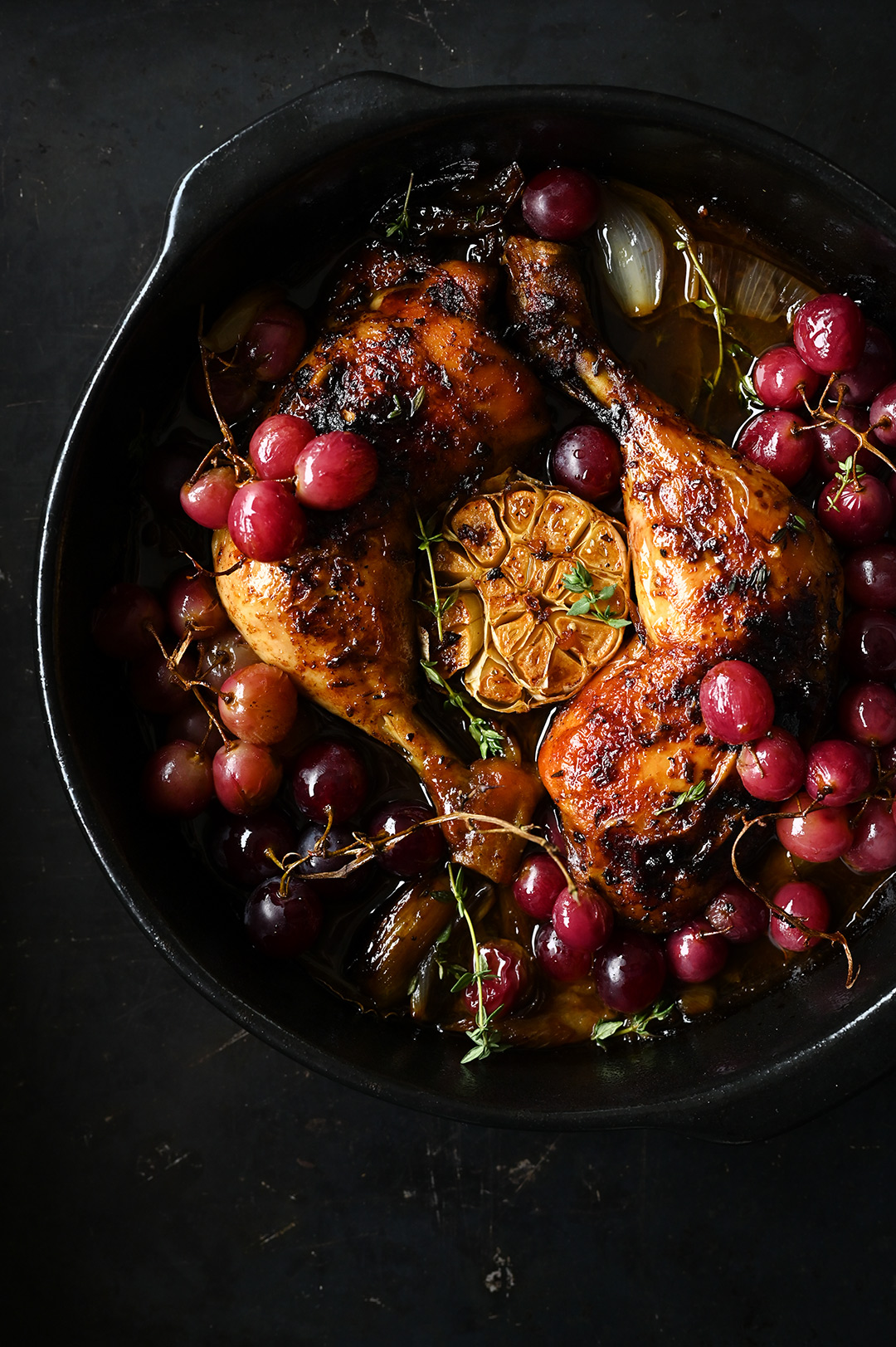 This is my favorite roast chicken. Marinated in white wine, lemon juice, olive oil and garlic, then roasted until golden brown and crispy.
It's a dish that can be prepared in advance and can easily feed a crowd. It's a perfect dinner – easy for a mid week cooking but pretty and tasty enough to serve at a weekend dinner party.
Salty and sweet at the same time, all thanks to the marinade and grapes. It's not the first time that I cooked/roasted grapes and I'll definitely be doing it again. They add the perfect balance of sweetness to the chicken along with the garlic, thyme and white wine.
I chose to use chicken legs but you are welcome to use a whole chicken cut into pieces. I like the uniformity in size of the legs because they all pretty much cook for the same amount of time. I started preparing the chicken a day in advance, marinated it and left it in the fridge overnight, then sprinkled with a little bit of brown sugar and smoked paprika before it went into the oven. Doing this helps the chicken take on a nice golden finish and a super crispy skin. The finished dish is so good… a lovely rich buttery sauce with tender juicy chicken. It's simple elegant yet unbeatably tasty and fancy to serve.
I served the chicken with pearl couscous, but I'm sure it's also delicious accompanied by garlic roasted baby potatoes or bread.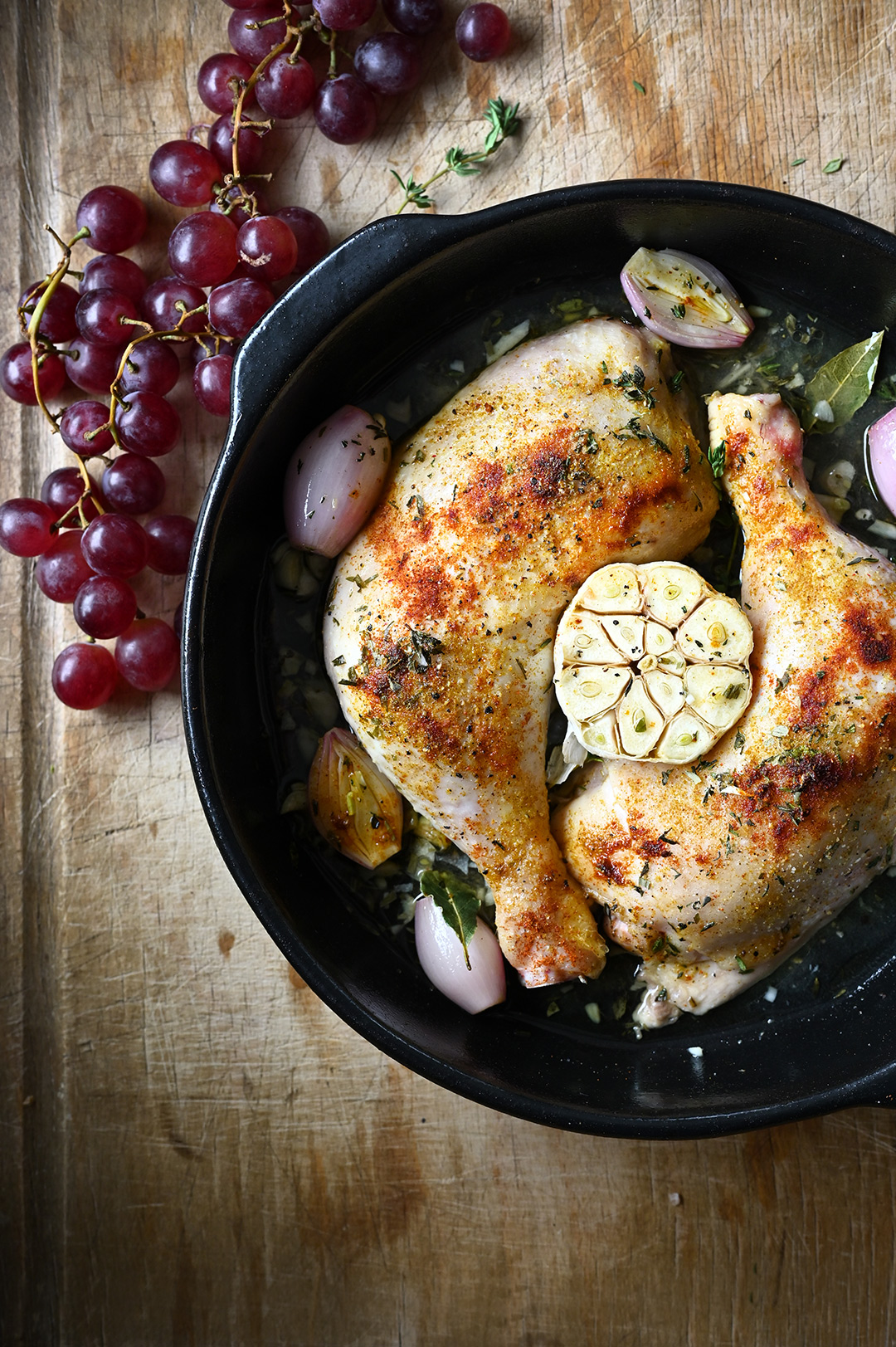 Ingredients
4 chicken legs
150 ml (3/4 cup) white wine
5 tbsp olive oil
juice from 1/2 lemon
1 head of garlic, halved crosswise
5 shallots
2 bay leaves
2 tbsp butter, melted
1 tsp dried estragon
sprigs of thyme
1 tsp smoked paprika
1/2 tsp cayenne pepper
1 tbsp light brown sugar
1 tsp crushed fennel seeds
sea salt and freshly ground black pepper
grapes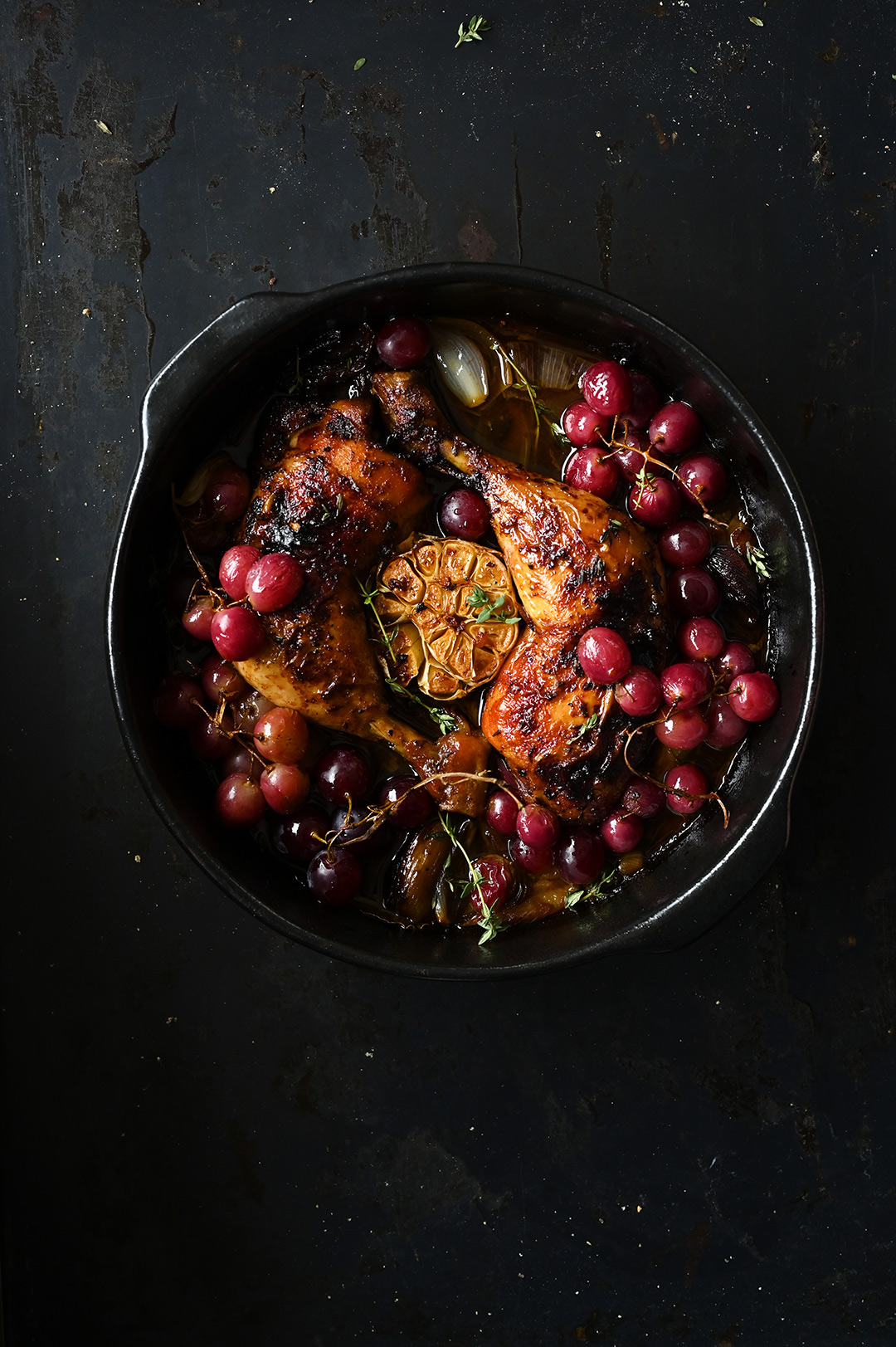 Instructions
In a shallow baking pan, combine chicken legs, garlic, shallots, salt and pepper, lemon juice, olive oil and white wine. Cover and let marinate, refrigerated, for at least 1 hour but preferably overnight.

Preheat the oven to 190°C (375°F).
Remove the chicken from the fridge. Rub with the remaining ingredients, divide the thyme sprigs and bay leaves between the chicken, but don't add the grapes yet. Turn the chicken upside down, turn garlic heads cut side down so they are in contact with the baking dish. Roast the chicken for 20 minutes. Then turn it over with the skin up, drizzle all over with melted butter and roast for 40 minutes. Drizzle the chicken from time to time with the pan juices, add some water if needed. The chicken is ready when the meat is nicely browned and almost falling off the bone. Add the grapes and turn the garlic over, cut-side up. Roast for 15 minutes more at 180°C.

Let the chicken cool in the baking pan for 10 minutes, then serve with pearl couscous, garlic roasted potatoes or bread. Enjoy!

//= __('Print recipe (no photos)', 'servingdumplings' );?> //= __('Print recipe (with photos)', 'servingdumplings' );?>