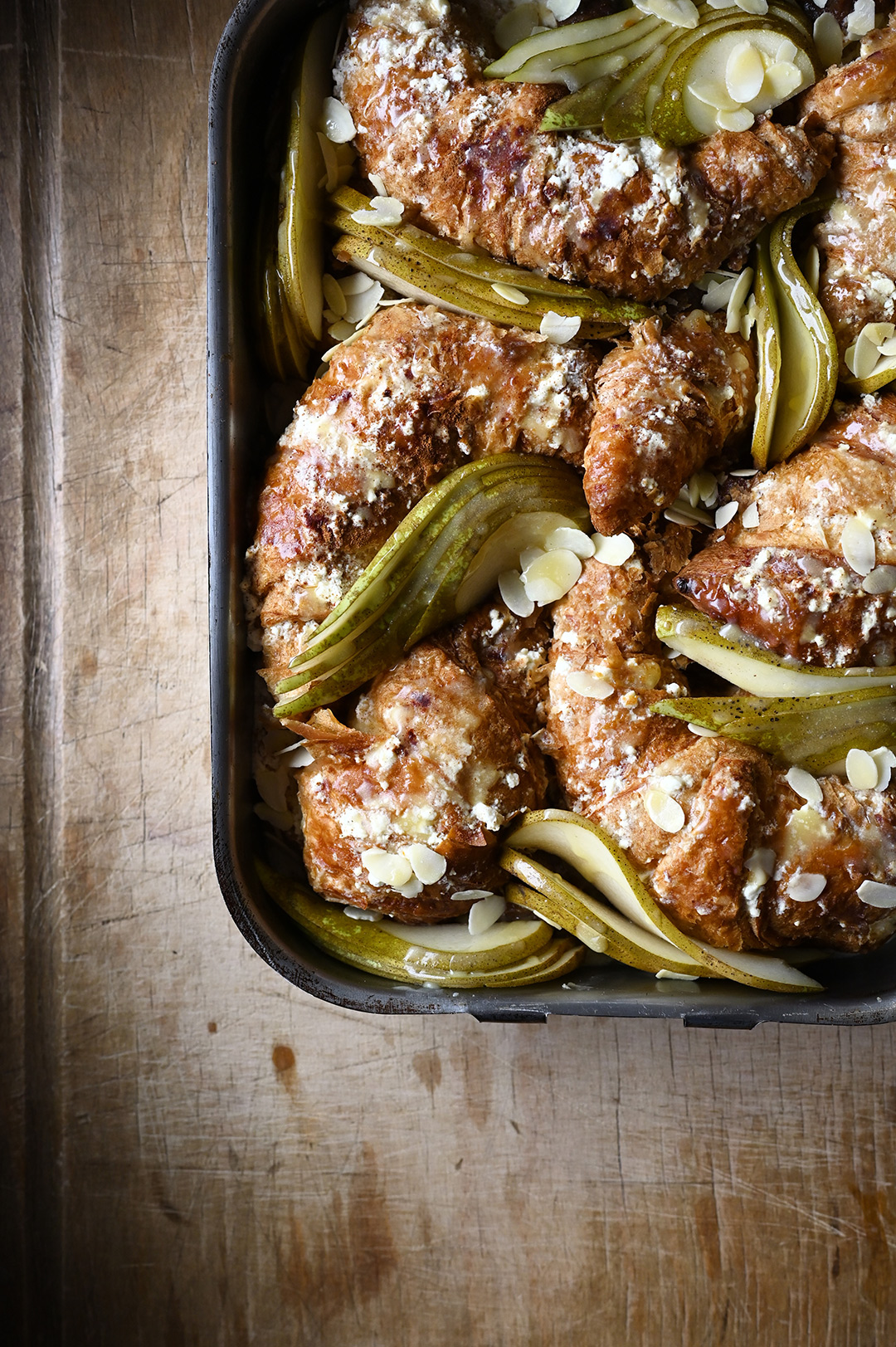 This impressive and easy overnight croissant French toast is the perfect brunch to spoil your loved ones during the weekend.
Pear and almonds are a classic pairing, so I knew they would be perfect in this overnight French toast. Each croissant is soaked in an eggy ricotta based batter that is sweetened with dried dates. The ricotta adds a magnificent amount of flavor and texture to this baked breakfast. There's nothing not to love about this treat and there's no better way to serve French toast than this. It not only incredibly easy, the flaky croissants are deliciously baked until golden and slightly crunchy on the very outside and super soft and cheesecake-ish on the inside.
For an eye pleasing result I nestled the slices of pears between the soaked croissants and sprinkled them with almonds. An hour later, my kitchen was filled with a delightful scent of French toast. Just how I like it.
Ingredients
6 croissants
4 eggs
200 ml milk, hot
200 g ricotta
8 dried dates
1 tbsp lemon juice
pinch of salt
1 tsp vanilla extract
1 tsp cinnamon
1 tbsp butter
2-3 ripe pears, cut into slices
2 tbsp almond flakes
to finish
maple syrup for serving
50 ml heavy cream whipped with 1 tsp powdered sugar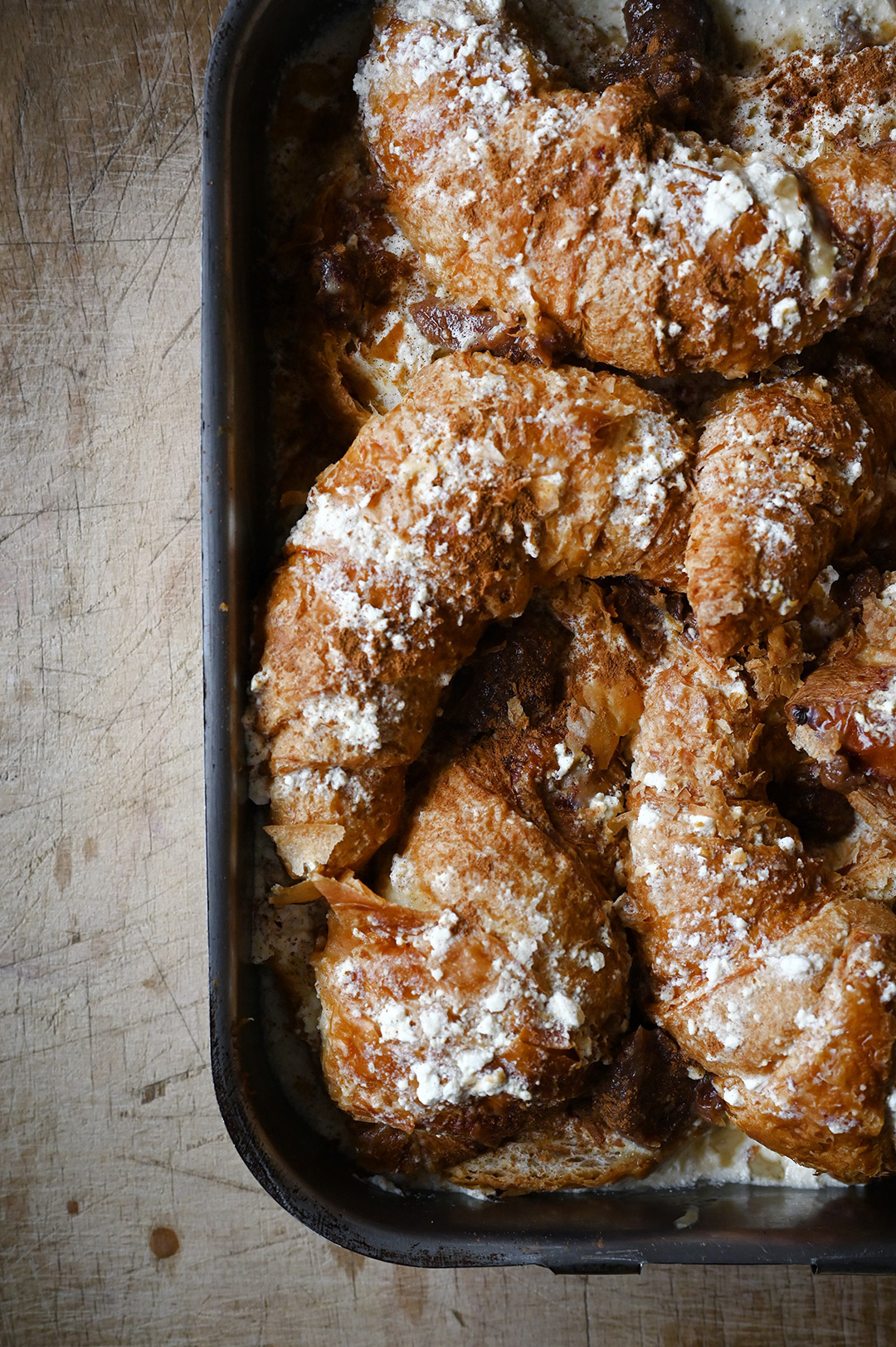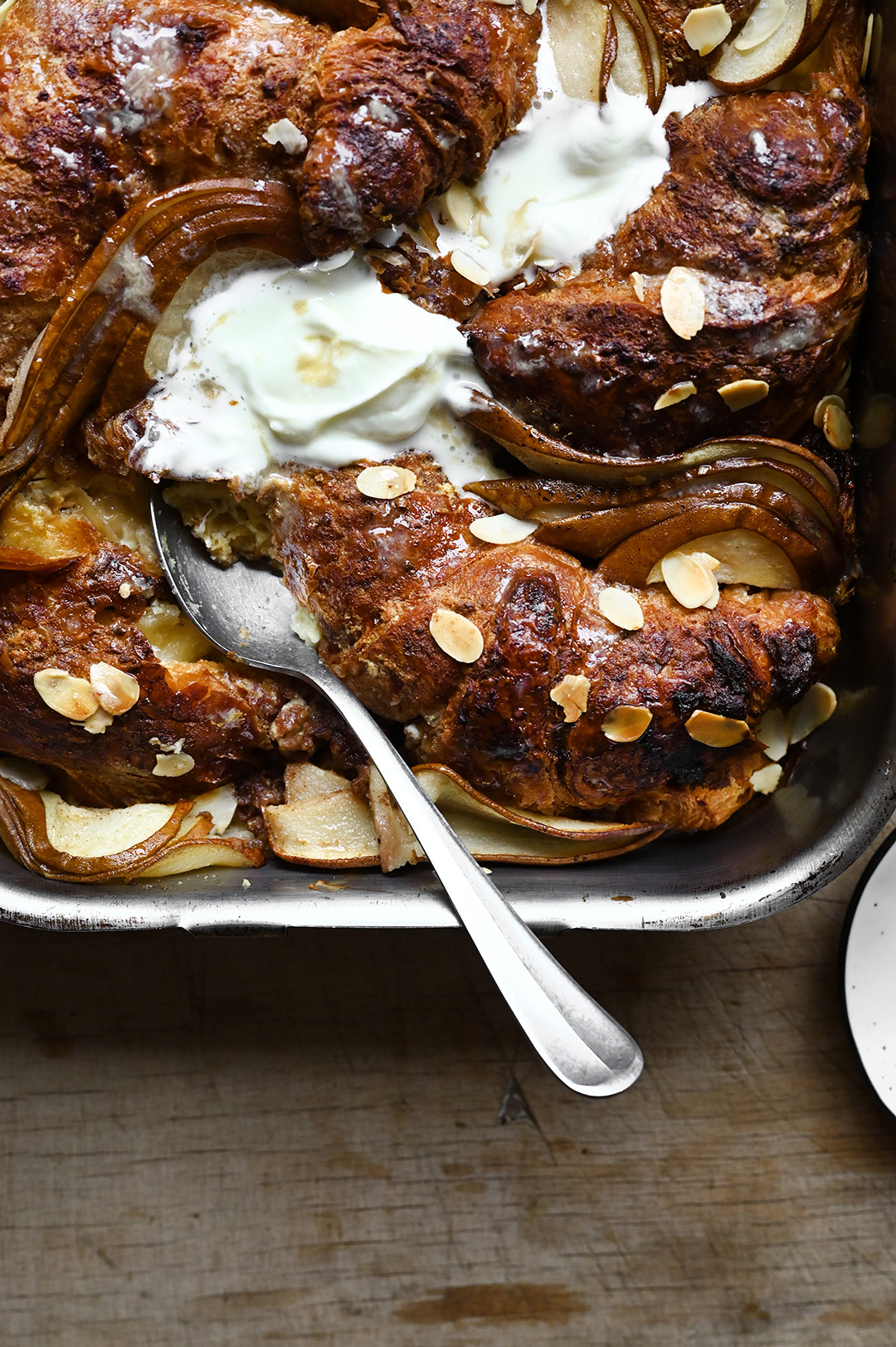 Instructions
In a bowl, soak the dates in hot milk for about 15 minutes, then place into your blender/food processor and blend.
In a large bowl whisk together the eggs, date-milk, ricotta, lemon juice, salt, vanilla extract and cinnamon.

Grease a baking sheet with butter. Slice each croissant in half and arrange the bottoms in the baking sheet, pour half of the ricotta mixture. Add the tops of the croissants and pour the remaining ricotta mixture over the croissants. Cover with plastic wrap and place in the fridge overnight.

Next morning, nestle the pear slices between the croissants and sprinkle with almond flakes. Transfer to the oven and bake for 30 minutes or until the French toast is golden and crisp at 180°C. Then loosely cover the french toast with aluminum foil and bake for an other 30 minutes at 160°C.

Serve the French toast warm, topped with whipped cream and maple syrup. Enjoy!

//= __('Print recipe (no photos)', 'servingdumplings' );?> //= __('Print recipe (with photos)', 'servingdumplings' );?>