It's hard to resist this easy one pan zucchini and eggplant baked orzo.
Most pasta dinner recipes start with boiling some water. Here we skip that step and instead, we combine orzo, tomato sauce, pork mince and eggplant, then cook everything together in one pan. Cover it with soft zucchini, feta and mozzarella and bake it off in the oven until the cheese melts. Yup, that's really it, a one-pan, a make-ahead meal that will rock your world. It's so simple, you hardly need a recipe, which is good because it's hearty, easy to make and ready in about 30 minutes, so you'll likely make it again and again. A perfect weeknight family-style dinner to enjoy.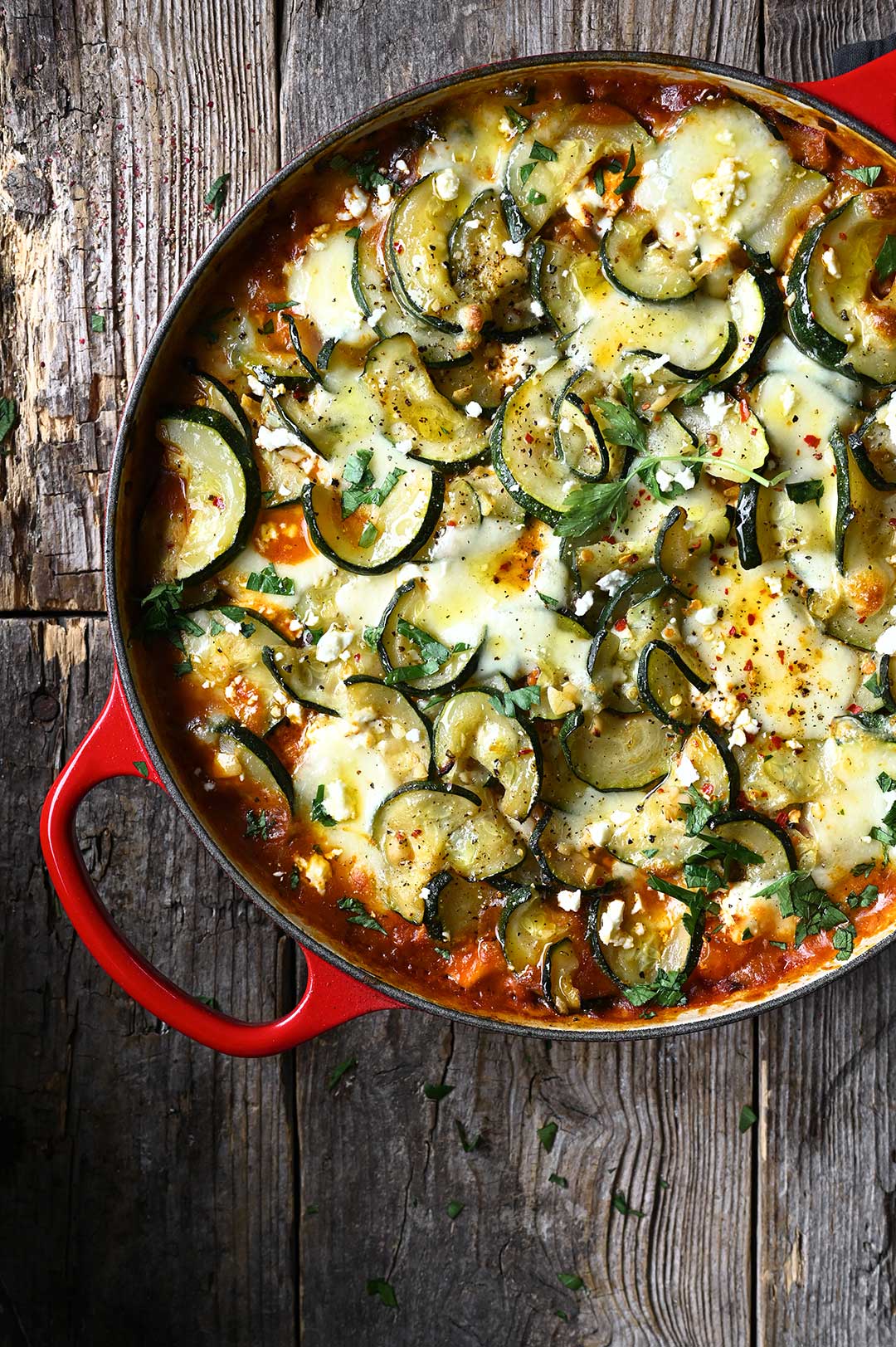 The orzo pasta is small enough to actually cook in the sauce. The key is to use a combination of tomato sauce and broth so that the orzo has plenty of liquid to absorb while it cooks in order to soften and become al dente.
To make this dinner extra-appealing, we're making layers and using two kinds of cheese. Feta is crumbled directly on the sauce with orzo to add extra creaminess and flavor. Then we top everything with softened zucchini and nestle cubes of fresh mozzarella between the zucchini slices for gooeyness.
Tip: don't stir the feta in the sauce, a handful of crumbles here and there create little salty cheese pockets, really good!
And you can easily swap the meat for quorn mince to make this a vegetarian dish.
Hop on over to Instagram to see how to make this in my highlights!
3 more delicious recipes with orzo:
One Skillet Parmesan Chicken and Orzo
Roasted chicken with grapes and orzo
Herby chicken soup with orzo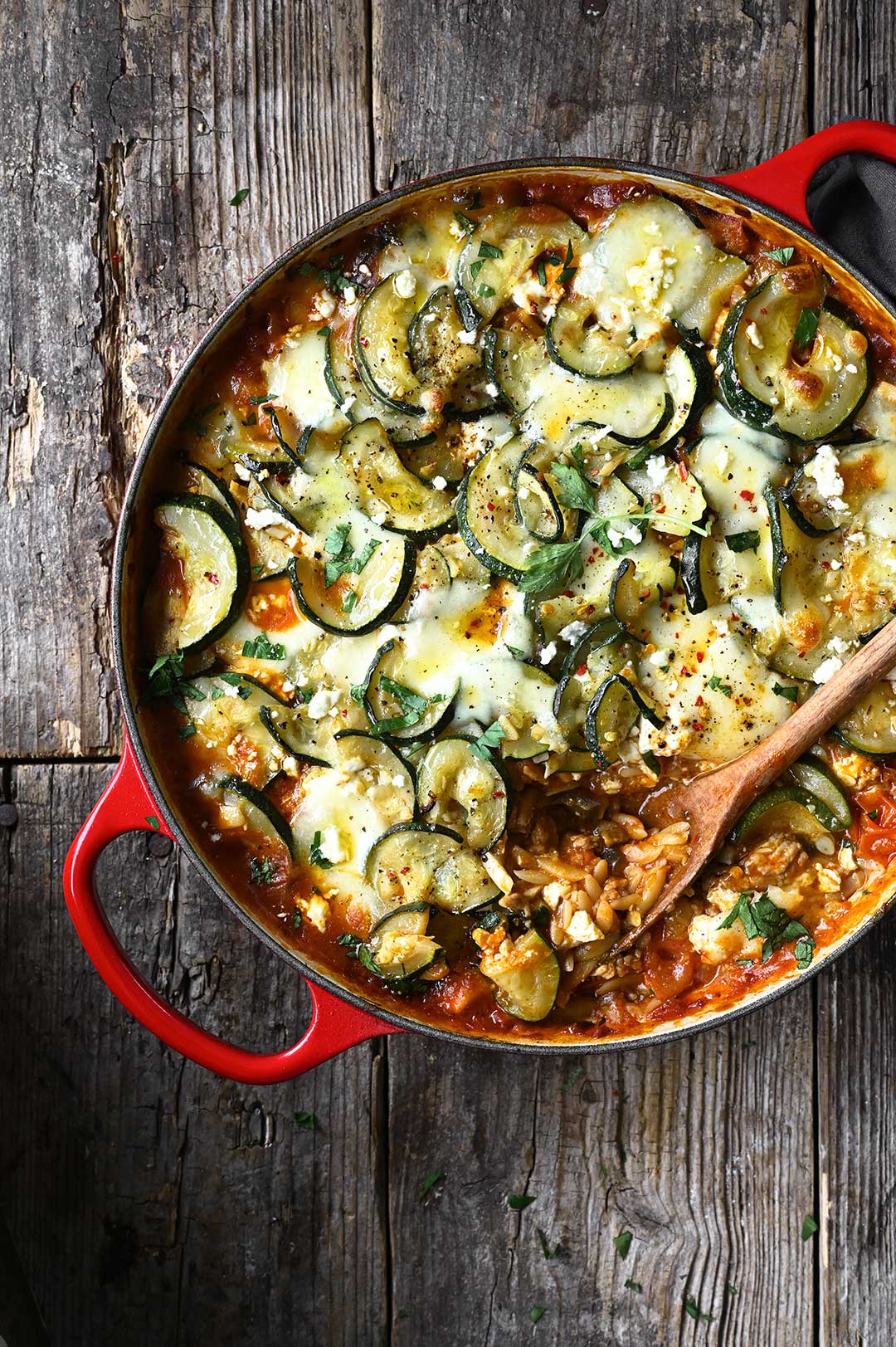 You need
150 g (3/4 cup) orzo pasta
350 g (12.3 oz) pork mince
1 eggplant, cut into cubes
1 large zucchini, cut into thick slices
4 garlic cloves, finely chopped
1 small onion, finely chopped
200 g (6,9 oz) cherry tomatoes, halved
250 ml (1 cup) tomato passata
250 ml (1 cup) chicken broth
olive oil
100 g (3,9 oz) feta cheese
150 g (5,8 oz) mozzarella, cut into cubes
sea salt + black pepper
1/2 tsp smoked paprika
1/2 tsp thyme
crushed red chili flakes
How to
Hop on over to Instagram to see how to make this in my highlights!
Heat 3 tbsp olive oil in a deep large pan. Add zucchini, 2 finely chopped garlic cloves, salt, pepper and a pinch of red pepper flakes. Sauté over medium heat for 1 minut, then cover and cook on low heat for 5 minutes. Remove from the pan. Transfer to a plate and set aside.
In the meantime, you can cut the eggplant into cubes and prepare the tomatoes.
In the same pan, heat 2 tbsp olive oil. Add pork mince and cook until lightly browned, add the remaining garlic, onion and eggplant. Cook for about 5 minutes, stirring frequently, on medium-low heat. Season with salt, pepper, smoked paprika and thyme. Stir in the tomatoes, add the passata and chicken broth. Then stir in the orzo, bring to a boil, cover and simmer on very low heat for 10 minutes or until the orzo is al dente and the sauce has thickened slightly. Stir from time to time with a wooden spoon.
In the meantime, preheat the oven to 200°C.
Turn off the heat, crumble the feta cheese on top of the orzo, without stirring. Top with zucchini and sprinkle the cubed mozzarella. Transfer to the oven and bake for 8-10 minutes or until the cheese is melted. Serve.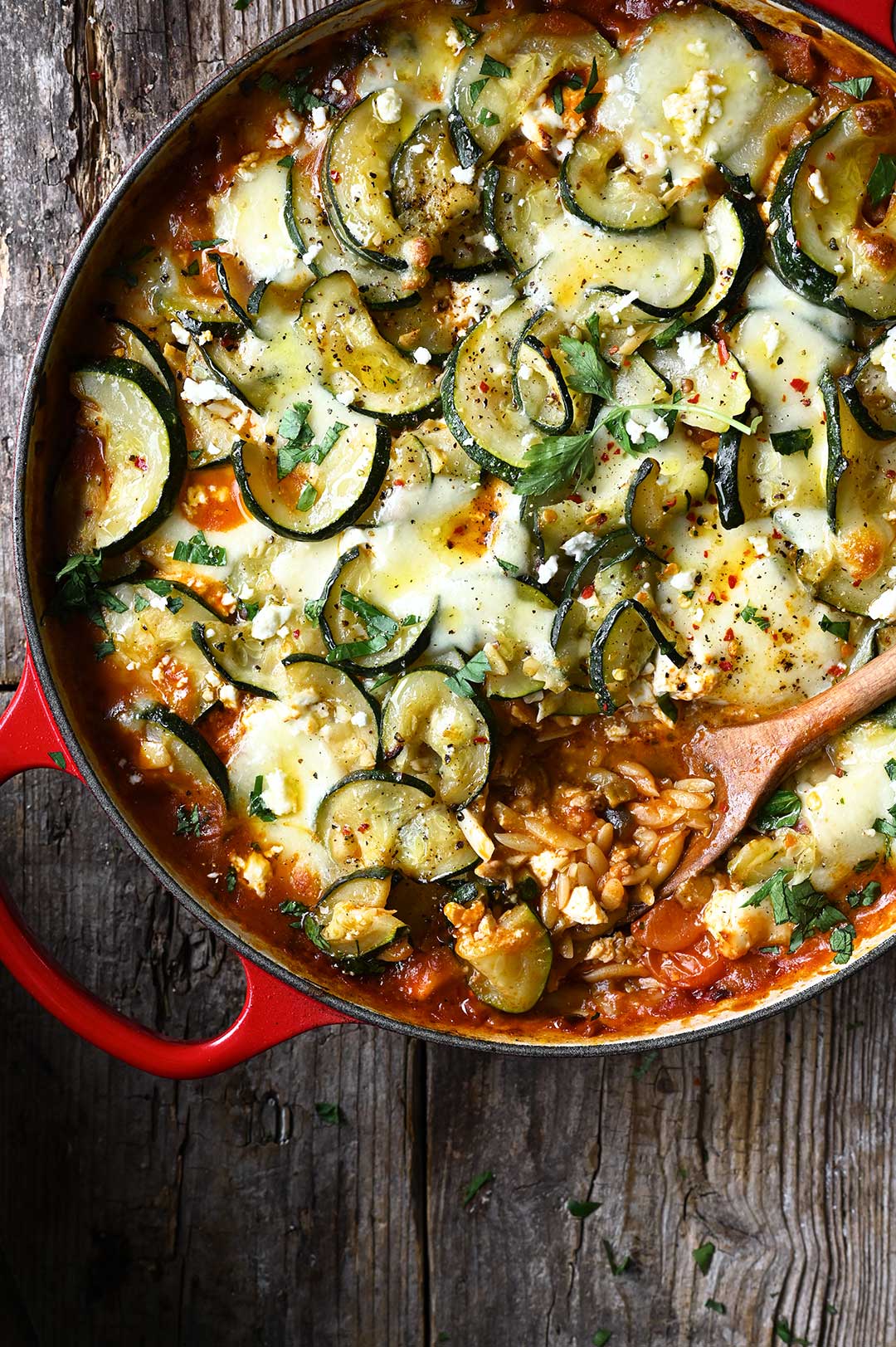 //= __('Print recipe (no photos)', 'servingdumplings' );?> //= __('Print recipe (with photos)', 'servingdumplings' );?>