Lemon chicken with potatoes. Pure, simple comfort food made in one skillet with just a few basic ingredients. These juicy baked chicken thighs are served with crispy potatoes bathed in an oregano-rich lemony broth. Finish off with crumbled feta and caramelized lemon slices for the most indulgent result.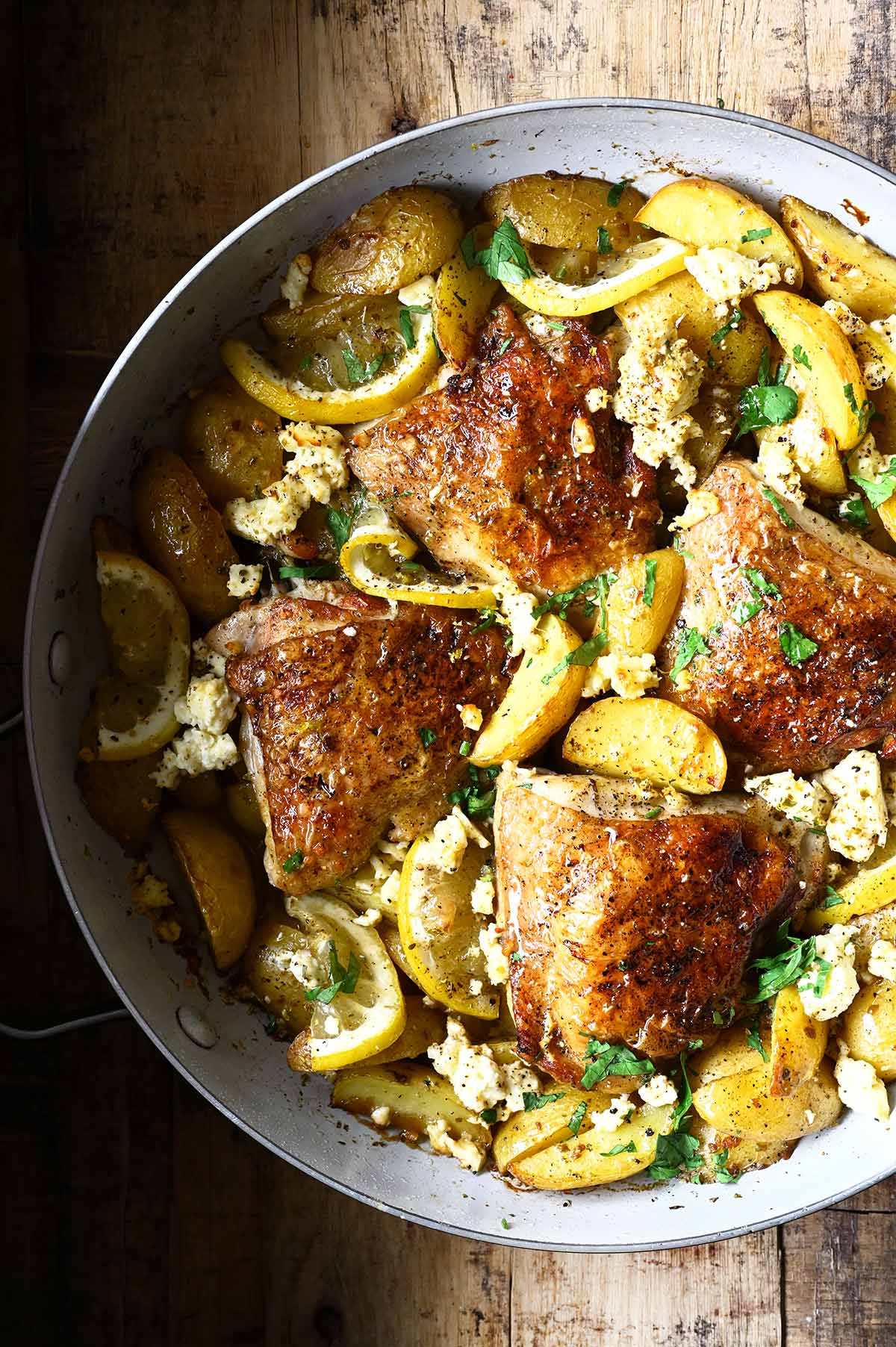 Lemony chicken thighs paired with oregano-flavored potatoes in a skillet dinner. This dish has clearly a Greek flair with a super flavorful, vibrant result that's irresistibly delicious. One skillet meals are very popular and with good reason. They're simple to prepare and the cleanup couldn't be easier. This lemon chicken and potatoes is the perfect meal to satisfy your comfort food craving.
There're no crazy steps or techniques. You just need one pan to bake everything together, the oven does all the work for you.
Let me guide you through the recipe with this step-by-step VIDEO.
The result is super savory with a bright touch that will have everyone coming back for more. It's perfect any night of the week or at a dinner party when you're looking for a chicken dish that's just that little bit extra special, but isn't overly difficult to make.
Why Using Lemon in Cooking?
In addition of being easy, this chicken dinner is packed with flavor, thanks to the combination of garlic, oregano and one single lemon. We slice half of the lemon and layer it over the chicken and potatoes while they bake, the remaining half gets squeezed over the dish. The fresh lemon juice brightens everything up, while the slices caramelize in the oven, giving you a deep, sweet-tart lemon flavor. But when that wasn't enough, we grate some lemon zest over the chicken right before serving, infusing it with bright flavor.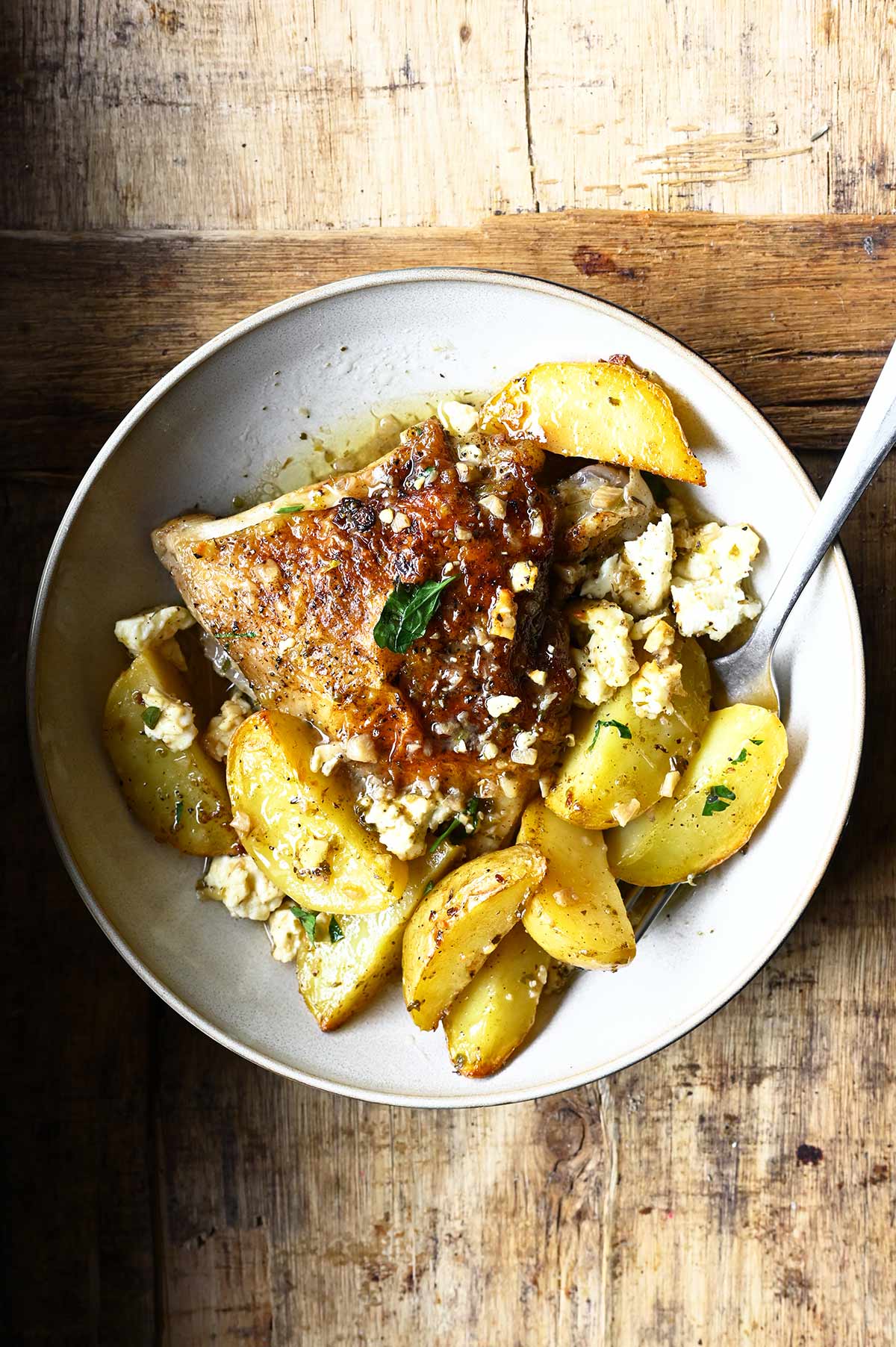 How To Make Lemon Chicken and Potatoes
This chicken dish starts on the stove and finishes in the oven. We season the chicken thighs with salt and pepper, then brown it skin-side down to render out the fat and create a super crispy skin. We use the chicken grease to sweat the garlic. Than, add dried oregano and potatoes, let them cook for a couple of minutes. Pour in some chicken broth and return the thighs to the skillet. Sprinkle some lemon juice on top and put the dish in the oven to braise, until the chicken is deliciously tender.
To finish the dish, we crumble some feta on top and add the lemon slices. Slide everything back into the oven for 20 minutes, and you're ready to serve!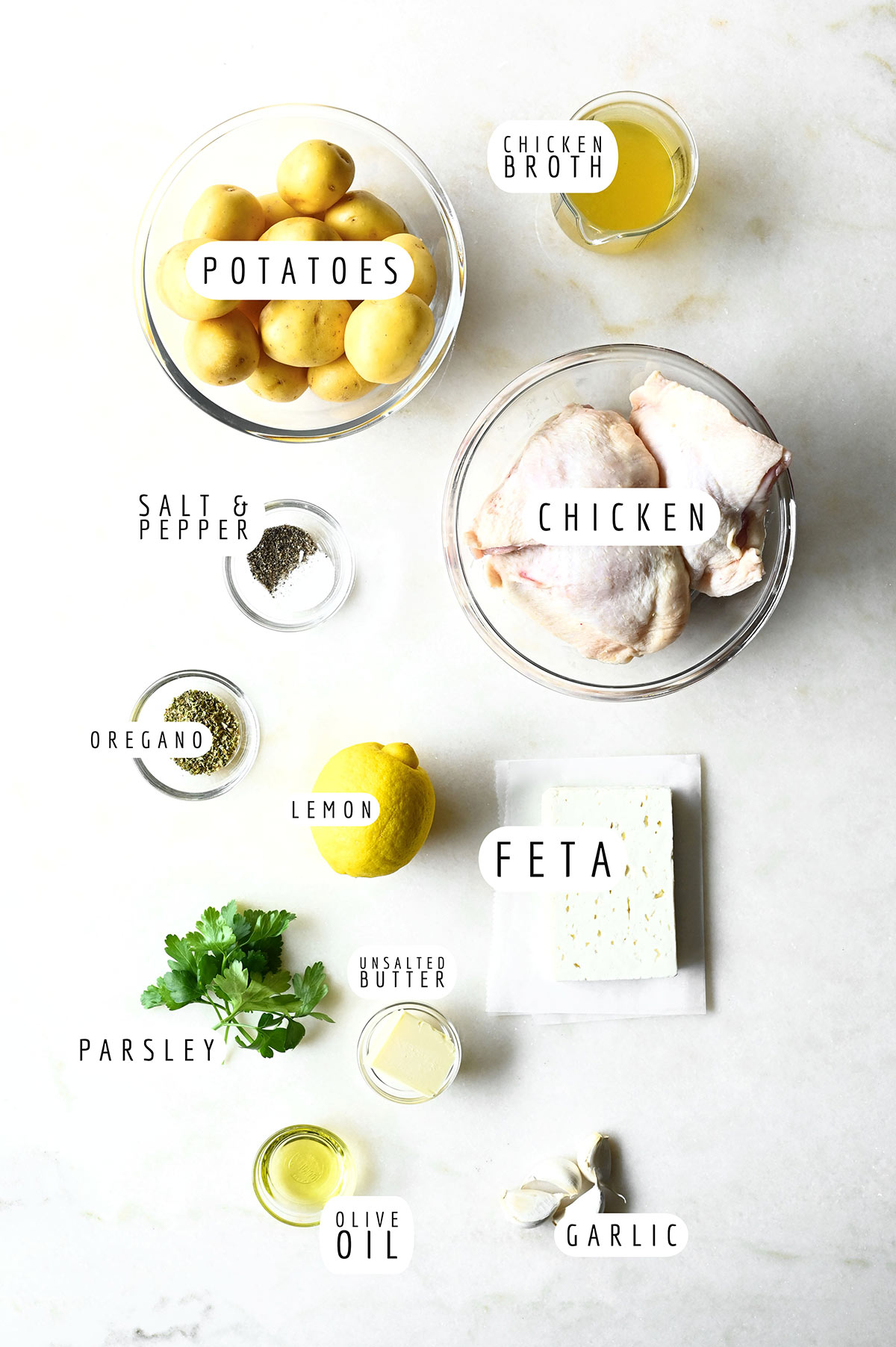 INGREDIENTS, TIPS & SUBSTITUTIONS
Oil and Butter: To sear the chicken and create a golden crispy skin.
Chicken: You can use chicken thighs or bone-in breasts. The bone and skin protects the lean meat from overcooking and drying out.
Seasoning: Salt, black pepper and dried oregano.
Garlic: Essential flavor base.
Potatoes: Use small waxy potatoes, like Yukon Gold.
Chicken Broth: To deglaze the skillet and create a delicious pan sauce.
Lemon: For a super bright flavor. We're using juice from 1/2 lemon and caramelize the other half for an intense sweet-tart flavor. To finish the dish, we top the chicken with lemon zest.
Crumbled Feta: We finish the whole dish off with crumbled feta. The cheese will not melt, but become soft and add a creamy complex flavor.
Herbs: Fresh parsley. You can also use fresh oregano.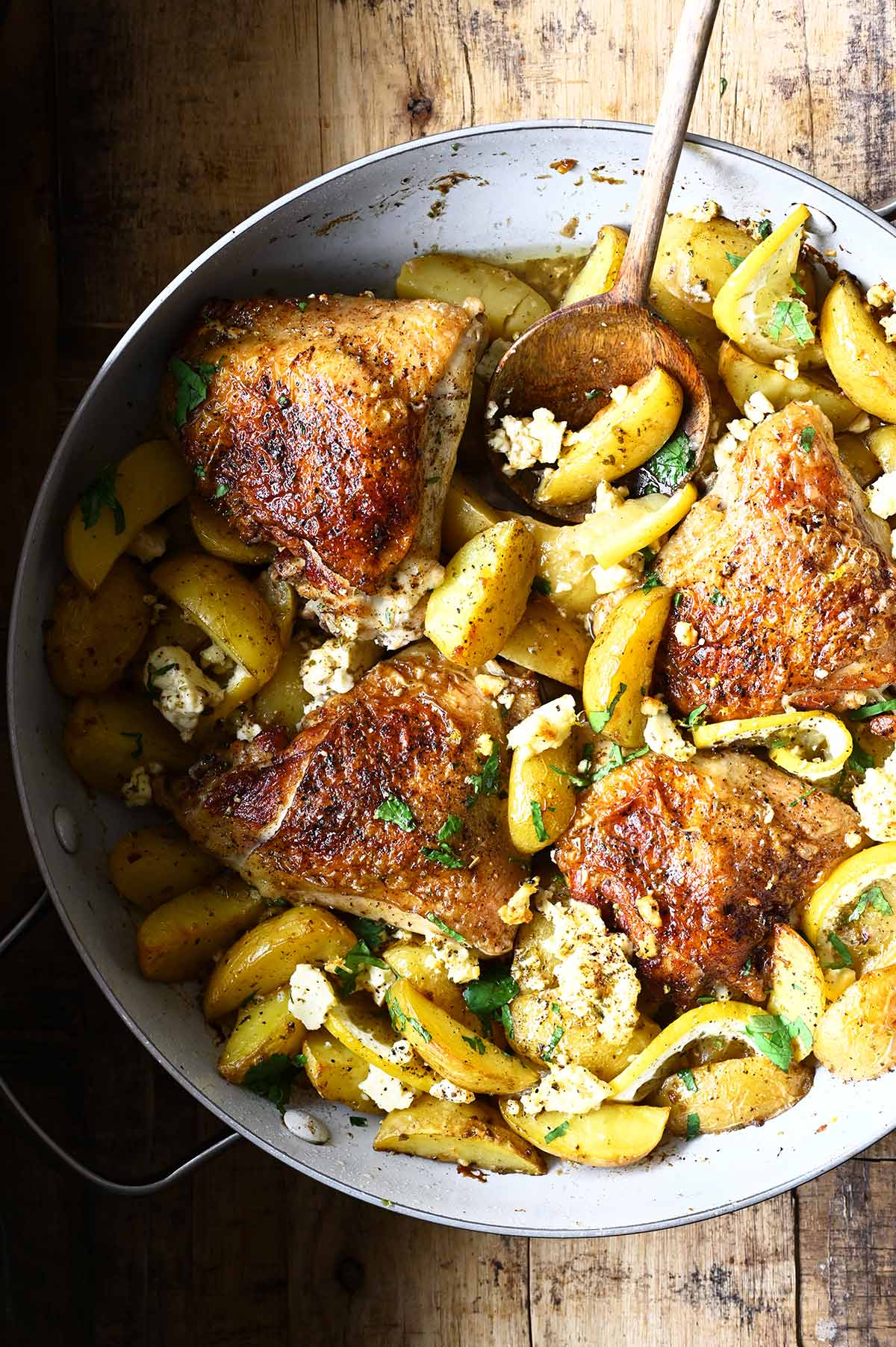 RECIPE NOTES
Serve with sautéed/roasted vegetables or some crusty bread and don't forget a big leafy side salad.
If you're a garlic lover, add more!
Leftovers will keep for 2 days in the fridge.
To freeze: Cool completely, then freeze portion sizes in airtight containers. Thaw overnight in the fridge, then reheat using the oven.
TRY THESE NEXT
COOKING VIDEO
Yield: serves 4
Lemon Chicken with Potatoes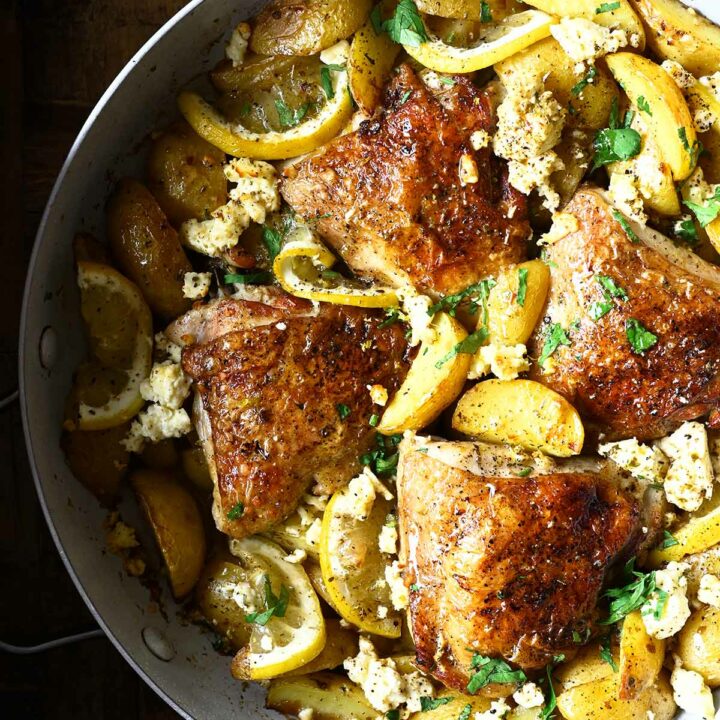 Total Time
1 hour
5 minutes
Ingredients
1 tbsp olive oil
1 tbsp unsalted butter
4 chicken thighs, bone-in/skin-on
1 tsp each: salt, black pepper, divided
4 garlic cloves, minced
2 tsp dried oregano
1.9 pounds/700 g small waxy potatoes, cut into wedges
½ cup/120 ml chicken broth
1 lemon
3 ounces /100 gcrumbled feta
freshly ground black pepper, for topping
1 tbsp chopped parsley, for serving
lemon zest, for serving
Instructions
Start with preparing the chicken thighs. Rub ½ teaspoon salt and pepper on both sides of the chicken. Set aside.
Cut ½ of the lemon in thin half moon slices, mince the garlic and slice the potatoes into wedges. Chop the parsley.
Preheat the oven to 400°F/200°C.
Heat oil and butter over medium in an ovenproof skillet or pan. Place chicken thighs skin-side down, cook for 10 minutes, move chicken around every couple of minutes to prevent them from sticking to the bottom. Turn, cook for 5 minutes more. Remove thighs from skillet onto a clean plate.
Add garlic, cook for 30 seconds. Stir in oregano and the remaining salt and pepper. Add potatoes, cook for 2 minutes. Pour in broth and place chicken thighs on top of the potatoes, skin-side up. Sprinkle with juice from the remaining lemon half and transfer to the oven. Bake for 20 minutes.
Remove from the oven. Nestle lemon slice between chicken and potatoes. Crumble the feta cheese on top and season with freshly ground black pepper. Reduce heat to 320°F/160°C, slide everything back into the oven and bake for 20 minutes more or until the chicken thighs are cooked through and tender.
When ready, finish off with parsley and lemon zest. Enjoy!
Notes
Calories Per Serving: 508 kcal
Nutritional information is only an estimate. The accuracy of the nutritional information for any recipe on this site is not guaranteed.