Korean Gochujang chicken. This 30 minute dish is super delicious, yet so easy to make. Pan-seared sweet, spicy and tangy Korean inspired chicken with carrots and corn, all served over steamed rice. So good!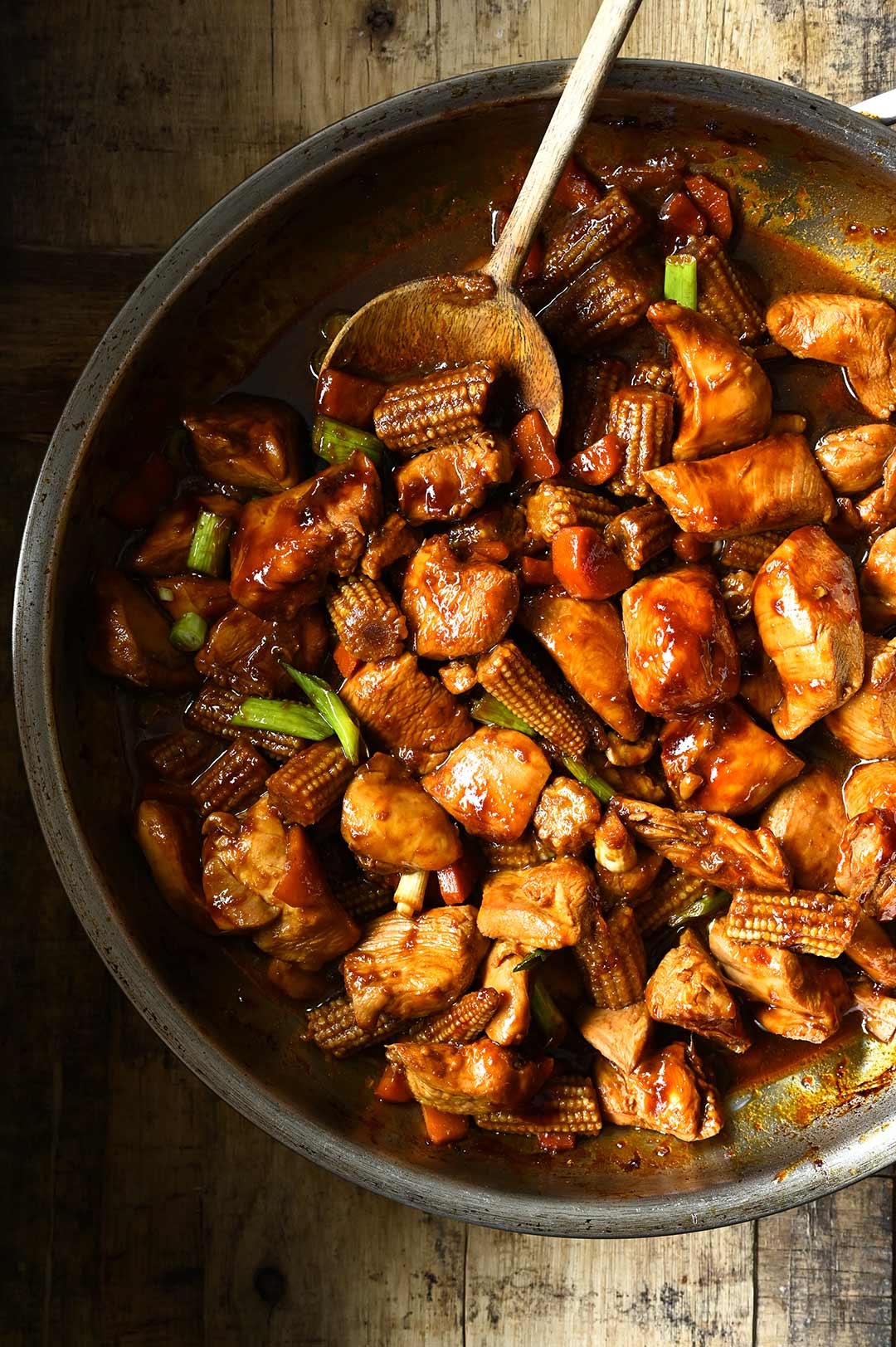 Juicy chicken in a spicy Korean-style marinade. The base ingredient is Gochujang, a Korean chili paste, which is the building block of many Korean recipes. It makes this chicken so much more flavorful and appetizing.
Rich, totally indulgent and fragrant… I mean, this is an easy, time-saving weeknight meal. A must-try for anyone who loves food with big bold flavors. This chicken dinner is quite spicy, but not blow-your-head-off spicy.
Serve over steamed rice for an utterly delicious meal. Enjoy!
Let me guide you through the recipe with this step-by-step VIDEO.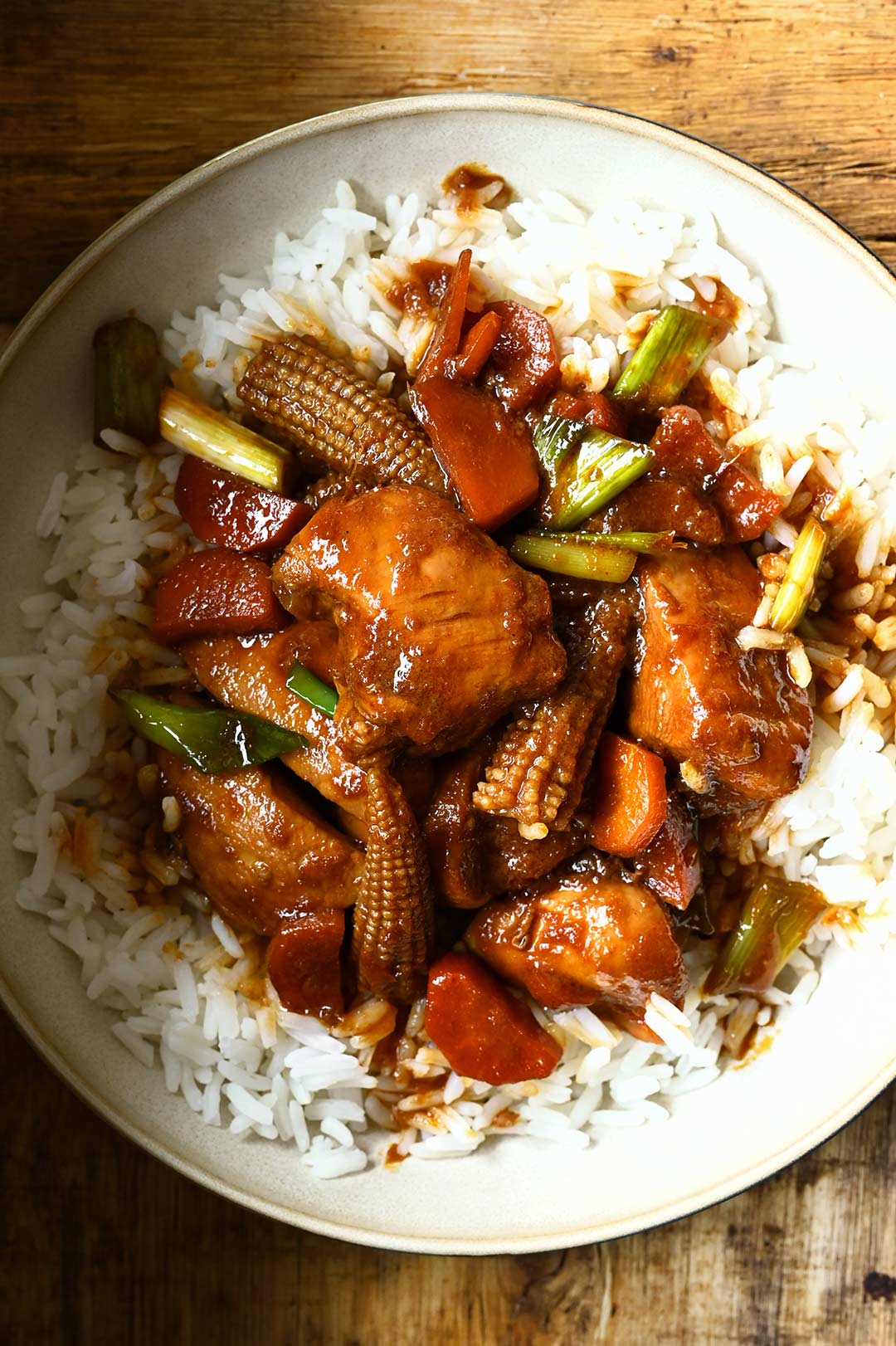 Let's tuck right into this comforting, super-satisfying bowl
The marinade is a mix up of soy sauce, brown sugar, Gochujang, rice vinegar, ginger and garlic. The ingredients I used are maybe not traditional Korean ingredients, but it has all the great flavors used in most Korean dishes, just made simpler, less sugary and with easy to find ingredients.
We start off by marinating the chicken, then sear it, add the carrot and baby corn, stir it all up and you're done. Simple, quick and easy.
I used carrots and baby corn in this recipe, but feel free to use a mix of your preferred veggies or the ones you have on hand. I served it over steamed white rice, but you can try swapping it for brown rice, multigrain rice or quinoa, either one you choose, you can't go wrong. Perfect for any night of the week, but especially a busy night.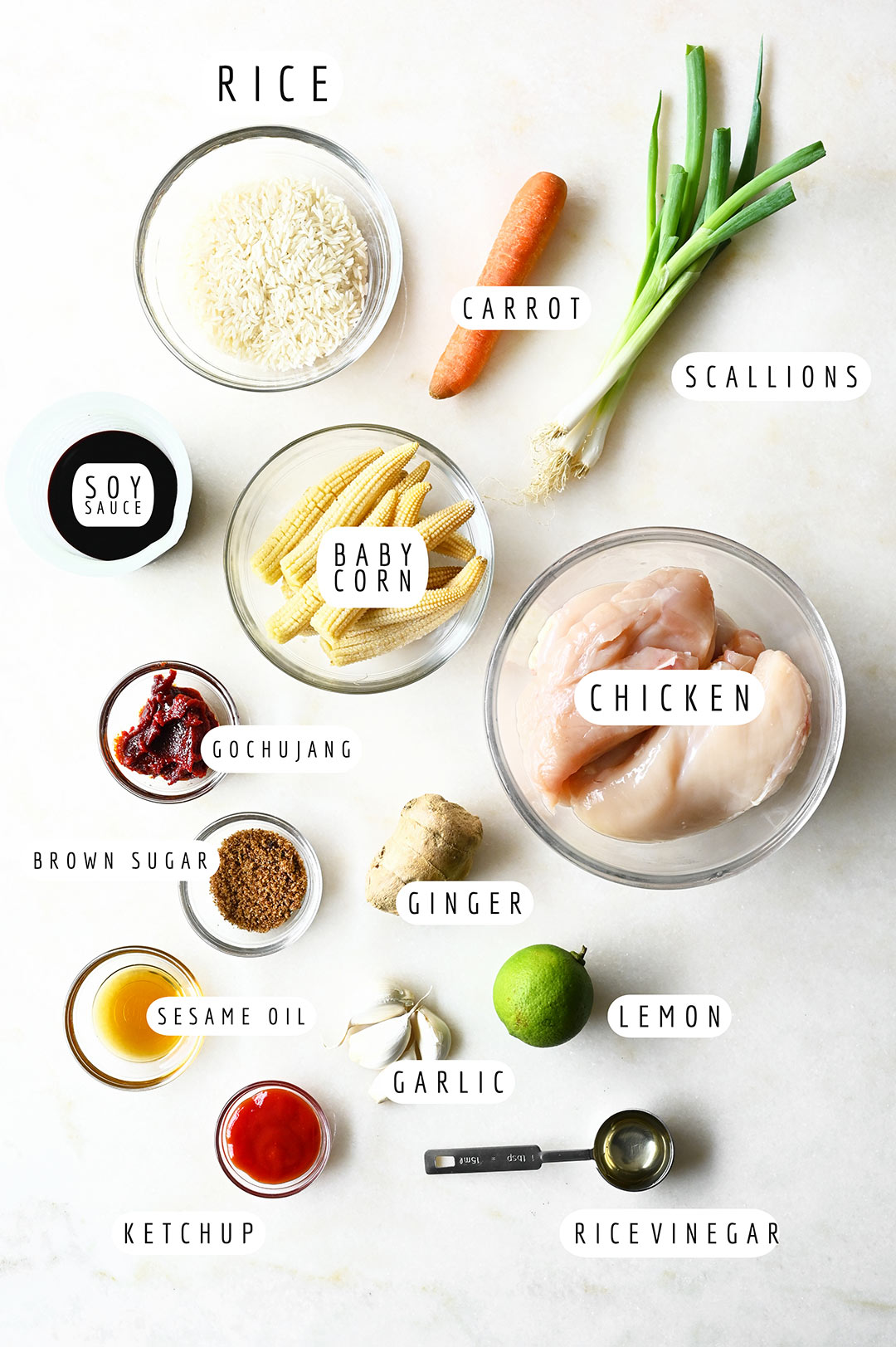 Korean Gochujang Chicken Comes with a Delicious Ingredient List
Chicken: I used chicken breast fillets, but you can swap them for boneless/skinless chicken thighs.
Gochujang: A Korean chili paste, adds pretty much all the flavor and makes everything taste so good. It's sweet, tangy, spicy and salty at the same time. If you can't find it, use sambal oelek.
Brown sugar: Needed to balance the salty soy sauce and spicy chili paste. You may also use granulated sugar.
Soy Sauce: Always use low sodium soy sauce otherwise your chicken will be too salty.
Sesame oil: Made from sesame seeds, and adds a fabulous nutty flavor.
Rice vinegar and lime juice: To add some acidity.
Garlic: We use 4 garlic cloves, but you may use less or more.
Ginger: Adds a fabulous kick. You will need one tablespoon freshly grated ginger.
Ketchup: It's very common to use ketchup in a spicy sauce for a milder taste.
Vegetables: Carrots and baby corn, but you can use a mix of your favorite veggies.
Scallions: Subtle onion flavor combined with bright and crisp texture.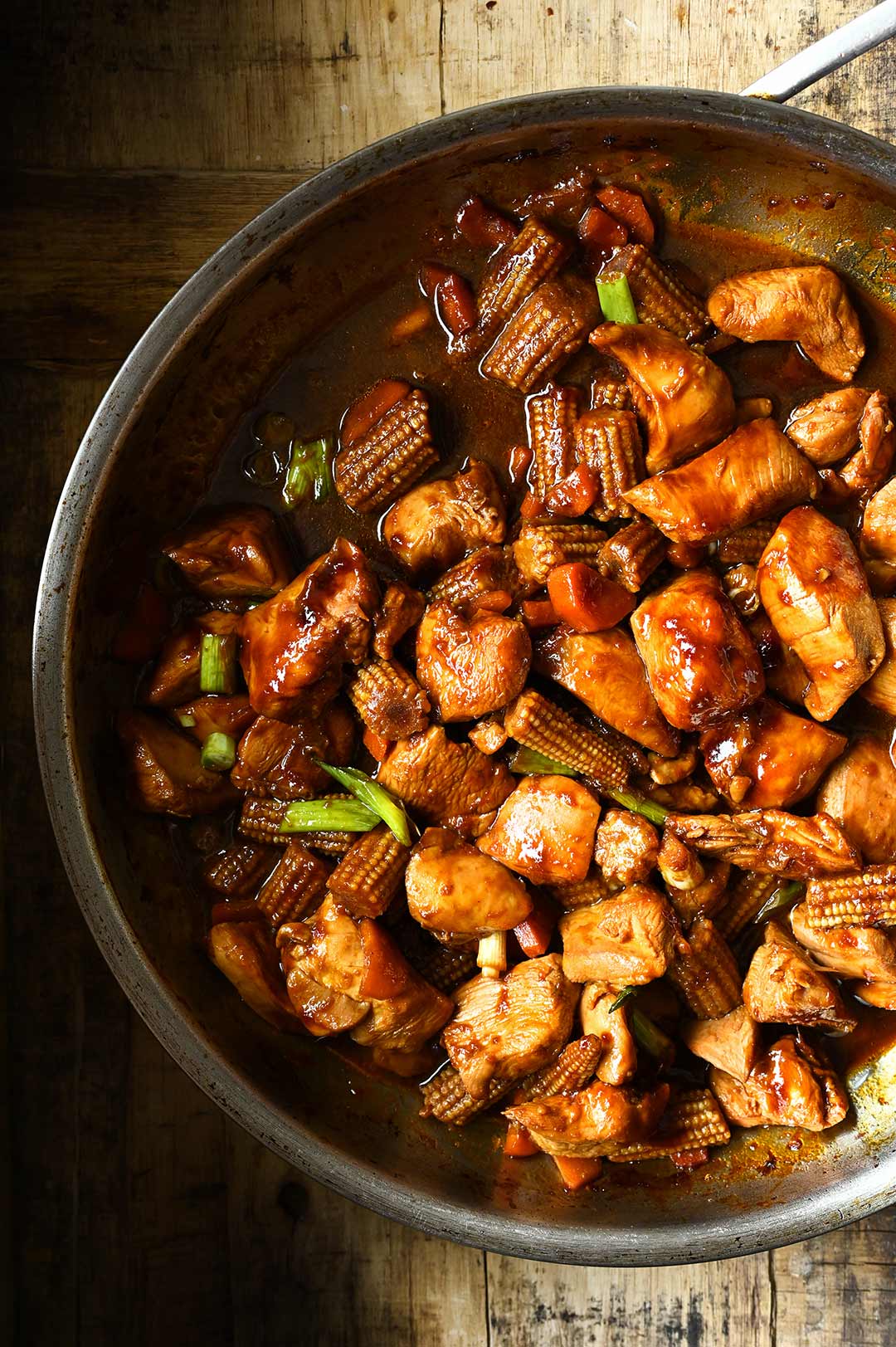 RECIPE NOTES
Gochujang paste is very easy to get these days. You can find it at Asian stores, your local supermarket or buy them online.
Add other veggies, like bell pepper, broccoli, sugar snaps, spinach, bean sprouts, zucchini or mushrooms.
Serve over rice, brown rice, multigrain rice, cauliflower rice or quinoa. Add an Asian cucumber salad as a side.
Can you use the marinade from chicken? Yes, absolutely, but you have to cook it. We pour the marinade over seared chicken, bring to a boil and simmer it over medium heat for at least 5 minutes. This way we destroy any harmful bacteria.
Make ahead: This Korean Gochujang Chicken is just as delicious the next day. You can store cooked chicken in an airtight container in the fridge for 2 days.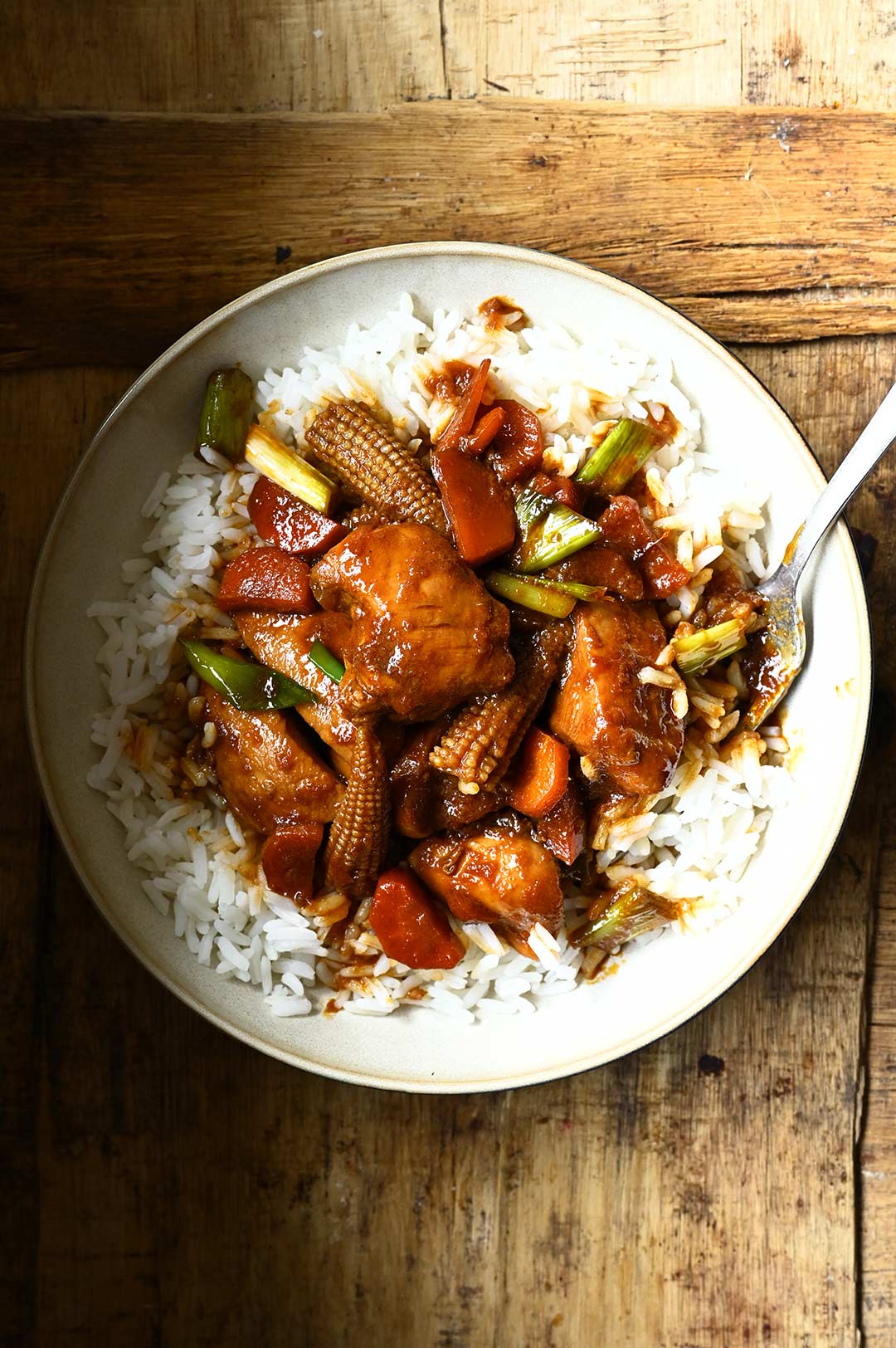 More Asian Inspired Recipes
COOKING VIDEO
Yield: serves 4
Korean Gochujang Chicken
Ingredients
1.1 pounds/500 g chicken breast fillets, cut into bite-sized pieces
½ cup/120 ml low sodium soy sauce
2-3 tbsp Gochujang paste, less or more to taste
3 tbsp brown sugar
2 tbsp toasted sesame oil
1 tsp each: rice vinegar, lime juice
3 tbsp ketchup
4 garlic cloves, grated
1 tbsp grated ginger
2 tbsp vegetable oil, for cooking
4 scallions, chopped
1 large carrot, sliced
3.5 ounces/100 g baby corn
1 cup white rice
Instructions
Cut the chicken fillets into bite-sized pieces. Add to a bowl, combine with soy sauce, Gochujang paste, brown sugar, sesame oil, rice vinegar, lime juice, ketchup, garlic and ginger. Massage the mixture into chicken. Set aside.
In the meantime, chop the scallions, peel and slice the carrot, cut baby corn into bite-sized pieces.
Cook rice according package directions in salted water.
Heat vegetable oil in a large nonstick skillet over medium high heat. Add 'just' the chicken, set excess marinade aside, if we'd add all the marinade at the same time, it would steam the chicken instead of searing it. Cook the chicken undisturbed in the hot skillet for a minute. Then start to stir and cook until caramelized.
Add carrot and baby corn, cook for 2 minutes. Pour in excess marinade, bring to a boil and cook for at least 5 minutes over medium, to destroy any harmful bacteria. Stir in scallions. Serve over rice. Enjoy!
Notes
Calories Per Serving: 548 kcal
Nutritional information is only an estimate. The accuracy of the nutritional information for any recipe on this site is not guaranteed.