Japanese-style risotto with seared salmon. Savory, delicious and super flavorful. Imagine perfectly flaky soy glazed salmon piled over a miso flavored shiitake risotto. Made with simple ingredients and ready in about 40 minutes. A perfect dish to transform your dinner into a next-level flavor bomb!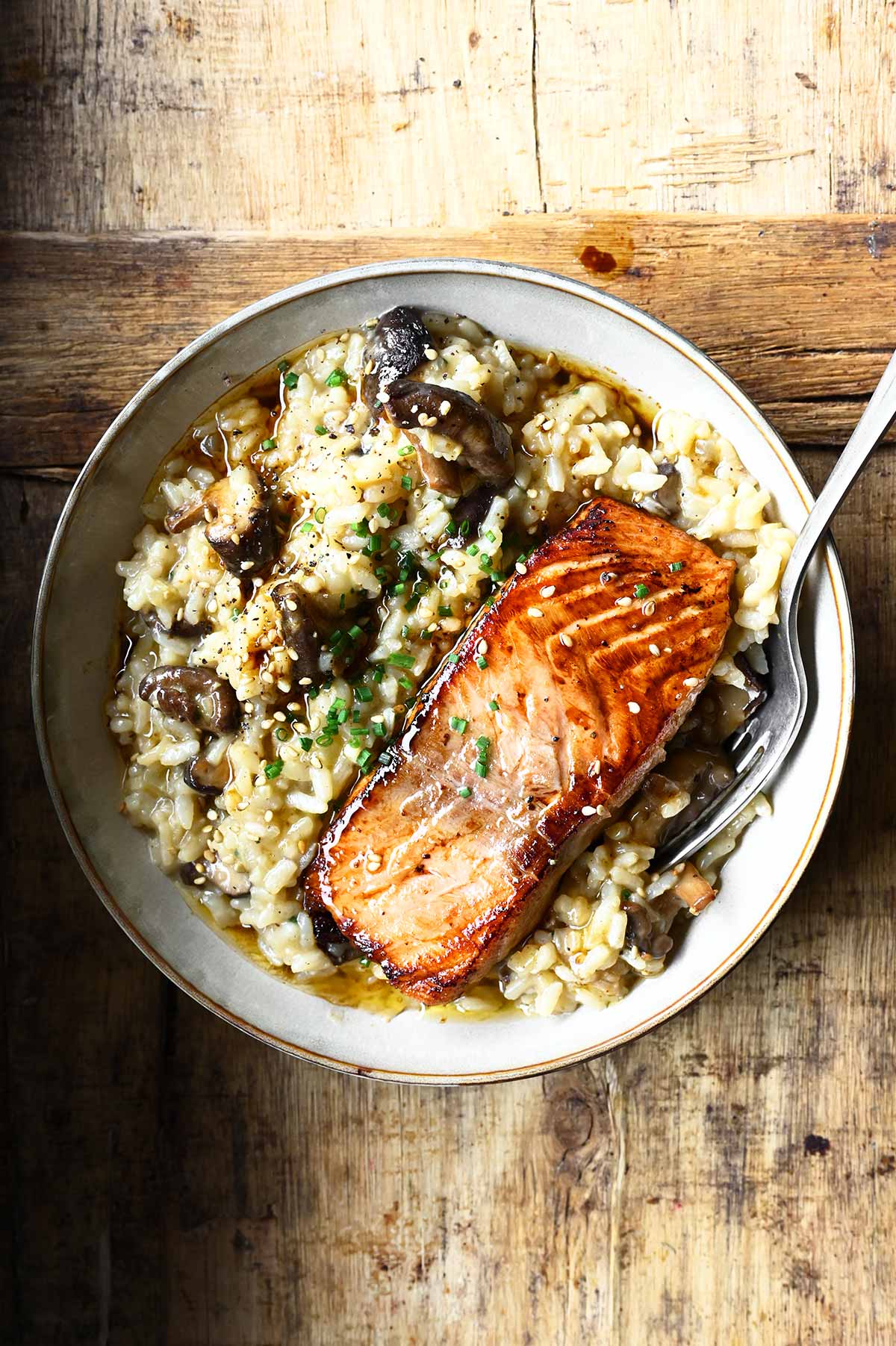 When salmon, soy sauce, rice and miso are paired, you know things are going to be good. Big bowls of comfort await! This recipe uses ingredients you might already have in your pantry. It's seriously one of the most satisfying recipes you can make, perfect for any night of the week.
Let me guide you through the recipe with this step-by-step VIDEO.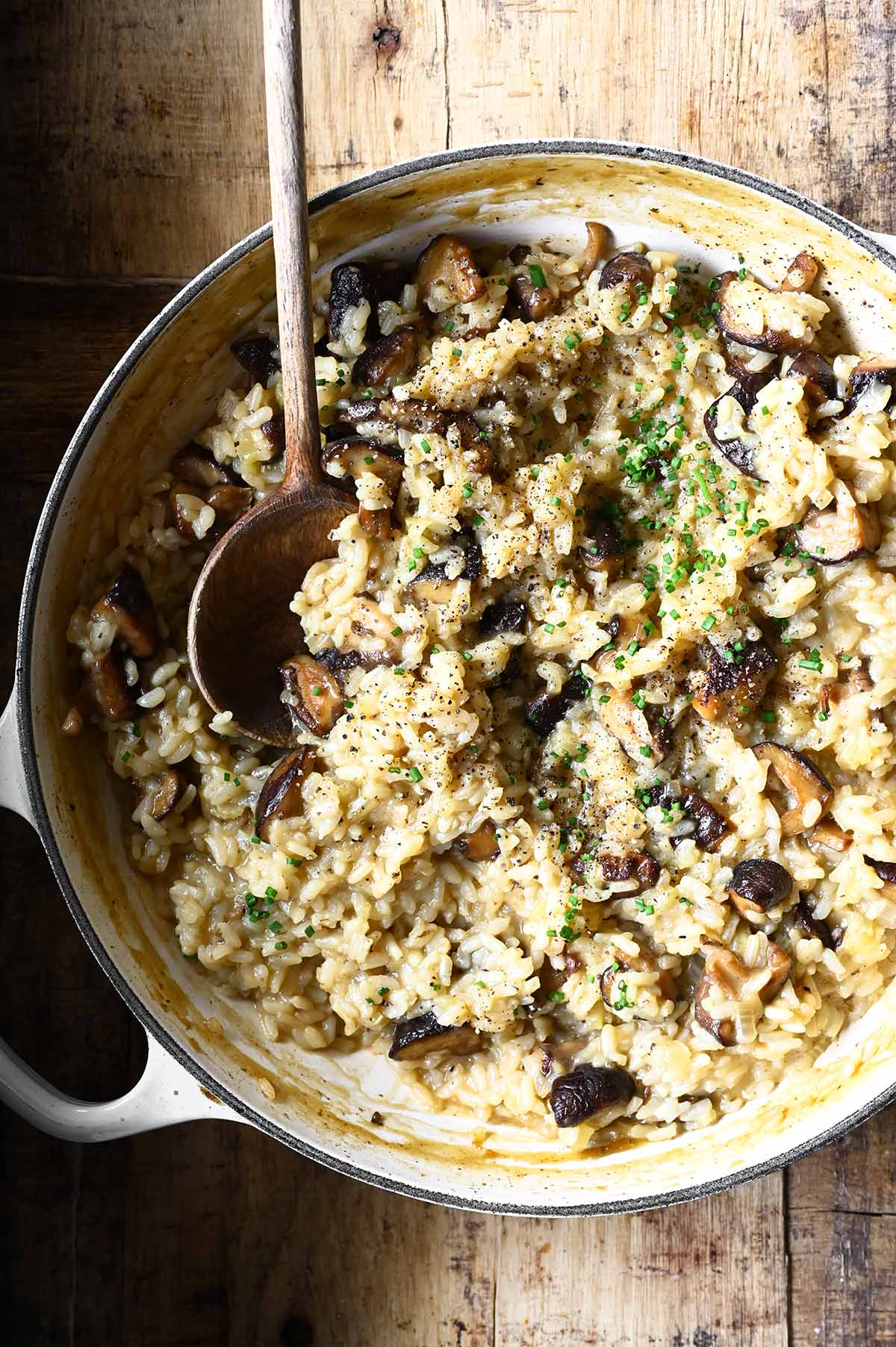 SOME DETAILS
A big, bubbling pan of risotto is one of the most satisfying things. For this recipe, we're giving it an Asian twist by using white miso paste, earthy shiitake mushrooms and a splash soy sauce to complete the dish. That means the rice absorbs all those umami flavors while creating a super flavorful dish. What's more, we use the same skillet for the rice and shiitakes, their flavors infuse the dish with a most wonderful taste. And let me tell you…this Japanese style risotto with seared salmon recipe is one you'll want to make on repeat. It is so good.
The salmon is quickly marinated in a mixture made with soy sauce, white wine and brown sugar. From there, we sear in a hot skillet and in a matter of minutes, the salmon takes on a nice sear and gets flaky while the marinade caramelizes, creating a crave-worthy glaze that clings to the salmon. All you have to do is pile the seared salmon onto a comforting bowl of risotto.
This is dinner at its very best, simple enough for a weeknight yet fancy enough for a casual dinner party with friends. This recipe is full of so many flavors, making it something that can easily feed a crowd without any concern that they'll be left unsatisfied. So good and so simple, guaranteed to be a new fave!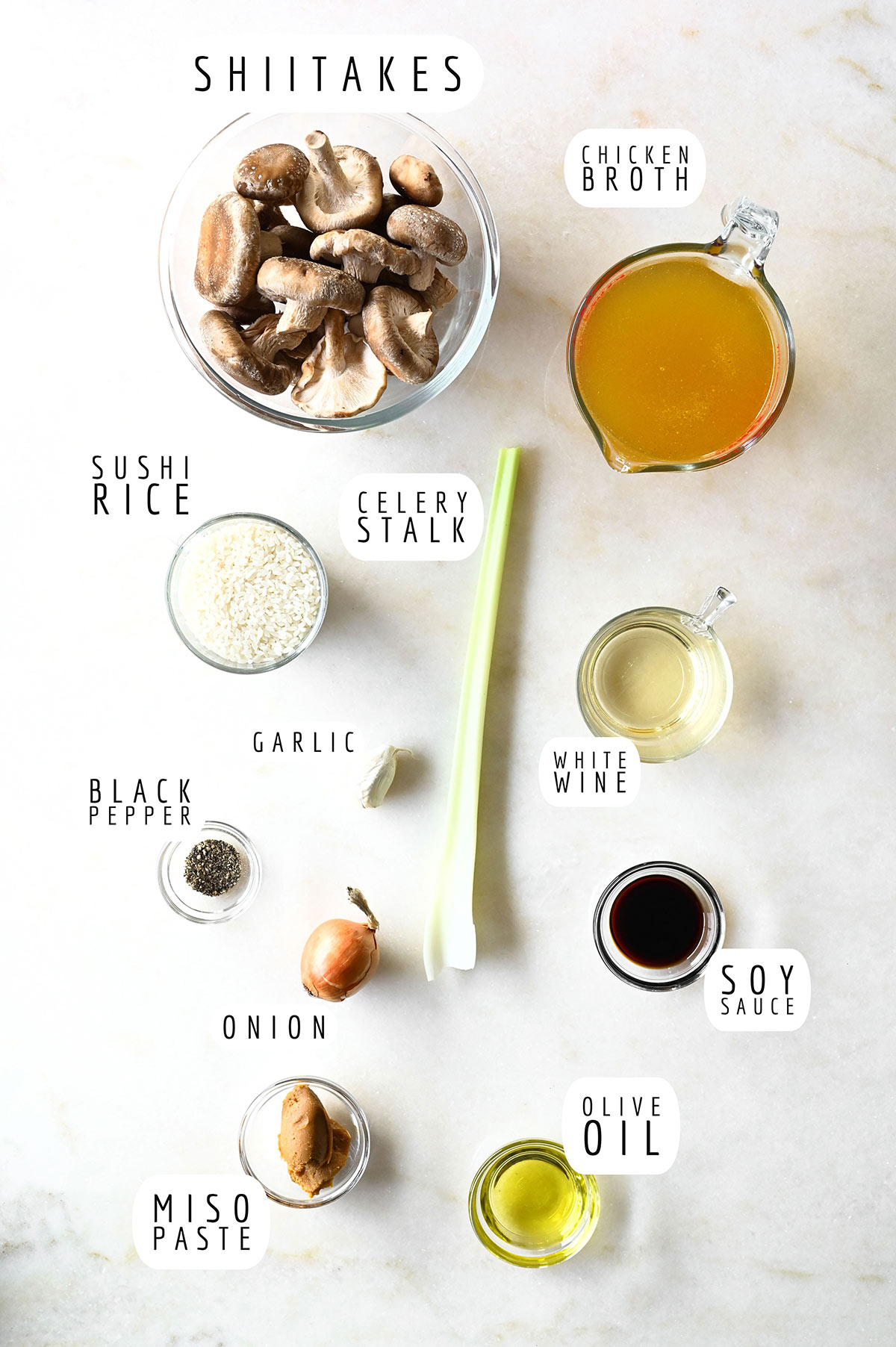 INGREDIENTS FOR THE RISOTTO
Shiitake Mushrooms: You can also use button or brown mushrooms.
Soy Sauce: A touch of soy sauce adds saltiness.
Olive Oil: For frying the mushrooms.
Onion, Garlic and Celery: The flavors they add, enhance the taste of the risotto and provide a depth of flavor.
Rice: I used sushi rice, but you can use any short-grain rice like Arborio or Carnaroli.
White Wine: A flavor enhancer that adds a slight acidity. Adding wine to the skillet also helps to deglaze the pan, which means that it helps to dissolve and incorporate any flavorful bits that may have been stuck to the bottom of the pan during the cooking process. The alcohol in the wine helps to bring out the flavors of the other ingredients in the risotto. You can swap white wine for sake.
Chicken Broth: Use store-bought or make your own. Swap chicken broth for vegetable broth or dashi.
Miso Paste: We're using white miso paste. Miso is the ultimate reference point for the flavor sensation known as umami. It has a deep savory flavor, with a toasty, funky, salty-sweet richness.
Black Pepper: As a finishing touch.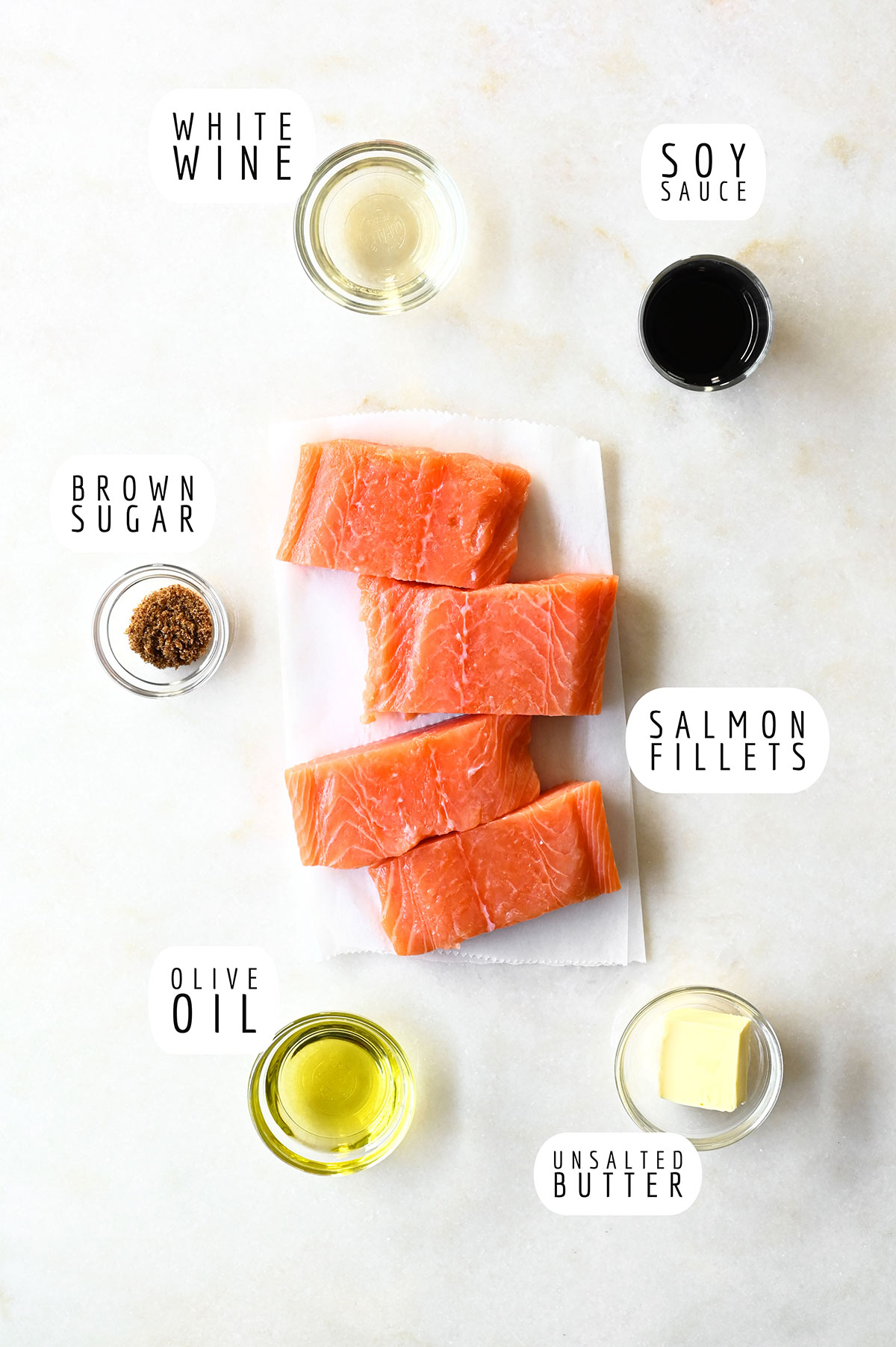 INGREDIENTS FOR THE SALMON
Oil and Butter: To sear the salmon, we need both, to increase the smoke point and the flavor.
Salmon fillets: Use salmon fillets of the same size and thickness so they can cook evenly. Skinless salmon is the go-to in this recipe, but if you want to use skin-on salmon, no problem!
Marinade: Low sodium soy sauce, brown sugar and white wine to create the perfect savory flavor. If you don't want to use wine, try it with mirin.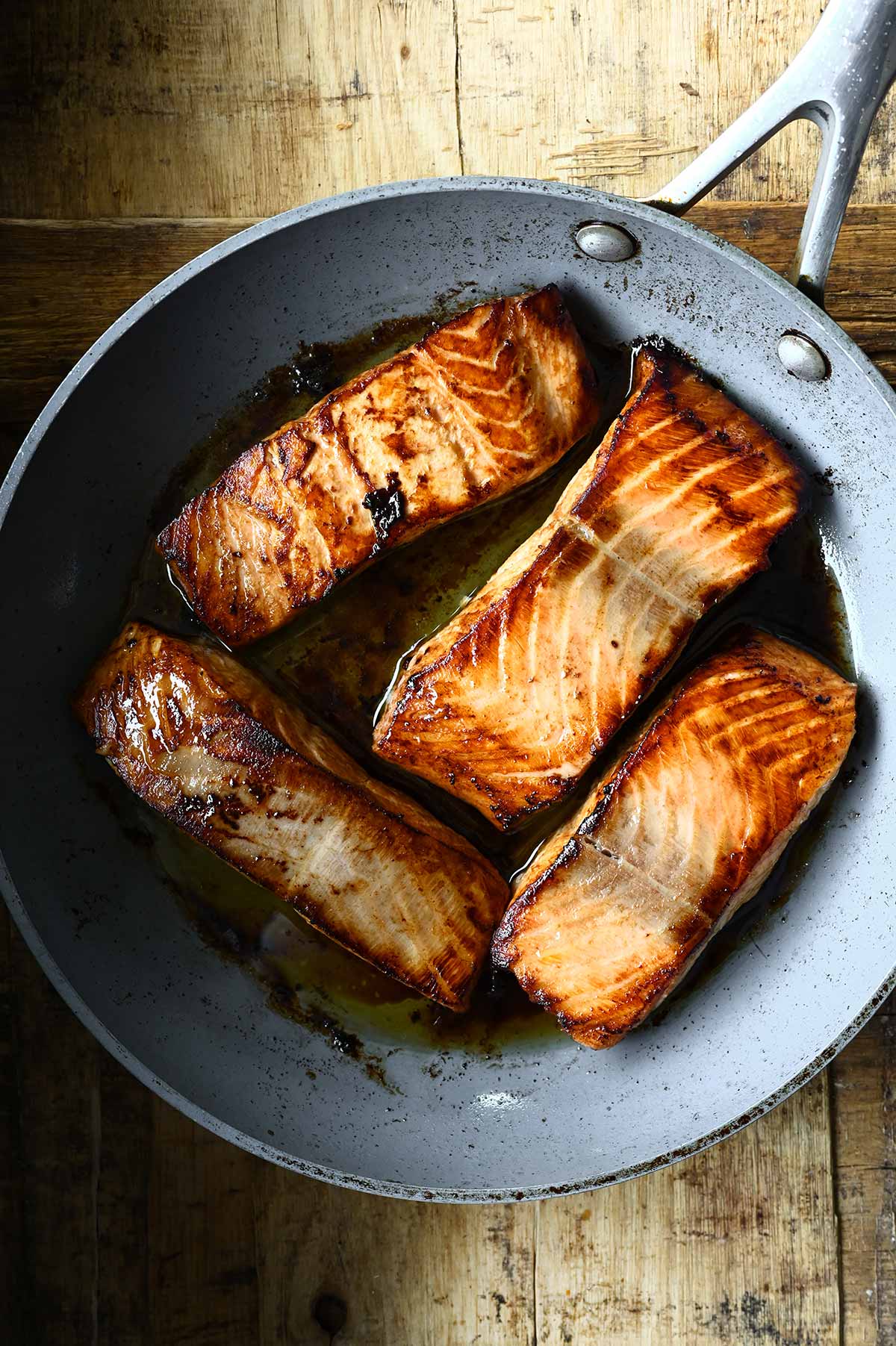 RECIPE NOTES
When the wine is added to the risotto and heated, the alcohol cooks off, leaving behind the wine's flavor and aroma. But if you prefer to cook without alcohol, simply leave it out.
Never rinse the rice before cooking it, because rice starch is so valuable when making risotto.
How to sear salmon? The biggest tip I can give you is to use a nonstick skillet and to make sure your skillet is hot before adding the salmon fillets. Use a combination of butter and oil to get those flavors happening without burning. Then sear the salmon for 3 to 4 minutes per side, until crispy.
Serve as a main dish or make smaller portions and serve as a starter.
Storage: Store leftovers refrigerated in an airtight container for up to 1 day.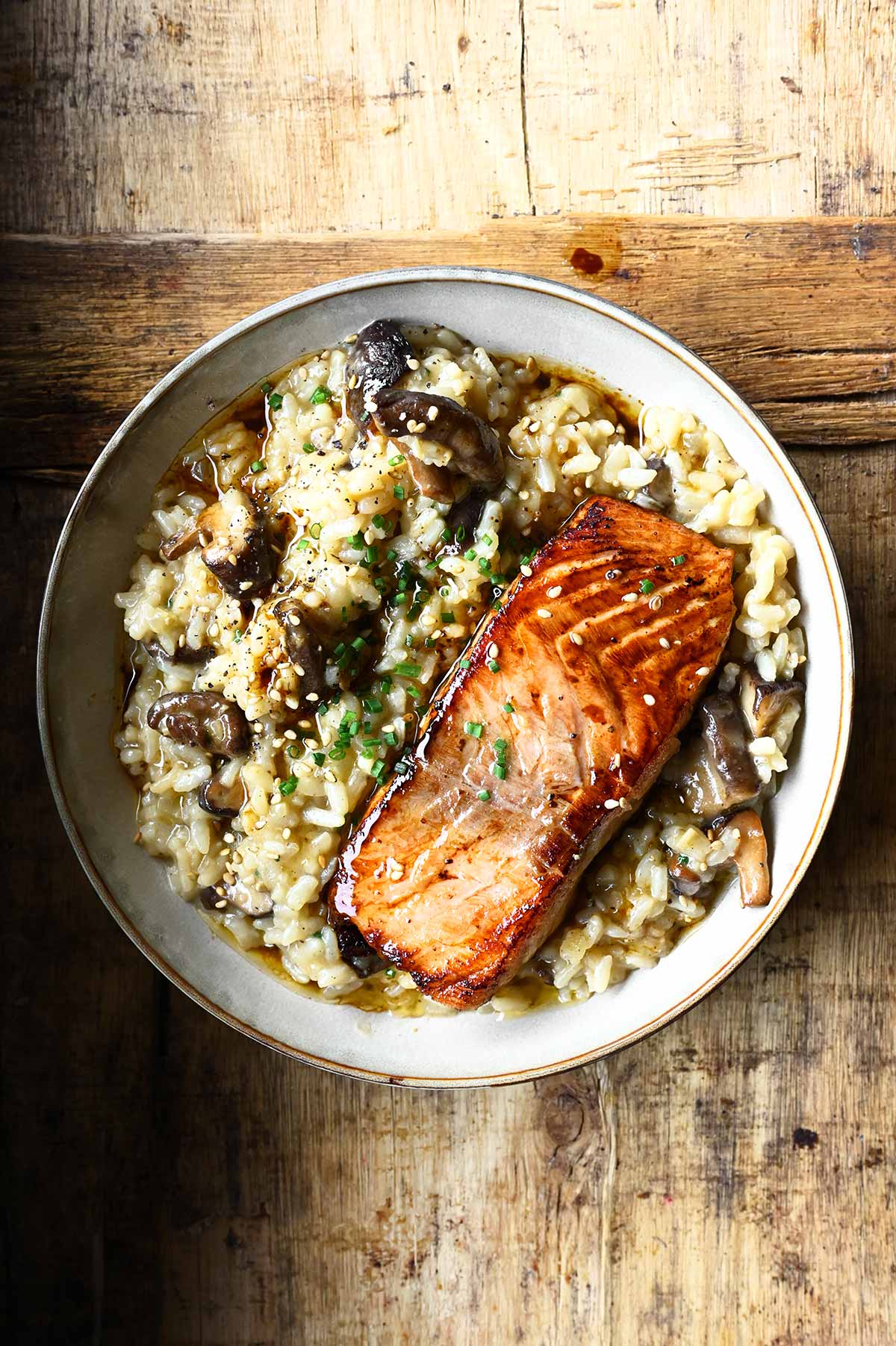 TRY THESE NEXT
COOKING VIDEO
Yield: serves 4
Japanese Style Risotto with Seared Salmon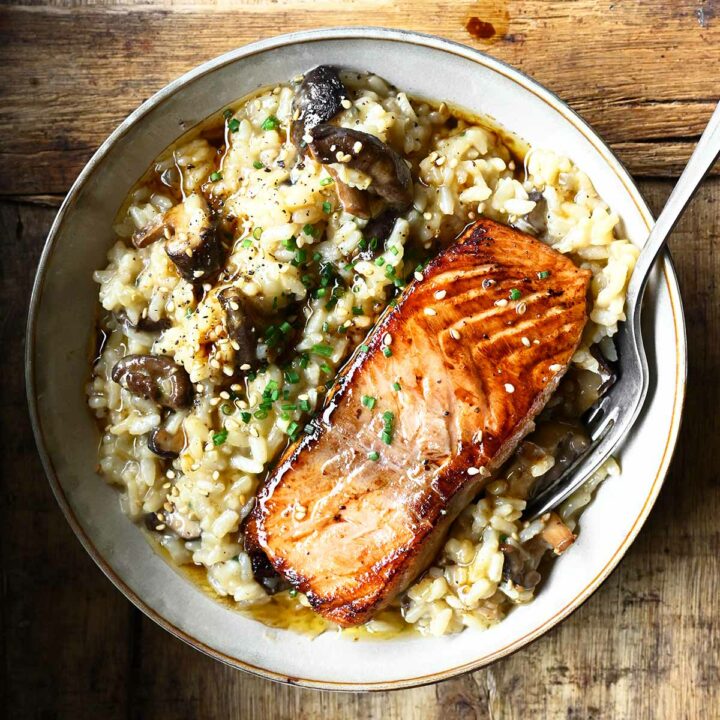 Ingredients
Japanese-Style Risotto
3 tbsp olive oil, divided
10.5 ounces/300 g shiitakes, torn into pieces
1 tbsp low sodium soy sauce
1 small brown onion, finely chopped
1 celery stalk, finely diced
1 garlic, minced
1 cup/200 g rice, like sushi rice or Arborio
¼/50 ml cup dry white wine, or sake
5 cups/1.2 L hot chicken broth
1 tbsp white miso paste
black pepper, for serving
chives, for serving
sesame seeds, for serving
Seared Salmon
5 tbsp low sodium soy sauce
1 tbsp dry white wine
1 tsp brown sugar
4 salmon fillets
1 tbsp olive oil
1 tbsp unsalted butter
Instructions
We start by marinating the salmon fillets. In a shallow dish, combine soy sauce, white wine and brown sugar. Add salmon fillets, coat both sides. Set aside to marinate.
In the meantime, tear the shiitakes into small pieces, finely dice the celery stalk, mince the garlic and finely chop the onion.
Heat 1 tablespoon oil over high in a heavy bottomed pot or skillet. Add shiitakes and cook until they release their moisture. Add 1 tablespoon oil and cook until they start to brown. Stir in soy sauce and cook for 1 minute more. Remove from skillet.
Reduce heat to medium low and add 1 tablespoon oil. Then add the celery, onion and garlic. Cook for 2 minutes until fragrant. Add rice and toast for 1 minute. Deglaze with white wine, simmer for 2 minutes while scraping up the brown bits from the bottom of the skillet using a wooden spoon.
Add 2 ladles chicken broth at a time, stirring frequently, until the broth has been almost completely absorbed before adding the next 2 ladles. Cook until the rice is almost al dente, about 15 minutes. It's possible that you don't need to use up all of the broth. Stir in shiitakes. Dissolve miso with 2 tablespoons hot broth and add to risotto. Simmer about 5 minutes until the risotto is ready, add more broth if needed.
In the meantime, prepare the salmon. Heat oil and butter over medium high in a nonstick skillet. Add salmon and sear 3-4 minutes per side.
Serve salmon over risotto, top with black pepper, chives and sesame seeds. Enjoy!
Notes
Calories Per Serving: 565 kcal
Nutritional information is only an estimate. The accuracy of the nutritional information for any recipe on this site is not guaranteed.

//= __('Print recipe (no photos)', 'servingdumplings' );?> //= __('Print recipe (with photos)', 'servingdumplings' );?>