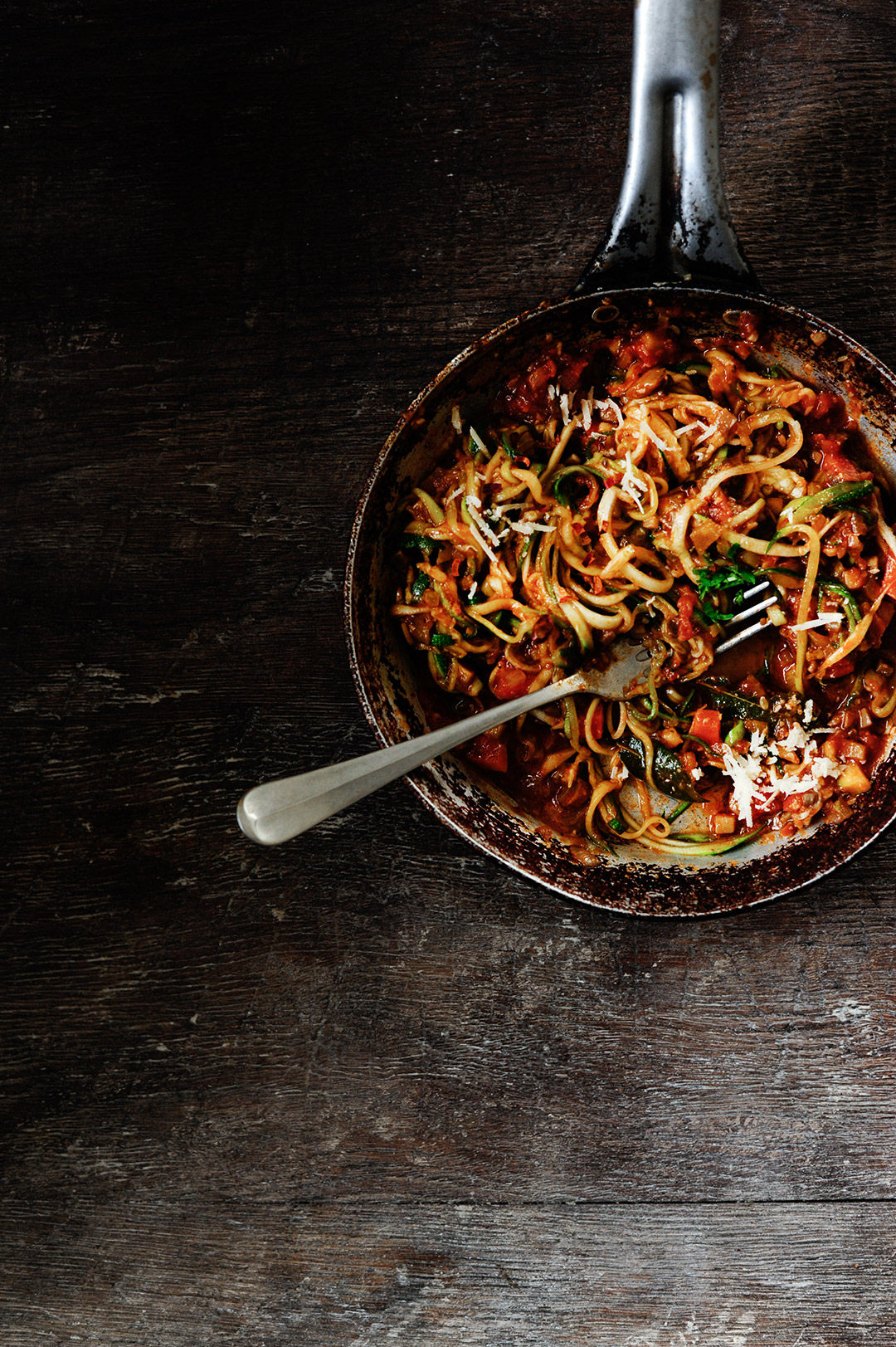 Do you mind to bring your spaghetti bolognese game up with a healthy twist? Then meet these zoodles with a hearty mushroom bolognese. I'm so proud of this dish, it's delicious! It has a deep flavor from sautéed mushrooms, fennel, herbs, a touch of red wine plus tomato paste, made creamy with freshly grated parmezan cheese. The ingredients are simple enough, but I took the time cooking all of the different layers for maximum flavor and depth.
Hope you enjoy this one! It's perfect, amazingly hearty, rich and comforting wholesome food with a crowd-pleasing vibe. Hopefully the exact thing that you need right now.
In the meantime, please excuse me, while I'm eating this straight out of the pan.
Ingredients
vegetarian mushroom bolognese
500 g brown mushrooms, cleaned and diced
1 fennel, cut into small cubes
1 large carrot, peeled and cut into cubes
6 San Marzano tomatoes
1 onion, finely chopped
4 garlic cloves, finely chopped
1 celery stalk, finely chopped
100 ml red wine
300 ml tomato puree
2 tablespoons tomato concentrate
100 ml vegetable broth
30 g freshly grated parmesan cheese
3 tablespoons olive oil
1 teaspoon dried thyme
1 teaspoon dried oregano
1 bay leaf
2 tablespoons chopped parsley
sea salt + black pepper
zoodles
1 zucchini, spiralized
2 tablespoons of oil
sea salt + black pepper
to finish
chilli flakes
parmesan for sprinkling
chopped parsley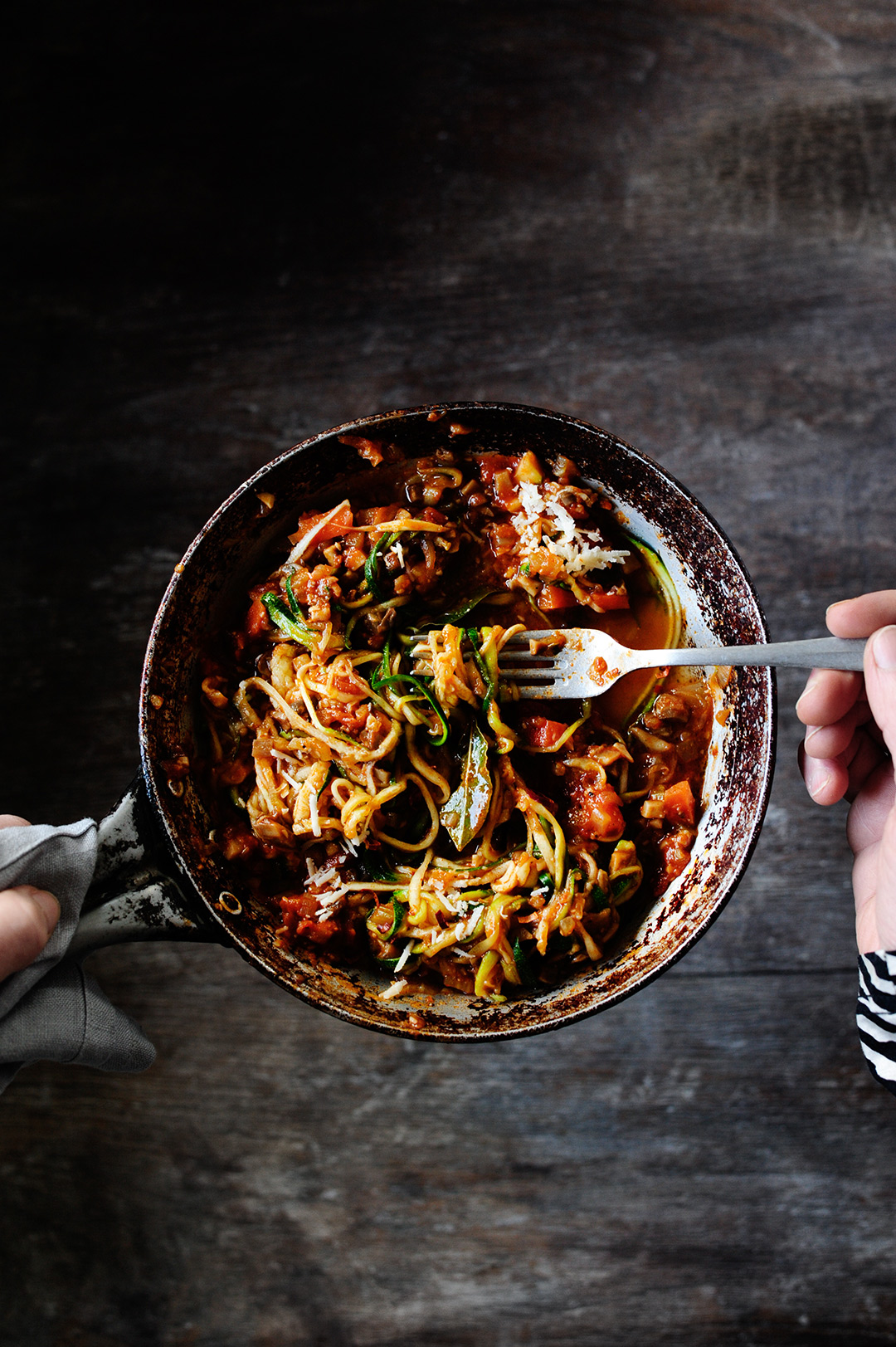 Instructions
Heat the oil in a deep frying pan, add onion and garlic and cook until soft over low heat. Add celery and carrot, stew for 5 minutes. Pour wine, increase the heat and cook out for 5 minutes. Add fennel and fry for 3 minutes. Add mushrooms, fry until they brown (the mushrooms should be letting off liquid).
In the meantime, bring water to a boil in a large pot, turn off the heat. Add the tomatoes and wait 15 seconds, take them out of the water with a slotted spoon. Remove the skin, cut into quarters, remove the seeds and cut into cubes. Add to the mushrooms, simmer for 5 minutes. Pour the broth, add the tomato puree and tomato concentrate, thyme, oregano and bay leaf. Season with salt and pepper, simmer for 20 minutes or until the sauce thickens. Add chopped parsley and grated parmesan cheese. Season to taste.
Heat olive oil in a separate frying pan, add zoodles, season with salt and pepper. Cook for 30 seconds. Immediately serve with the mushroom bolognese sauce, sprinkled with parmesan, chili flakes and parsley. Enjoy!