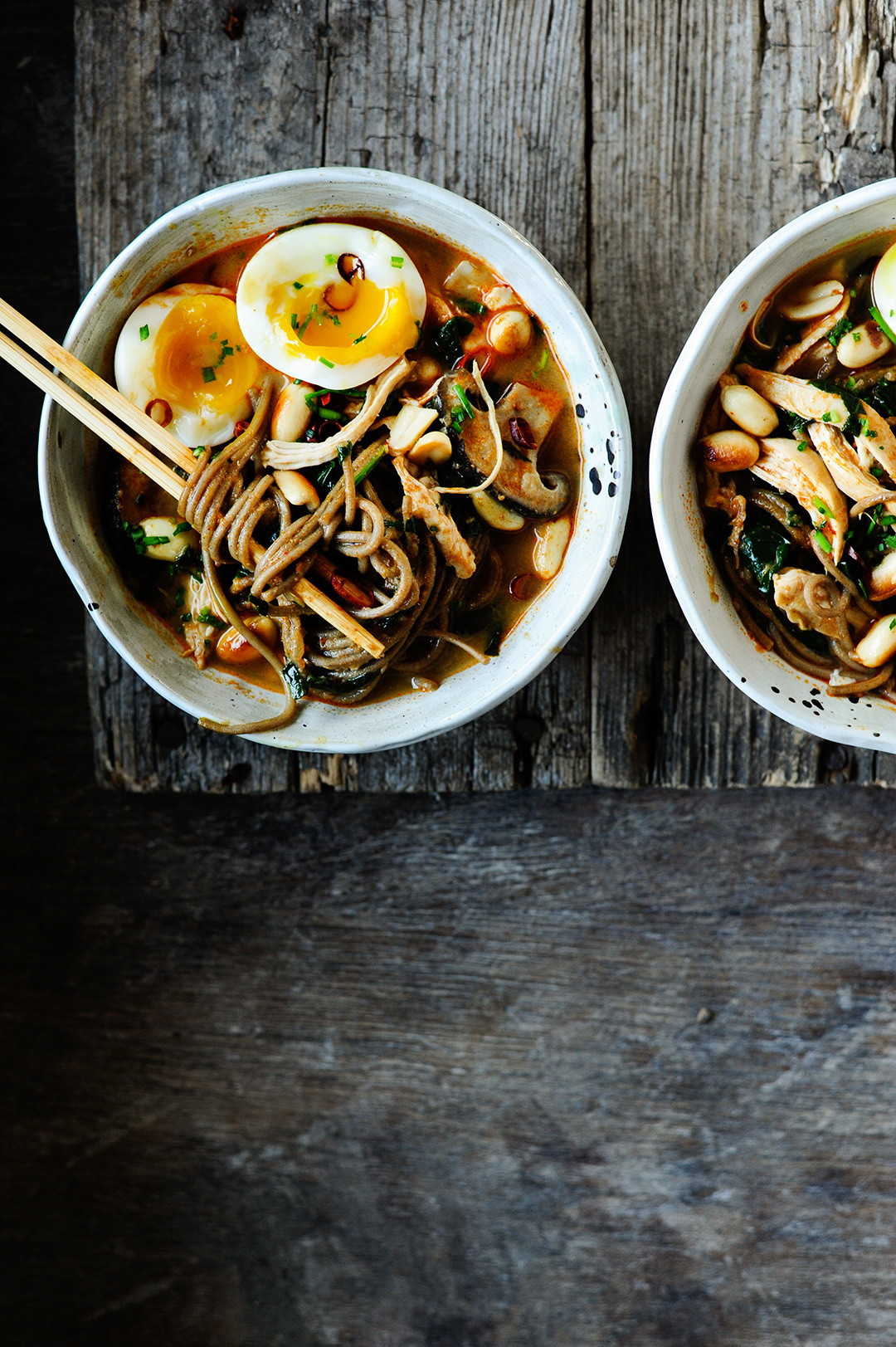 Believe it or not, my love for ramen is infinite. This is something I make regularly because there's nothing better than noodles swimming in homemade broth. Just a bowl of noodle soup with lots of feel-good ingredients. Quick, nourishing comfort food.
This miso and peanut butter flavor combo is made pure by accident, it turned out as a very luscious recipe and I had no choice but to share it with you.
After cooking the broth I added shredded chicken and soba noodles to the bowls, poured the hot broth with spinach and shiitakes, served it with chili flakes and toasted peanuts.
Sometimes a ramen fix is just the right thing, and this happy accident version hits the spot. The addition of miso, peanut butter and runny egg yolks are the key to make it feel more special and interesting, just try it out!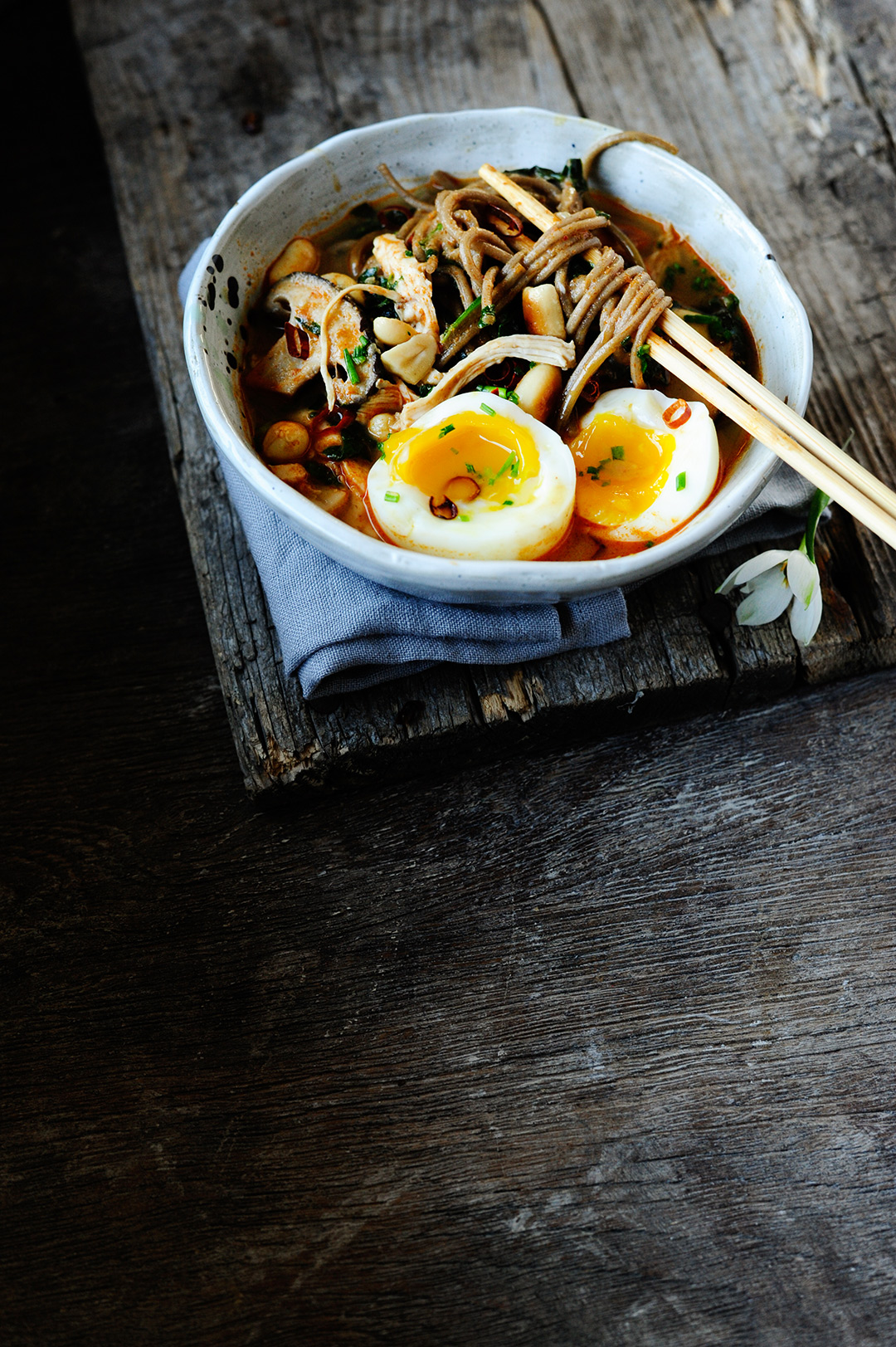 Ingredients
180 g ramen or soba noodles
100 g chicken breast fillet
1 shallot, finely chopped
2 garlic cloves, finely chopped
1 tablespoon vegetable oil
1 teaspoon freshly grated ginger
1 tablespoon red curry paste
1 tablespoon miso
1 tablespoon soy sauce
1 tablespoon fish sauce
1 tablespoon oyster sauce
500 ml homemade chicken broth
2 tablespoons peanut butter
4 shiitake mushrooms, cut into slices
100 g spinach
sea salt + black pepper
to finish
2 soft-boiled eggs
chives for sprinkling
peanuts roasted in sesame oil
chili flakes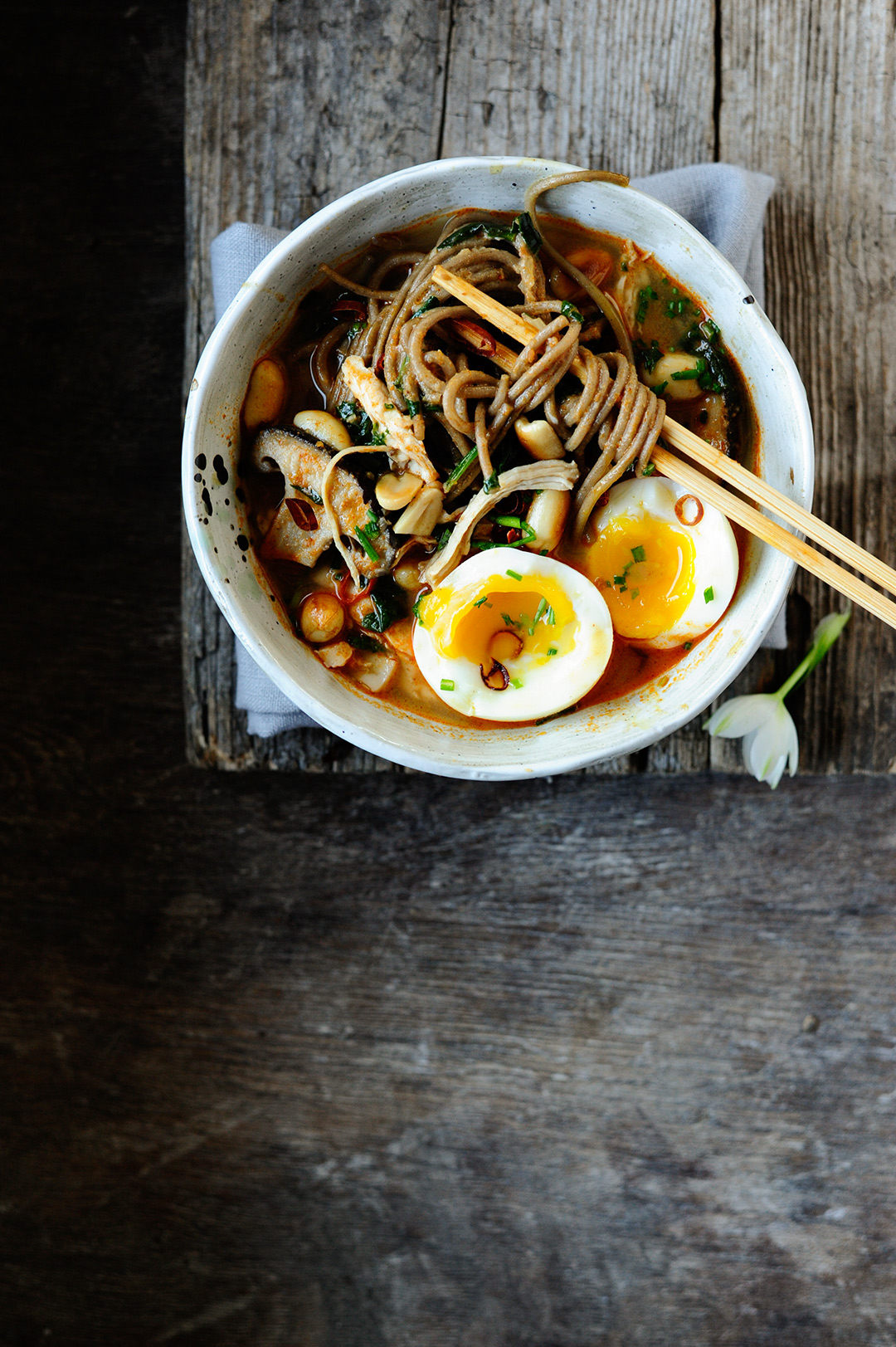 Instructions
Heat the vegetable oil in a pot, cook the garlic and shallot over low heat, until soft. Add ginger, stir and pour the broth. Add chicken fillet, red curry paste, soy sauce, oyster and fish sauce. Increase the heat, cover and cook for 20 minutes.
Remove the chicken, add shiitake, spinach, peanut butter and miso, cook for 5 minutes. Season with salt and pepper.
In the meantime, shred the chicken with two forks.
Cook ramen noodles according to the instructions in salted water. Then transfer into bowls, pour the broth. Top with shredded chicken and soft-boiled eggs. Sprinkle with chives, peanuts and chili flakes. Enjoy!