Is there a single word capable of making you as happy as the word pizza? I doubt it!
An easy homemade crust is the base for this pizza made with smoked paprika chicken, tomato sauce, parmesan, mozzarella and pickled jalapeños.
You can also use a store-bought pizza dough for this recipe, although making pizza at home is easier than you think. A ball of store-bought pizza dough works in a pinch, but if you've got some time, nothing beats homemade. This foolproof dough is springy, crisp and chewy at the same time. You'll only need 1 hour to let the dough rise, during which time you can prepare the toppings.
The dough is light and airy inside and on top, we have layers: first, a thick tomato sauce flavored with garlic, then a golden carpet of parmesan and hearty pieces of chicken. All finished of with buttery mozzarella and pickled jalapeños for some heat. A perfect harmony. If you add some thinly sliced bacon, it will be a feast!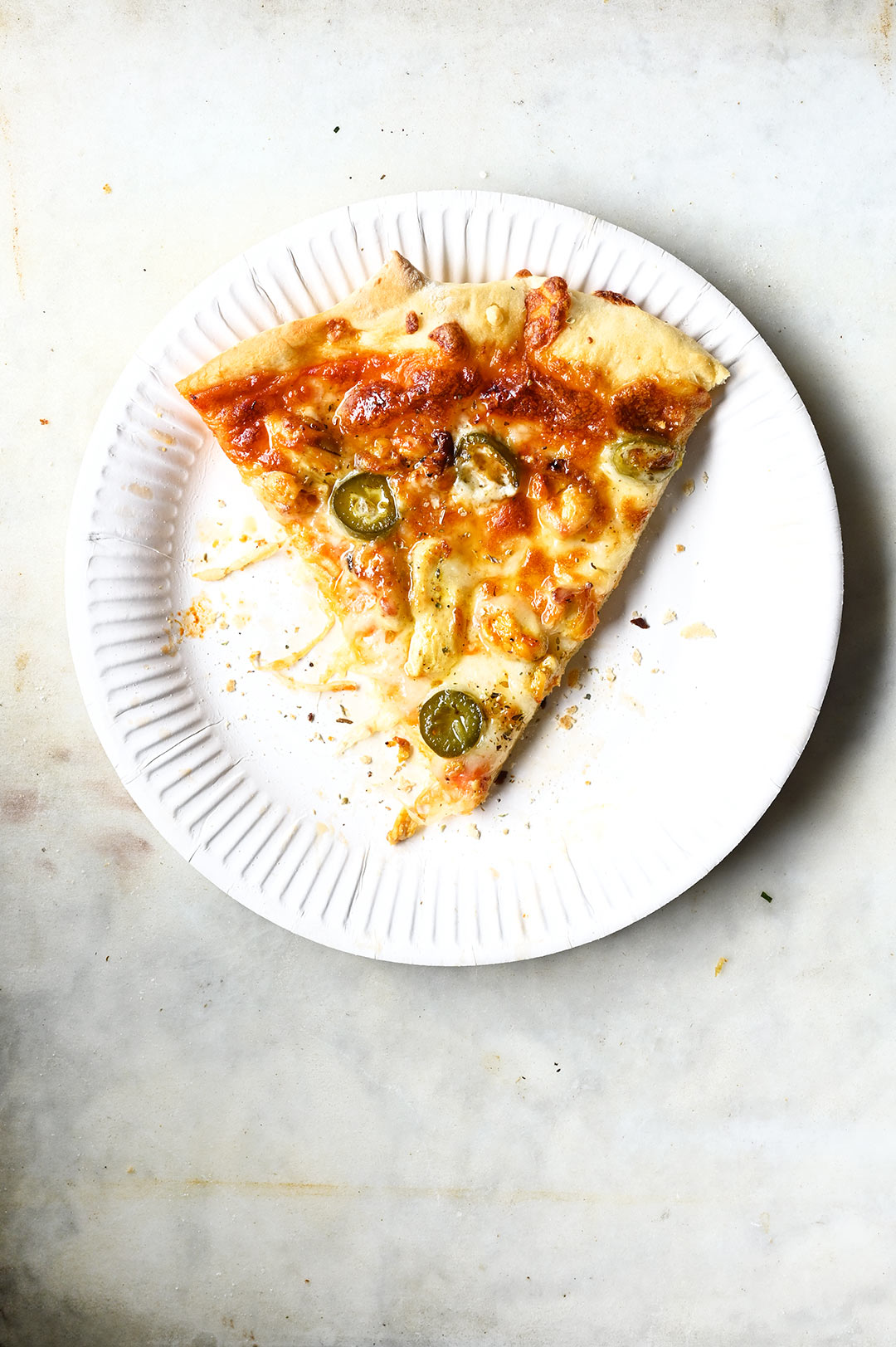 Hungry for more?
Libanese pizza with lamb and goat cheese
Porcini pizza with pesto and burrata
You need
store-bought pizza or home-made pizza dough
home made pizza dough
460 g bread flour
10 g dry yeast
250 ml lukewarm water
1 tbsp milk
2 tbsp olive oil
1 tsp salt
1 tsp honey
tomato sauce
1 can good tomato sauce
1 tsp garlic powder
1 tbsp olive oil
1/4 tsp salt
black pepper
chicken
300 g chicken breast, boneless and skinless
2 tbsp olive oil
1 garlic clove, minced
1 tsp smoked paprika
1/2 tsp ground cumin
1/2 tsp crush red pepper flakes
1/2 tsp ground turmeric
1 tsp lemon juice
sea salt + black pepper
+
1 tsp oregano
150 g parmesan, shaved or grated
150 g grated mozzarella
jalapeños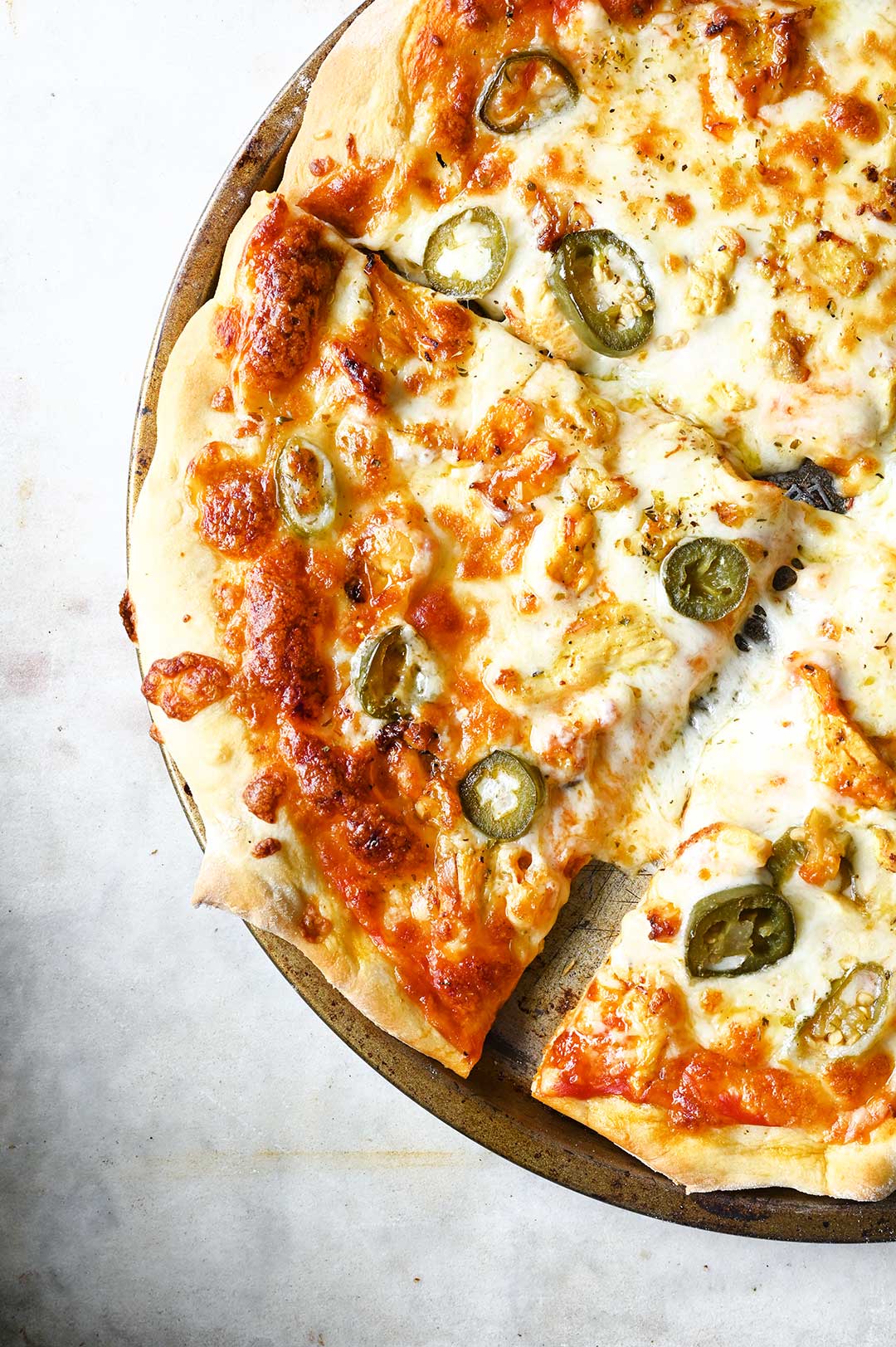 How to
Place yeast, water and honey into  the bowl of your stand mixer, lightly stir ingredients together and set aside for 5-10 minutes until foamy.
Add flour, milk, olive oil and salt, knead for at least 10 minutes with your stand mixer fitted with a dough hook, on low. The dough is ready when you can stretch it.
Lightly grease another medium bowl with olive oil and drop your ball of dough into it. Cover and let stand for 30 minutes to 1 hour, or until doubled in size. Keep it somewhere warm like inside your oven.
In the meantime, cut the chicken into thin slices. Heat the oil in a skillet, add chicken slices and season with the remaining ingredients. Cook over high heat until golden brown for 3-5 minutes.
Combine the ingredients for the sauce in a bowl.
Preheat the oven to 250°C.
Turn the dough out onto a floured surface and roughly divide into 4 balls.
Roll out the dough and place onto a pizza tray or a lightly floured baking sheet. Shape dough into desired size and thickness. Spread the sauce, sprinkle with parmesan, top off with chicken, then sprinkle with mozzarella. Lastly add jalapeños and sprinkle with oregano.
Bake for 12-15 minutes until golden. Eat!