In this pasta, cauliflower is the star. And it is delicious.
A bolognese-style sauce with cauliflower and pancetta, served with spicy parmesan breadcrumbs. It's savory, rich and surprisingly delicious. The cauliflower is chopped into tiny pieces and gives the dish a nice, meaty texture. To finish the sauce, we add some grated parmesan and lots of crispy pancetta. And the breadcrumbs? They're the icing on the cake! Spicy, super crunchy and hearty.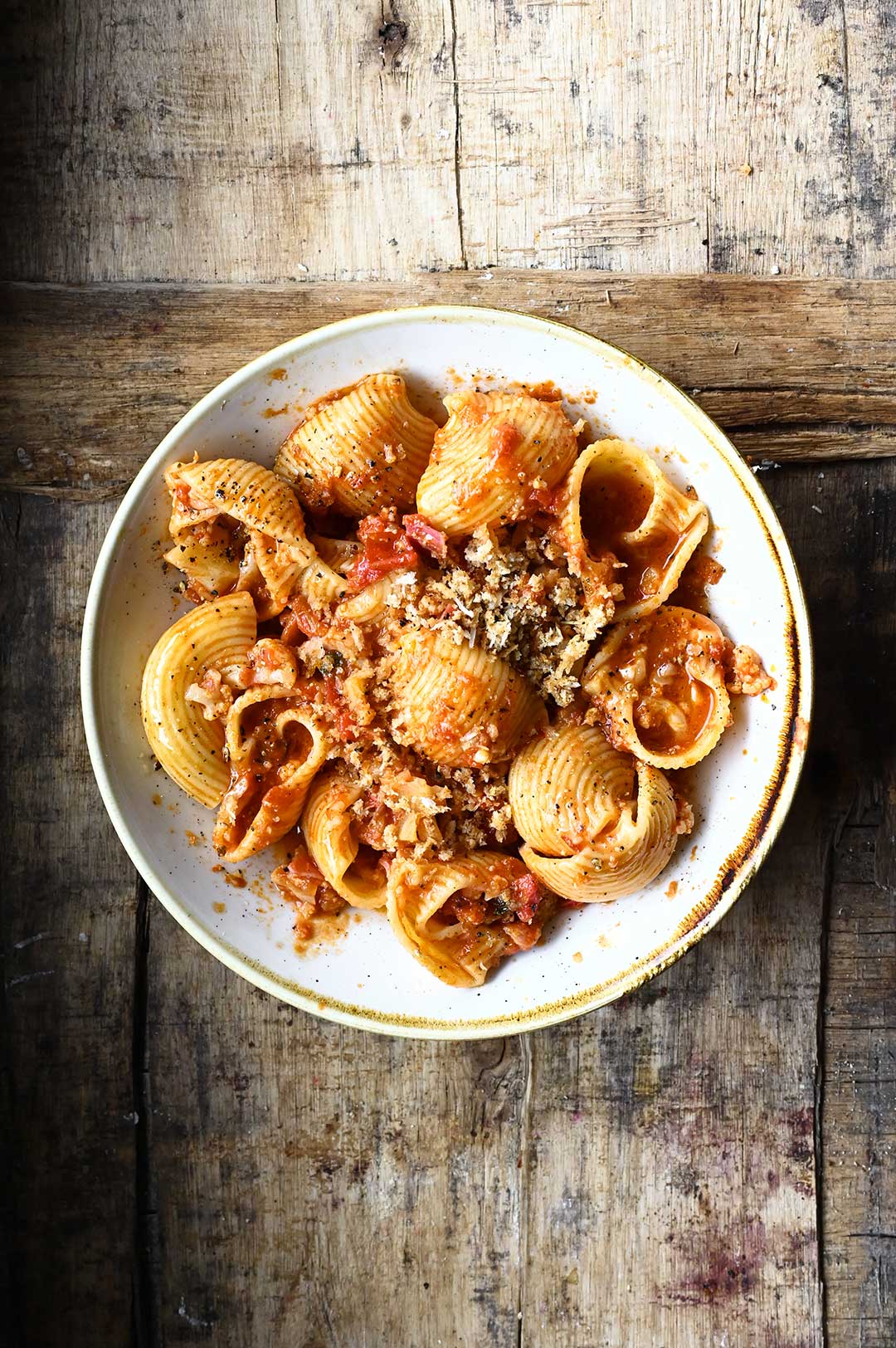 Part of the appeal comes from sautéing the cauliflower until crisp-tender. Then we add chicken stock and tomatoes. At the end we add just enough pancetta and parmesan for more flavor and body. The result is a rich satisfying dish.
Let me guide you through the recipe with this step-by-step VIDEO.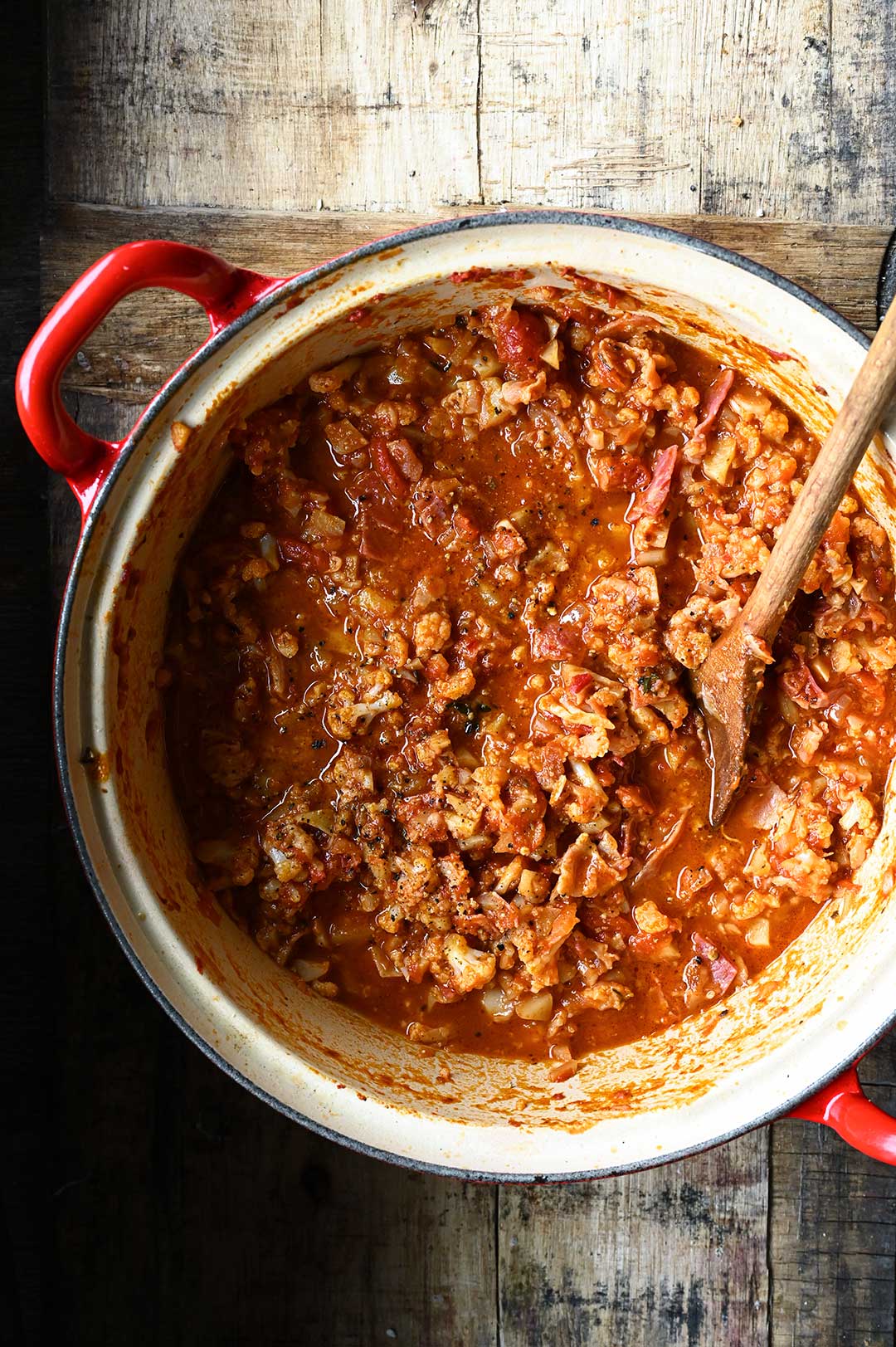 RECIPE NOTES
– you can swap the pancetta for salted bacon or ground pork
– if you want to make this sauce vegetarian, swap the pancetta for mushrooms
– you can also use zoodles instead of pasta
Other delicious recipes to try:
Creamy Beef Bolognese with Roasted Peppers
Kung Pao Cauliflower
Pasta with sun-dried tomato ricotta pesto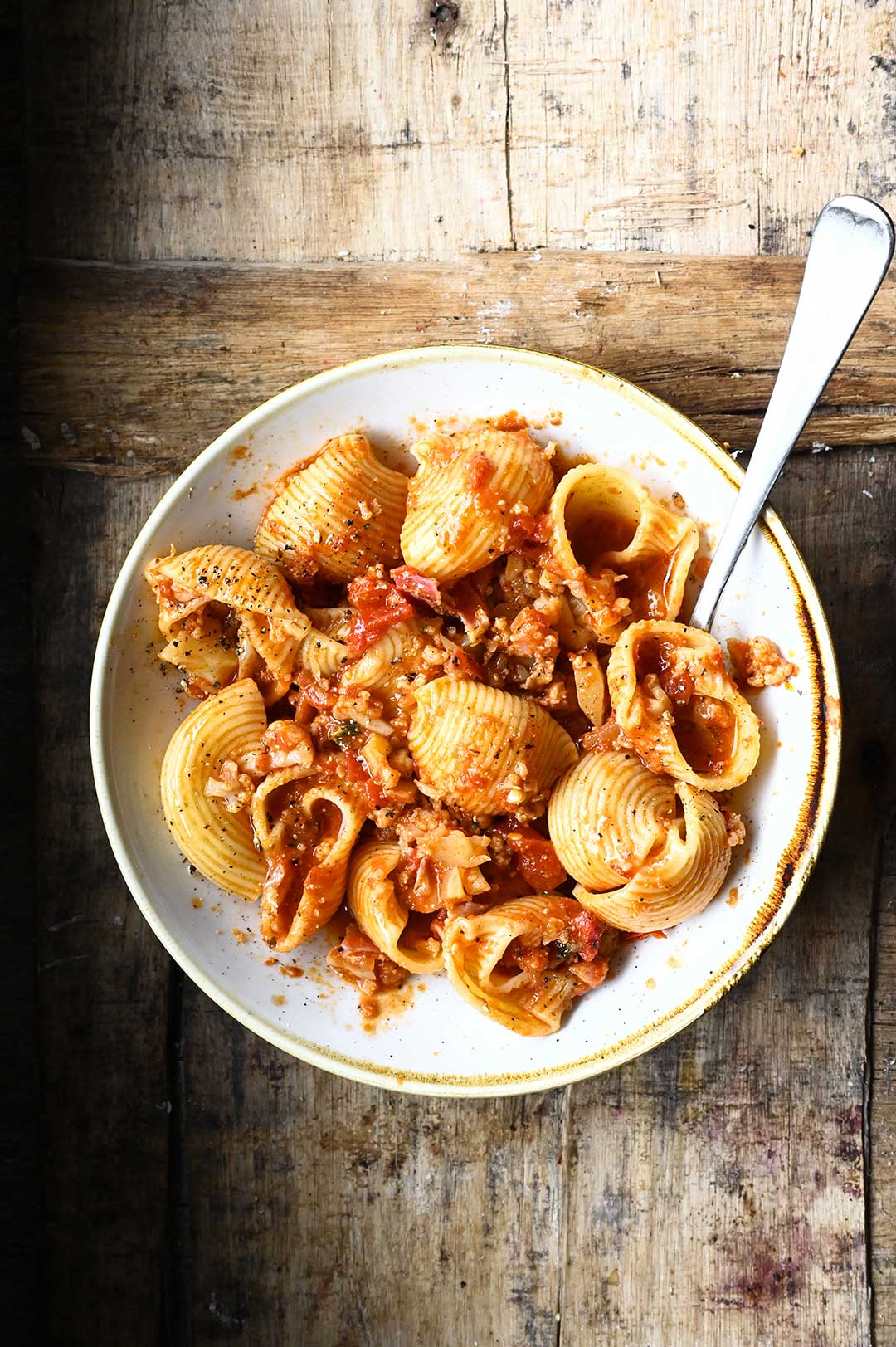 You need
300 g (10.5 oz) pasta
1 small cauliflower
200 g (7 oz) pancetta
1 cup chicken stock
1 can (400 ml/14 oz) crushed tomatoes
2 tbsp tomato paste
olive oil
30 g (2 tbsp) unsalted butter
4 garlic cloves, minced
1 small onion, finely chopped
spices: 1 tsp each: red pepper flakes, dried thyme, dried sage, smoked paprika, black pepper, salt
80 g (2.8 oz) grated parmesan
spicy parmesan breadcrumbs
1/2 cup panko
2 tbsp olive oil
1 tsp each: dried sage, red pepper flakes
30 g (1 oz) grated parmesan
salt
How to
Let me guide you through the recipe with this step-by-step VIDEO.

Cut the cauliflower into thin slices, then chop into tiny equal pieces. You can also use a food processor or a box grater.

Make the parmesan breadcrumbs. Heat a large pot over medium high heat, add 2 tbsp olive oil. Then the panko. Cook, stirring occasionally until the breadcrumbs are toasted, about 3 minutes. Add sage and red pepper flakes. Cook for 1 minute. Stir in the parmesan, lower the heat and cook for 1 minute more. Season with salt. Transfer the breadcrumbs onto a plate.

In the same pot, heat 2 tbsp olive oil over medium-high heat. Add pancetta, cook stirring occasionally until crispy and browned, about 5 minutes. Remove from pot.

Now heat 2 tbsp olive oil and butter. Add half of the cauliflower, sauté for 3 minutes over high heat. Add the remaining cauliflower and sauté until slightly browned and crispy-tender, 5 minutes. Stir in garlic and onion, cook for 5 minutes until fragrant. Stir in spices. Add chicken stock, crushed tomatoes and tomato paste. Bring to a boil, lower the heat and simmer for about 15 minutes.

Meanwhile, cook the pasta in a large pot of boiling generously salted water, until al dente. Drain, reserving 1/2 cup cooking water.

When the sauce is ready, stir in grated parmesan, add pancetta and 1/4 cup pasta cooking water. Season with extra black pepper, taste and adjust seasoning with salt. Toss with pasta.

Divide among bowls, top with parmesan breadcrumbs and enjoy!

PRINT RECIPE

//= __('Print recipe (no photos)', 'servingdumplings' );?> //= __('Print recipe (with photos)', 'servingdumplings' );?>