Braised Cajun chicken with potatoes. Super tender chicken thighs, soft potato wedges and sautéed bell peppers. So good! If you're looking for a comforting meal, start with this saucy braised chicken. One skillet, a few basic ingredients and totally delicious. An easy dinner that you can enjoy over rice, roasted vegetables or with some bread… Brace yourself! You're in for a treat!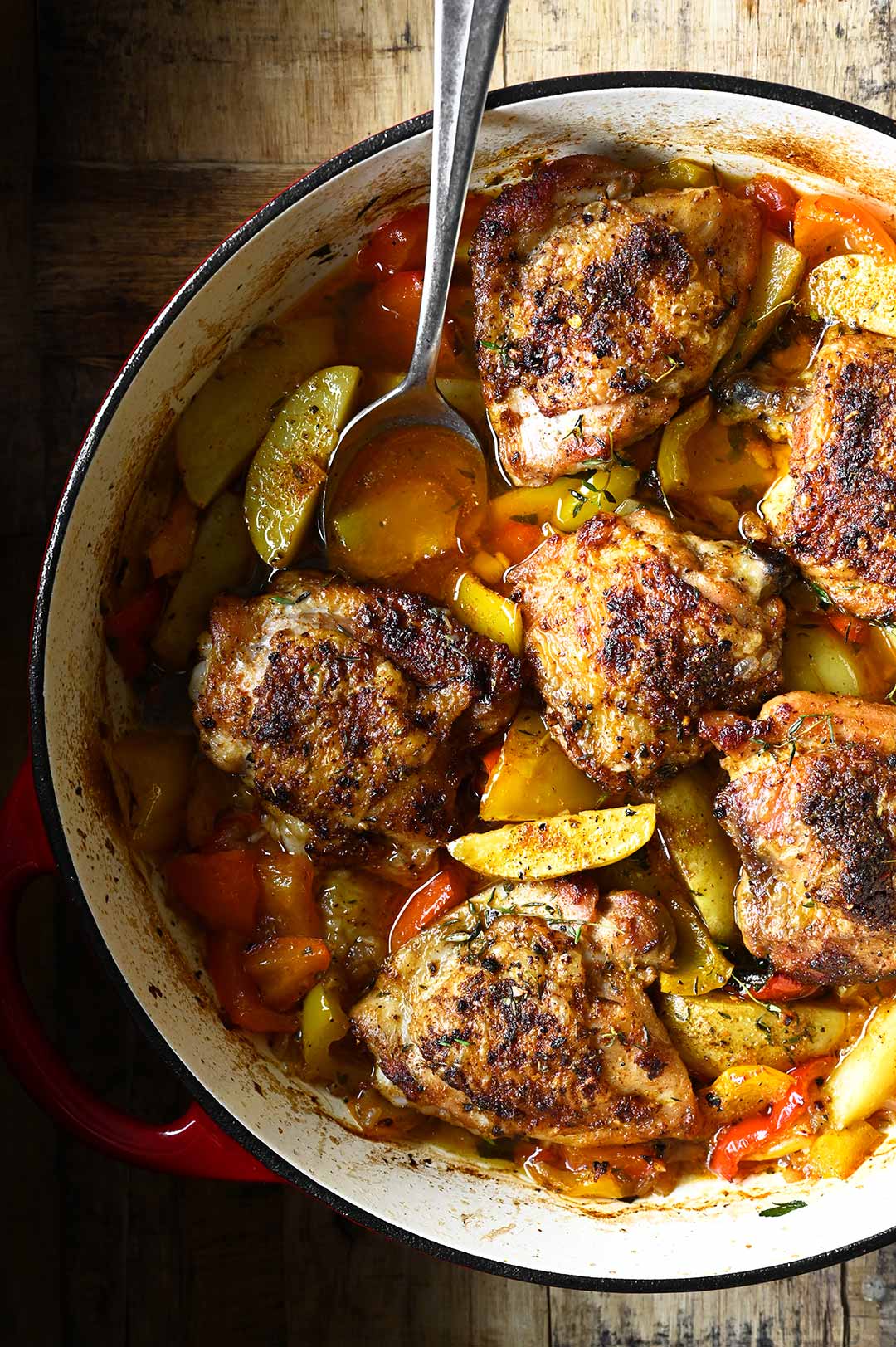 It's an ideal dinner for busy families because it's just so easy to toss together, even on the busiest days. Say hello to cozy dinner!
This skillet chicken is so good. With some potatoes, peppers and a few basic ingredients you can make a meal that everyone will rave about. You can use this recipe as a starting point and customize it to your own liking. For instance, fresh oregano would be amazing here, leeks can be used instead of onion.
It's truly wonderful and really easy to make. Plus, you'll only need one skillet. Don't forget to serve with some crusty bread to mop up all of that tasty sauce.
Let me guide you through the recipe with this step-by-step VIDEO.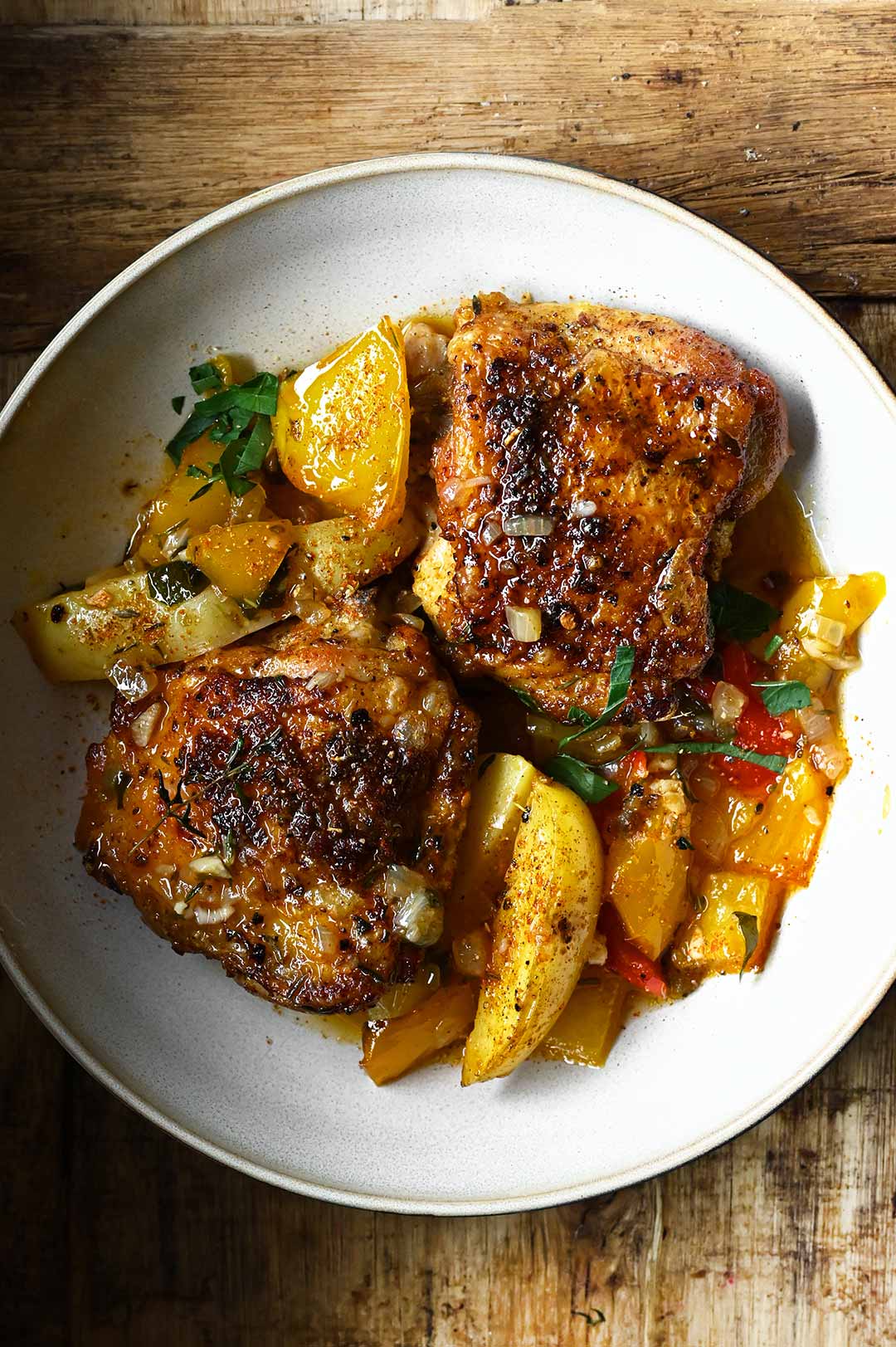 This Is How We Make It
This braised chicken dish starts on the stove and finishes in the oven. First step is seasoning the chicken with Cajun spices, then browning it skin side down in an ovenproof skillet to render out the fat and create a super crispy skin. We use the chicken grease to make a delicious pan sauce and sauté the bell peppers. They get silky when cooked down, add a delicious flavor and elevate your dinner to a whole new level. Next, the potatoes go in and we pour in some chicken broth.
I usually add a few sprigs of fresh thyme, then put the whole dish in the oven to braise, until the chicken is deliciously tender.
We cook this one-pot dinner at 400°F/200°C, but you can reduce the heat to 325°F/160°C and cook it for 1-2 hours for a real low and slow braise. Either works great, it just depends on how much time you have.
The result is super savory with a sauce that will have everyone coming back for more. It's perfect any night of the week or for a dinner party when you're looking for a chicken dish that's a little more special, but isn't overly difficult to make.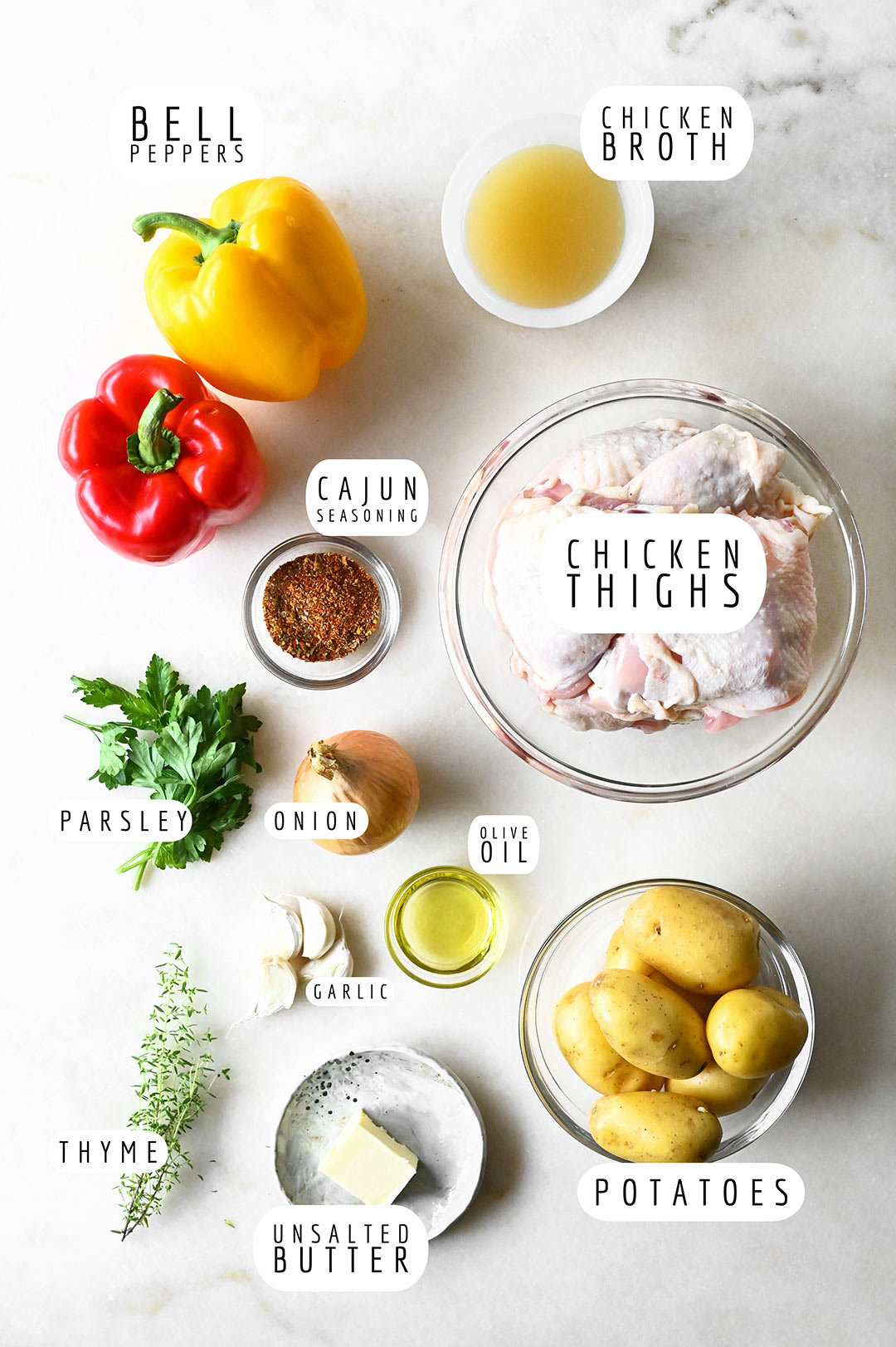 Gather the Ingredients for Braised Cajun Chicken
Chicken thighs: A delicious choice for this one pot dinner, however chicken legs are a terrific alternative.
Cajun seasoning: The spice blend for the chicken, made with common spices you may already have! You can buy it, but I prefer to make my own to get the right balance of flavors. You can find my favorite blend in the recipe notes.
Olive oil and butter: We use both, to create that golden skin.
Garlic and onion: Essential for the sauce's flavor base. You can use leeks instead of onion.
Bell peppers: A great way to add flavor to the sauce. Sautéing and slowly simmering intensifies their sweetness and flavor.
Potatoes: I used waxy potatoes with great results. You can either peel them or leave the skin on.
Thyme and parsley: For fresh herby touch, you can swap thyme for fresh oregano.
Chicken broth: To add depth and a salty touch to the sauce. If we'd use water, the sauce would be a bit bland. I usually use store-bought, but homemade chicken broth will take this to another level. You can also use vegetable broth.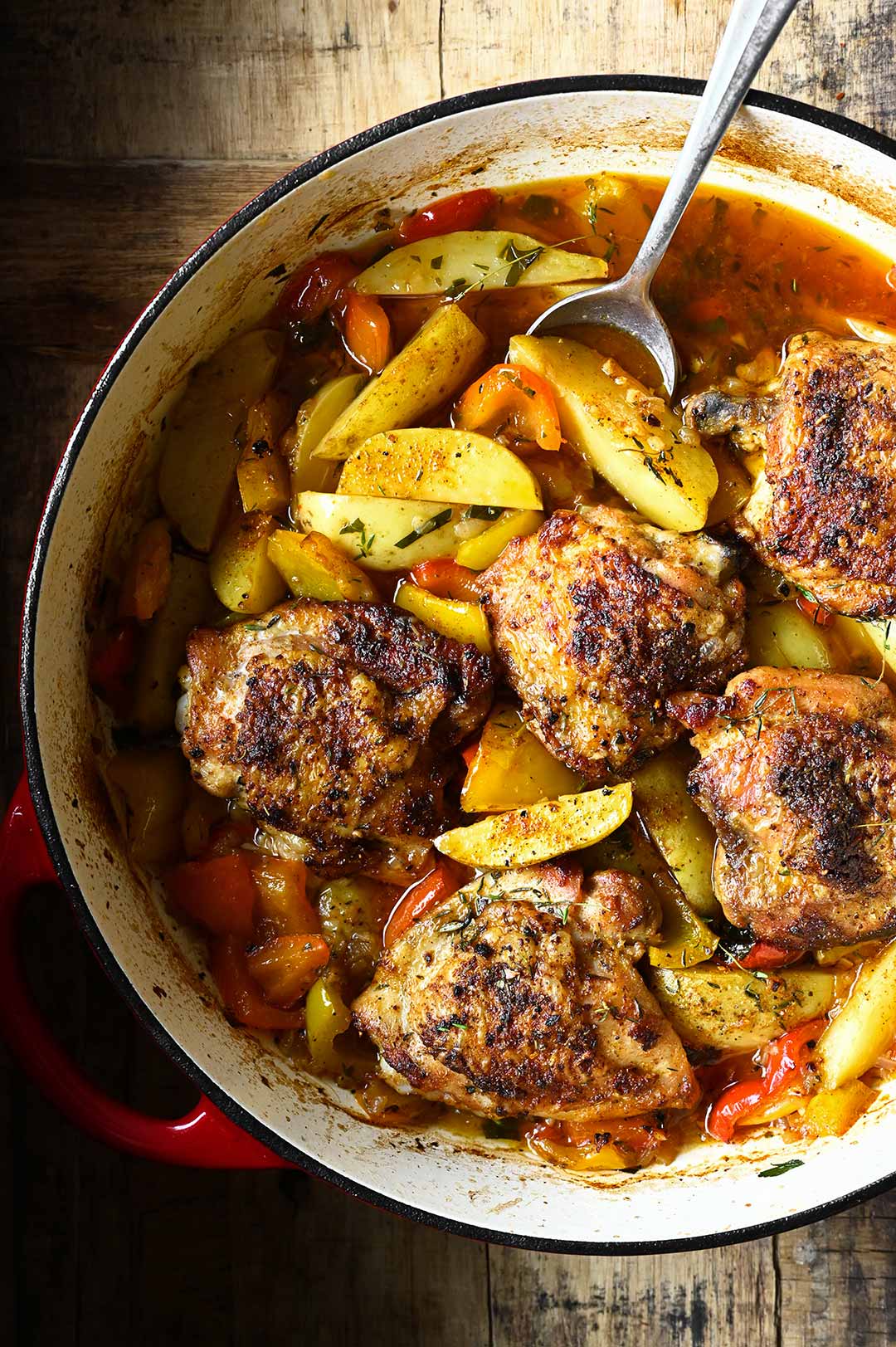 RECIPE NOTES
Serve over rice, sautéed/roasted vegetables, polenta… or with some crusty bread and don't forget a big side salad.
If you're a garlic lover, don't be shy, add more!
Make your own Cajun spices: 2 tbsp smoked paprika, 2 tsp each onion powder + garlic powder, 1 tsp each dried thyme + dried oregano + salt + black pepper + cayenne pepper + chili powder + ground cumin
Allow the chicken to come to room temperature! First season the chicken thighs, then allow to sit outside of the fridge for at least 20 minutes. You can also season the thighs the night before and store in the refrigerator, then take them out 20-30 minutes before you start to cook. Allowing the chicken thighs to come closer to room temperature will make them tender and juicy.
Workflow: This recipe flows nicely in a way that you can easily get this in under an hour. While you cook the chicken, chop the ingredients for the sauce. Start by onion, garlic and peppers. While these are cooking, slice the potatoes, chop the parsley and thyme.
Fall apart chicken: The chicken in this recipe is very juicy because of the thighs, plus they get simmered in the sauce. However, you can get super tender fall of the bone meat. In order to do that, just bake the whole dish at 325°F/160°C for 1-2 hours for a real low and slow braise or until the chicken is tender enough to your taste.
Leftovers will keep for 2 days in the fridge.
To freeze: Cool completely, then freeze portion sizes in airtight containers. Thaw overnight in the fridge, then reheat using your chosen method (in the microwave, on the stove or in the oven).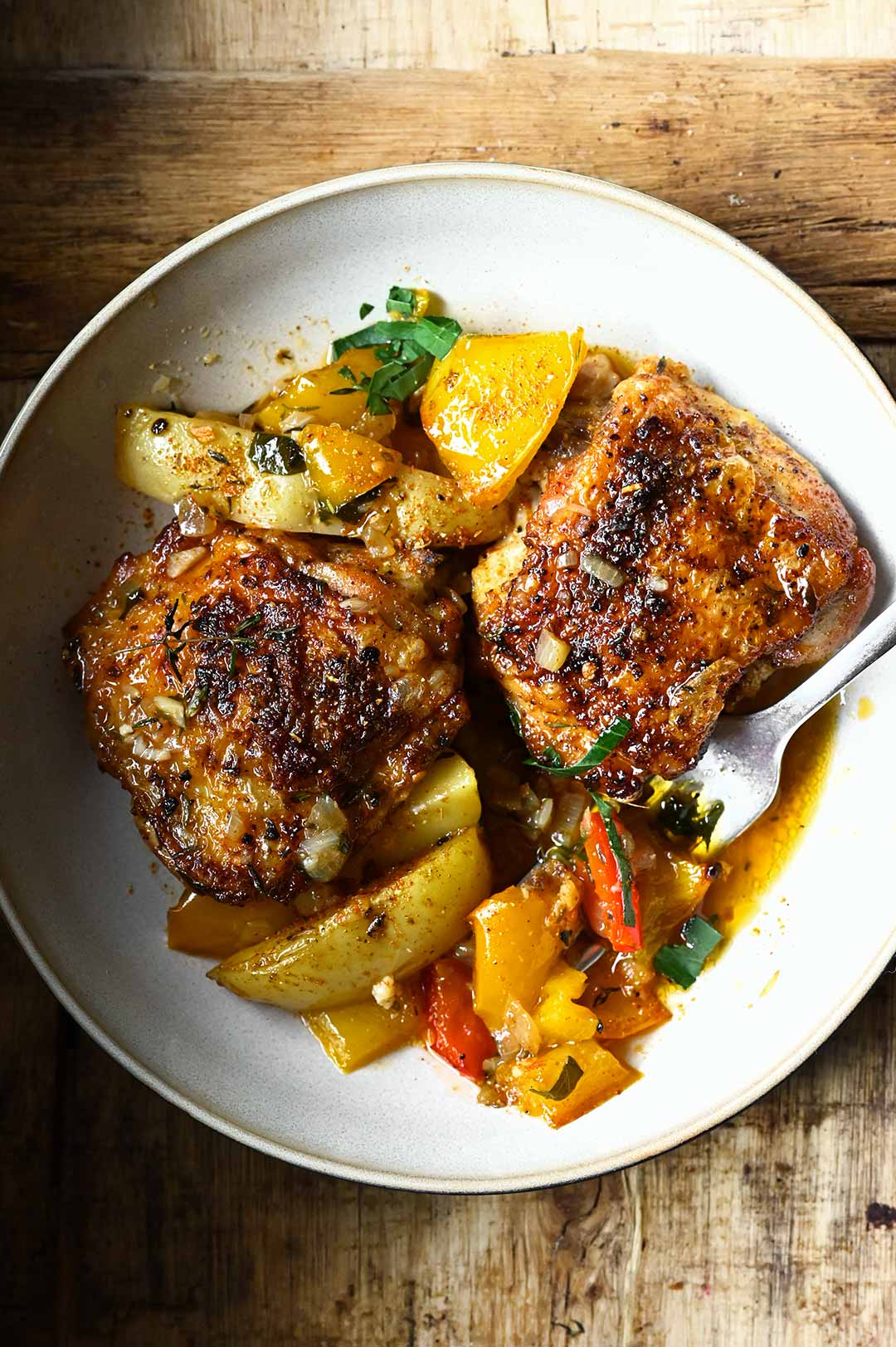 Looking for other one-pot recipes? Here are a few ideas:
COOKING VIDEO
Yield: serves 4
Braised Cajun Chicken with Potatoes
Total Time
1 hour
5 minutes
Ingredients
8 bone-in, skin-on chicken thighs
2 tbsp Cajun seasoning
1 tbsp olive oil
1 tbsp unsalted butter
1 onion, finely chopped
4 garlic, minced
2 bell peppers, yellow + red
1 pound potatoes
1 tbsp each: freshly chopped thyme + parsley, more for topping
1 cup chicken broth
Instructions
Start with preparing the chicken thighs. Rub Cajun seasoning on both sides of the chicken. Set aside.
Chop the thyme leaves and parsley, mince the garlic finely and chop the onion. Cut bell peppers into bite-sized pieces and slice the potatoes into wedges.
Preheat the oven to 200°C/400°F.
Heat a cast-iron or a heavy-bottomed ovenproof skillet over high heat. Add oil and butter. Place chicken thighs skin side down, cook for 2 minutes. Reduce heat to medium, cook for 10 minutes, move chicken around every couple of minutes. Turn, cook for 5 minutes more. Remove from skillet onto a clean plate.
If needed, remove excess grease, leaving 1 tbsp in the skillet. Set aside.
Add garlic and onion, cook for 1 minute until fragrant. Add bell peppers, cook for 5 minutes, stirring occasionally.
Stir in potatoes, thyme and parsley. Pour in chicken broth and bring to a boil. Return chicken skin-side-up to the skillet, nestling it into the sauce. Top with thyme sprigs.
Transfer to the oven and bake uncovered for about 20 minutes. Reduce the temperature to 160°C/320°F. Bake for 20 minutes more or until the chicken is tender and everything is cooked through. Season to taste.
When ready, finish off with chopped parsley. Serve with some crusty bread and a big side salad. Enjoy!
Notes
Calories Per Serving: 271kcal
Nutritional information is only an estimate. The accuracy of the nutritional information for any recipe on this site is not guaranteed.

//= __('Print recipe (no photos)', 'servingdumplings' );?> //= __('Print recipe (with photos)', 'servingdumplings' );?>