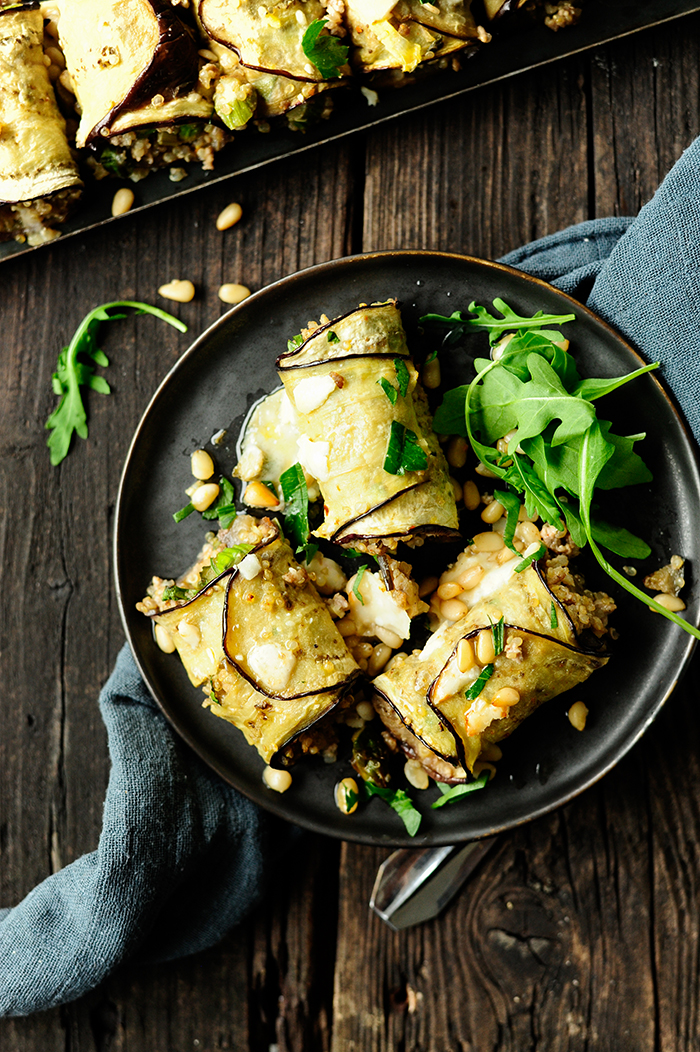 Aubergine rolls filled with asparagus, quinoa and ground beef, baked in the oven with orange juice and parmesan. This makes a delicious snack for an evening with friends.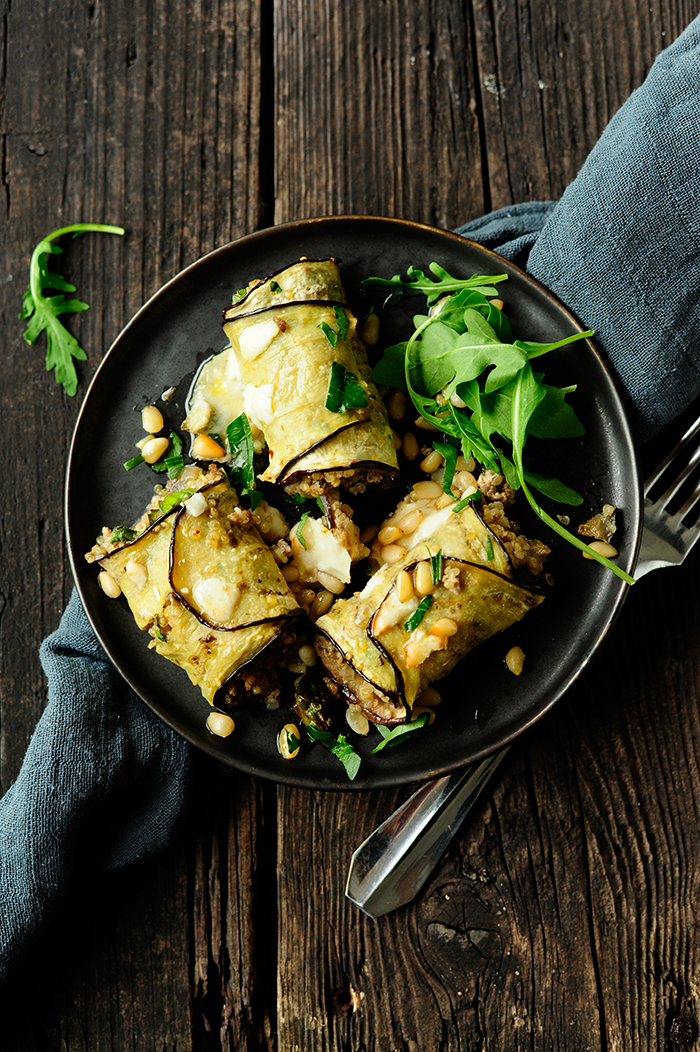 Yield: 20 rolls
Aubergine rolls with asparagus and quinoa
Ingredients
2 aubergines
250 g/9 oz ground beef
100 g/3.5 oz quinoa
10 green asparagus, sliced
1 shallot, finely chopped
4 tbsp Greek yogurt
1 tsp curry powder
4 tbsp chopped parsley
1 tsp sweet paprika
juice from 1 orange
100 g/3.5 oz grated Parmesan
4 tbsp pine nuts
olive oil
salt and black pepper
Also
100 g/3.5 oz arugula
5 tbsp walnut oil
1 tbsp balsamic vinegar
Instructions
Cook the quinoa in salted water.Preheat the oven to 180°C/350°F.
Slice the aubergines thinly lengthwise, place on a baking tray lined with baking paper. Brush each slice with olive oil, season with salt and place for 7 minutes in the oven.Heat 2 tablespoons olive oil in a frying pan and fry the shallot, add the asparagus and simmer for 5 minutes.
Combine the cooked quinoa with ground beef, shallot, asparagus, chopped parsley and Greek yogurt. Season with curry, paprika, salt and pepper.
Place a spoonful of the quinoa mixture at the bottom of the aubergine slices and roll up. Place the rolls on a baking tray lined with baking paper. Drizzle with olive oil, add orange juice and sprinkle with pine nuts and Parmesan. Transfer to oven and Bake for 15 minutes.
Serve with arugula sprinkled with walnut oil and balsamic vinegar, enjoy!
Notes
Calories Per Serving: 147 kcal
Nutritional information is only an estimate. The accuracy of the nutritional information for any recipe on this site is not guaranteed.