Sashimi z łososia i miso jest nie tylko wspaniałe w smaku, ale także niezawodne i gotowe w około 15 minut. Doskonała przystawka na ciepły letni wieczór lub kiedy podane z ryżem na sushi, w mgnieniu oka szybko przekształca się w wspaniały lunch. Yup! Takie wszechstronne danie z surową rybą, tylko jeden przepis, ale z wieloma sposobami na połączenie.
Cienko pokrojony łosoś, sos sojowy i miso, sok z cytryny, kapary i świeży ogórek. Razem tworzą idealny balans pomiędzy łagodnymi, kwaśnymi i słonymi smakami.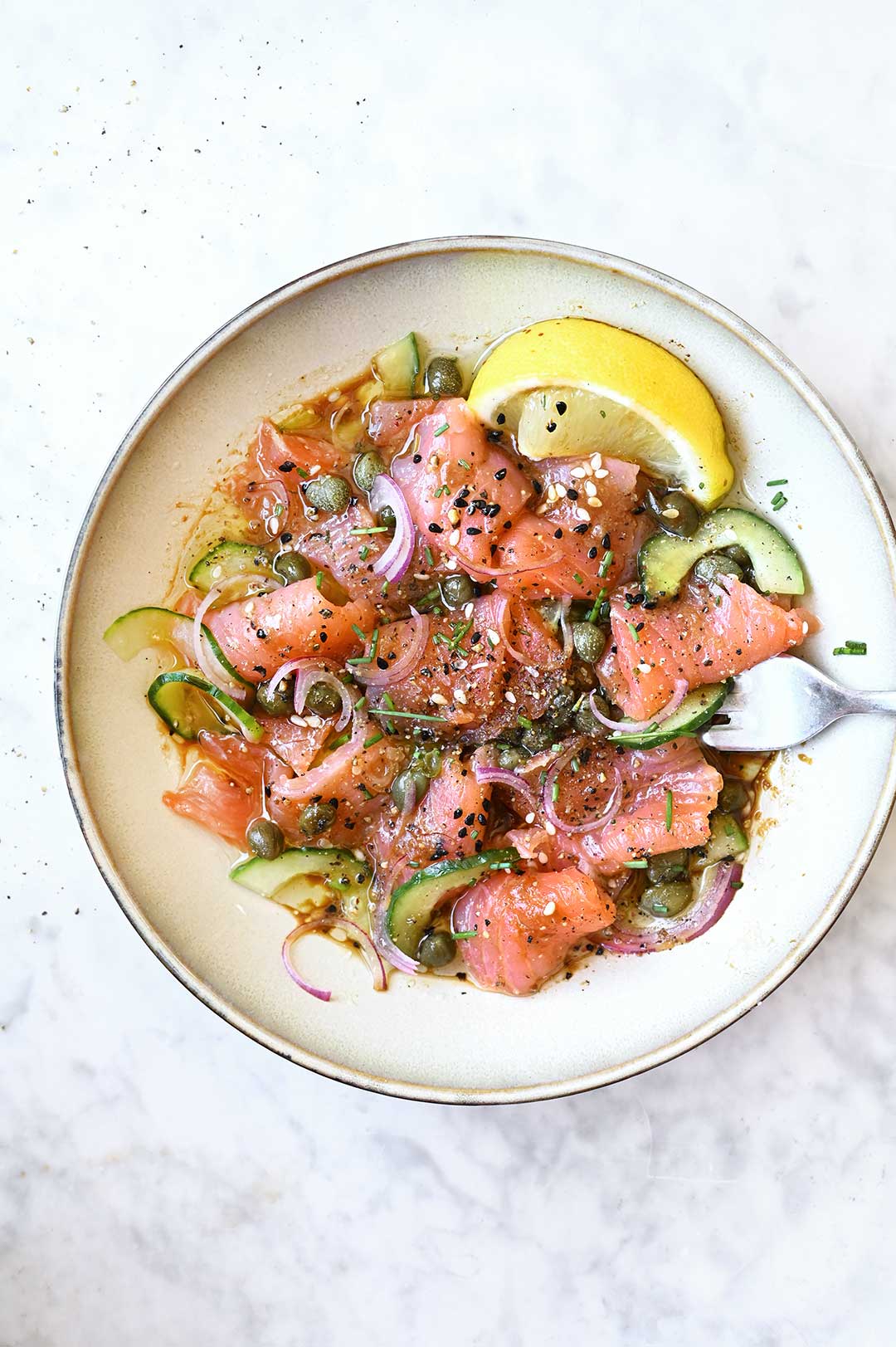 Pasta miso ma głęboki smak, a sok sojowy i cytrynowy dodają charakteru. Są one wspaniałym partnerem tej tłustej ryby. Na pewno myślicie, tylko sos miso i łosoś nie mogą sprawić, by cokolwiek smakowało tak fantastycznie, prawda? Ależ oczywiście, smaki są fenomenalne. A tekstury, są zachwycające.
Ten dressing to prawdopodobnie najlepszy powód, aby trzymać w lodówce małe opakowanie, bogatej w umami, pasty miso. W połączeniu z kilkoma składnikami które na pewno macie w domu, nadaje łososiowi niezwykle bogaty, wyrazisty smak.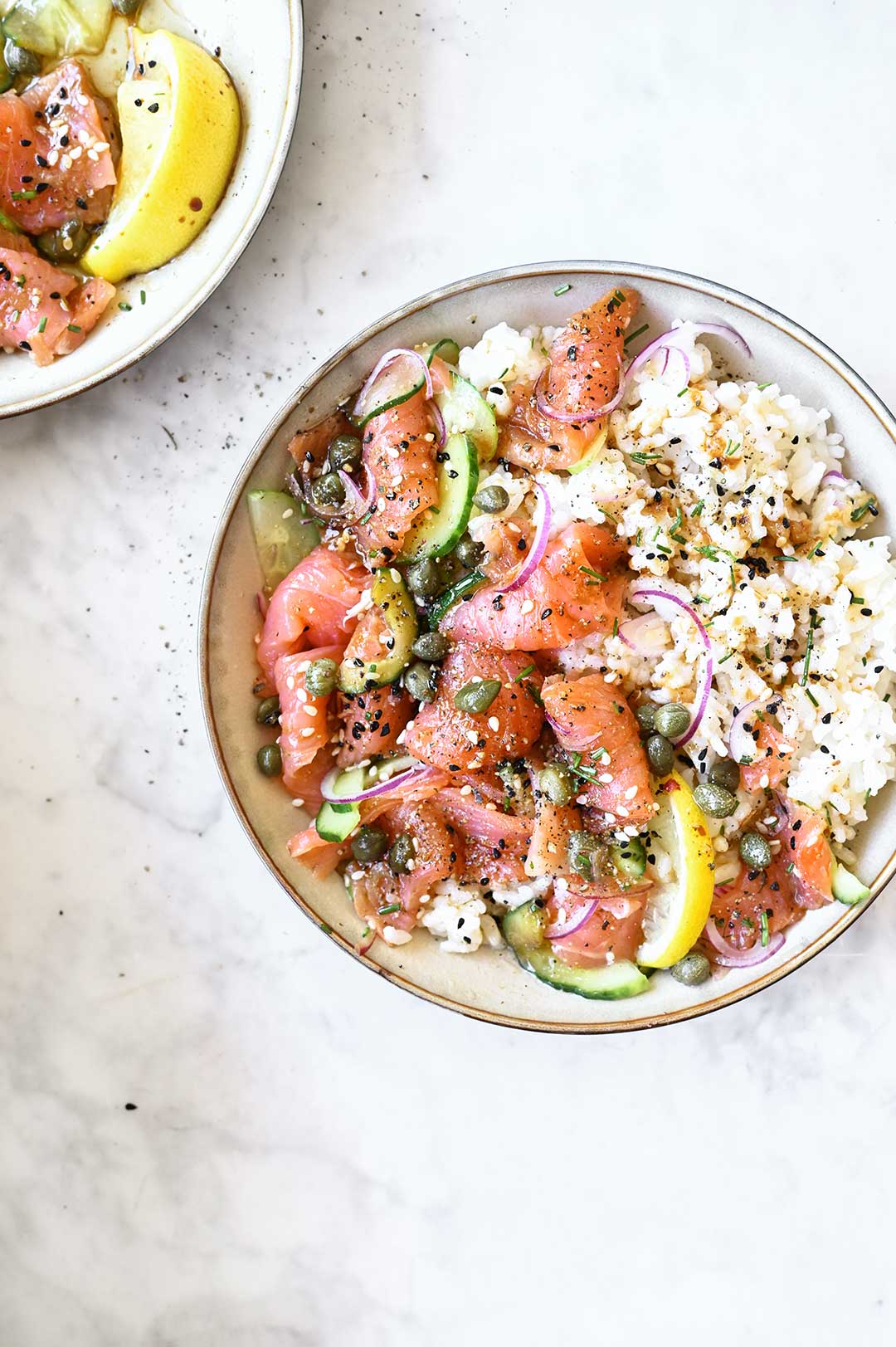 Kiedy podacie to danie na lunch z ryżem, polecam zrobić z ryżem na sushi. Te kilka kawałków jedwabistego łososia od razu dodadzą smaku. Będziecie zaskoczeni, jak coś tak prostego może smakować tak pożywnie i zdrowo. 
Dodatek sosu miso nadaje szybki i efektowny twist. Wchłania w ryż, zachowując jednocześnie jego konsystencję.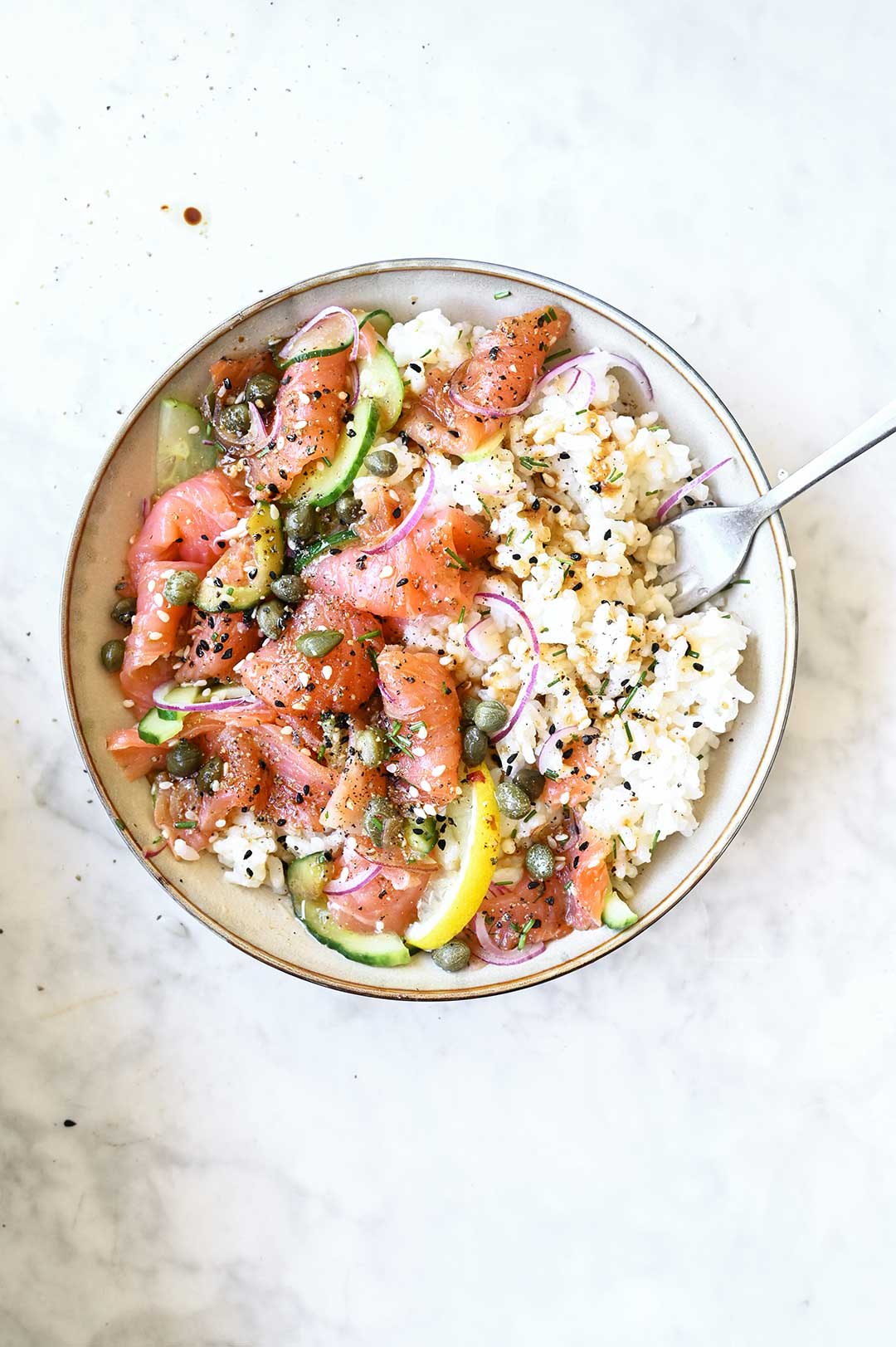 Polecam kupić świeżego łososia, o bardzo dobrej  jakości.
Ten przepis możecie łatwo podwoić, aby podać więcej.
3 inne smaczne przepisy:
Ryż ze szpinakiem i kimchi
Stir fry z bakłażanem i serem halloumi
Orientalna ceviche z łososia
Zostańmy w kontakcie! Zapisz się na mój bezpłatny  NEWSLETTER, by otrzymywać powiadomienia o najnowszych przepisach.
Potrzebujecie
250 g świeżego łososia (na sushi), bez skóry
1 łyżka kaparów
1 mała czerwona cebula, cienko pokrojona
1/2 ogórka, pokrojonego na cienkie plastry
1 łyżeczka ziaren sezamu
1 łyżeczka szczypiorku, drobno posiekanego
sól + pieprz czarny
sos z miso
2 łyżki oliwy z oliwek
2 łyżki oleju sezamowego
1 łyżka sosu sojowego
1 łyżeczka pasty miso
1 łyżka soku z cytryny
1/2 łyżeczki cukru brązowego
+ na miskę z ryżem
1/2 szklanki ryżu na sushi, gotowanego zgodnie z instrukcjami zawartymi na opakowaniu
Tak przygotujecie
Wszystkie składniki na sos z miso wymieszać w małej miseczce.
Używając ostrego noża, pokroić łososia na bardzo cienkie plastry. Ułożyć na misce, nakładając je lekko na siebie. Na wierzchu położyć plasterki ogórka i czerwoną cebulę, posypać sezamem i szczypiorkiem.
Pokropić sosem z miso. Doprawić lekko solą i pieprzem. Dodać kapary i położyć cytrynę na boku. Podać od razu. Smacznego!
Kiedy podacie jako zdrowy lunch lub lekką kolację z ryżem, polecam podwoić  składniki na sos z miso.
Jeśli wypróbujesz ten przepis, zostaw proszę komentarz poniżej lub oznacz mnie @anna_s_table na swoim profilu Instagram'a, chętnie tam zajrzę.