Turkse eieren met knoflookyoghurt, opgeklopte ricotta en een pittige beurre noisette.
De magie van warme eieren en een frisse romige yoghurt opgeklopt met ricotta, zal je zeker verbazen.
Velen serveren eieren of yoghurt als ontbijt, maar meestal nooit samen. Maar er is een traditioneel Turks gerecht çilbir met gepocheerde eieren geserveerd over knoflookyoghurt. Maar terwijl we allemaal van een goed gepocheerd ei houden, hebben we soms wat minder tijd om ze te maken. Met dit recept maak je van je ontbijt of lunch een eenvoudig magisch gerecht.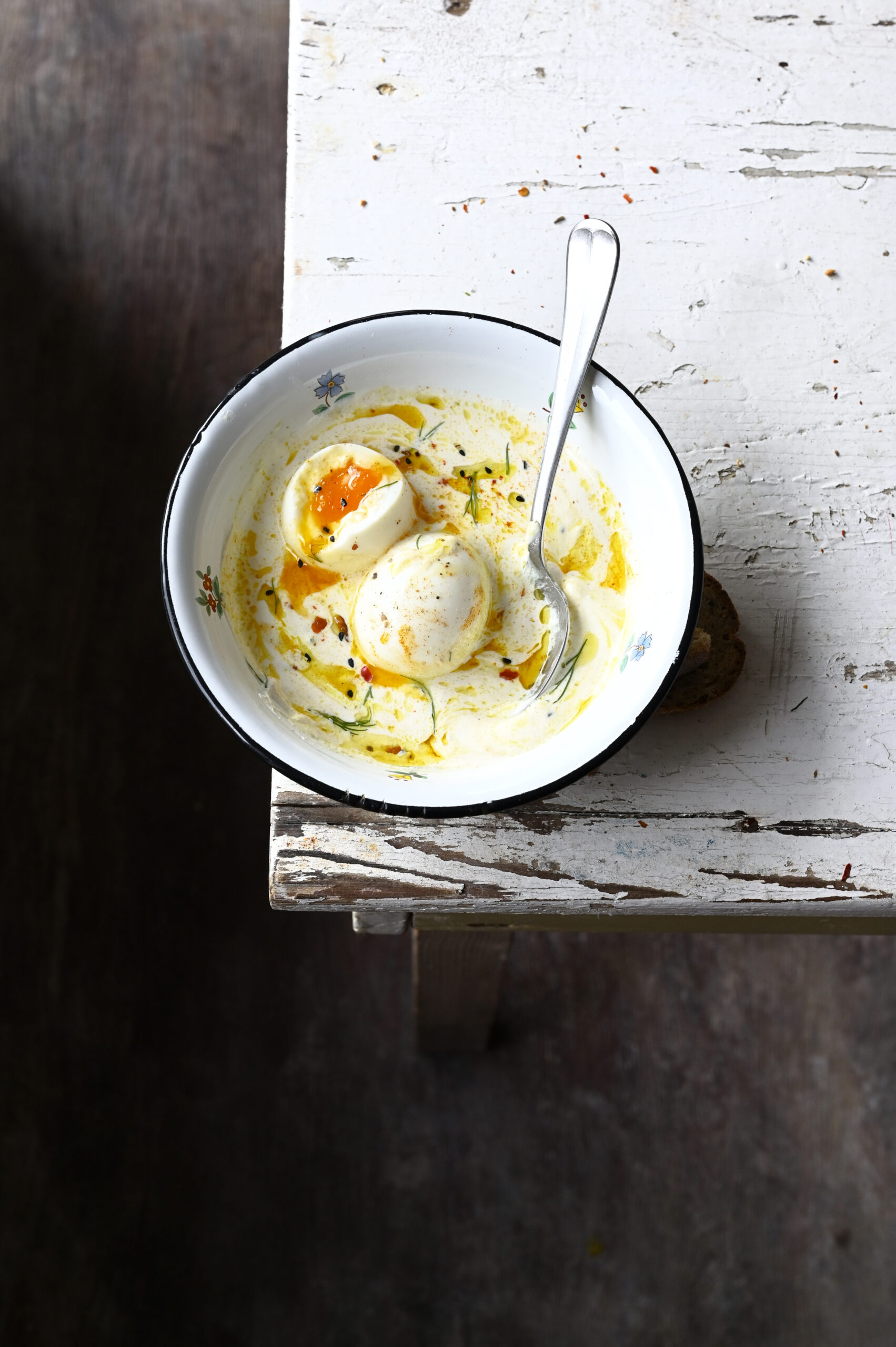 Maar het is niet alleen de combinatie van eieren en yoghurt die dit recept zo speciaal maken. We geven een draai aan het klassiek gerecht en kloppen de yoghurt op met ricotta, een snufje za'atar en sumac. Alhoewel de sleutel voor heerlijke Turkse eieren de pittige beurre noisette is, maken wij een mix van roomboter met olijfolie, chili en gerookt paprikapoeder. Vrij eenvoudig, maar het geeft mega veel smaak. Een van de beste sauzen die je bij eieren kan serveren. Echt verslavend. Lekker met een knapperige toast gebakken in boter. 
Een heerlijk gerecht, perfect voor drukke ochtenden of lunches, maar nog beter voor late avonden!
3 andere heerlijke ontbijtgerechten:
Broodjes gebakken met ei, spinazie en feta
Gezonde havermout pannenkoeken
Toast champignon met room, kip en een eitje
Wil je op de hoogte blijven van mijn nieuwe recepten? Abonneer je dan op mijn NIEUWSBRIEF.
Dit heb je nodig
knoflookyoghurt met ricotta
100 g ricotta
200 g Griekse yoghurt
1 teentje knoflook, uitgeperst
1/2 tl za'atar
1/2 tl sumac
zeezout + zwarte peper
2 eieren of 4 als je erg hongerig bent
beurre noisette met chili
2 el roomboter
1 el olijfolie
1/2 tl chilipoeder
1/2 tl gerookt paprikapoeder
zeezout
om te serveren
dille, zwarte peper, sesamzaad, za'atar + sumac
toast
IF YOU LOVE THESE RECIPES … please consider supporting my work for just the cost of a cup of coffee.

Zo maak je het
Breng water aan de kook in een pannetje. Leg de eieren erin en laat ze 5 minuten koken.
Klop de ricotta op met yoghurt. Voeg za'atar, sumac en knoflook toe en breng op smaak met zout en peper.
Laat de boter in een kleine koekenpan smelten, voeg zout toe. Bak op een laag vuurtje en roer regelmatig tot de boter begint te schuimen. Voeg olijfolie, chilipoeder en gerookt paprikapoeder toe en laat het geheel ongeveer 1 minuut doorbakken. Haal de koekenpan van het vuur.
Doe het yoghurt-ricotta mengsel op de bodem van de kommetjes. Leg de eieren erbovenop en schep de beurre noisette erover. Bestrooi met sesamzaad, verse dille en zwarte peper. Breng op smaak met extra za'atar en sumac. Serveer met een goudbruin gebakken toast. Smakelijk!
Als je dit recept uitprobeert, laat dan hieronder een reactie achter of deel je foto's op Instagram en vergeet niet om mij te taggen @anna_s_table. Ik kijk ernaar uit!