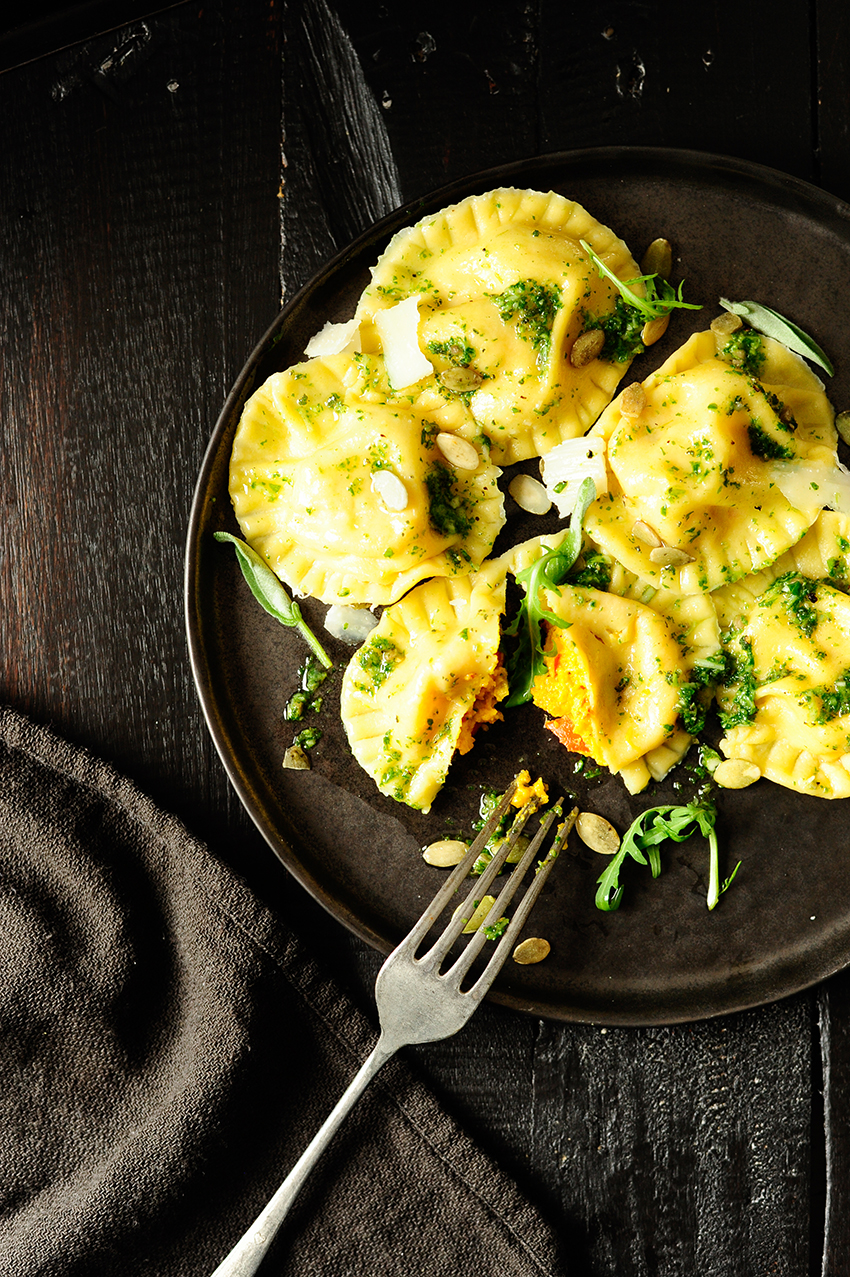 Ravioli met een zachte vulling van geroosterde pompoen en ricotta. Serveer ze met een eenvoudige saliepesto en geroosterde pompoenpitten en je hebt een bijzonder heerlijke maaltijd, gegarandeerd!
Dit heb je nodig
het pastadeeg
400 g bloemtype 500 of semola rimacinata
4 bio eieren
4 el olijfolie
4 el water
snufje zout
de vulling
400 g pompoen, zonder zaadjes, in blokjes gesneden
100 g ricotta
4 el olijfolie
2 takjes tijm
2 teentjes knoflook, fijngehakt
1 sjalot, fijngesneden
1/2 tl nootmuskaat
zout en zwarte peper
de pesto
20 g rucola
8 g salieblaadjes
2 teentjes knoflook, fijngehakt
70 ml olijfolie
30 g geraspte Parmezaanse kaas
30 g zonnebloempitten
1 el citroensap
zout en zwarte peper
alsook
8 el pompoenpitten, geroosterd in een droge pan
Zo maak je het
Meng de pompoen, tijm, knoflook en sjalot met zout, peper, nootmuskaat en olie. Leg ze op een bakplaat en bak in een voorverwarmde oven op 190°C gedurende ongeveer 20 minuten.
Doe de bloem, eieren, olie, water en zout in de mengkom van je keukenmachine en laat 5 minuten draaien op een matige snelheid. Rol het dan met de hand tot een bal. Dek af en zet apart.
Doe de geroosterde pompoen in een kom en stamp fijn met een pureestamper, voeg de ricotta toe en breng op smaak met zout en peper.
Verdeel het deeg in 4 stukken. Bestuif met wat bloem en rol ze uit tot lange dunne lappen of haal het deeg doorheen de pastamolen.
Plaats toefjes vulling op een deeglap. Bestrijk het deeg met water rond de toefjes. Plaats een tweede lap voorzichtig over de vulling, druk het aan zodat er geen lucht in de pakketjes achterblijft. Gebruik een glas om de ravioli uit te snijden. Druk de randen lichtjes aan met een vork.
Kook in zout water gedurende ongeveer 3-5 minutes, de kooktijd kan variëren naargelang de dikte van uw deeg. Haal ze uit het water met een schuimspaan.
Plaats alle ingrediënten voor pesto in een keukenmachine en mix.
Serveer de ravioli met de pesto en bestrooi met geroosterde pompoenpitten. Smakelijk!