Pasta met asperges, spekjes en Parmezaanse kaas in een bruine botersaus. Makkelijk te maken en overheerlijk. Dit gerecht is een absolute aanrader voor een drukke doordeweekse avond of op je volgende date night. We gebruiken enkel eenvoudige ingrediënten, maar transformeren ze in een regelrechte smaakbom. En als extra bonus kan je erop rekenen dat alles klaar is in ongeveer 20 minuten. Een echte aanrader.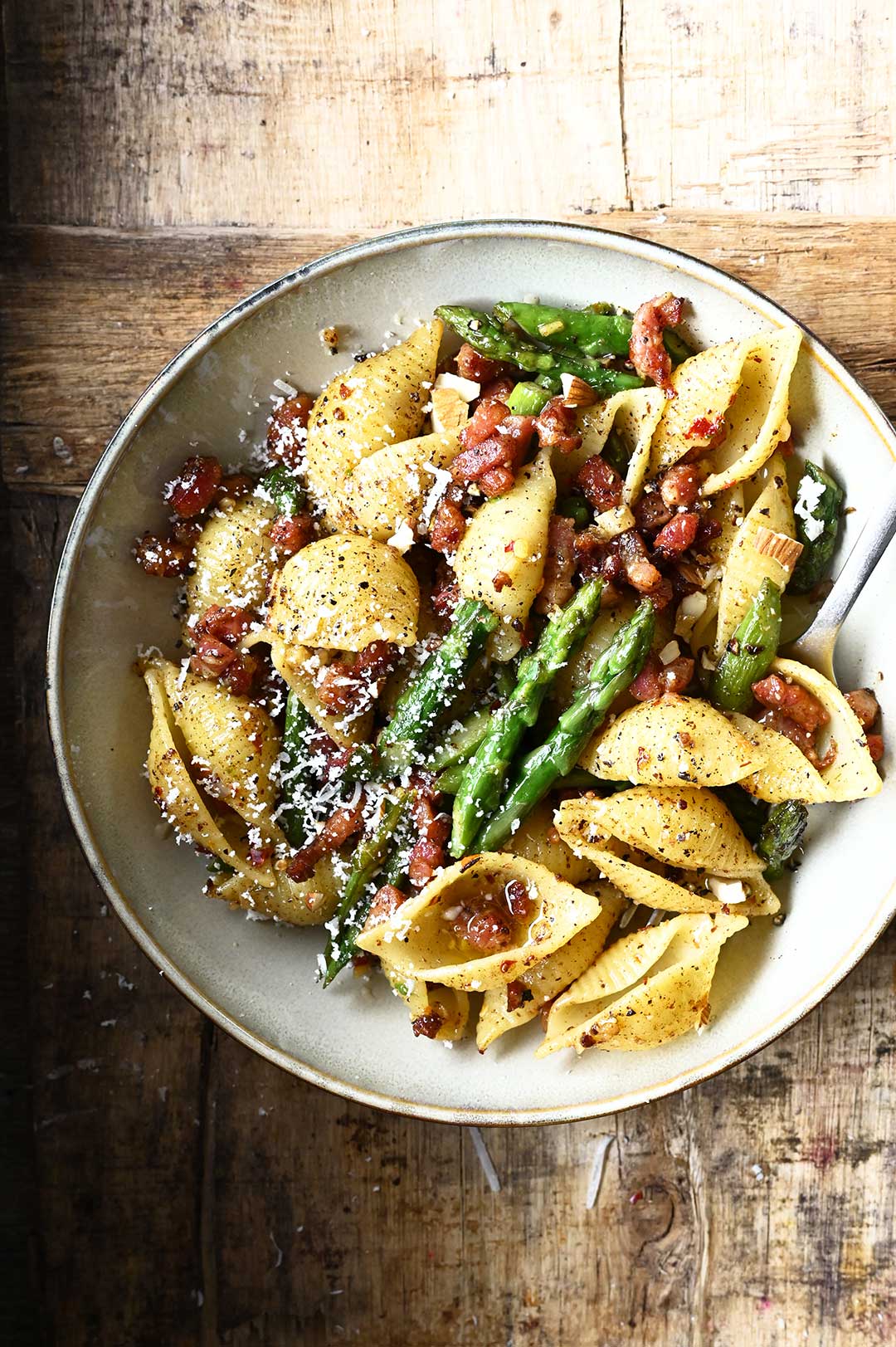 We beginnen met het spek te bakken, daarna doen we er de asperges, knoflook en peper bij. Dan maken we de beurre noisette en mengen alles samen met pasta. Dan voegen we wat Parmezaanse kaas en kookvocht toe en mengen alles in de rijke botersaus. Het resultaat ziet er niet alleen fantastisch uit maar is ook verbluffend lekker.
Bekijk mijn VIDEO om te zien hoe makkelijk je dit gerecht kan maken.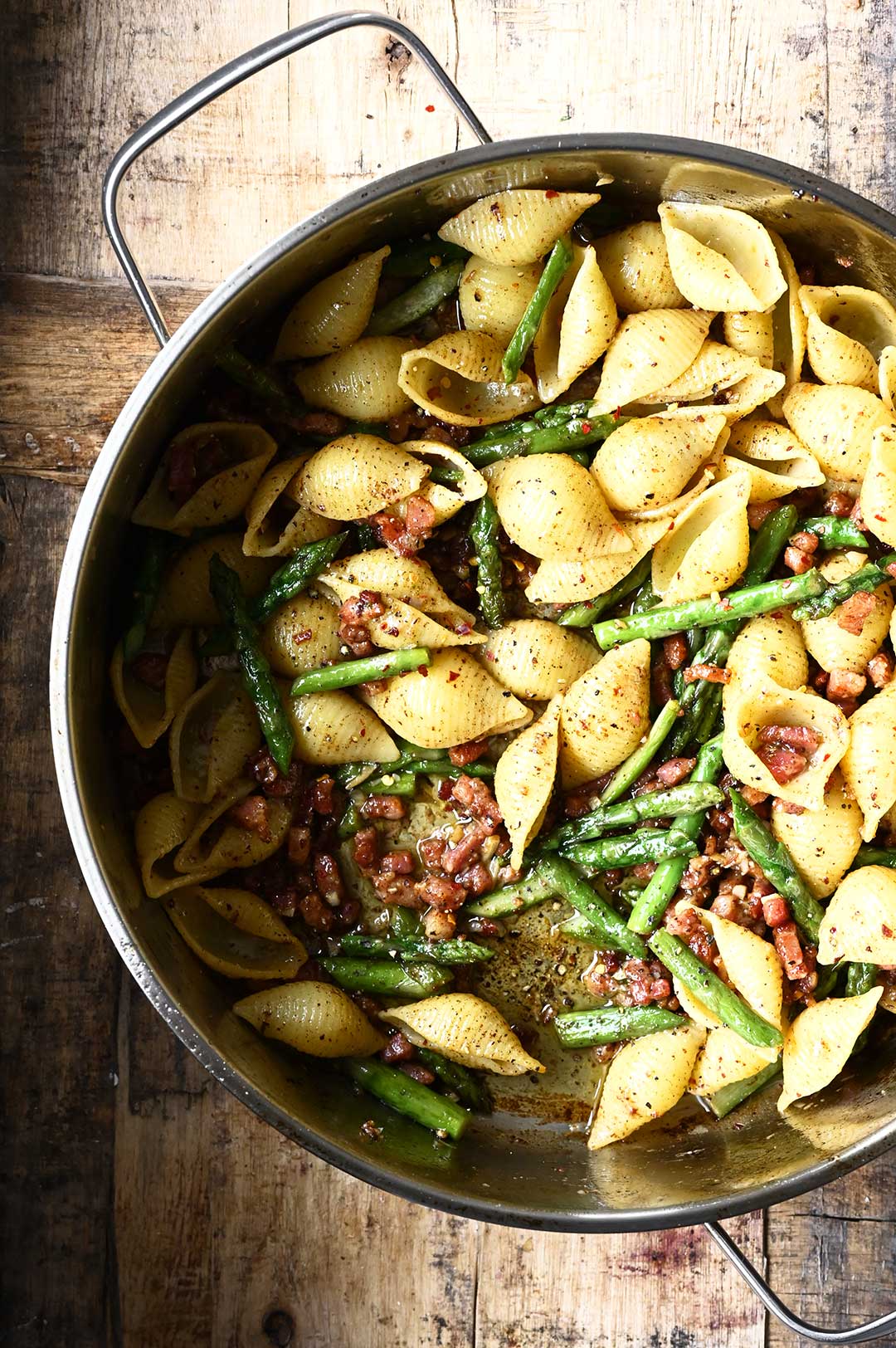 TIPS
– je kan in plaats van gezouten spek ook pancetta gebruiken, of het helemaal weglaten voor een vegetarische versie
– vervang amandelen door walnoten, pijnboompitten, hazelnoten of zonnebloempitten
– als je geen schelpjes kan vinden, kan je deze moeiteloos vervangen door orecchiette of één van je favoriete pastavormen die de saus kunnen opvangen.
More pasta, please!
Pasta met gerookt spek in tomatensaus
Pasta met beurre noisette, broccoli en walnoten
Pasta met spicy beurre noisette en miso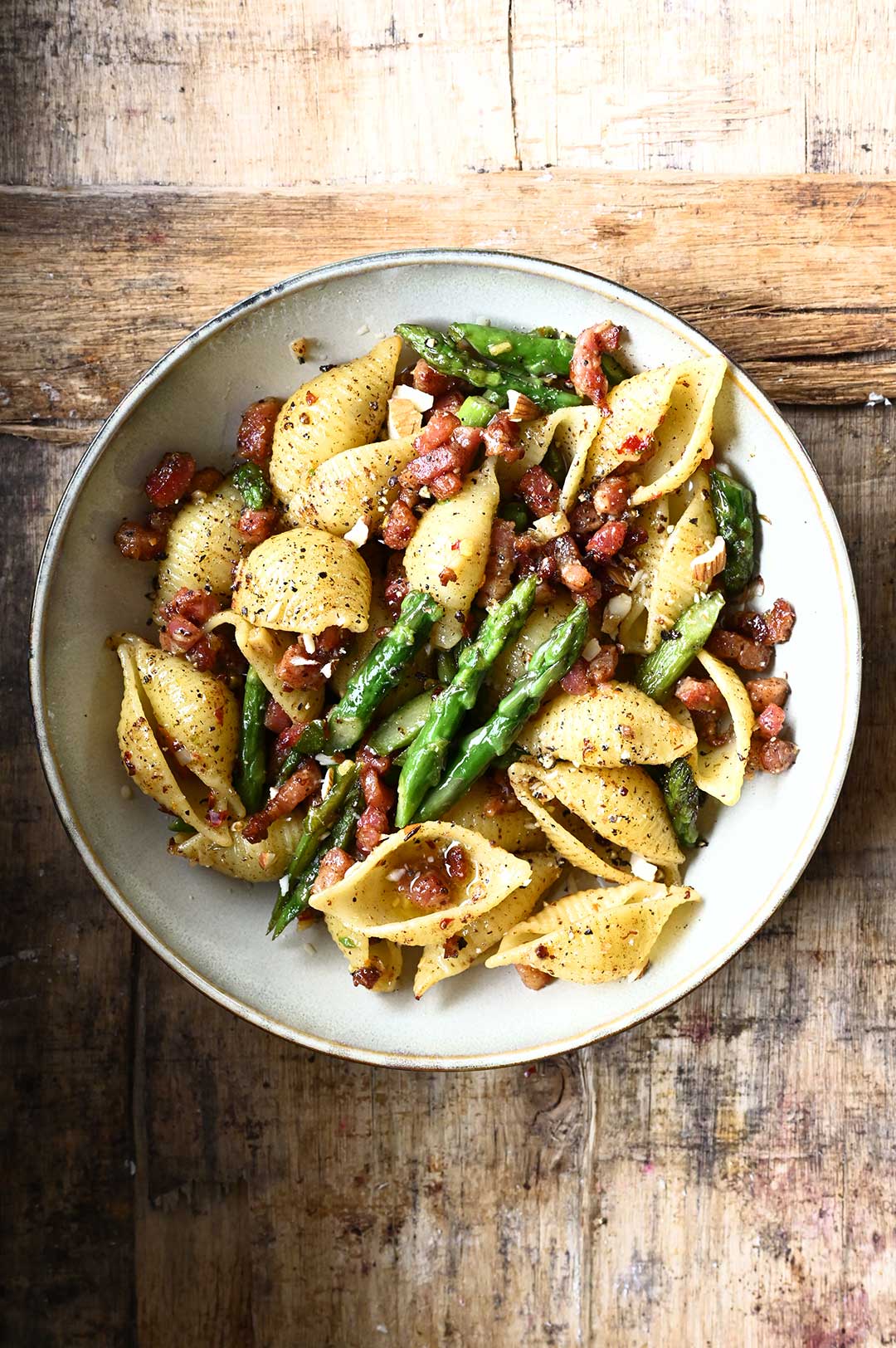 Dit heb je nodig
200 g pasta, zoals schelpjes of orecchiette
150 g groene asperges
200 g gezouten spekreepjes
3 teentjes knoflook, fijngehakt
60 g gezouten boter, op kamertemperatuur
2 el olijfolie
1 tl gedroogde chilipeper
zout
2 tl zwarte peper
30 g geraspte parmezaanse kaas, meer om te serveren
gedroogde chilipeper en zwarte peper, om te serveren
2 el gehakte amandelen, om te serveren (optioneel)
Zo maak je het
Bekijk mijn VIDEO om te zien hoe makkelijk je dit gerecht kan maken.
Breek het onderste gedeelte van de asperges af. Snijd de grotere asperges in de lengte doormidden en snijd ze vervolgens in hapklare stukken.
Kook de pasta in een grote pot kokend, royaal gezouten water. Giet af en bewaar 1/2 kopje kookwater.
Verhit de olijfolie in een grote koekenpan op middelhoog vuur. Voeg het spek toe en bak, ongeveer 5 minuten tot het goudbruin begint te worden. Voeg de asperges toe en bak, ongeveer 3-5 minuten tot ze zachter beginnen te worden. Voeg knoflook toe en fruit, ongeveer 2 minuten. Roer zout, zwarte peper en rode pepervlokken erdoor. Haal uit de pan.
Verhit in dezelfde koekenpan de boter op matig vuur. Bak de boter 2-3 minuten, terwijl je voortdurend roert tot de boter begint te schuimen en te bruinen. Doe het spek en de asperges terug in de pan en roer alles goed door elkaar. Schep de pasta en de Parmezaanse kaas erdoor, voeg 1/4 kopje kookwater toe en roer.
Verdeel de pasta over kommen en werk af met Parmezaanse kaas, gemalen zwarte peper en gehakte amandelen. Eet smakelijk!