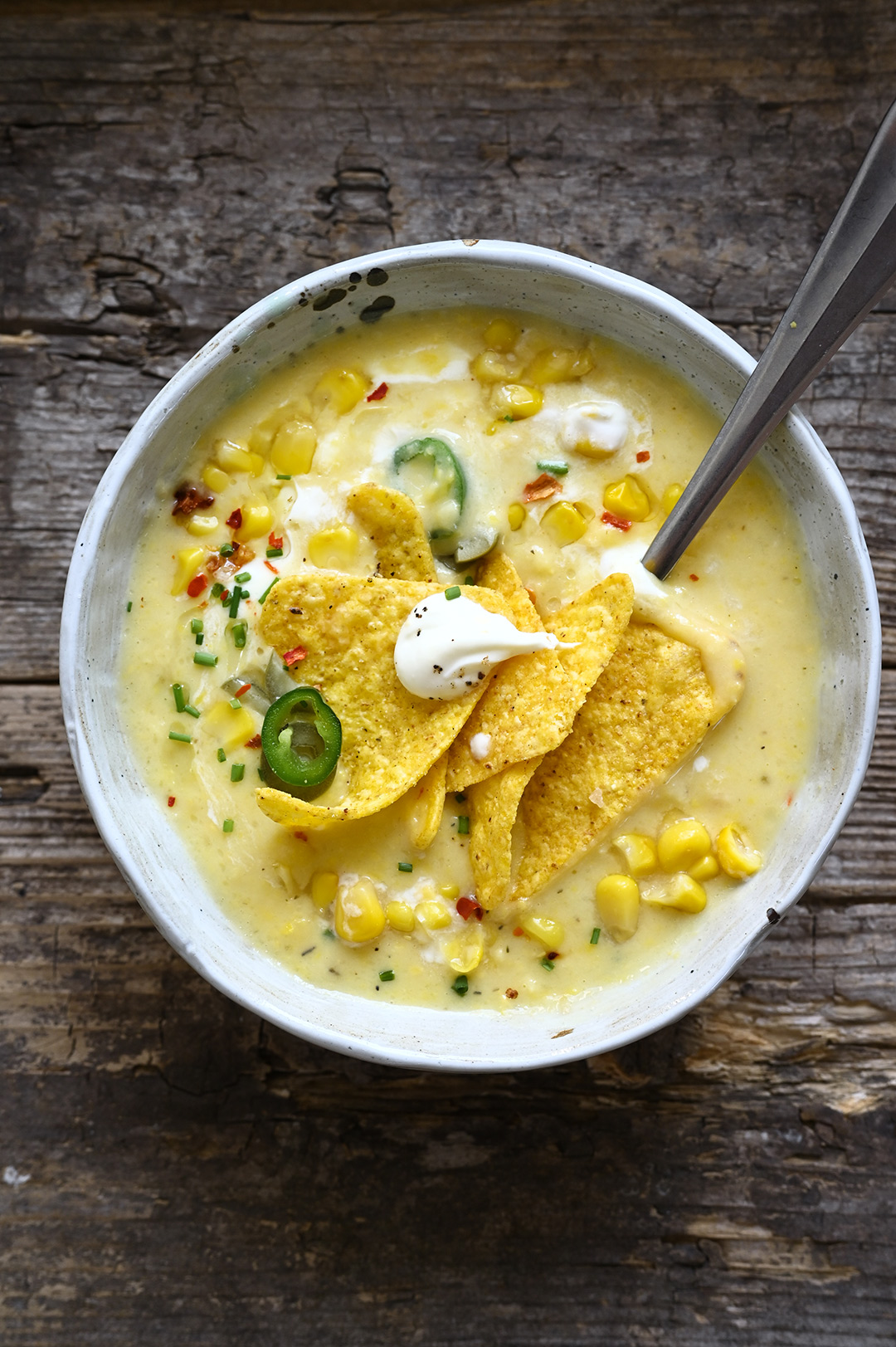 Een pikant maïssoepje? Niet alledaags, wel lekker en makkelijk te maken.
Deze romige maïssoep heeft een perfecte balans tussen zoete, kruidige en hartelijke smaken, is stevig en met een boterham erbij is dit het ideale avondeten of lunch. Serveer met knapperige nacho's, zure room en jalapeños.
Waarschijnlijk heb je alle ingrediënten bij de hand, want deze soep is ook heerlijk met maïs uit blik. Maar als je verse gebruikt, dan moet je zeker de maïskolven meekoken. Het is een eenvoudige truc die voor extra smaak en diepte zorgt.
Dit heb je nodig
8 maïskolven (bladeren en draden verwijderd), of 2 blikken maïskorrels
3 kleine aardappelen, geschild en in blokjes gesneden
100 g cheddar
1 sjalot, fijngehakt
4 tenen knoflook, fijngehakt
het wit van 1 kleine prei, dun gesneden
1/2 selderijstengel, fijngehakt
1/2 tl tijm
1/2 tl marjolein
1/2 tl oregano
1 laurierblad
1 tl citroensap
1 L groentebouillon
250 ml melk
2 tl gehakte jalapeños
3 el olijfolie
zeezout + zwarte peper
+ nacho's, jalapeños, gehakte bieslook, zure room voor de afwerking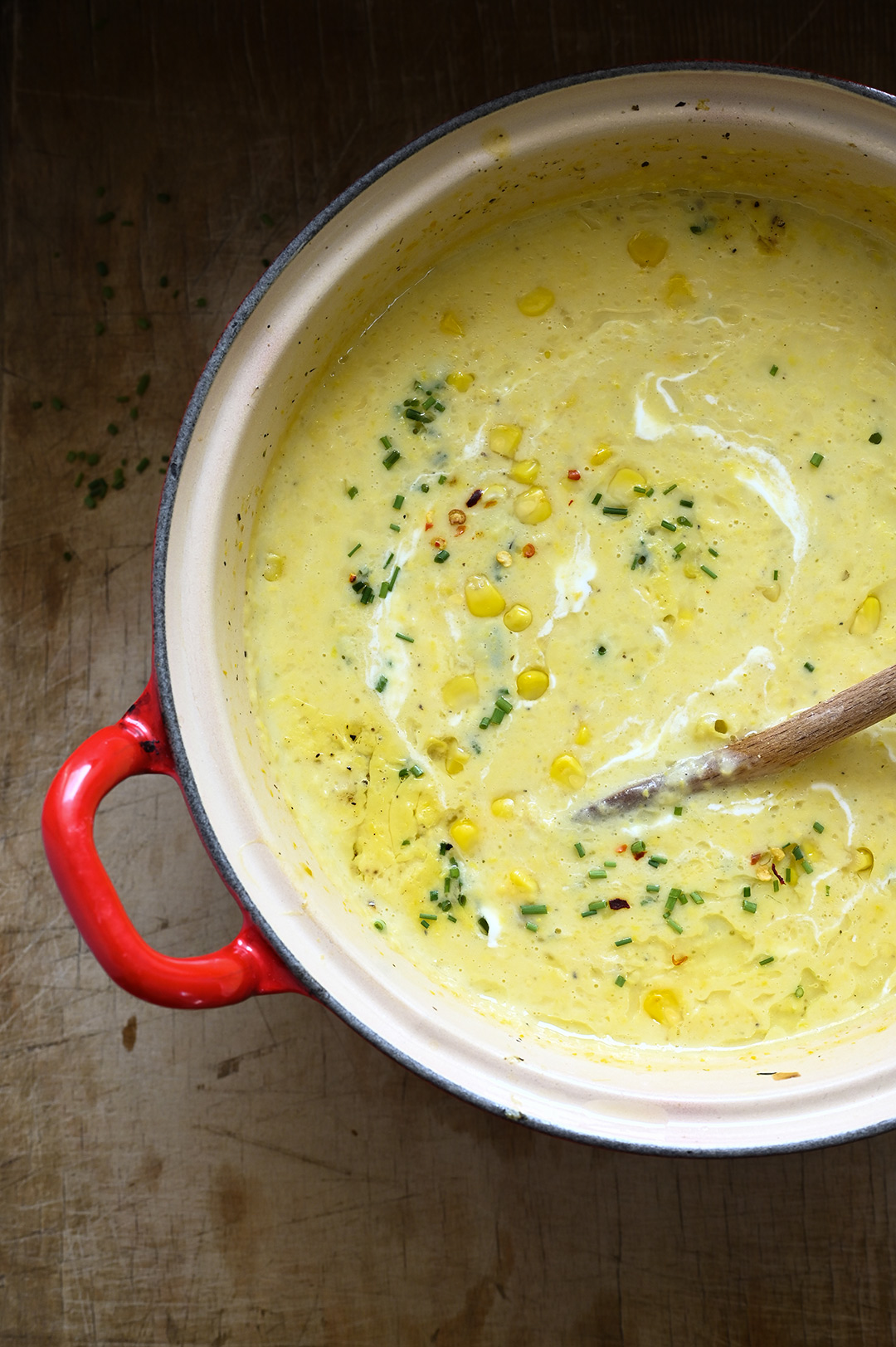 Wil je op de hoogte blijven van mijn nieuwe recepten? Abonneer je dan op mijn NIEUWSBRIEF.
Zo maak je het
Als je verse maïs gebruikt: Houd de kolven schuin en snijd de korrels van boven naar beneden met een scherp mes af. Doe de korrels in een kom en houd 4 kolven opzij, gooi de rest weg.
Verhit de olijfolie in een middelgrote pot. Voeg de sjalot, selderij, prei, knoflook en laurier toe. Dek af en stoof tot de sjalot zacht wordt, ongeveer 5 minuten, roer af en toe. Doe de aardappelen, 3/4 van de korrels, tijm, oregano en marjolein erbij. Voeg groentebouillon en de 4 kolven toe, breng het geheel aan de kook. Laat het vuur zachtjes koken en roer af en toe, tot de aardappelen gaar zijn, ongeveer 20 minuten.
Verwijder de kolven en het laurierblad. Voeg melk, cheddar en jalapeños toe. Gebruik een handmixer om de soep pureren. Voeg de resterende korrels toe en kook nog 10 minuten verder. Breng op smaak met zout en peper.
Schep de soep op in kommen en verdeel de nacho's, jalapeños en zure room erover. Bestrooi met bieslook. Smakelijk!
Als je dit recept uitprobeert, laat dan hieronder een reactie achter of deel je foto's op Instagram en vergeet niet om mij te taggen @anna_s_table. Ik kijk ernaar uit!