Kip met bloemkool in een heerlijk sojasausje, makkelijk genoeg om te maken na een drukke dag op het werk, maar zo lekker dat je smaakpapillen je eeuwig dankbaar zullen zijn. Een supersnel gerecht boordevol smaak! De kip is onwerkelijk sappig en mals terwijl de bloemkool een knapperige bite heeft. Het is hartelijk, licht pikant en met een zachte gember-knoflook toets. Om deze maaltijd compleet te maken kunnen we, terwijl we de kip bereiden, snel wat rijst of noedels koken. Extra bonus? Het is klaar in ongeveer 25 minuten. May the funk be with you!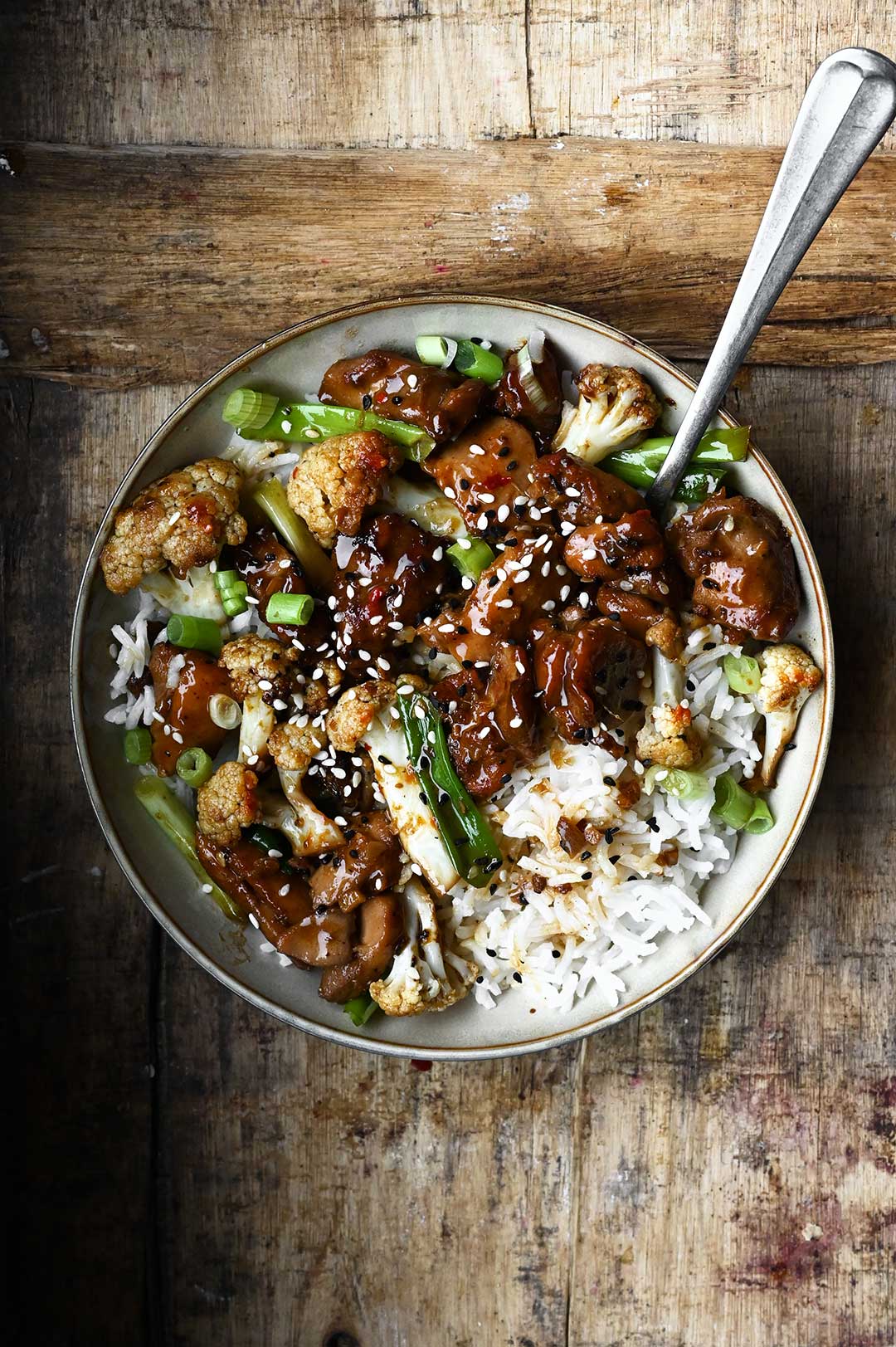 En de saus? Die is sticky, super hartig en een beetje pittig… geen paniek, je kan hem natuurlijk zo pikant maken als je zelf wil. Hij is gemaakt met enkele onvervalste smaakbommen zoals sojasaus, sesamolie, tahini, chilisaus, gember en knoflook. Je zal het heerlijk vinden!
Bekijk mijn VIDEO om te zien hoe makkelijk je dit gerecht kan maken.
NOTITIES
Je kan bijna alle groenten gebruiken in plaats van de bloemkool, vers of bevroren, en meekoken in de saus (vb. broccoli, sperziebonen, wortels of maïs).
In plaats van noedels of rijst kan je zeker ook courgetti gebruiken.
Voeg noten toe voor wat meer knapperige texturen (vb. cashewnoten of pinda's).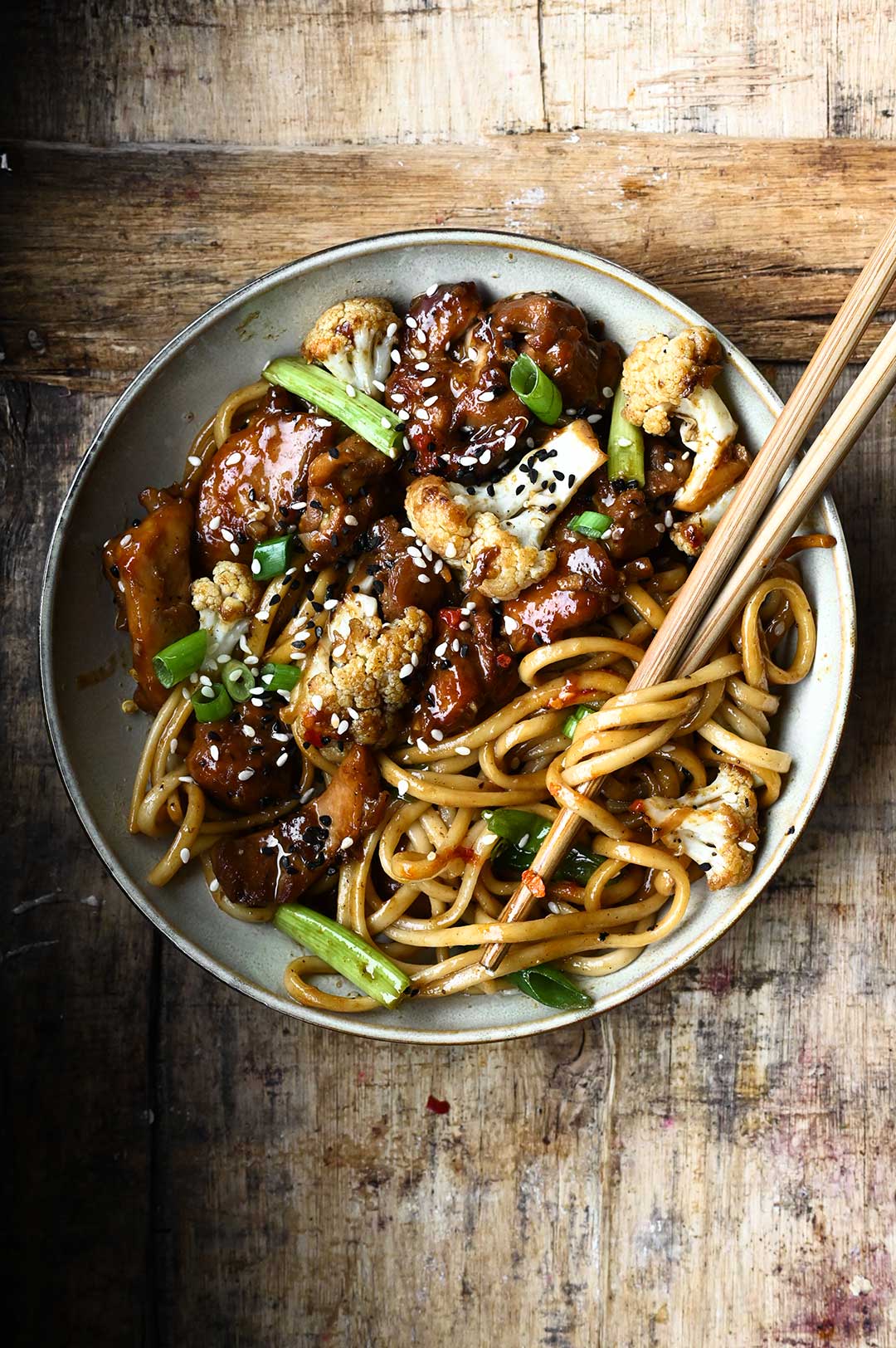 Meer makkelijke gerechten:
Spicy noedels met shiitakes en knoflook
Honing knoflook kip
Wok met runderreepjes en shiitakes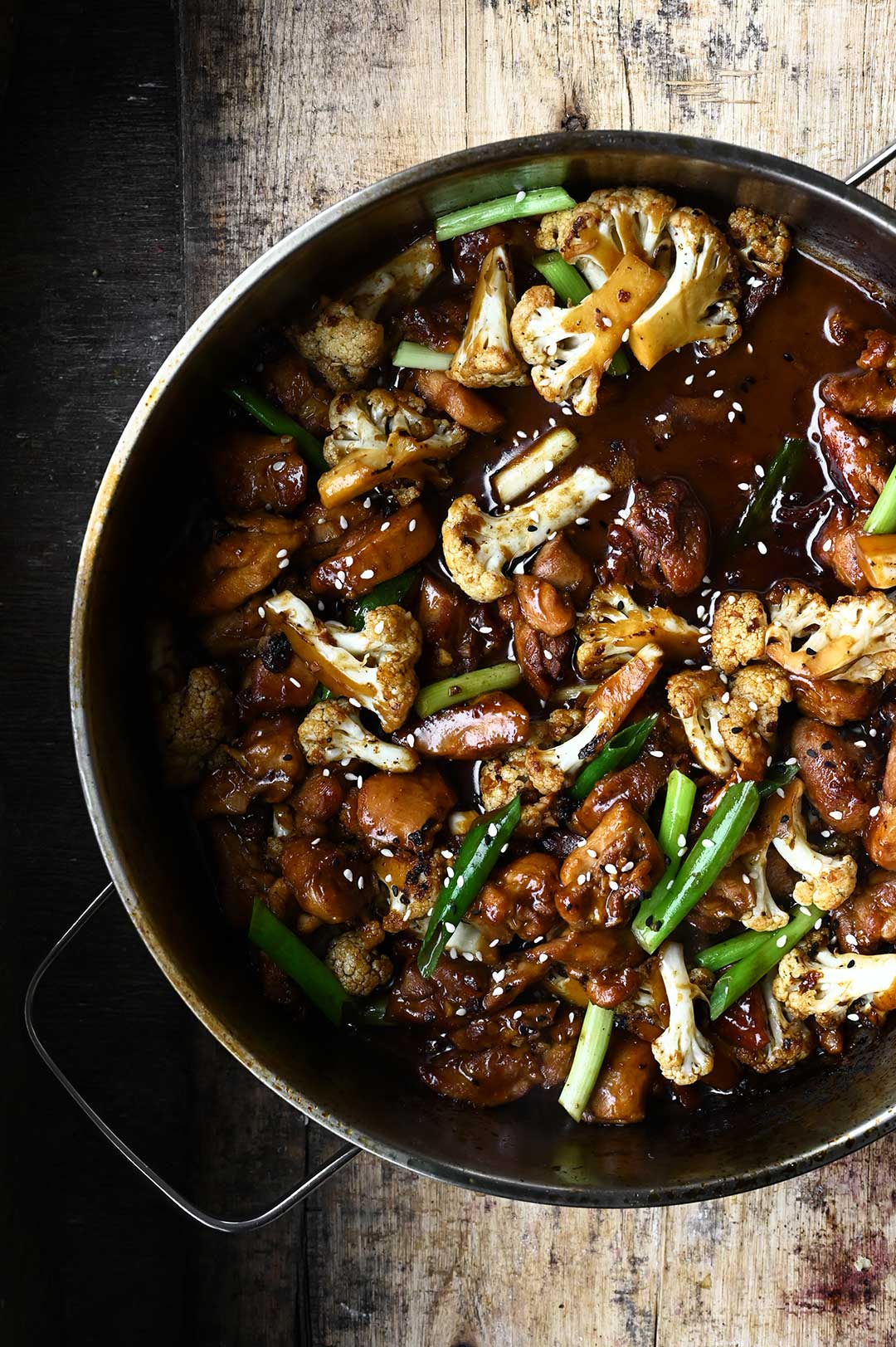 Dit heb je nodig
1/2 kleine bloemkool, in roosjes gesneden en vervolgens in kleine hapklare stukjes
500 g kippendijfilets, in dunne plakjes gesneden
arachideolie
2 el maïszetmeel
4 teentjes knoflook, fijngehakt
1 tl geraspte gember
5 lente-uitjes, in kleine stukjes gesneden
sesamzaadjes, om te serveren
120 g noedels of rijst
sausmix
120 ml donkere sojasaus met verlaagd zoutgehalte
3 el geroosterde sesamolie
2 el chili-knoflooksaus
1 el tahini
1 tl sambal, optioneel
1 el rijstazijn
1 el honing
1/4 tl witte peper
Zo maak je het
Bekijk mijn VIDEO om te zien hoe makkelijk je dit gerecht kan maken.
Meng in een middelgrote kom de stukjes kip met maïszetmeel en 1 eetlepel olie. Zet opzij.
Kook de rijst of noedels. Giet af en bewaar 1/2 kopje kookwater.
Doe de ingrediënten voor de saus in een glazen pot. Schud en zet opzij.
Verhit 3 eetlepels olie in een grote koekenpan op hoog vuur. Als de olie glinstert, voeg dan de kip toe en bak tot het krokant is, ongeveer 5 minuten, roer af en toe. Haal de kip uit de pan.
Verhit opnieuw 3 eetlepels olie in de koekenpan. Voeg de bloemkoolroosjes toe en bak tot ze lichtbruin zijn, ongeveer 5 minuten. Doe de kip weer in de pan. Giet de sausmix erbij. Doe de knoflook en gember erbij. Kook op middelhoog vuur tot de saus dikker begint te worden. Voeg 1/2 kopje kookwater toe en laat 5 minuten op laag vuur sudderen. Roer de lente-uitjes erdoor en haal de pan van het vuur.
Verdeel de rijst of noedels over kommen en leg er de kip en bloemkool op. Serveer met extra lente-uitjes en sesamzaadjes. Eet smakelijk!