Heerlijke asperges, zoete aardappel met knapperige randen, zachte aubergine en romige hummus. Wie kan dit weerstaan?! En daar nog za'atarolie en crunchy kikkererwten bij. Serveer met warm pitabrood en dippen maar.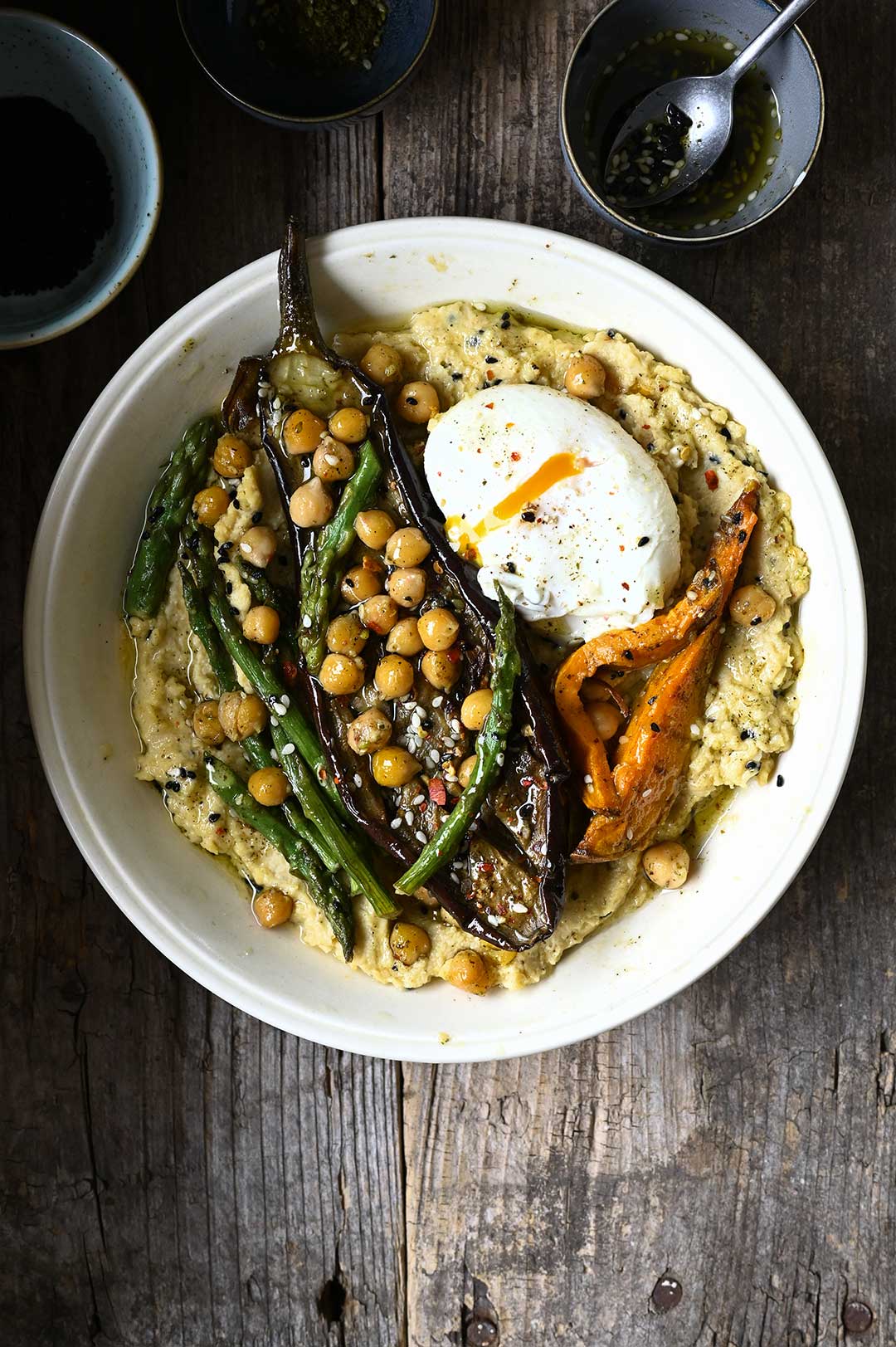 Hummus op zich is verslavend lekker. Maar de toppings maken het in dit geval helemaal af. De toppings geven net die extra bite. Ik serveer graag de mijne met geroosterde groentjes of zelfs vers fruit in de zomer, fris en zoutig is heerlijk bij elkaar. Ideaal als lunch of borrelhapje. En de restjes zijn perfect voor een lunchpakket!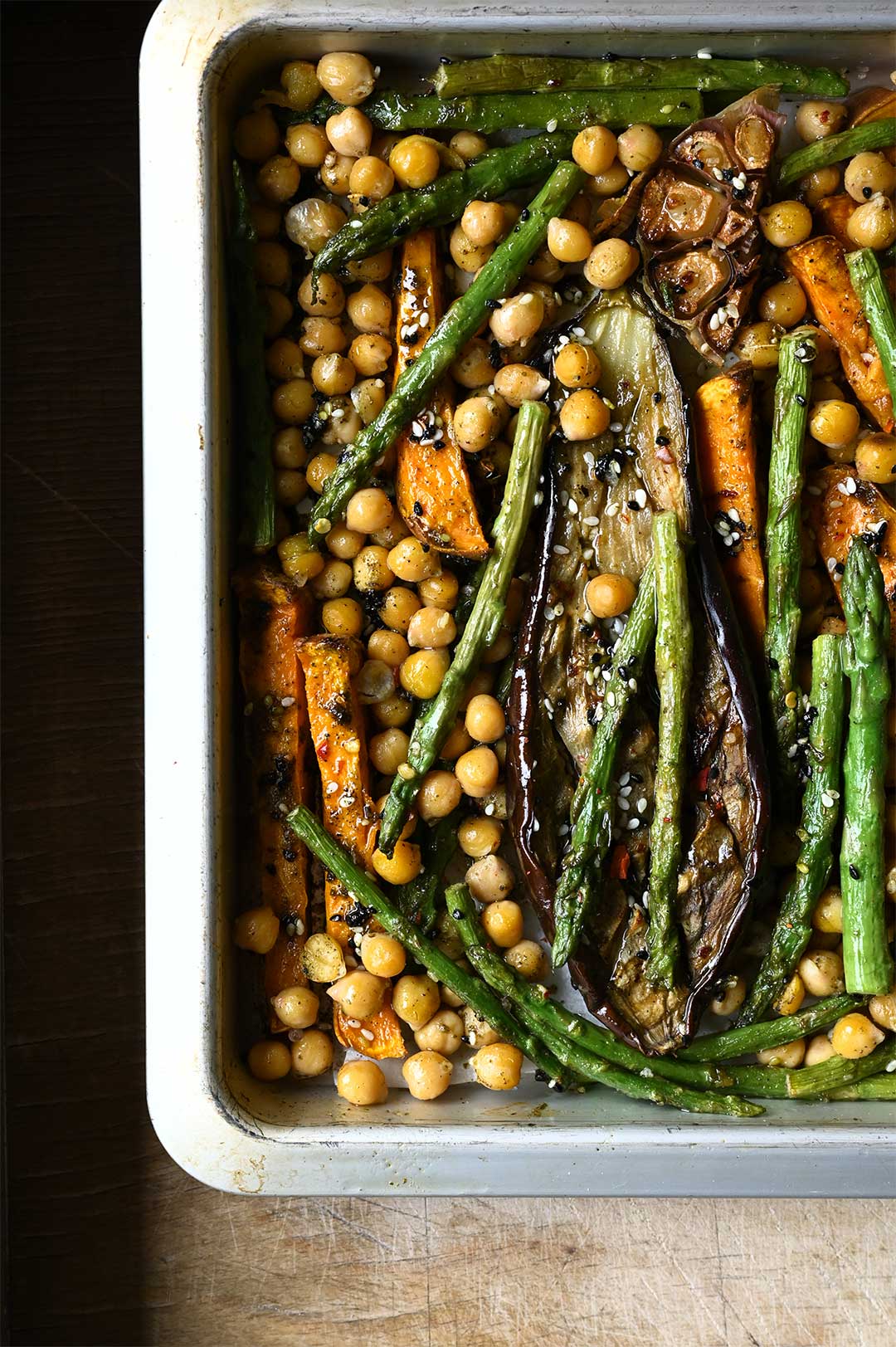 En dan is er nog de mish mash van laagjes en texturen! De eerste hap zijn ongetwijfeld de geroosterde groenten waar de kruidenolie vanaf druipt, en als je dieper gaat, smelt alles een beetje samen, waardoor er een perfecte mix van smaken ontstaat. Zalig!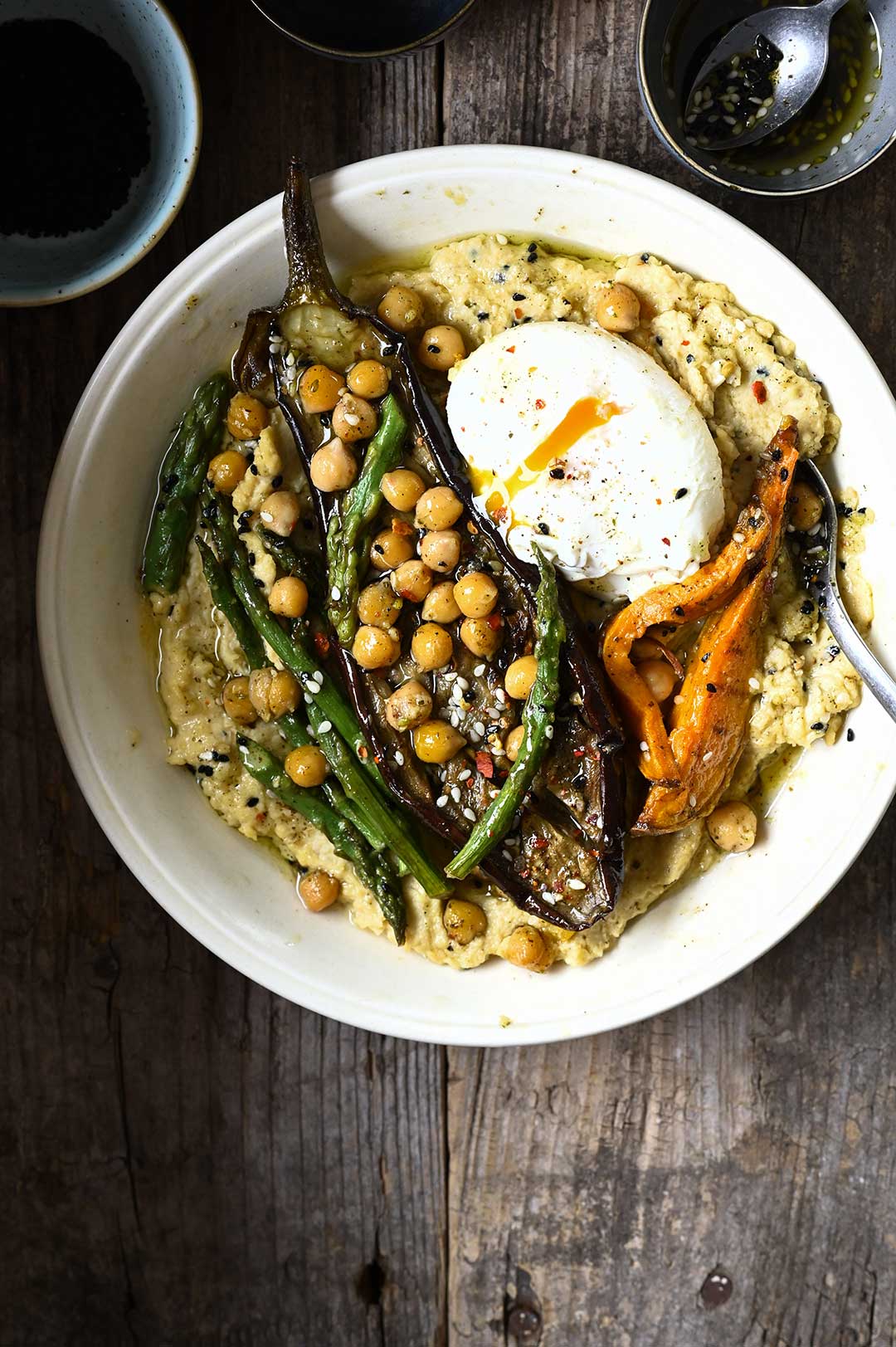 Wil je op de hoogte blijven van mijn nieuwe recepten? Abonneer je dan op mijn NIEUWSBRIEF.
Dit heb je nodig
geroosterde groenten
1 kleine aubergine
1 zoete aardappel, in stukken
1 blikje kikkererwten, afgegoten
150 g groene asperges
za'atarolie
3 el za'atar
5 el olijfolie
1 tl chilivlokken
1 el citroensap
1 tl gerookte paprika
zeezout + zwarte peper
hummus
240 g kikkererwten uit blik
1 el Griekse yoghurt
1 el vloeistof van de kikkererwten
1/2 tl sumac
1 el tahini
50 ml olijfolie
1 tl sesamolie
2 tenen knoflook, gepeld
1 el citroensap
zeezout + zwarte peper
+
gepocheerd ei, sesamzaadjes
Zo maak je het
Verwarm de oven voor op 200°C.
Meng alle ingrediënten voor de za'atarolie samen in een kom.
Snijd de aubergines in de lengte doormidden. Snijd het vruchtvlees met een scherp mes diep in, in een ruitjespatroon, zonder in de schil te snijden. Borstel het oppervlak van elke helft in met za'atarolie en vergeet niet om ook in de sneden te gaan. Bestrooi met zout en peper. Leg op een bakplaat.
Meng in een kom de zoete aardappel en de kikkererwten met 3 el za'atarolie. Leg ze dan tussen de aubergine op de bakplaat, bak gedurende 15 minuten of tot de aubergine zacht begint te worden.
Meng de asperges met 1 el za'atarolie en doe ze bij de rest van de groenten. Bak 10 minuten verder of tot de asperges mals zijn, maar nog steeds al dente.
Maak ondertussen de hummus. Giet de kikkererwten af en behoud een eetlepel van de vloeistof. Doe de kikkererwten, het vloeistof en alle andere ingrediënten in een keukenmachine en mix tot een romige puree. Proef en breng op smaak met zout en peper.
Serveer de geroosterde groenten met hummus en een gepocheerd eitje. Bestrooi met chilipeper en zwarte sesamzaadjes, besprenkel met za'atarolie en citroensap. Kruid met extra peper en zout naar smaak. Smakelijk!
Als je dit recept uitprobeert, laat dan hieronder een reactie achter of deel je foto's op Instagram en vergeet niet om mij te taggen @anna_s_table. Ik kijk ernaar uit!