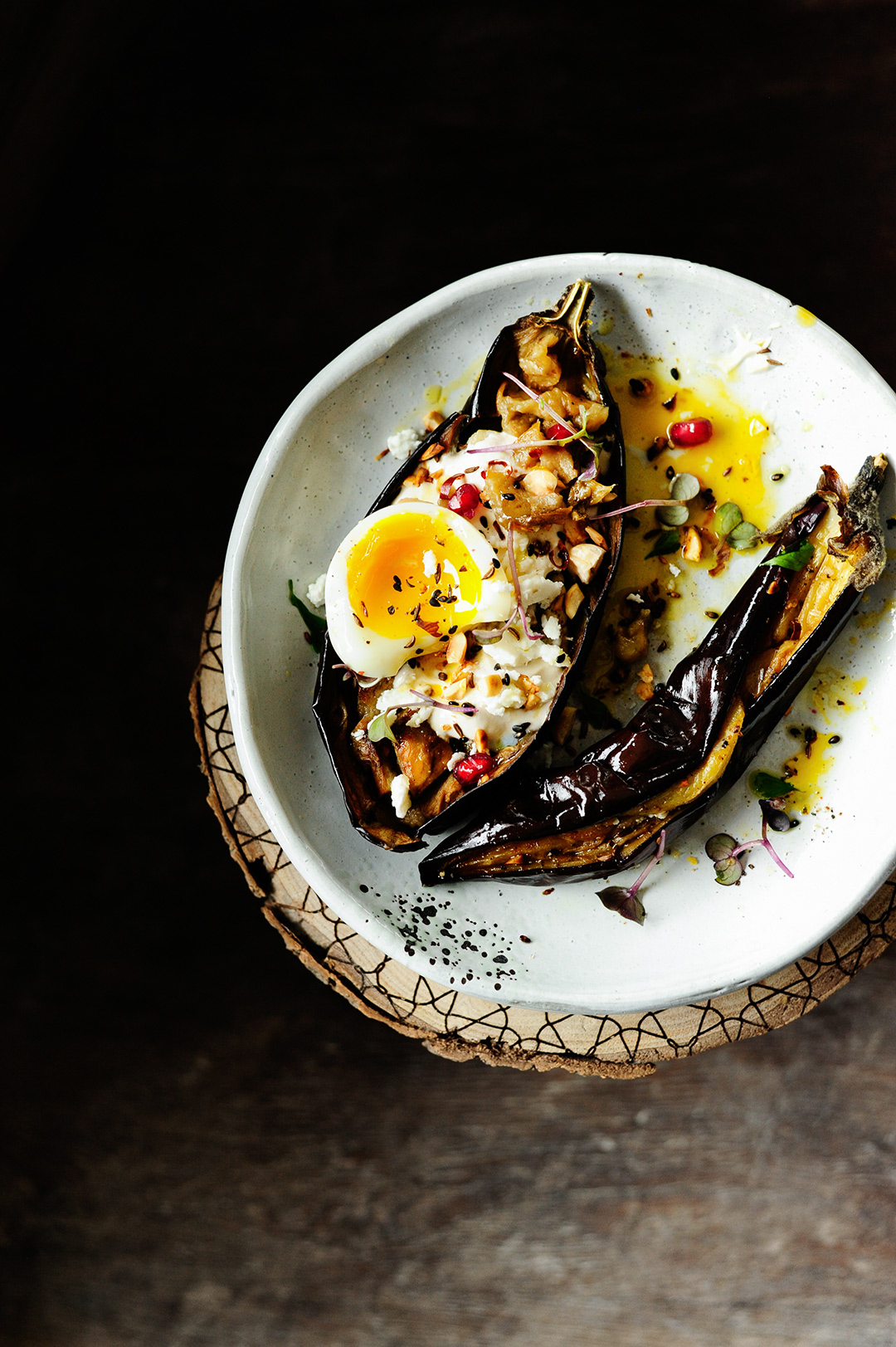 Een super eenvoudig recept met een van mijn favoriete groenten. Ik weet dat het bereiden van aubergines veel mensen ontmoedigd. Bitterheid, te flauw van smaak of een te harde textuur komen soms voor. Maar ik hoop dat ik met dit heerlijk gerecht een aantal van jullie op andere ideeën kan brengen. 
Als je dit recept volgt, krijg je een super zachte aubergine.
Besprenkeld met een romige tahini-yoghurt citroendressing. De verkruimelde feta, de crunch van de granaatappelpitjes en de hazelnoot-dukkah vullen het gerecht perfect aan, de za'atar kruiden en een zacht gekookt eitje maken het bijzonder. Ik hou enorm van het contrast tussen de zijdezachte, olieachtige aubergine en de knapperig geroosterde hazelnoten. 
Deze tahinidressing is extreem romig en licht, een echte must. Het maakt de maaltijd hartelijk en geeft het net die extra punch. Mijn doel is altijd om gerechten te serveren die mindblowing zijn, en een eenvoudig sausje kan echt een verschil maken en net dat tikkeltje karakter aan elk gerecht toevoegen.
Ik hoop dat jullie van dit gerecht houden, so let's get started!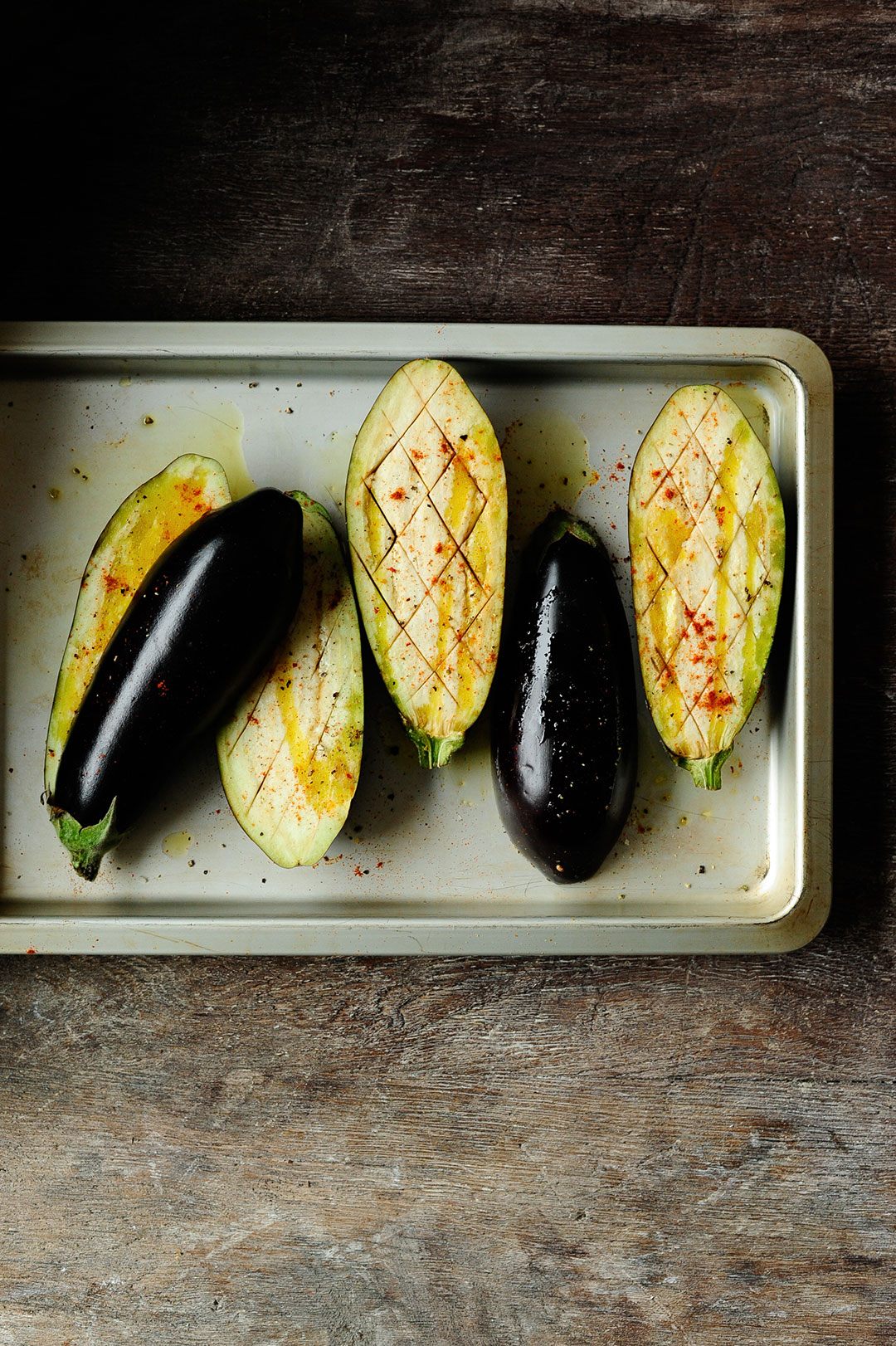 Dit heb je nodig
geroosterde aubergines
2 aubergines
2 el olijfolie
1/2 tl gerookt paprikapoeder
zeezout + zwarte peper
tahini-dressing
3 el Griekse yoghurt
1 el tahini
1 el citroensap
1/2 tl komijnpoeder
zeezout + zwarte peper
hazelnoot-dukkah
50 g gehakte hazelnoten
1 el zwarte sesamzaad
een snufje zeezout
finishing touch
50 g feta
2 el granaatappelpitten
microgreens
2 zacht gekookte eieren
1 el gehakte peterselie
1 tl za'atar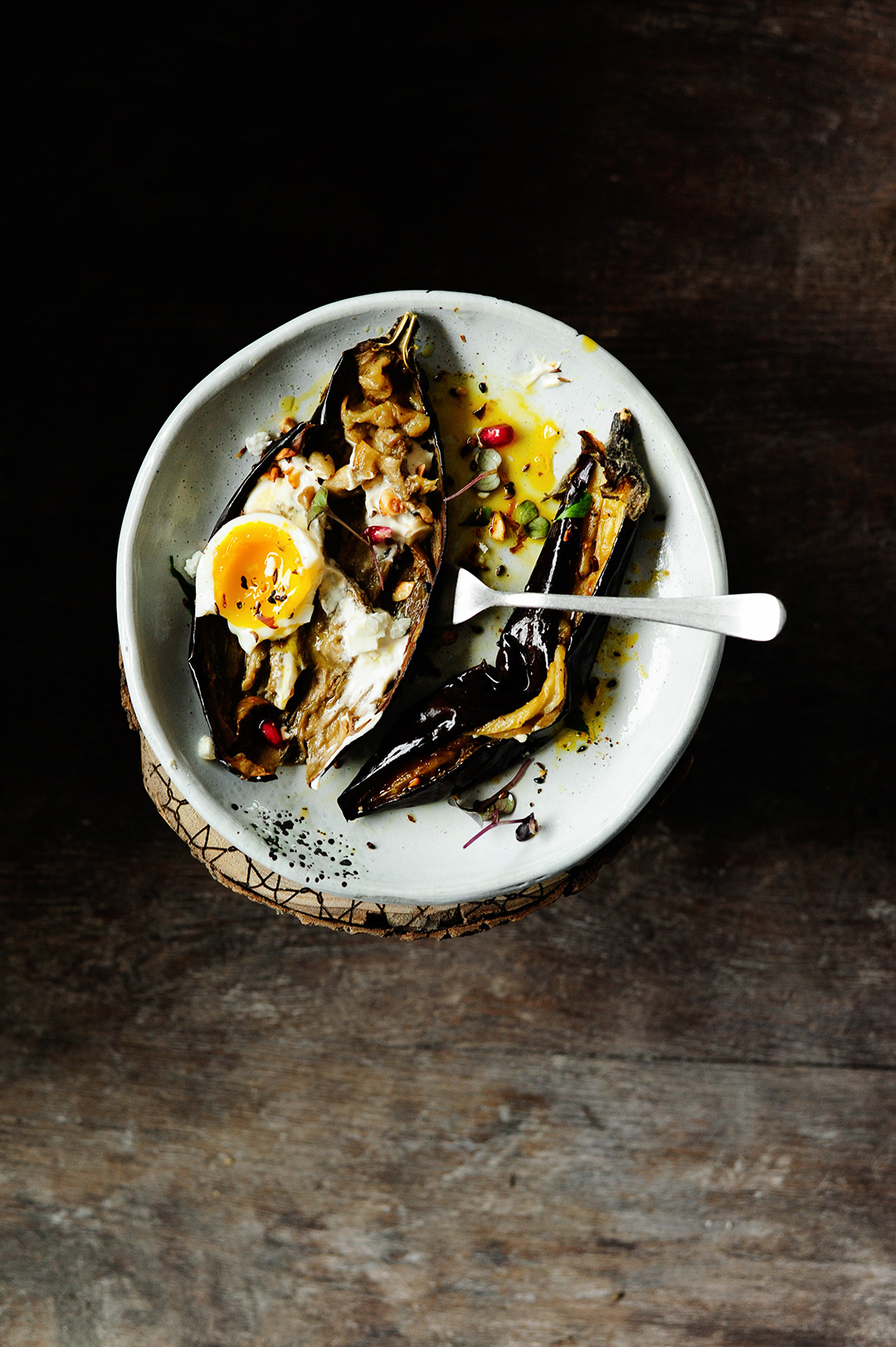 Zo maak je het
Snijd de aubergines in de lengte doormidden. Snijd het vruchtvlees met een scherp mes diep in, in een ruitjespatroon, zonder in de schil te snijden. Borstel het oppervlak van elke helft in met olijfolie en vergeet niet om ook in de sneden te gaan. Bestrooi met zout, peper en paprika. Leg op een bakplaat en rooster gedurende 60 minuten op 190°C.
Doe alle ingrediënten voor de dressing in een kom, meng en breng op smaak met zout en peper.
Verwarm een koekenpan, doe de noten erin. Rooster, roer of draai vaak met de pan tot de noten goudbruin beginnen te worden en er zich een lekkere nootachtige geur begint te verspreiden. Voeg zout en sesam toe, rooster nog 1 minuut langer, en zet dan van het vuur om af te koelen.
Doe de geroosterde aubergines op borden. Besprenkel met de tahini-dressing, bestrooi met verkruimelde feta, dukkah, za'atar en granaatappelpitten. Serveer met een zacht gekookt ei, microgreens en gehakte peterselie. Smakelijk!