Een eenpansgerecht met drumsticks in een romige zwarte pepersaus met geroosterde paprika's. 
De saus maken we met kippenbouillon, een scheutje melk en roomkaas met zwarte peperkorrels. Hij is verbazingwekkend lekker dankzij zijn pittig peperaroma en heerlijke knoflooktoets.  Dit gerecht heeft daadwerkelijk alles om een doordeweekse avond extra speciaal maken. Een aanrader van jewelste.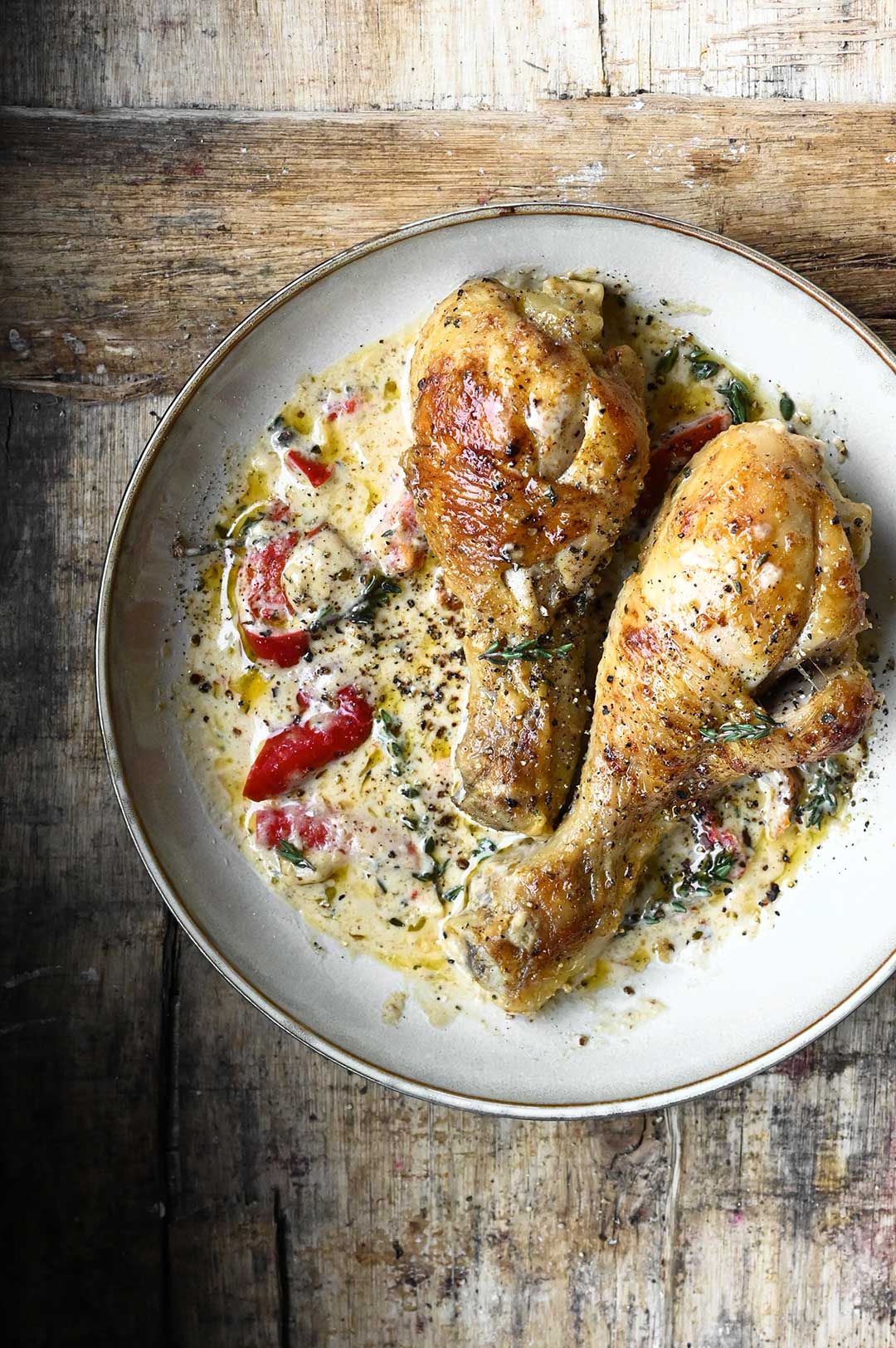 De kip is super sappig en doordrenkt met de heerlijkste smaken. Om dit overheerlijke gerecht op te fleuren voegen we geroosterde paprika's toe (uit een potje – makkelijk!). Terwijl de roomkaas met zijn zwarte peperkorrels een gedurfd smaakstatement maakt. Echt zo'n gerecht waar je blij van wordt! En zo veelzijdig! Je kan makkelijk de paprika's weglaten en vervangen door zongedroogde tomaten, zo heb je zonder enige moeite een totaal andere maaltijd gecreëerd.  Bekijk mijn VIDEO om te zien hoe makkelijk je dit gerecht kan maken!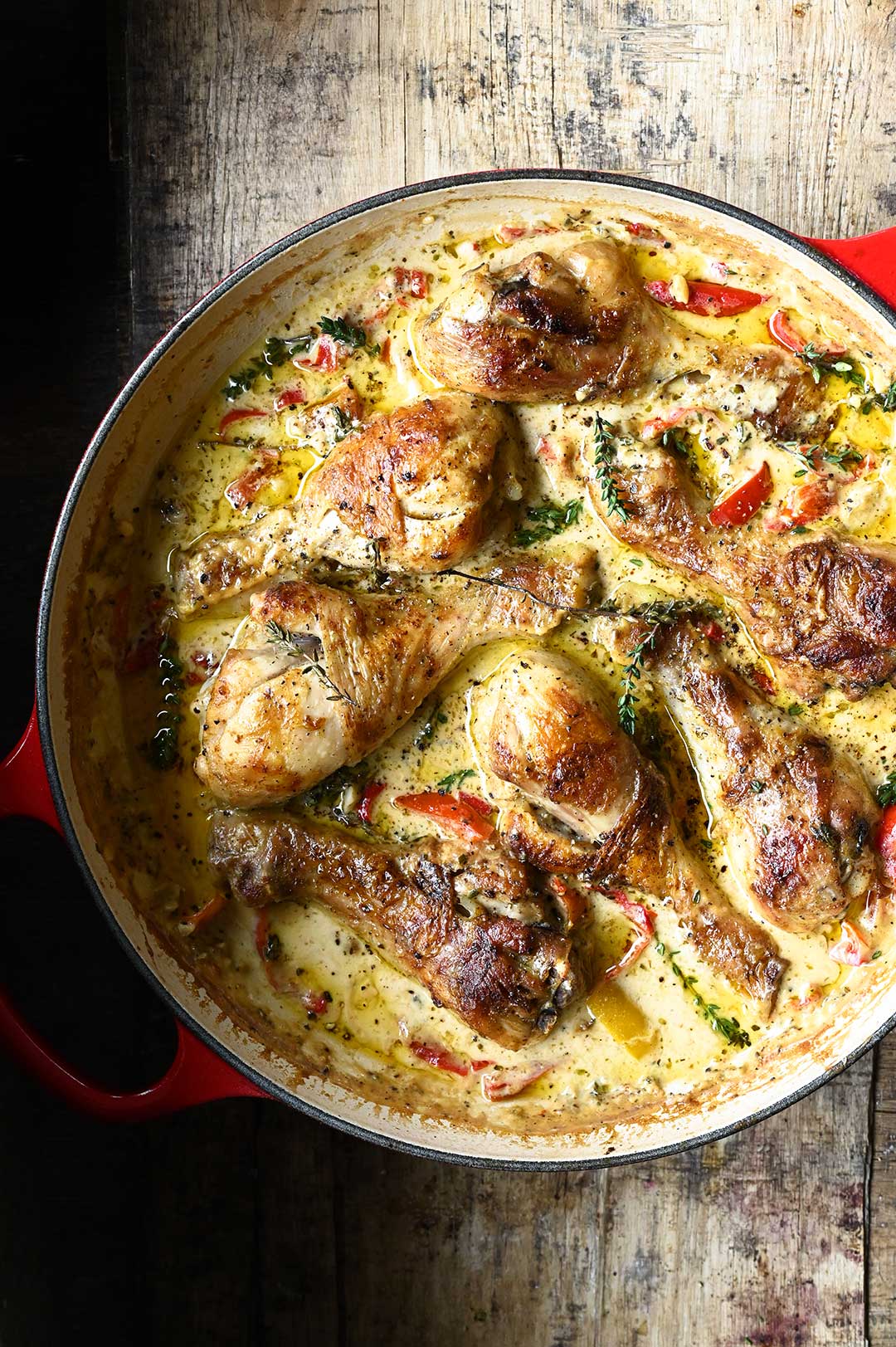 TIPS
Serveer met orzo, gebakken of gepureerde aardappelen.
Of gebruik broccoli, een eenvoudige salade en brood.
In plaats van de drumsticks kunt je ook kippendijen of kipfilets gebruiken. Als je filets gebruikt, kan je dit gerecht maken zonder je oven te gebruiken. Volg gewoon de stappen, als de saus klaar is, doe je de gebakken filets terug in de pan en stoof je ze 5-10 minuten samen met de saus.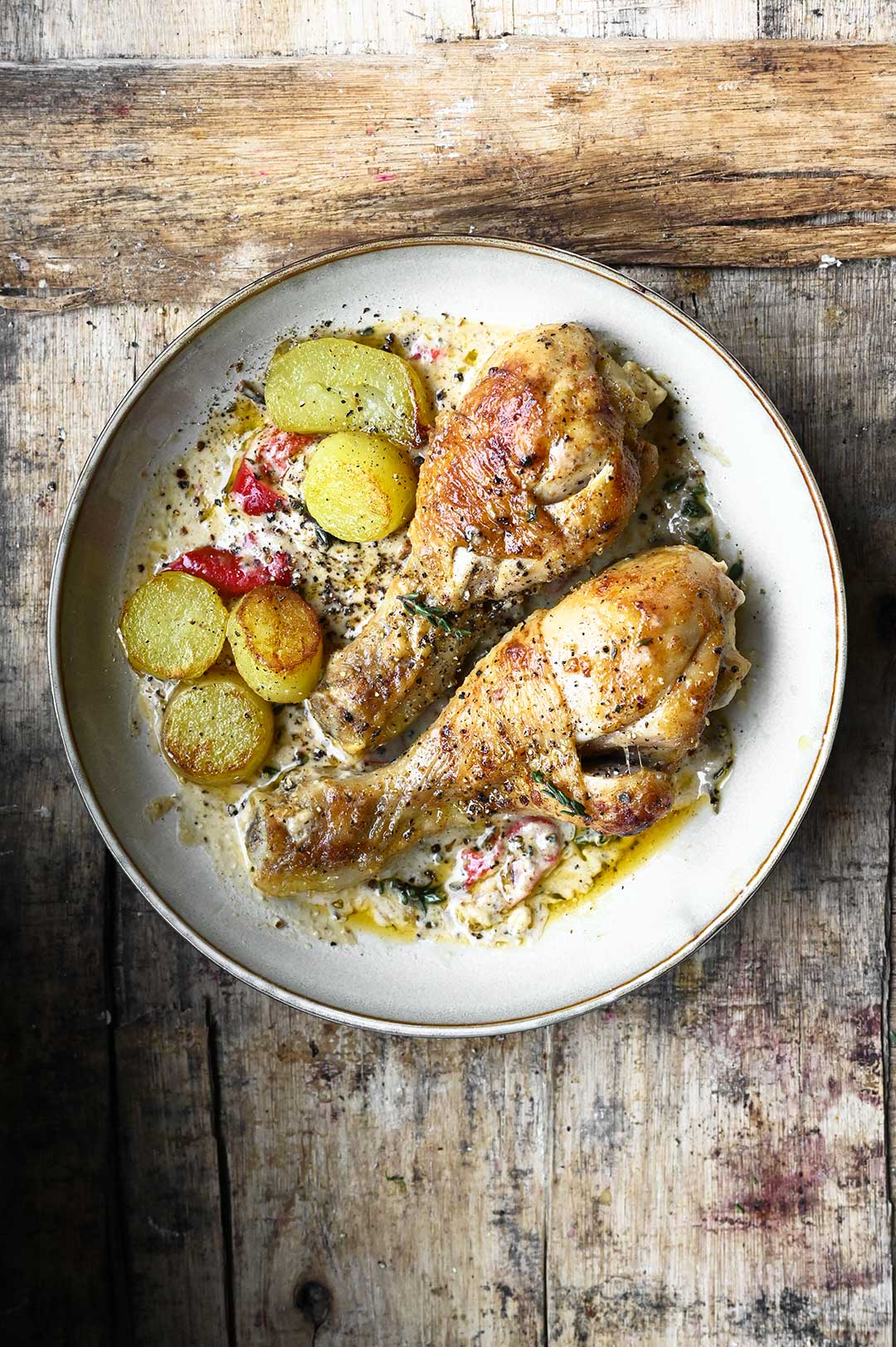 More chicken, please!
Kipfilet met Parmezaan, spinazie en orzo
Kip in pindasaus
Orzo met geroosterde kip en druiven
Wil je op de hoogte blijven van mijn nieuwe recepten? Abonneer je dan op mijn NIEUWSBRIEF.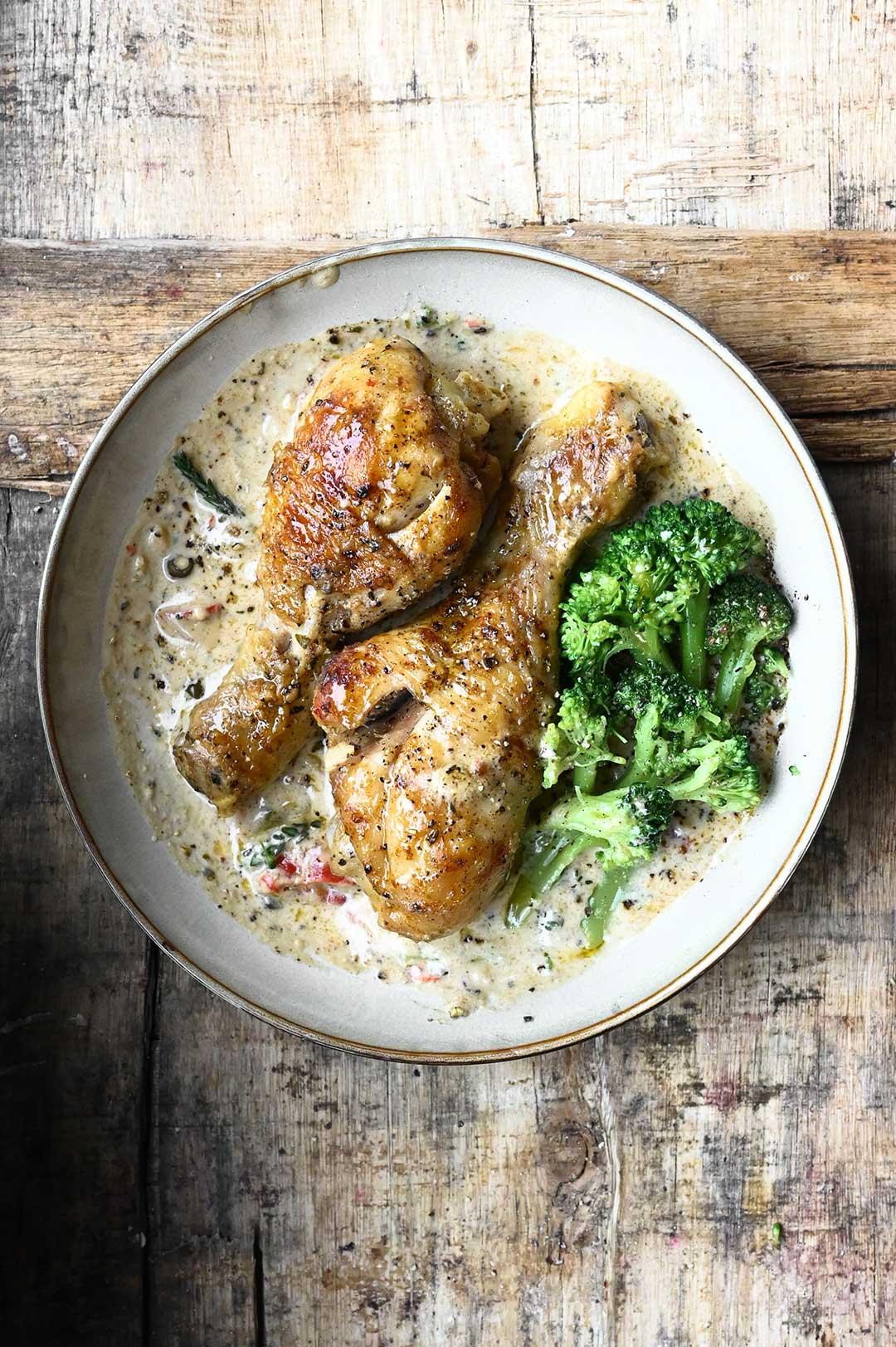 Dit heb je nodig
8 drumsticks
kippenkruiden: 1 tl elk: zoete paprika, gedroogde tijm, knoflookpoeder, gemalen komijn, cayennepeper, zout, zwarte peper
1 pakje roomkaas met zwarte peper, ik gebruikte Boursin
1 potje (280 g) geroosterde paprika's, in dunne plakjes gesneden, zonder olie
250 ml kippenbouillon
200 ml melk
2 el boter
1 el olijfolie
4 teentjes knoflook, fijngehakt
1 tl versgemalen zwarte peper
1 tl opgelegde groene peperbolletjes, fijngehakt, optioneel
1 tl elk: gedroogde oregano, gedroogde tijm
takjes verse tijm, optioneel
Zo maak je het
Verwarm de oven voor op 200°C.
Doe de kippenkruiden in een kom, leg de drumsticks erin en wrijf ze in met de kruiden.
Verhit olijfolie en boter in een grote ovenvaste koekenpan. Voeg de drumsticks toe en schroei aan beide kanten goudbruin, ongeveer 8 minuten per zijde. Leg op een bord.
Fruit in dezelfde pan de knoflook op laag vuur, 2 minuten. Voeg versgemalen zwarte peper en groene peperkorrels toe en fruit 1 minuut. Roer tijm en oregano erdoor. Blus met kippenbouillon en breng aan de kook. Roer de roomkaas erdoor, voeg melk en geroosterde paprika's toe. Proef en breng op smaak met zout, indien nodig.
Leg de drumsticks in de saus. Bestrooi met verse tijm. Plaats de pan in de oven en bak tot de kip helemaal gaar is, ongeveer 30 minuten. Eet smakelijk!
Serveer met orzo, gebakken/gepureerde aardappelen of brood en broccoli of een eenvoudige salade. Bekijk mijn VIDEO om te zien hoe makkelijk je dit gerecht kan maken!  
En … ALS JE DEZE RECEPTEN LEKKER VINDT … overweeg dan om mijn werk te steunen voor de prijs van slechts een kopje koffie.

Als je dit recept uitprobeert, laat dan hieronder een reactie achter of deel je foto's op Instagram en vergeet niet om mij te taggen @anna_s_table. Ik kijk ernaar uit!