Iedereen heeft wel een favoriete aardappelsalade, en dit is de mijne, met tuinkruiden en een miso-dressing. Met de heerlijke frisse smaak van nieuwe aardappelen, knapperige groentjes en een dressing gemaakt van mayo, yoghurt, knoflook en miso.
Ik ben een grote aardappelliefhebber, er zijn ergere dingen in het leven, nietwaar?! Ik ben ermee opgegroeid en kreeg ze waarschijnlijk vier of vijf keer per week op verschillende manieren geserveerd. De kleine primeuraardappeltjes gemengd met wat boter, zure room, bieslook en een spiegeleitje, daar was ik dol op!
Aardappelen zijn fantastisch in al hun vormen. Je kan ze bakken, koken, frieten maken, salades, beignets, noem maar op… Is er iets veelzijdigers dan een aardappel?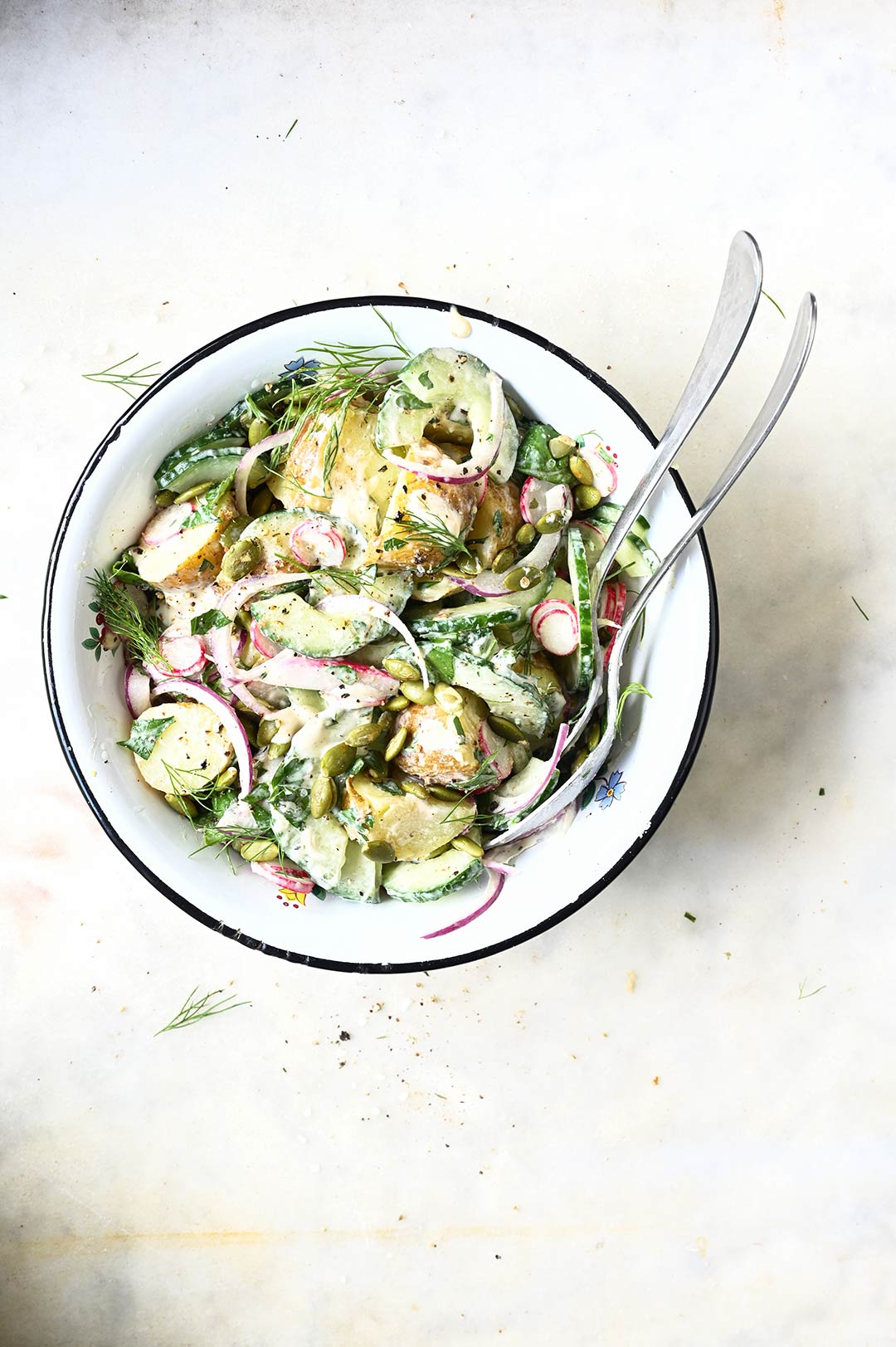 Deze aardappelsalade zit boordevol knapperige groenten en wordt afgewerkt met een hartelijke miso-knoflookdressing. Het voelt als een complete maaltijd die je bij warm weer kan eten, of als side bij een bbq of een picknicksalade. 
Ik ben altijd op zoek naar manieren om een miso te kunnen gebruiken, een mens kan immers niet elke dag misosoep eten (eigenlijk zou ik dat wel kunnen). Daarom probeer ik het overal in te laten sluipen voor wat extra umami. Je kan hier in feite elke misopasta gebruiken, hoewel ik meestal witte miso gebruik. Het geeft deze salade een echte imago boost.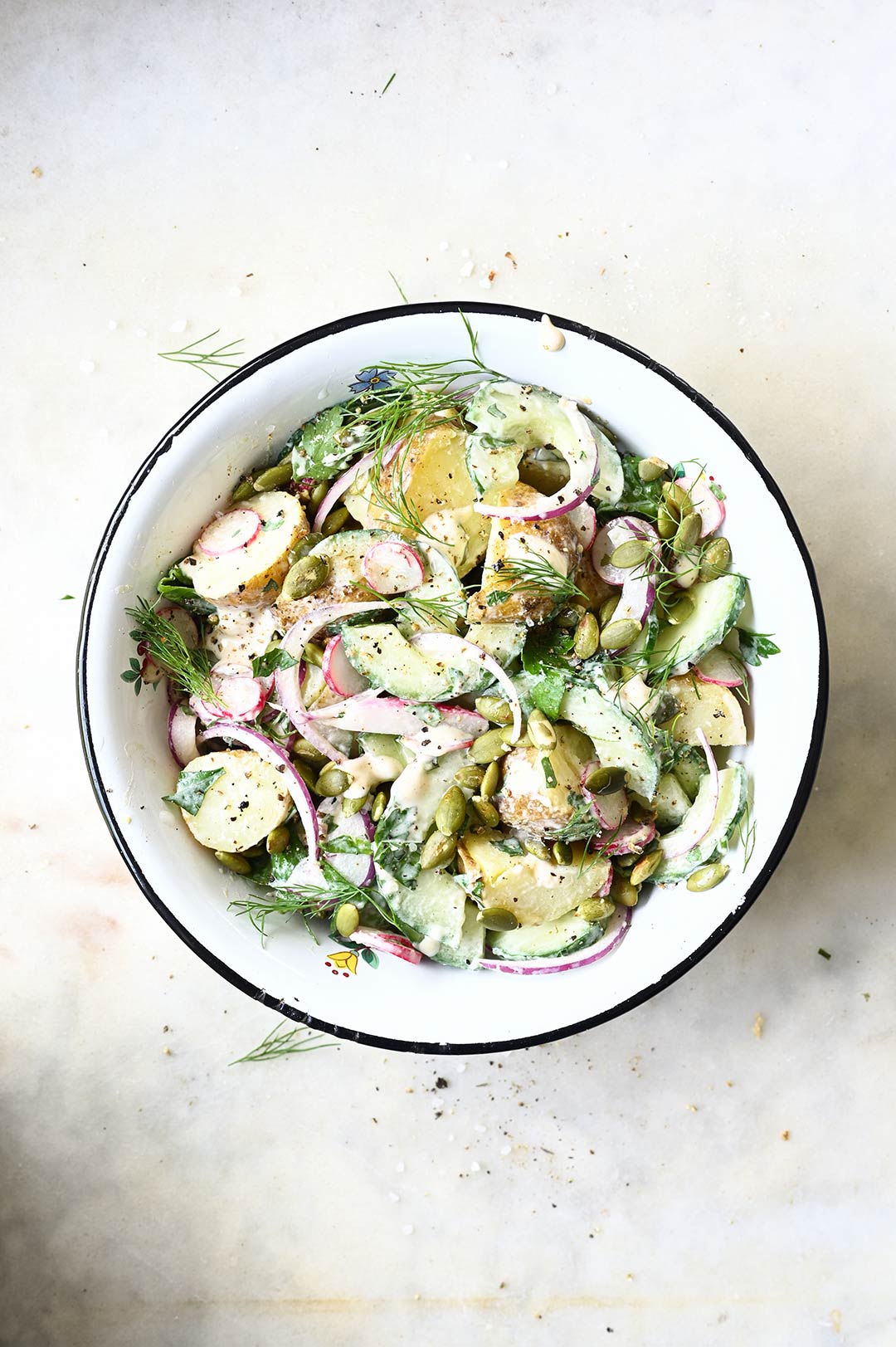 Wil je op de hoogte blijven van mijn nieuwe recepten? Abonneer je dan op mijn NIEUWSBRIEF.
Zin in meer?
Geroosterde aardappelsalade met asperges en za'atar
Geroosterde aardappelsalade met kikkererwten
Komkommersalade met bramen
Dit heb je nodig
salad
500 g  primeuraardappelen of krielaardappelen
10 radijzen, dun gesneden
1 komkommer, in de lengte doormidden gesneden en in plakjes (niet te dun, zodat ze knapperig blijven)
1 kleine rode ui, in dunne plakjes
4 el geroosterde pompoenpitten
3 el elk: gehakte dille + peterselie + basilicumblaadjes
zeezout + zwarte peper
miso dressing
3 el mayo
2 el yoghurt
2 tenen knoflook, fijngehakt
1 tl mosterd
2 tl witte miso
1 tl citroensap
zeezout + zwarte peper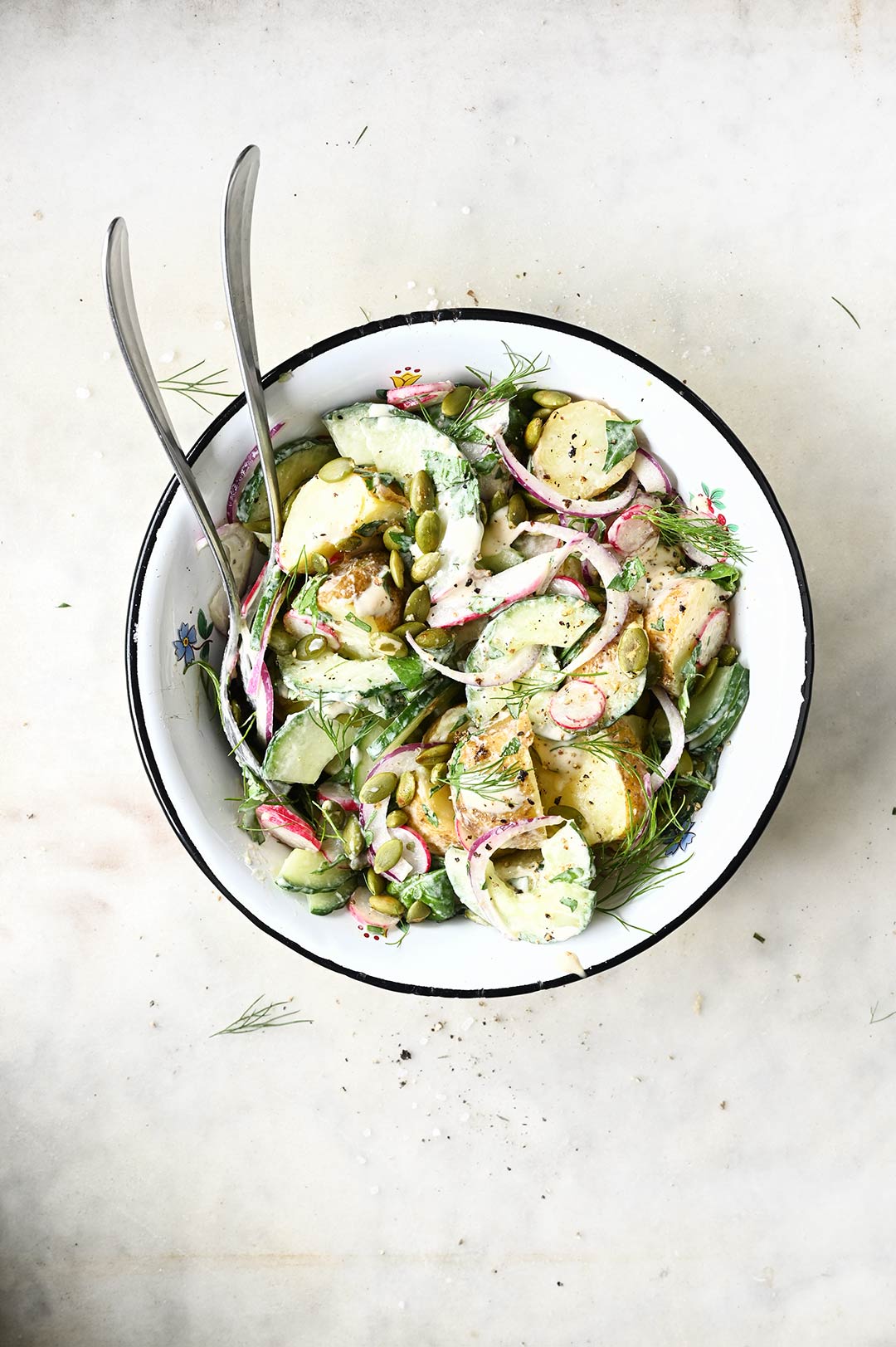 Zo maak je het
Schrob de aardappelen schoon, zonder ze te schillen. Doe ze in een grote pot, overgiet met heet water, voeg zout toe en kook gedurende 15 minuten. Laat uitlekken en doe ze even in een kom met ijskoud water om te voorkomen dat ze verder koken. Snij in kleine stukjes.
Als de aardappelen afgekoeld zijn, doe ze in een grote kom, meng met radijzen, komkommer, peterselie, dille, basilicum, rode ui en pompoenpitten.
Meng in een kleiner kom alle ingrediënten voor de dressing. Giet de dressing over de salade en roer zachtjes tot alles bedekt is. Breng op smaak met zout en peper. Garneer met extra dille en peterselie. Serveer koud of op kamertemperatuur.
Als je dit recept uitprobeert, laat dan hieronder een reactie achter of deel je foto's op Instagram en vergeet niet om mij te taggen @anna_s_table. Ik kijk ernaar uit!