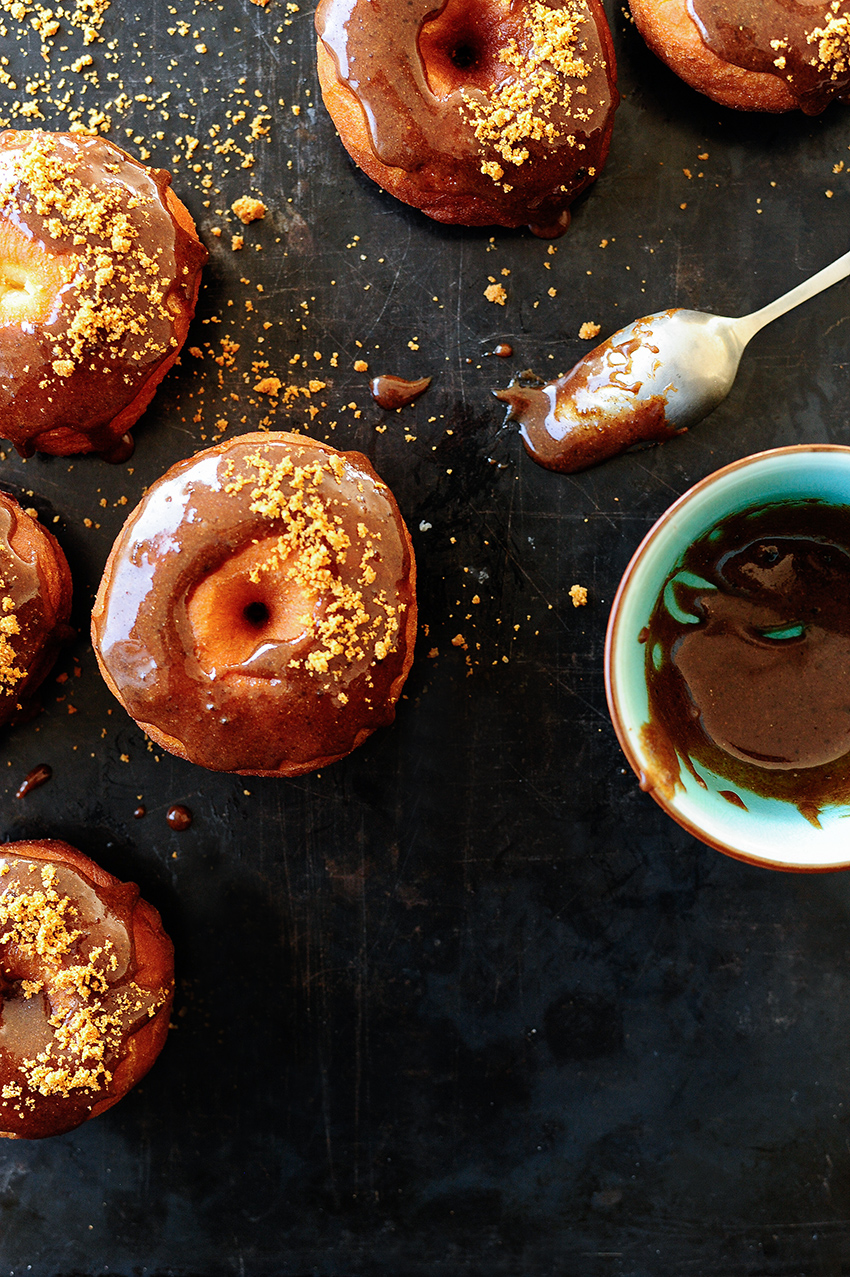 Are you ready for these delicious donuts that are worth all their calories? They are soft, light and extremely fluffy with crumbled speculoos cookies and honey-cinnamon glaze. Simply delicious, they disappear just like that!
Ingredients
the dough
200 g all-purpose flour
1 heaped teaspoon dry yeast
30 g sugar
70 ml warm milk
60 g butter at room temperature
2 small farmers eggs
pinch of salt
the cinnamon-honey glaze
1 tablespoon butter
1 tablespoon honey
30 g icing sugar
2 teaspoons brown sugar
1 teaspoon cream maker
1 teaspoon cinnamon
1/4 teaspoon nutmeg
1/4 teaspoon coriander powder
Instructions
Stir yeast with warm milk and a spoon of sugar, let stand for 5 minutes.
Combine the flour with the remaining sugar, add the milk with yeast, eggs and salt. Mix everything together and start to knead. Then bit by bit add the soft butter and knead until the dough is smooth and elastic. Transfer to a clean bowl, cover and leave for 60 minutes in a warm place.
Then place the dough on a floured surface, knead lightly and wrap in cling film. Chill for an hour or overnight.
Remove the dough from the fridge, roll out to about 0,5 cm thickness and cut out as many donuts as possible. Then knead the dough again and repeat. Let rise for about 40 minutes.
Fry the donuts in hot oil (170°C) until golden brown. Let drain on a paper towel.
Melt the butter, add brown sugar and stir until the sugar is dissolved. Transfer to a bowl and combine with the rest of the ingredients until a smooth glaze.
Dip each doughnut into the glaze and sprinkle with crushed speculoos cookies. Eat!