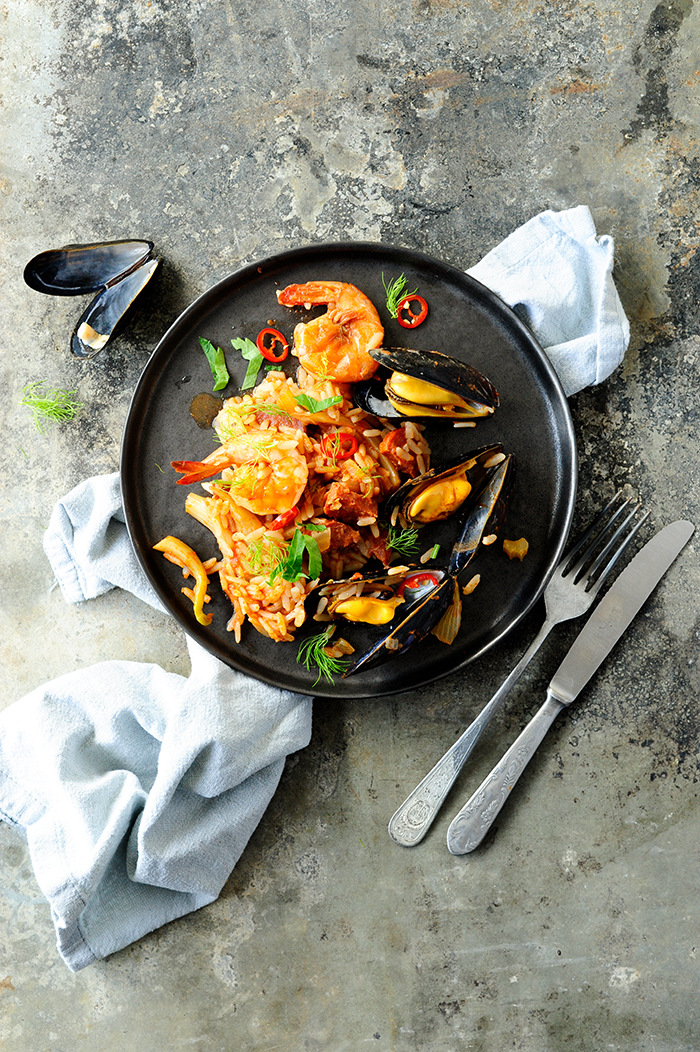 Shrimps, mussels and chorizo with rice in a delicate spicy fennel tomato sauce. It's a seafood jambalaya, a wonderful summer dish!
Ingredients
12 shrimps, peeled and deveined
1 kg cleaned mussels
200 g chorizo, cut into pieces
250 g rice
2 fennel bulbs, cut into thin slices
400 g can tomatoes with juice
350 ml vegetable stock
4 celery stalks, finely chopped
6 cloves garlic, finely chopped
1 large onion, finely chopped
1 hot chilli pepper, thinly sliced
1 bay leaf
1 tablespoon Cajun seasoning
4 tablespoons chopped parsley
1 teaspoon thyme
1 teaspoon cayenne pepper
salt and black pepper
3 tablespoons vegetable oil
Instructions
Heat the oil in a deep frying pan and add the onion, celery, fennel and garlic. Cook for 5 minutes. Add the chorizo and cook for 5 minutes more. Add the rice, stir and pour the broth and tomatoes. Season with thyme, cajun spices, cayenne pepper, salt and pepper and add the bay leaf. Bring to a boil, reduce heat, cover and simmer for 15 minutes.
Then add the shrimps and mussels, simmer covered for another 20 minutes.
Serve hot with chopped parsley and chili pepper. Enjoy!!