A seriously flaky galette, like no-kidding flaky, with rhubarb and strawberries flavored with vanilla beans. An easy to make butter crust and dependable as can be, the bottom sprinkled with oatmeal to soak up all the juices. My absolute favorite spring bake.This treat is virtuous enough to eat just like this, though a scoop of ice cream definitely adds a bliss factor.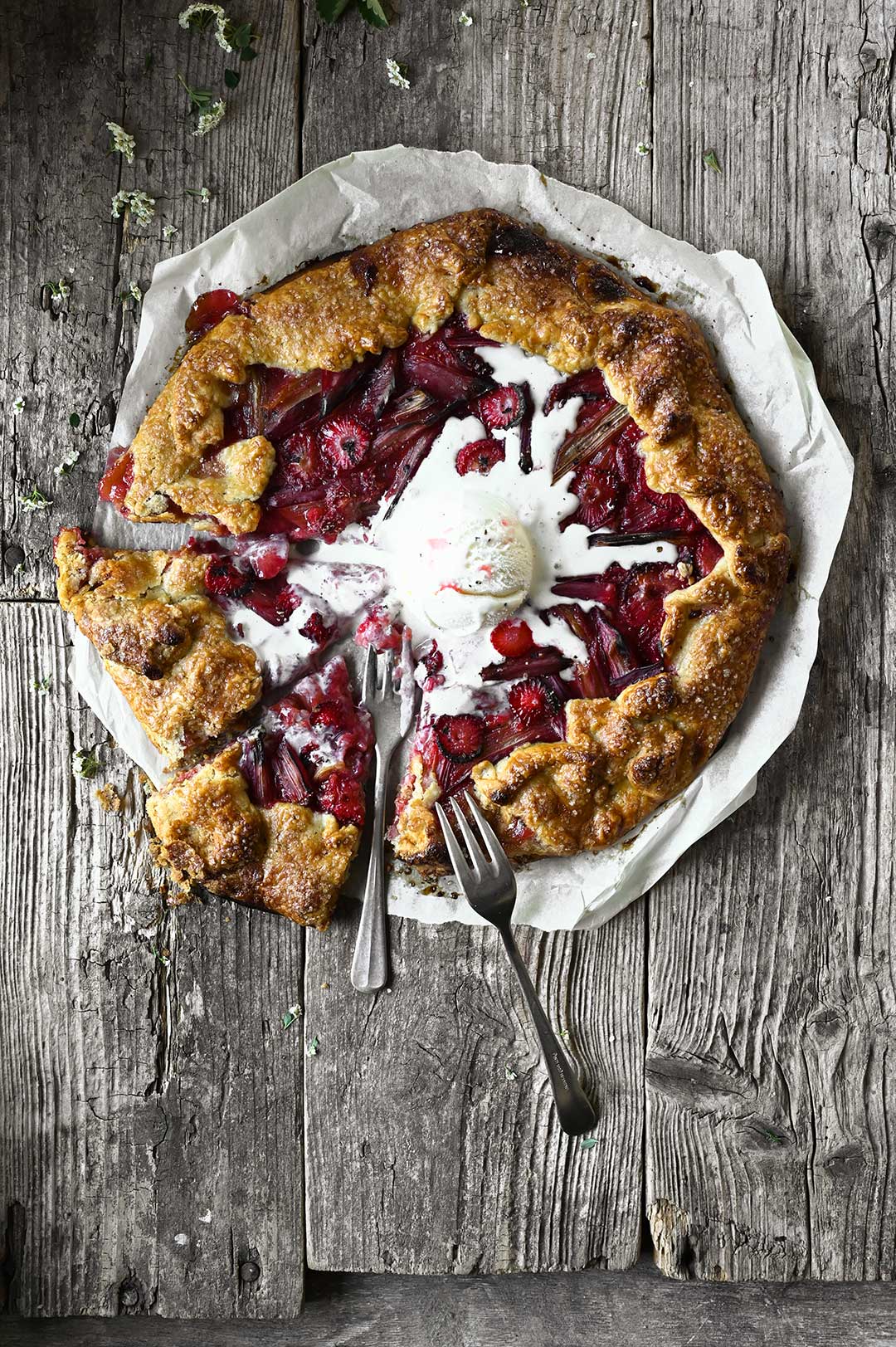 While pie or cake is the most baked treat, I much prefer the messier, more laid back galette. It's got it all, a flaky crust and a flavorful fruit filling, with far less precision required. Because you're never going to get a perfect galette, and that's the whole point of a galette.
The charm is in its imperfections. It's fine if the fruit juices leak a little, you can skip the fancy lattice techniques. You don't have to blind-bake or any of that. Just roll out your dough, spread your filling on top, and fold it up.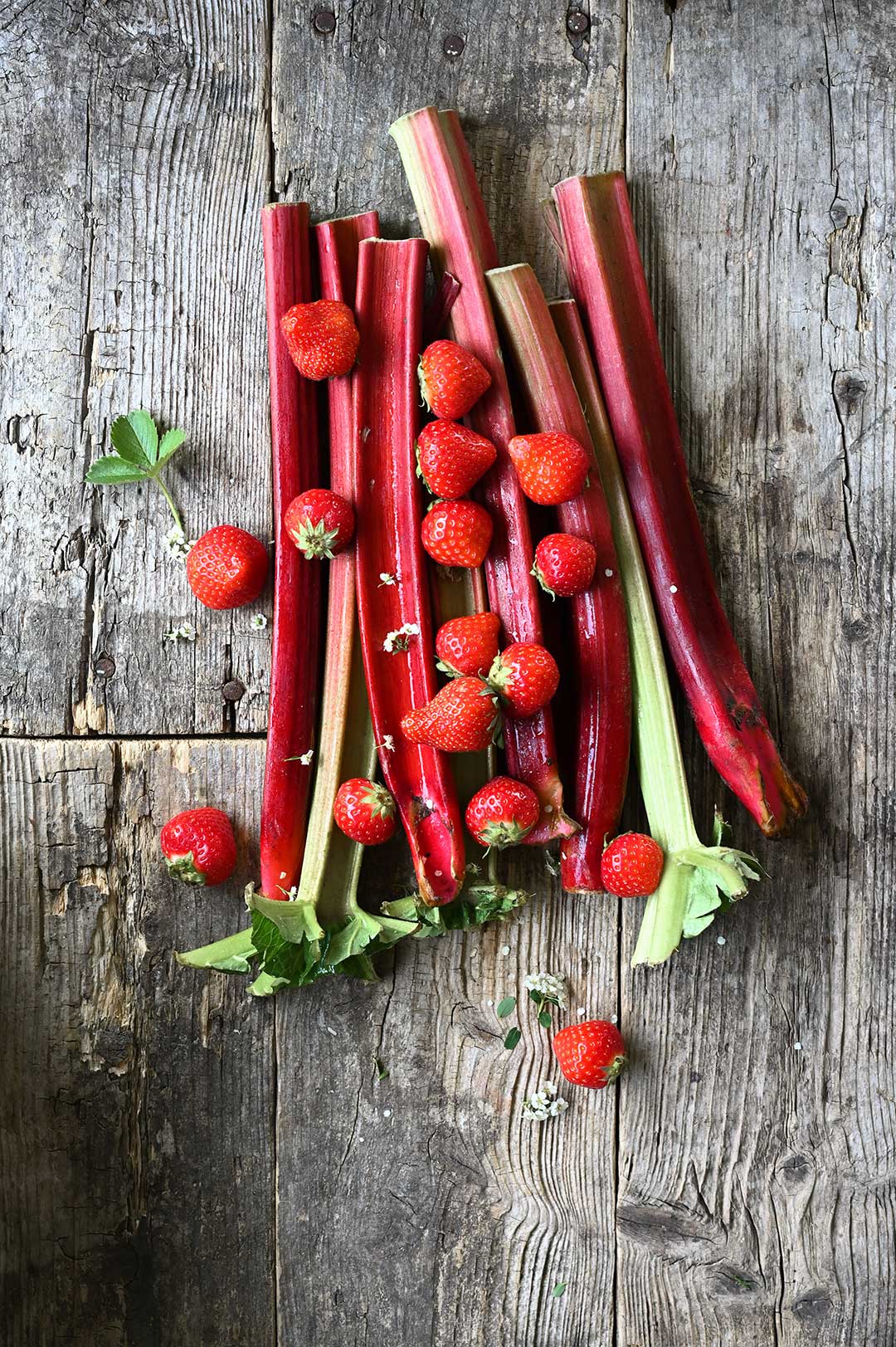 But just because it's simple, doesn't mean a galette can't be a showstopper. Especially if you turn it into a colorful beauty. The often-overlooked rhubarb is such a perfect fruit. It has so much non comparable flavor, plus a hit of tartness, it's perfect for spring baking and it pairs so good with strawberries. The strawberries are sweet enough to balance the tartness of rhubarb, and they add a beautiful color pop to the galette.
I recommend topping a warm slice with a scoop of vanilla ice cream. Since rhubarb is here, fleetingly! It's time to make the most out of it. So, if you like fruity treats and don't have the patience for cooling cakes or pies, make this galette instead.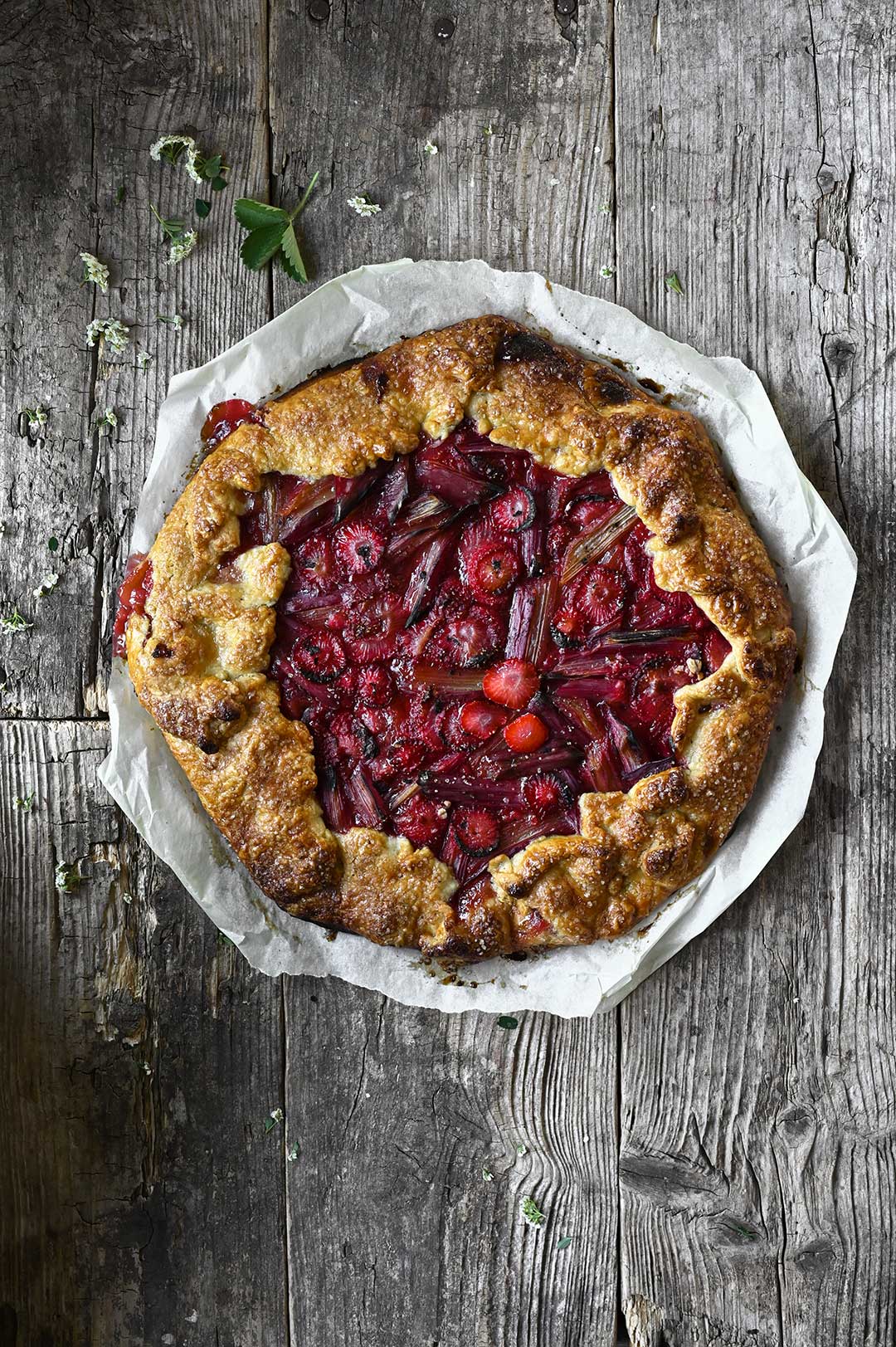 RECIPE NOTES
this super flakey dough can be used for all your galettes or pies, it's a no-stress butter dough, easy to make and dependable. The dough can be made 2 days ahead. Keep chilled, or freeze up to 3 months
sprinkle some oatmeal on the bottom of the dough, just before you spread the filling, so it can soak up the juices
and before baking, brush the crust with egg wash and sprinkle it with coarse sugar for a beautiful shine and a nice crunchy bite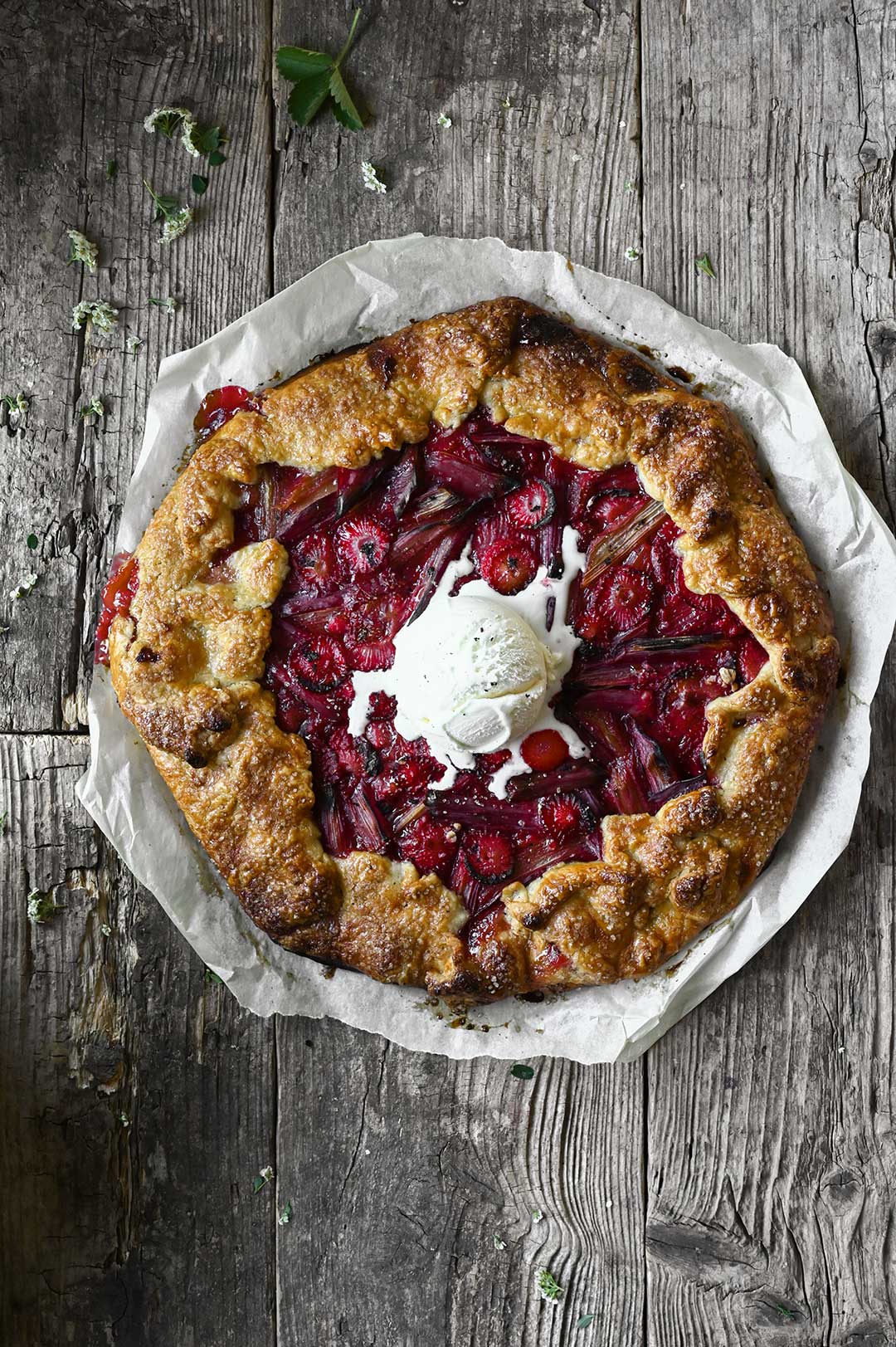 Try These Next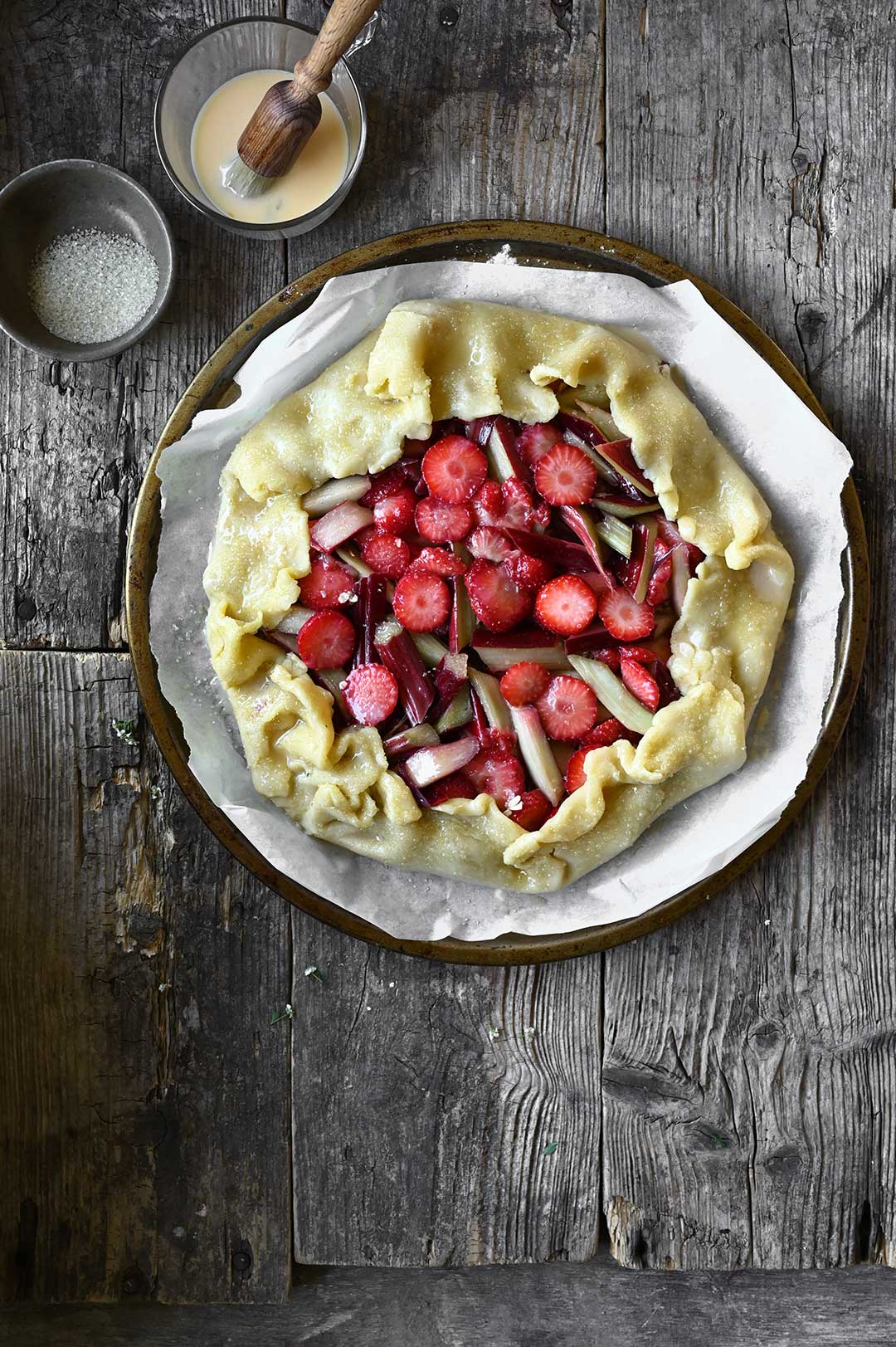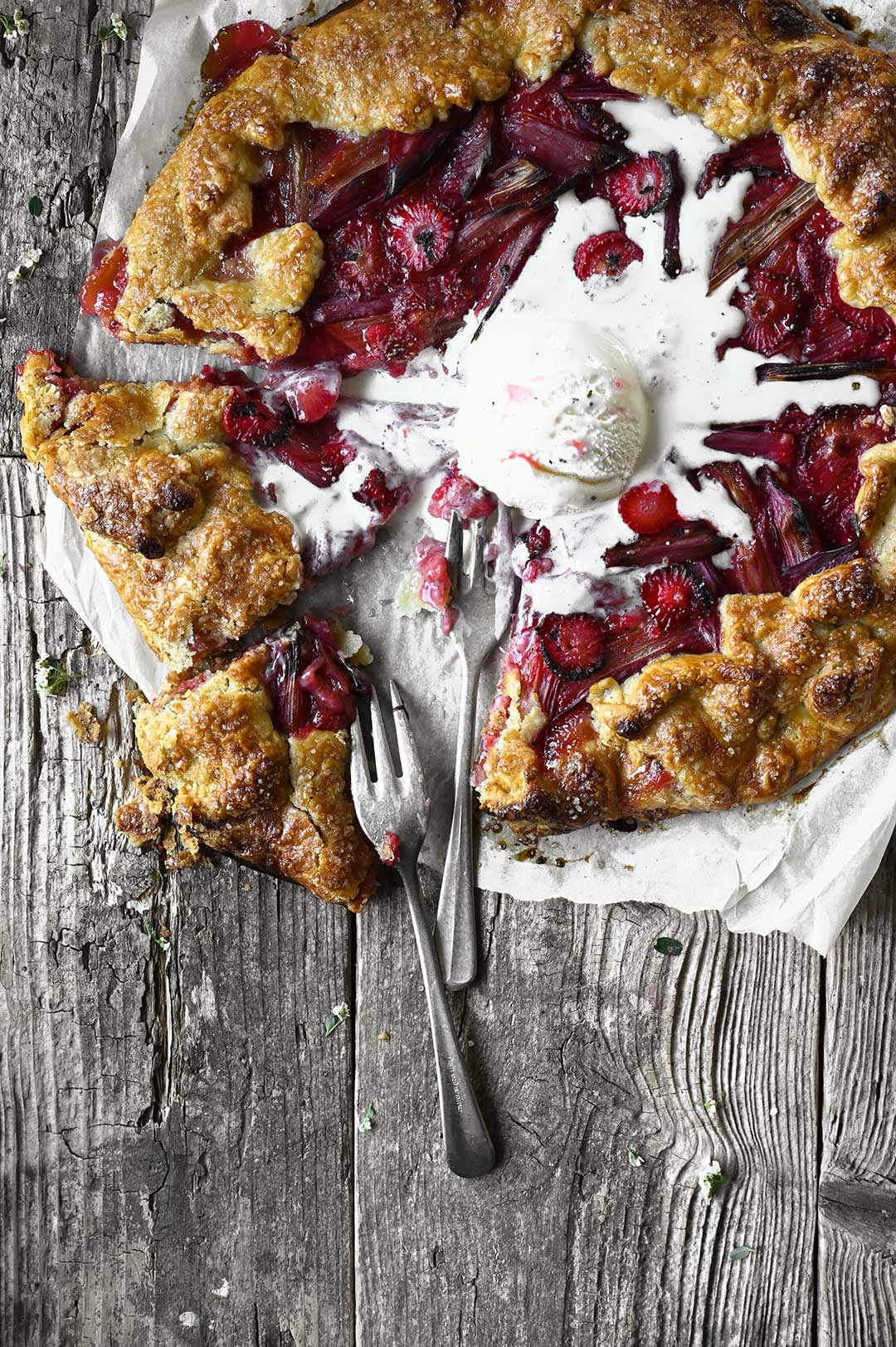 Yield: serves 6
Rhubarb Strawberry Galette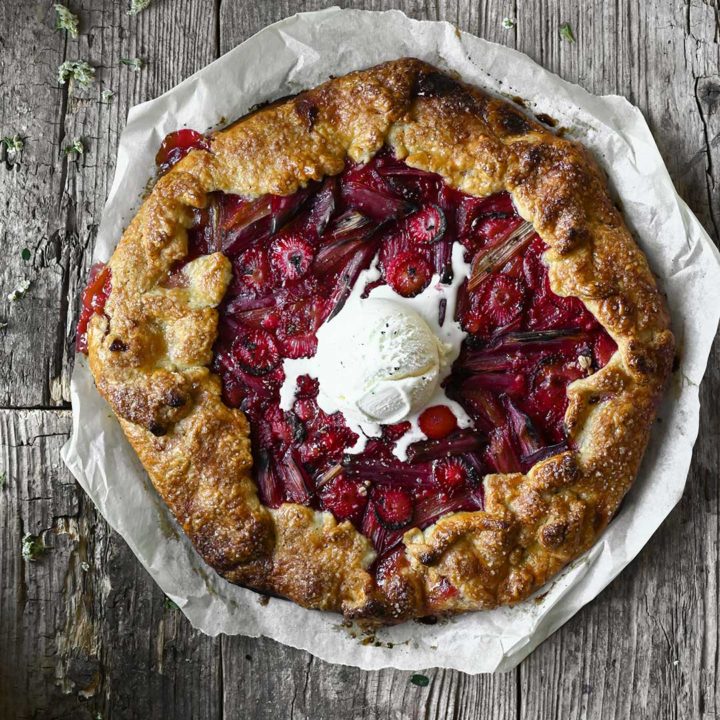 Ingredients
Butter Crust
5.5 ounces/150 g all-purpose flour
5 ounces/140 g cold butter
2 tbsp sugar
1/4 tsp salt
3-4 tbsp ice water
Rhubarb Filling
7 ounces/200 g rhubarb, cut lengthwise and into 5 cm pieces
9 ounces/250 g strawberries, hulled and quartered
4 ounces/120 g light brown sugar
2 tsp lemon juice
1/2 tsp lemon zest
3 tbsp corn starch
vanilla seeds from 1/2 vanilla bean
2 ounces/50 g instant oats
+ also
1 egg beaten with 1 tsp milk, for brushing
coarse sugar for sprinkling
vanilla ice cream for serving
Instructions
In a food processor, pulse flour, sugar, salt and butter. Add butter and pulse for about 1 minute, until the mixture forms pea size pieces. Slowly add ice water, 1 tablespoon at a time, and pulse until the mixture comes together. Transfer the dough onto a lightly floured surface and gently pat into a disk. Wrap in plastic and chill at least 1 hour.
Combine rhubarb with strawberries, sugar, lemon juice and zest, corn starch and vanilla seeds.
Roll out the dough on a lightly floured surface. Carefully transfer to a baking sheet lined with parchment paper.
Spread the fruit in the center of the dough leaving a 1 inch/4 cm border. Fold the edges of the dough up and over the fruit, overlapping slightly. Now put the whole baking sheet into the freezer, and chill the formed galette for about 15 minutes.
In the meantime preheat your oven to 375°F/190°C.
Remove the galette from the freezer, brush the dough with the beaten egg and sprinkle with coarse sugar. Bake until the crust is deep golden brown and the filling is bubbling, about 40-45 minutes. Serve warm with a scoop of vanilla ice cream.
Notes
Calories Per Serving: 431 kcal
Nutritional information is only an estimate. The accuracy of the nutritional information for any recipe on this site is not guaranteed.