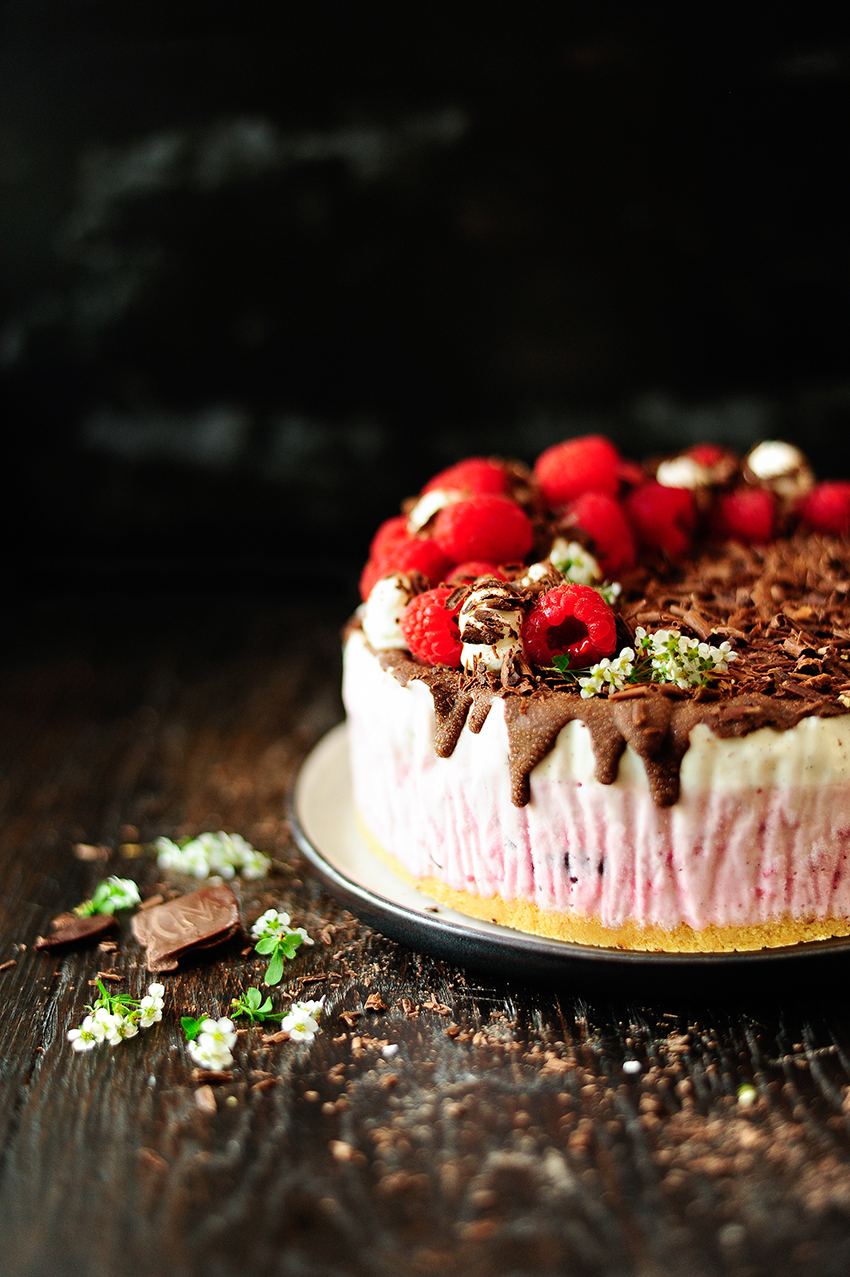 This ice cream cake is a little different, it's made with creamy raspberry and vanilla ice cream, finished with a layer of cracking dark chocolate. What's the difference about this cake? It is made with the velvety Magnum ice cream.
It's delicious, the ice cream is combined with fresh raspberries and crunchy chocolate that melts in your mouth. This thick, cracking dark chocolate is the characteristic Magnum signature, which makes that ice cream so irresistible.
The inspiration to make this ice cream cake came from my visit to Callebaut, a Belgian chocolate factory,  together with Magnum they developed the perfect combination of crunchy chocolate and velvety ice cream. I tried to bring this combination back into my ice cream cake.
It's is delicious and elegant with a lots of raspberries. It is a treat for real pleasure seekers.
Tip: Ice cream cakes are really not so hard to make, they just take time. This is a layered cake and it needs two freezing sessions, it is totally worth it, just be sure to plan ahead when making.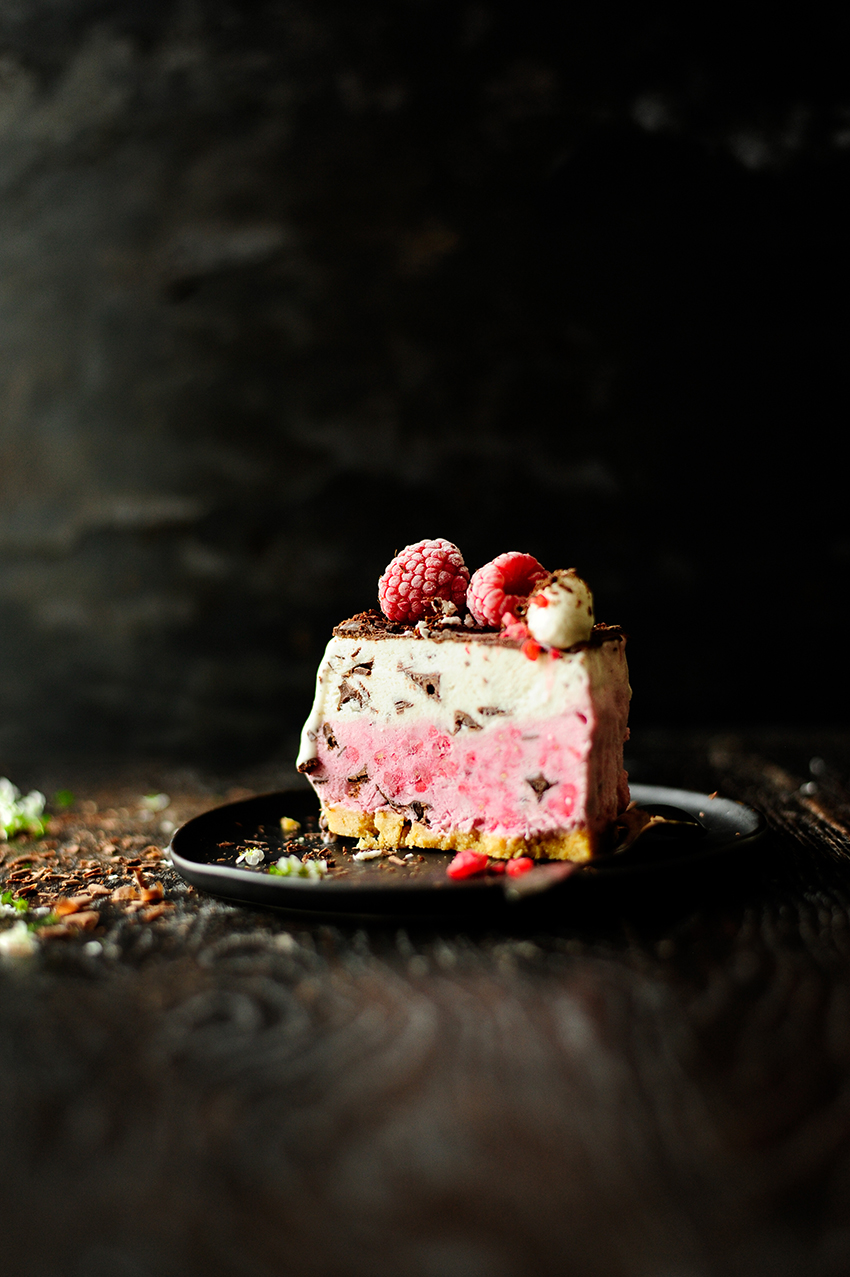 Ingredients
crust
150 g shortbread cookies
40 g butter
raspberry layer
2 tubs Magnum raspberry chocolate ice cream
100 ml heavy cream
1/4 teaspoon vanilla beans
200 g fresh raspberries
vanilla layer
1 tub Magnum vanilla chocolate ice cream
50 ml heavy cream
1/4 teaspoon vanilla beans
chocolate layer
100 g Callebaut dark chocolate
Instructions
Remove the raspberry ice cream from the freezer and allow to soften.
Melt the butter. Put the cookies in the bowl of a food processor and pulse until you have fine crumbs. Add the melted butter, pulse until combined. Dump the cookie mixture out into a 20 cm springform pan lined with plastic wrap and press the cookies into the bottom of the pan until you have an even crust. Set aside.

Mash the raspberries with a fork. Pour the cream into a bowl, add the vanilla beans and whip until the mixture reaches a smooth, thick yogurt consistency. Open the raspberry ice cream and remove the top layer of chocolate, set aside, you'll be needing it for the chocolate layer. Now squeeze the sides of the pack to crush the chocolate. Using a spatula, combine the ice cream with cream and raspberries. Spoon the ice cream on top of the crust and smooth it out into an even layer. Freeze for 1 hour.

Remove the vanilla ice cream from the freezer and allow to soften.
Pour the cream into a bowl, add the vanilla beans and whip until the mixture reaches a smooth, thick yogurt consistency.. Open the vanilla ice cream and remove the top chocolate layer, set aside. Squeeze the sides of the pack to crush the chocolate. Using a spatula, combine the ice cream with whipped cream. Spoon the ice cream on top of the raspberry layer and smooth it out into an even layer. Freeze for 1 hour.

Melt the remaining chocolate in a metal or a glass bowl set over a pan of simmering water. Spread the chocolate over the vanilla ice cream. Return to the freezer for 3 hours.
When ready to serve, remove the cake from the freezer and transfer to the fridge for 20 minutes. Top with fresh raspberries, enjoy!

//= __('Print recipe (no photos)', 'servingdumplings' );?> //= __('Print recipe (with photos)', 'servingdumplings' );?>