A big bowl of noodles in a flavor packed broth, paired with miso roasted pumpkin and shiitakes. Well, this could be heaven. What's not to love about springy noodles swimming in a rich, savory broth? When it comes to comfort food, ramen ranks really high in the charts.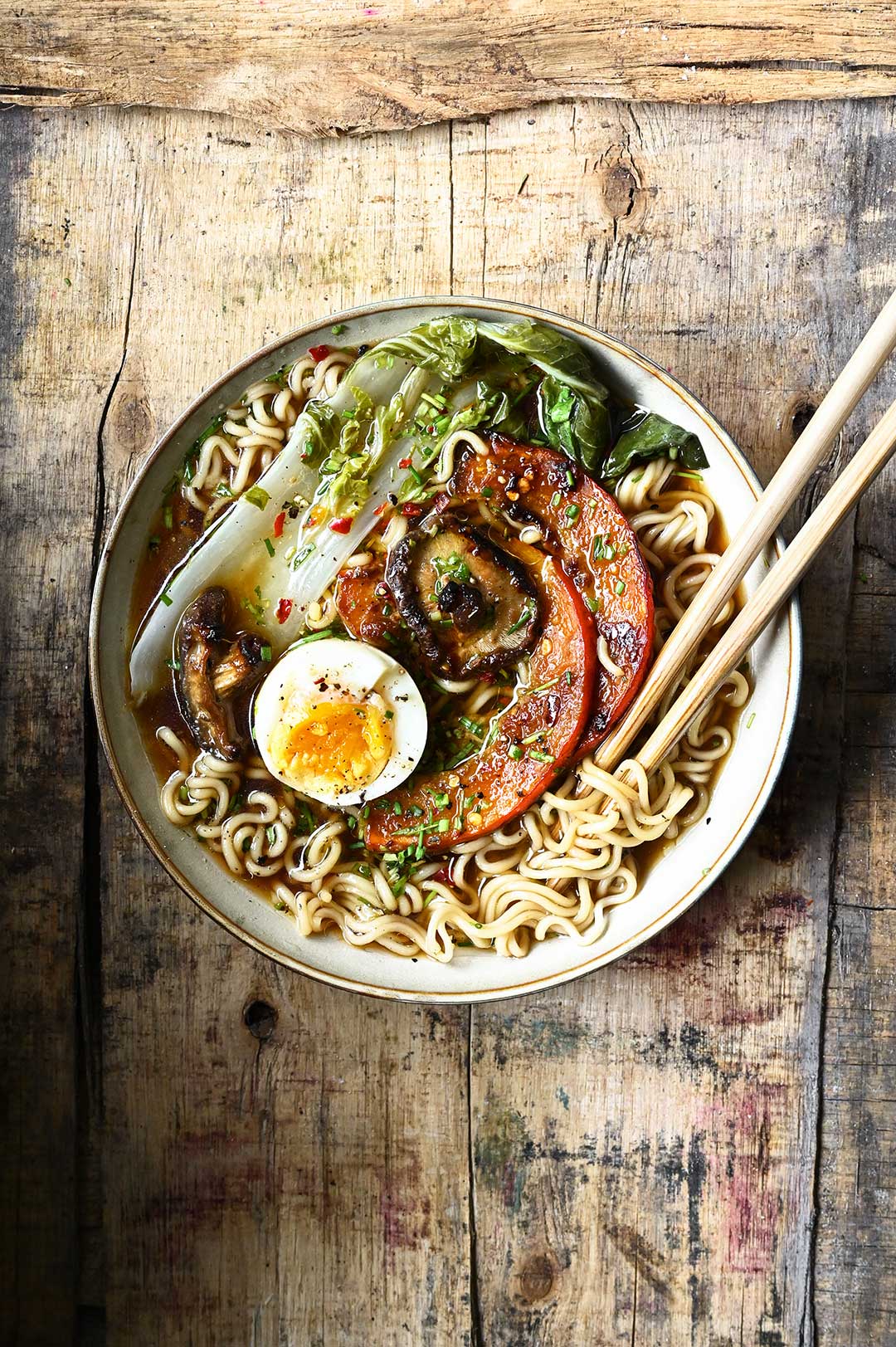 In this recipe we're making a vegetable broth, seasoned with soy sauce, mirin, ginger, garlic and miso. We jazz it up with roasted pumpkin, that takes a bowl of ramen and turns it into something special. It gives a fabulous savory sweet addition to the ramen soup. 
The pumpkin roasts beautifully and can be prepared without needing to be peeled. Eventually, it will soften and caramelize in the oven, making it perfectly edible. The pumpkin, together with the shiitakes, are getting coated in a miso glaze, then roasted in the oven, while the broth is simmering.   
When everything is ready, and this takes about 40 minutes, we serve the ramen with pumpkin and shiitakes. The addition of a soft-boiled egg, bok choy, chopped chives and a drizzle of sesame oil is all that this bowl of this ramen needs.
Hop on over to Instagram to see how to make this in my highlights!
For the love of ramen:
15 minute cheese ramen
Chicken miso ramen with peanut butter
Easy pork Ramen with broccolini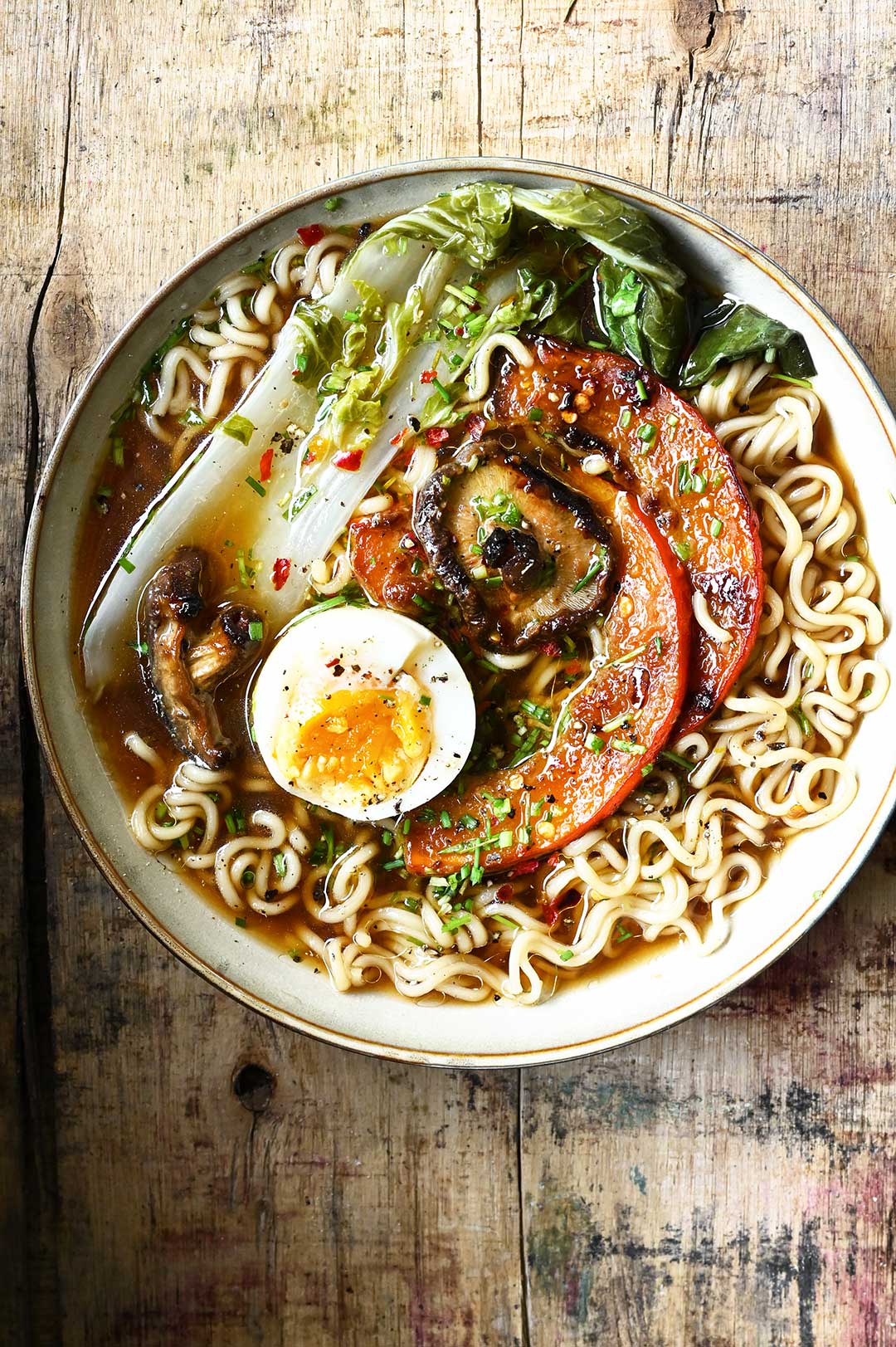 You need
vegetable broth
4 shallots, cut in half
8 garlic cloves, smashed
1 (2,5 cm/1 inch) piece ginger, sliced
2 carrots, peeled and cut into pieces
2 tbsp white miso
60 ml (1/4 cup) soy sauce
3 tbsp mirin
2 L (8 cups) water
miso roast pumpkin & shiitakes
400 g (14 ounce) pumpkin, peel on, cut into slices
100 g (3,5 ounce) shiitakes
1 tsp chili flakes
the glaze
1 tbsp soy sauce
1 tbsp mirin
1 tbsp honey
1 tbsp white miso
1 tsp sesame oil
3 tbsp rice oil
2 garlic cloves, minced
to serve
400 (14 ounce) instant ramen noodles
4 soft-boiled eggs
bok choy
chopped chives
chili flakes
sesame oil
How to
Hop on over to Instagram to see how to make this in my highlights!

Add shallots, garlic, ginger and carrots to a stock pot. Pour water, add soy sauce, miso and mirin. Bring to a boil, simmer for 30 minutes.

Preheat the oven to 220°C (425°F).
Combine all the ingredients for the glaze in a small saucepan, bring to a boil and simmer for 1 minute until miso is melted.
Put the pumpkin slices and shiitakes into a bowl. Pour the glaze mixture and stir well to coat. Lay the pumpkin out on a lined baking sheet layered with parchment paper and sprinkle with chili flakes. Roast for 10 minutes. Turn and roast for 10-15 minutes more or until soft and caramelized.

In the meantime. Cook the eggs for 5 minutes in boiling water. Cook the noodles according to package directions, between 2-4 minutes. Drain and run under cool water to stop the cooking.

When broth is ready, pour through a fine-mesh strainer into a large bowl, discard the solids. Pour back into the stock pot, add bok choy and let simmer over low heat, for 5 minutes or until the stems are starting to tender. Also before you serve the broth, give it a taste, you can add boiling water if it has gotten too strong.

Divide the noodles between bowls and pour over the miso broth. Top with the roast pumpkin, shiitakes, bok choy and eggs. Drizzle with sesame oil, sprinkle with chopped chives and chili flakes. Eat!


//= __('Print recipe (no photos)', 'servingdumplings' );?> //= __('Print recipe (with photos)', 'servingdumplings' );?>