Hearty beef and potato stew. This one-pot stick-to-your-ribs stew is ideal for a chilly day. It's comforting, delicious and fuss-free. Imagine fall-apart beef, lots of shallots and tender potatoes simmered together into a cozy harmony. If you are feeding a crowd, good news! It doubles or triples easily. Serve with some country bread for a truly satisfying dinner.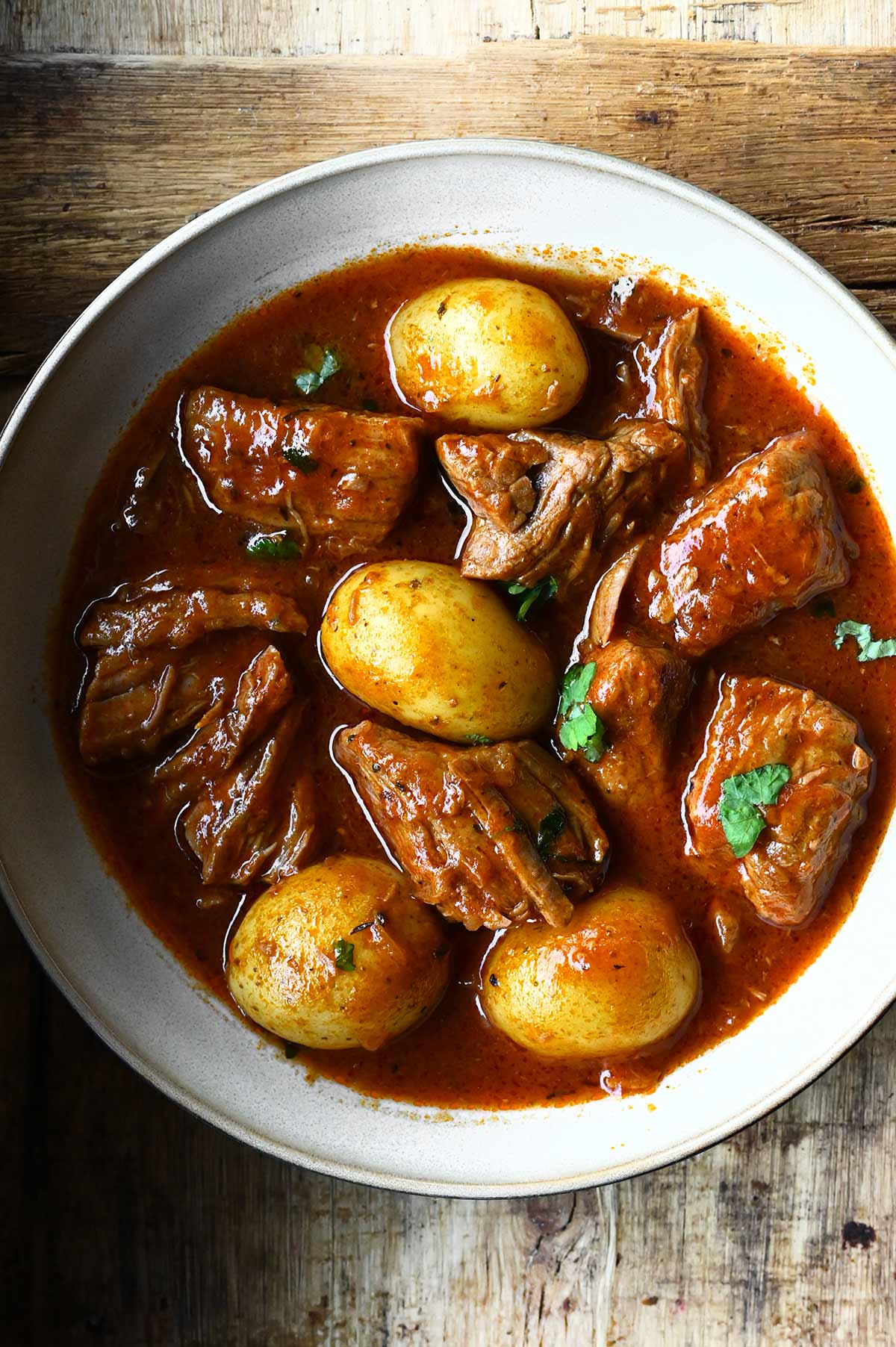 Picture a big pot of steaming stew in front of you, filled with fall apart chunks of beef and melt-in-your-mouth potatoes. It's a satisfying meal all on its own with plenty of great seasonings for big flavors: fresh garlic and lots of shallots. All of it smothered in a flavorful, thick sauce with plenty of flavors.
It takes a little time to make but actually this recipe is pretty much hands-off and the reward is huge! Make it on the stove, in the Instant Pot, or go slow in your slow cooker or oven, it's up to you! It's a staple in our house and I hope it will become one at yours too.
Let me guide you through the recipe with this step-by-step VIDEO.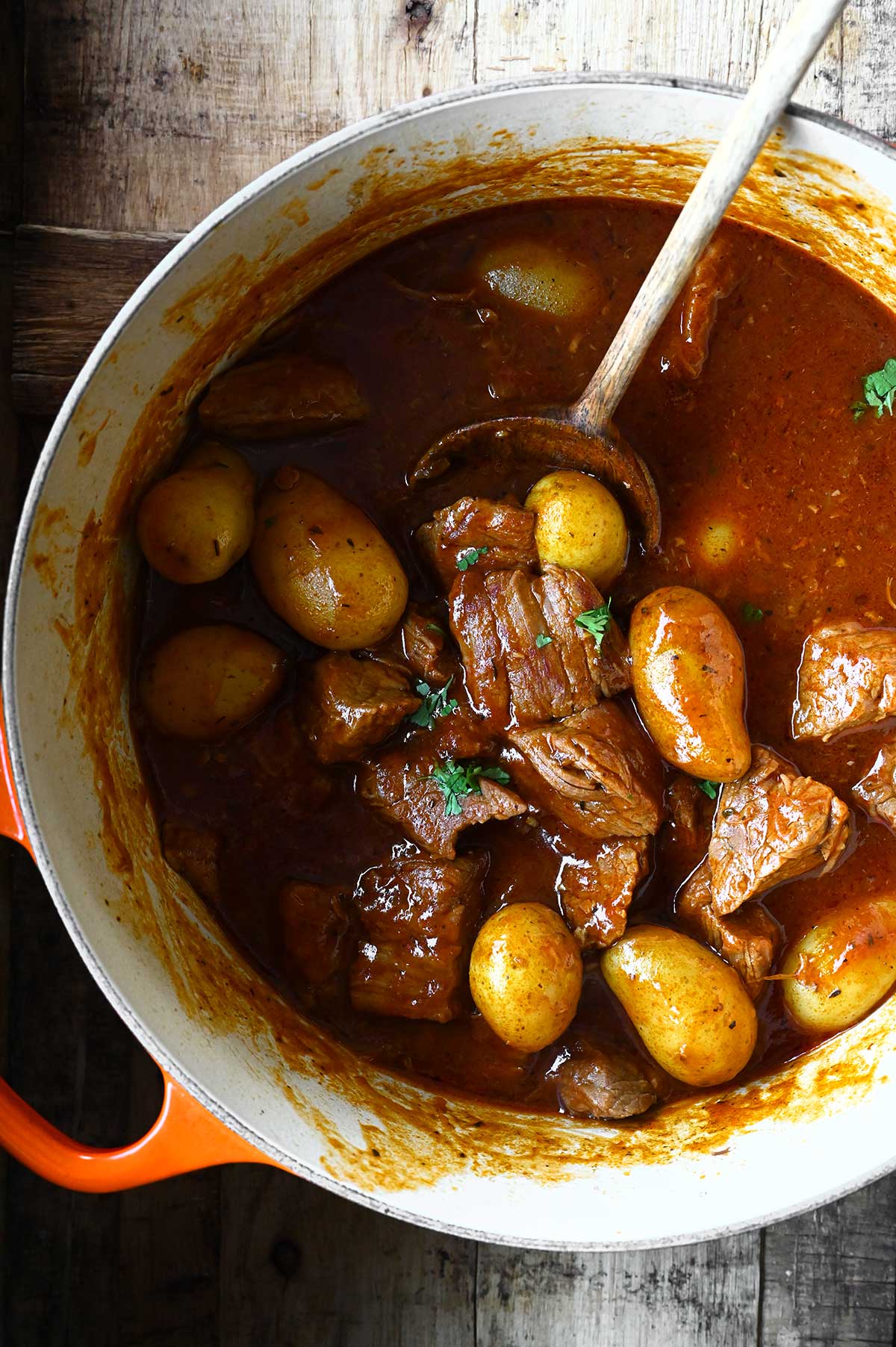 This is How We Make It
There's no greater comfort food than a hearty stew. With just a little preparation, this is a very straight forward recipe to make. We start with the beef. Cooking the beef slow helps to tenderize it and rid the beef of any toughness.
We bring the beef to room temperature, then brown the beef before adding the other ingredients. This step makes for a more flavorful stew. Once the meat is browned, add your seasonings, garlic and shallots. And once the broth is in the pot, it's pretty much hands-off, just let it simmer and you're done. Nothing difficult, just the way any stew recipe should be. It's an ideal dinner for busy families because it's just so easy to toss together, and to save time, you can make the stew 1 day ahead and simply reheat when you're ready to eat. It's a dish that's certain to please everyone at the table.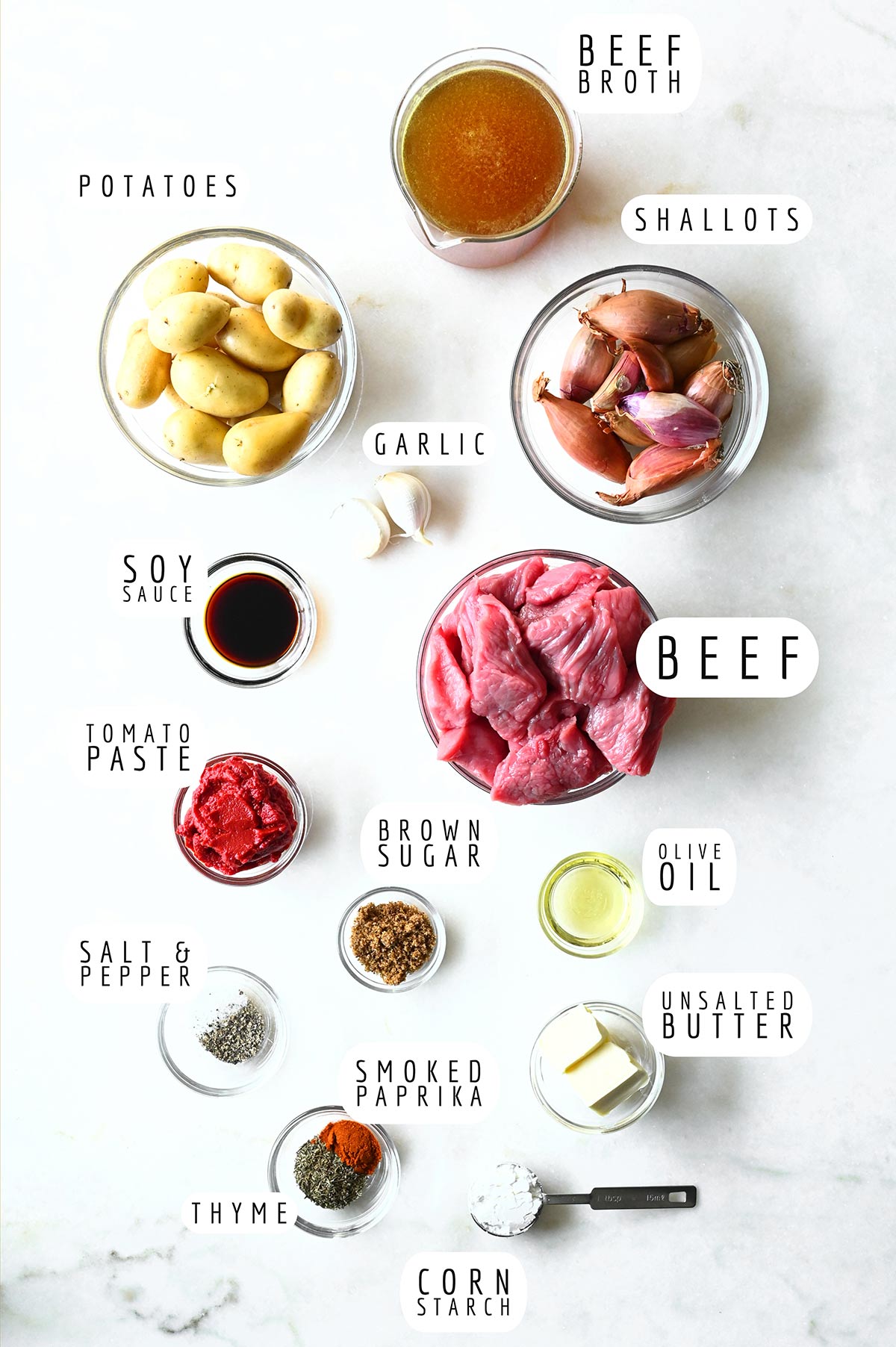 What's Needed to Make this Beef and Potato Stew
Beef: This recipe will work fine with any slow cooking cut of beef, but for this stew beef chuck has the ideal amount of fat and fibre texture. Cut meat into similar sized pieces to ensure even cooking.
Seasoning: Salt, black pepper, smoked paprika and dried thyme.
Soy sauce: A touch of soy sauce gives this stew a richness that brings out its inherent flavors.
Tomato paste: For a vibrant finishing touch and a slightly tomatoey flavor, without overpowering the taste.
Brown Sugar: For balancing the flavors.
Beef broth: For an intense flavor, but you could also use chicken broth.
Baby Potatoes: I used baby potatoes, but any small potato will work great here, like red or fingerlings.
Garlic: Can't imagine a recipe without it.
Shallots: We're using 10 shallots for a mild and sweet flavor, but also to add depth and and bring the whole dish to the next level.
Cornstarch: To thicken the sauce.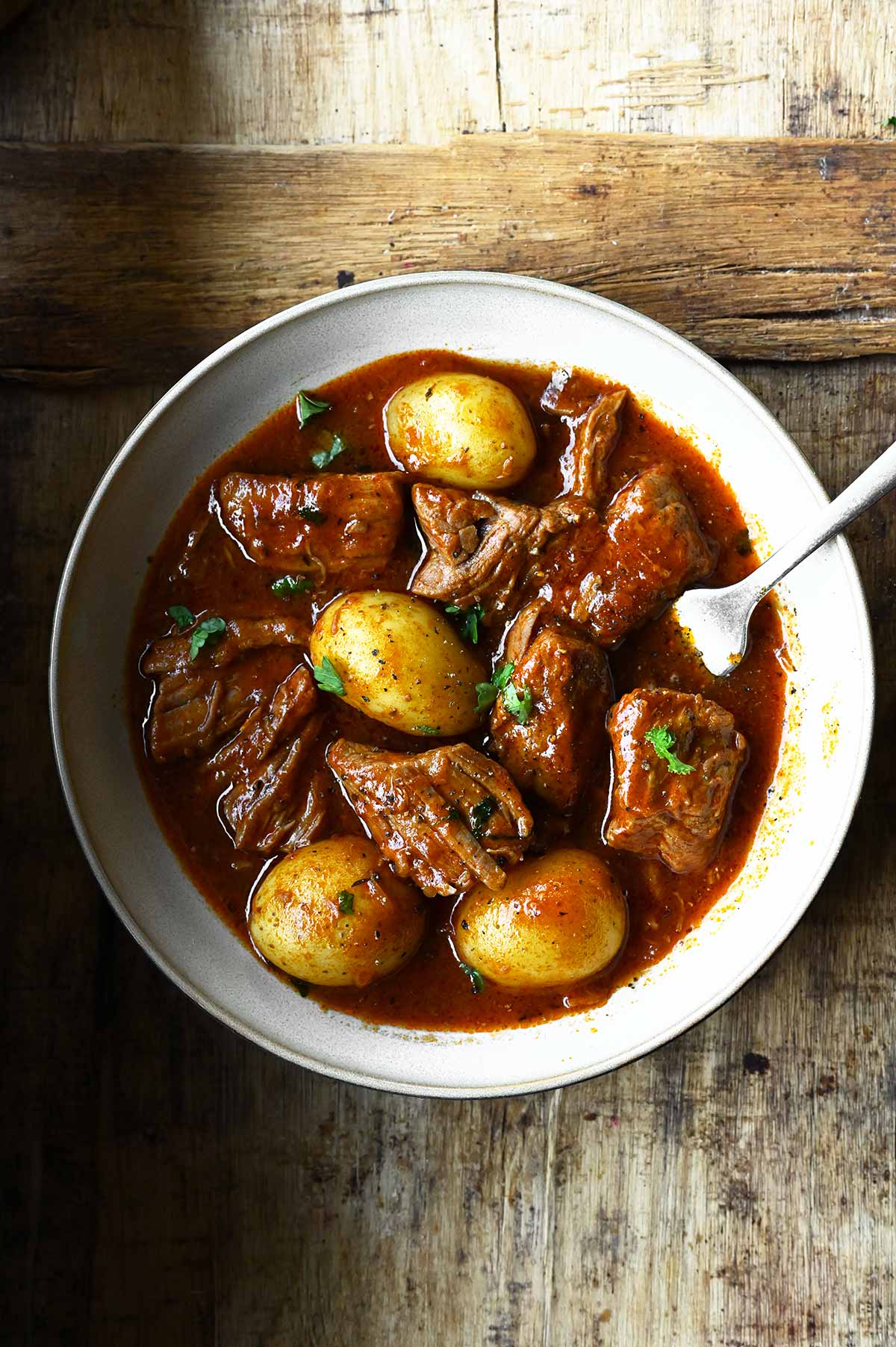 RECIPE NOTES
Add some veggies like carrots, a parsnip, turnip, sweet potato, mushrooms or celery root.
Bring your beef to room temperature! The key to juicy, perfectly cooked meat is to let it sit out at room temperature before cooking, it's a total game changer.
Swap beef for chicken, this way you can reduce the cooking time. Just add the potatoes together with the broth and simmer everything for 30 minutes. And you're done!
Serve with a leafy salad or a tomato salad tossed with a caesar dressing, and don't forget to add some country bread to mop up all that deliciousness.
You can simply double or triple the recipe.
To freeze: Put the stew into a freezer safe container and store it in the freezer for up to 3 months. To reheat, let it thaw in the refrigerator then heat it on the stove.
Make ahead: You can make this stew 1 day ahead.
Storage: Leftovers can be refrigerated in an airtight container for up to 3 days.
SLOW COOKER
Heat the olive oil in a large skillet, sear the beef on both sides. Remove the beef and transfer to the slow cooker. Add the other ingredients, cover and cook on low for 6-8 hours. If you would like a thinner sauce, add more broth.
INSTANT POT
Switch the instant pot to sauté. Sear the beef on both sides until browned. Turn the instant pot off. Add the remaining ingredients. Seal the instant pot and cook on high pressure for 35 minutes. Then switch the instant pot to sauté and boil 8-10 minutes until the the sauce thickens slightly. Add more broth if needed.
OVEN
Preheat the oven to 350°F/180°C. Using an ovenproof pan, prepare the recipe until step 3. Cover and transfer to the oven. Cook for 1 ½ hours. Remove from the oven. Add tomato paste and potatoes. Slide back into the oven and cook for 30 minutes more, or until the meat is tender and the potatoes are ready.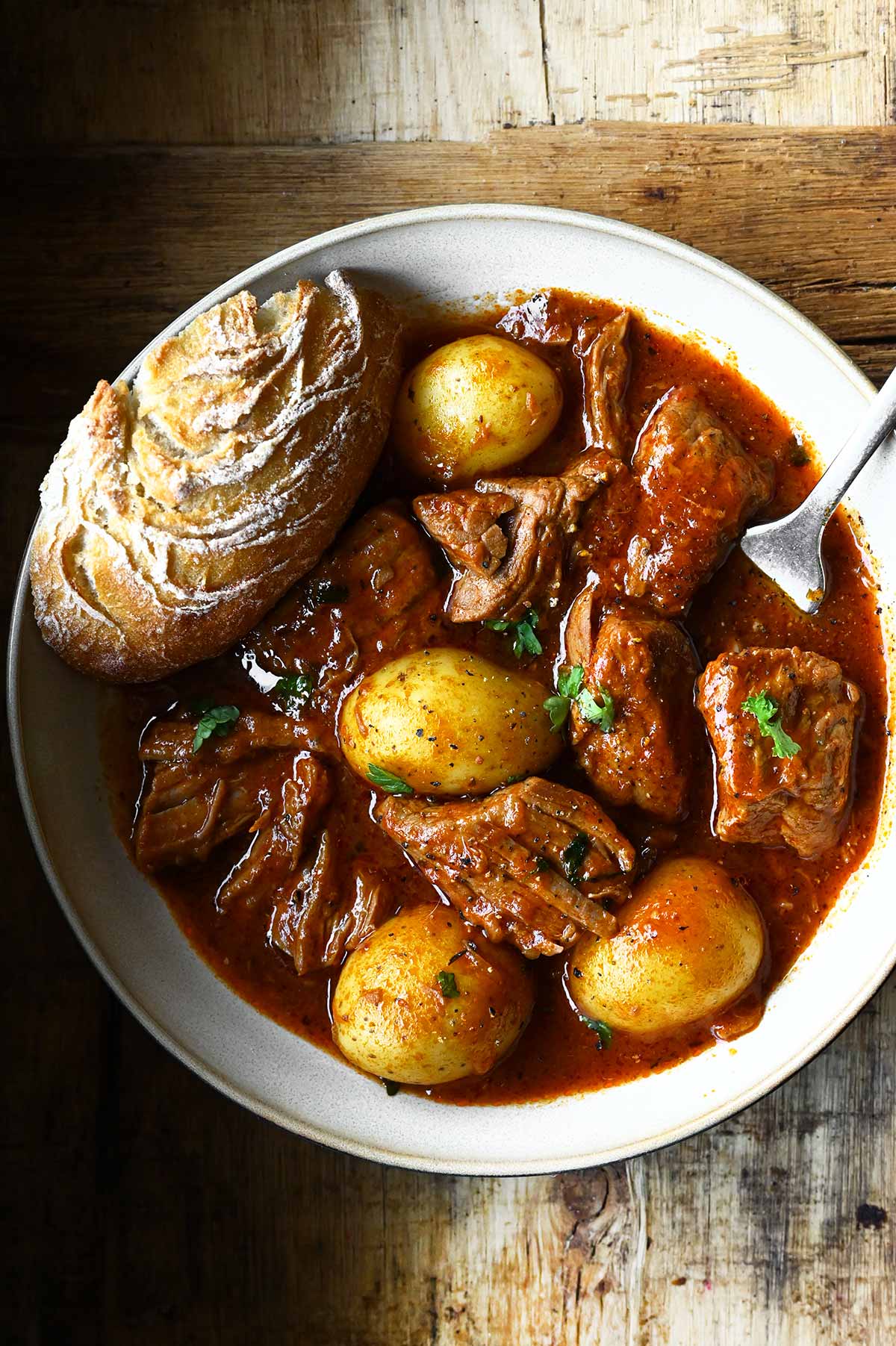 TRY THESE NEXT
Cooking Video
Yield: serves 4
Hearty Beef and Potato Stew
Total Time
2 hours
10 minutes
Ingredients
2 tbsp olive oil
2 tbsp unsalted butter
2.2 pounds/1 kg beef chuck, trimmed, brought to room temperature
1 tsp each: salt, black pepper, smoked paprika, dried thyme
1 tbsp brown sugar
2 garlic cloves, minced
2 tbsp corn starch
10 shallots, peeled
1 tbsp low sodium soy sauce
4 cups/1 L low sodium beef broth
3 tbsp double concentrated tomato paste
13 ounces/ 370 g baby potatoes
Instructions
Get your prep done before you start cooking. Peel the shallots and mince the garlic.
Heat oil and butter in a large pot over high. Place beef in a single layer and sear, undisturbed, for 3 minutes. Then stir and cook until golden brown on all sides.
Add salt, pepper, paprika, thyme and sugar. Stir in garlic and cook for 2 minutes. Add cornstarch and stir until incorporated. Finally add shallot and soy sauce.
Pour in beef broth, bring to a boil, cover and simmer for 1 hour over medium low.
Next, stir in tomato paste and add potatoes. Simmer for 30 minutes more, or until the meat is tender and the potatoes are ready. Add a splash of water, if needed. Taste and adjust salt before serving.
Serve with some country bread. Enjoy!
NOTES: Instructions for the Instant Pot, Slow Cooker or Oven in the Recipe Notes above.
Notes
Calories Per Serving: 580 kcal
Nutritional information is only an estimate. The accuracy of the nutritional information for any recipe on this site is not guaranteed.

//= __('Print recipe (no photos)', 'servingdumplings' );?> //= __('Print recipe (with photos)', 'servingdumplings' );?>