Cucumber nectarine rainbow salad that tastes like summer! I'm obsessed with summer outdoor dining and all the barbecues. Hope you are too!
The crunchy cucumber and sweet summer nectarines are topped with feta, earthy arugula, pistachios and a touch of jalapeño peppers! The pickled jalapeños play well with the cool, sweet and salty flavors. So prepare your tastebuds for this one. It's everything I want, a cooling salad in an easy to put together recipe.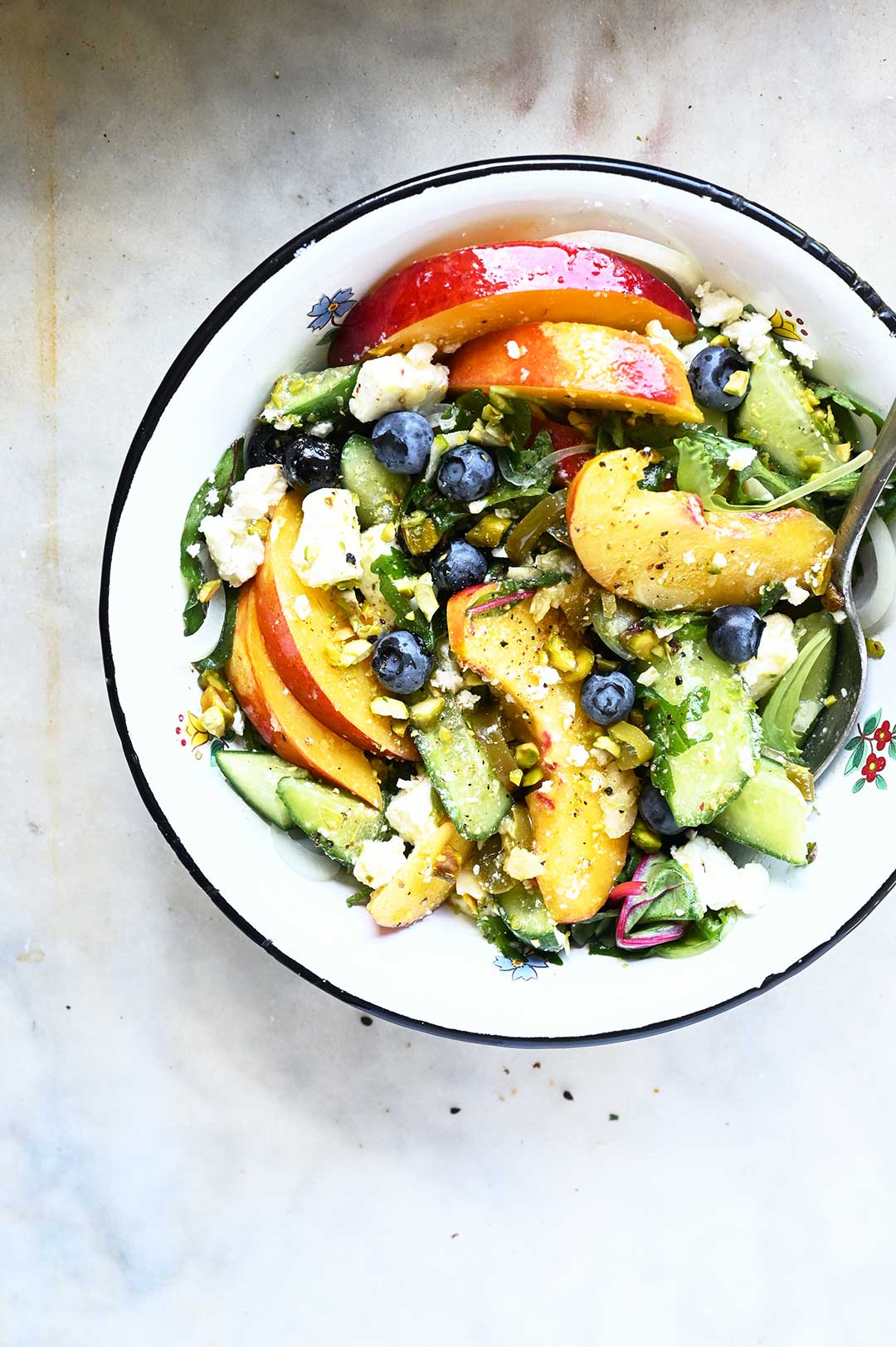 You can slice the cucumbers and nectarines first, so those can get seasoned right away with salt, pepper and a drizzle of the dressing. Then let rest, while you finish preparing your dinner. Just before serving crush the feta, add pistachios, arugula and blueberries, and the remaining dressing, together with the jalapeños, season with freshly ground pepper and flaky salt. Always the star of the dinner. All the flavors cut nicely through in this colorful summertime salad. Sweet and salty, it's extremely refreshing! My new BFF.
Looking for more outdoor-dining salads?
Very juicy kale salad with plums
Smashed cucumber salad
Potato salad with miso dressing
Let's cook together! Sign up for my NEWSLETTER to receive the latest recipes.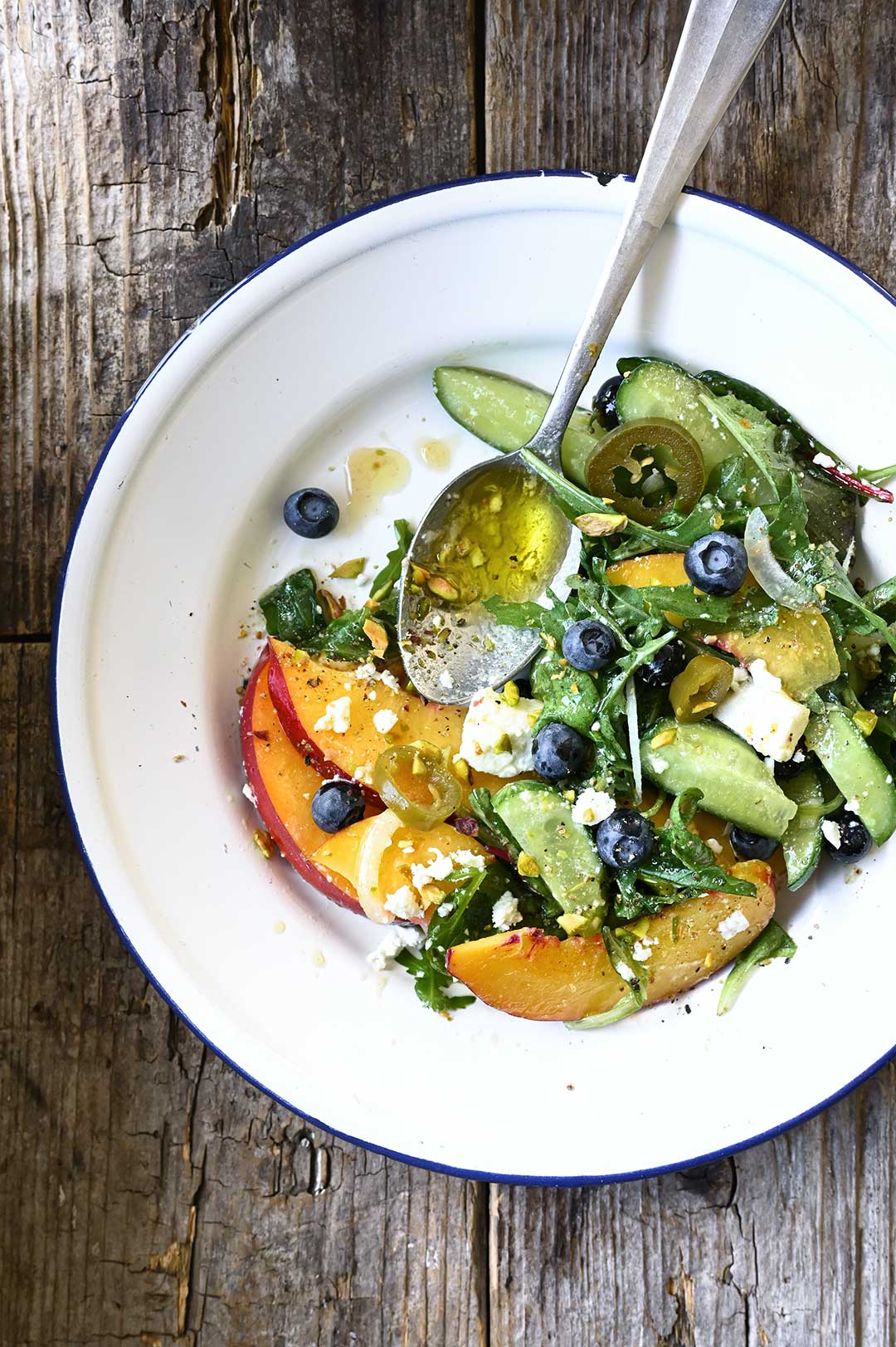 You need
2 yellow nectarines, sliced in thick pieces
1 cucumber, cut into bite-sized pieces
100 g (2 cups) arugula
50 g (1/3 cup) blueberries
4 tbsp pistachios, chopped
100 g (3-4 ounces) feta, crumbled
4 tbsp chopped pickled jalapeños
1 shallot, thinly sliced
flaky salt + black pepper
dressing
50 ml (1/4 cup) olive oil
3 tbsp lemon juice
2 tbsp honey
1 tsp mustard
1 small garlic clove, minced
sea salt + black pepper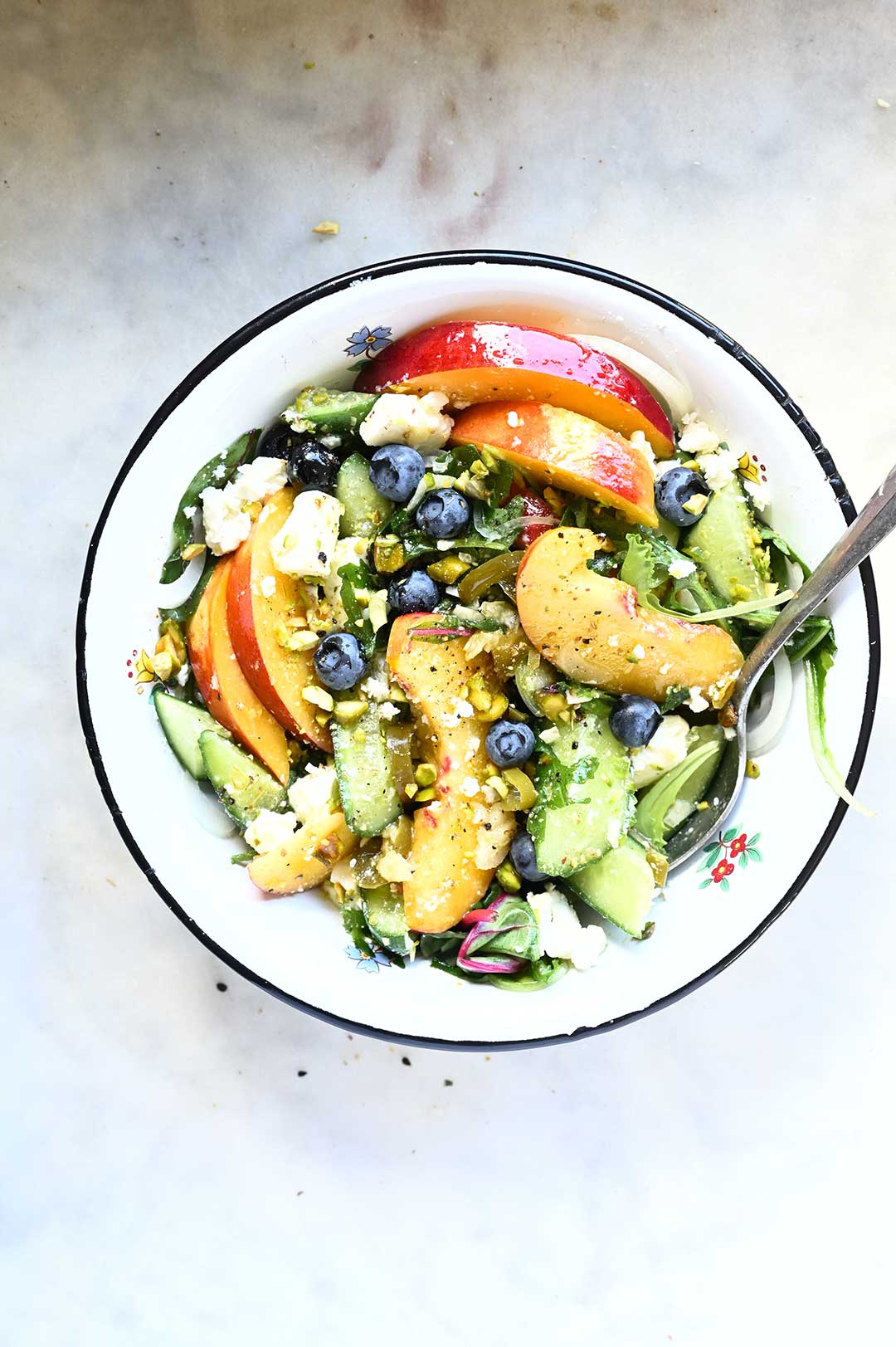 How to
Combine the ingredients for the dressing in a small bowl.
Place nectarines, cucumbers and shallot in a large bowl, add a sprinkle of the salad dressing and season with salt and pepper. Toss to blend. Place in the fridge if you're not serving right away.
Just before serving, add arugula, pistachios, crumbled feta, blueberries and jalapeños. Drizzle with the remaining dressing and season with flaky salt and black pepper to taste. Serve immediately.
If you give this recipe a try, leave a comment or mention me on Instagram @anna_s_table. I'd love to see what you come up with. Happy cooking!